BITCOIN
1 Bitcoin = $272
T-Mobile
One of the world's largest cell phone carriers, is now accepting bitcoin directly as payment! (T-Mobile Offers 20% Bonus fo Bitcoin Customers) – Roger Ver
Rakuten
Japanese E-commerce Giant with 11,000 employees and $5 Billion in annual revenue is now accepting Bitcoin – Niko Younts
Merchant Adoption
3 years ago 5,000 merchants in the world accepted Bitcoin; now 100,000+ – Michael Parsons
80% Of Bitcoin Is Exchanged Into And Out Of Chinese Yuan
In a report out today from Goldman Sachs about the future of money, the bank points out that 80% of bitcoin volume is now exchanged into and out of Chinese yuan.
The second-highest trading currency is the US dollar, followed by smaller denominations in yen and euros. – Shelly Banjo
Venture Capital
After only 2.5 months in, 2015 Bitcoin Venture Capital has more than doubled the entire 2013 total and is well on track to break $1 billion for the year.
The biggest investments went to 21.co ($116mill), Coinbase ($75mill), and KnC Miner ($15mill)
2012: $2.1 mill
2013: $99 mill
2014: $315 mill
2015 YTD: $222 mill
Bitcoin Startup 21 Reveals It Has Raised $116m
* Someone needs to build the full-stack infrastructure for Bitcoin, from silicon to software. Backed by Andreessen Horowitz and Peter Thiel, that someone is us – 21.co
* It's become clear to me that the biggest new disruptor across the board is now likely to be Bitcoin – Balaji S. Srinivasan, Chairman of 21 and Partner at Andreessen Horowitz
———————————————
Chief Executive and co-founder Matthew Pauker says there will be "several interesting developments over the next weeks and months" about software and hardware products designed "to drive mainstream adoption of bitcoin."
21's investors include:
* U.S. venture-capital heavyweights Andreessen Horowitz and RRE Ventures
* Chinese private-equity firm Yuan Capital
* Chipmaker Qualcomm Inc through its venture-capital unit.
* Khosla Ventures
* Data Collective
* PayPal co-founders Peter Thiel and Max Levchin
* eBay Inc. co-founder Jeff Skoll
* Dropbox Inc. CEO Drew Houston
* Expedia Inc. CEO Dara Khosrowshahi
* Zynga Inc. co-founder Mark Pincus.
Mr. Pauker, who previously co-founded data-encryption firm Voltage Security Inc., which last month sold to Hewlett Packard Co., said Qualcomm's involvement is key. He hopes to exploit the San Diego company's mass-marketing and production capabilities in the development of a suite of consumer products that integrate with bitcoin's core technology called the "blockchain." This technology takes the form of a public, digital ledger that's maintained by a decentralized network of thousands of independently owned computers.
Qualcomm's involvement could spur speculation that 21 has its sights on the so-called "Internet of Things." That's the idea that a myriad of smart, Internet-connected appliances will in the future communicate with servers, networks and each other to optimize their operation, maintenance and energy usage without direct human involvement.
Some developers believe that bitcoin technology could play a key role in transparently managing the vast flow of information generated by these smart gadgets. The decentralized blockchain ledgers are free from the control of any one party, so smart appliances can in theory connect with computers built by other entities safely without worrying that the information was manipulated.
The initial secrecy around 21 was "solely for pragmatic reasons – we didn't have anything to say to the world," says co-founder Balaji Srinivasan, who is also a partner at Andreessen Horowitz. He compares 21's work in building bitcoin products for the general public to the sequential development of 56-kilobit Internet modems, international fiber cables and wireless Internet towers, which all helped bring the Internet into people's homes in the late 1990s.
This notion also has parallels with the mass Internet appeal achieved in the 1990s by the development of the Netscape browser by Marc Andreessen, a co-founder of Mr. Srinivasan's firm. Asked for his views on 21, Mr. Andreessen said it "is working on what they — and we — consider to be core infrastructure for mainstreaming bitcoin." – Michael J. Casey
———————————————
* With people like Balaji S. Srinivasan running 21.co, a Bitcoin startup with $116 mill in funding, the future is bright! – Roger Ver
* Whatever they plan on doing, the fact that this guy is near the helm is pretty damn exciting (Software is Reorganizing the World) – ssmc2
Qualcomm Funds 21 to Use Bitcoin for Internet of Things
* Qualcomm Ventures is the venture capital subsidiary of the global semiconductor company that designs and markets wireless telecommunication products. 21 aims to leverage Qualcomm's production capabilities to develop a suite of undisclosed products to be released in the coming months – Joon Ian Wong
————————————————-
Raystonn: Qualcomm's chips represent a large portion of the cell phone market.  They intend to bring their cellular chip technology to all manner of interconnected things, and use the Bitcoin blockchain to do so.
Rodeo X: Holly $#!+ Could it be… maybe…What if they are looking at producing chips to conduct BTC transfers that could go into ANYTHING?
Raystonn: Yes, that is exactly what is meant by "internet of things".  There is a cost to running every machine in the world, and there is a cost to allocating resources.  Objects are managed by their owners.  It can take a great deal of time to allocate your resources efficiently.  With an internet of things, your objects compete to provide services within your guidelines, but without your explicit micromanagement.  This frees humanity to focus on the bigger picture: their goals in life.
Bit_Happy: This could be one of the biggest stories in the history of Bitcoin. We are seeing Bitcoin explode onto the global stage!
RodeoX: This looks like a new phase. If I'm guessing their intent correctly, they are creating hardware for the coming bitcoin economy. It's all happening so fast!
From "Machine Information Transfer" To "Machine Value Transfer"
Bitcoin is a platform for programmable money, right? Programmable interchange of anything of value. And that's very general. So people have probably heard at this point about how you can use a blockchain to trade – in theory – stocks, or houses or other kinds of things. But programmable value transfer is even bigger than just trading things which we know already exist.
One analogy I would give is in 1988, it was not possible to find information on anything instantly, right? And today, most of the time it is. From your iPhone or your Android phone, you can Google pretty much anything. And in kind of the same way, I think what bitcoin is going to mean is markets in everything. That is, everything will have a price on it — everything will be a liquid market.
You'll be able to buy and sell almost anything. And that's the kind of thing where today the fixed costs of setting up such a market is too high for anything other than things that are fairly valuable, but tomorrow I think it'll be possible for even images or things you would not even think of normally buying and selling.
The thing that you're going to start seeing is another major thread opening up this year, next year which is bitcoin in very small, tiny amounts of payments.
If you think about the transition from a human telephone number to a machine IP address, that was an important transition because it now meant that machines could communicate with other machines without a human intermediary. You do not need a switchboard operator for your computer to connect to a server. Or perhaps more interestingly for your computer to load a web page and connect to many servers, pulling a lot of assets, right? Those are all basically automated. And humans give the high level of direction of I'd like to go and view Google.com but they do not have to deal with the low level aspect of hitting twenty different servers and phoning all these numbers and so on.
And in kind of the same way what bitcoin does is it allows us to move from a human bank account to a machine wallet. So it's a transition of comparable importance that will we believe have impact on machine value transfer that's comparable to what the transition from telephone numbers to IP addresses did for machine information transfer. – Balaji S. Srinivasan, Chairman of 21 and Partner at Andreessen Horowitz
Building Mesh Networks Using Bitcoin
Bitcoin could enable new ways to share and trade networked resources.
For example, people have been trying for years to create mesh networks with only occasional success. It is possible that these systems mostly failed because they didn't offer the right incentives to share resources. Bitcoin provides a mechanism for network nodes to pay for resources at the protocol level – Chris Dixon, Andreessen Horowitz
———————————————-
We are awash in internet connectivity over unlicensed spectrum bands. I'm talking about the Wi-Fi routers in every home, apartment, coffee shop, and office across the country that surround us at all times. The problem, of course, is that all of these network on-ramps are locked.
1) Encrypt the network traffic so that sharing your connection doesn't mean seeing your neighbor's activities.
2) Charge those who would send traffic through your devices for the privilege using micropayments.
3) program these open routers to seek the fastest connection to the larger internet not only through their own wired hook-up, but through their nearby peers
Knitting all of these consumer devices together gives us a mesh network.
Such a shared infrastructure protects privacy through encryption. Individuals are paid to maintain and even improve their links in the mesh with the micropayments. And software can intelligently direct traffic through intermediate nodes that offer the best connection to an outside resource for the price.
Mesh participants with particularly strong connections to desirable internet destinations will earn more in micropayments as their peers seek connection through their routers. These favored participants can use some of that revenue to pay for larger data plans or even faster access.
The money you earn is your revenue for being a valuable part of the mesh. You are free to pocket some bitcoins, and use others to pay for the connection to the wider internet or to invest in an even faster connection and better routing hardware. Eventually, if you're dealing with a wholesale provider or a particularly progressive telecom, payment for your uplink could also be metered and denominated in bitcoins, and traffic traveling through you from the mesh network could directly pay your provider through an intelligent, Bitcoin-accepting modem.
This scheme writ large is far better than a few neighbors sharing Wi-Fi. It could become a mesh network of hundreds or even thousands in a given area. The mesh network, taken as a whole, reduces granularity in hook-ups: it's a neighborhood that seeks connections not a bunch of individual customers. This means that an outside infrastructure provider need only bring a pipe to the town square, rather than everyone's home. Without the costly need to duplicate another provider's efforts stringing connections to individual homes, we can expect more competitors offering connections to any given mesh. That means more competition and fewer opportunities for discrimination – Peter Van Valkenburgh
How Much Would A 1 Million Transactions Per Second Blockchain Cost?
Can a single blockchain scale to handle all the world's transactions?"
This question is both obvious and useless. High transaction rates on a P2P network do not require faster-than-light communication, nor violate the conservation of energy. Anything that doesn't violate fundamental laws of physics is possible, so of course it can.
The most useful question to ask is, "how much would it cost to scale Bitcoin's blockchain up to handle all the world's transactions?"
Bitcoin as it exists now is too expensive to serve as a universal transaction network. In order to be affordable, we need to reduce the per-transaction cost by two orders of magnitude. Simply by processing more transactions, it's possible to reduce the per-transaction cost by the ratio of variable costs to total costs, or 90% (an improvement of one order of magnitude).
Can Bitcoin scale up to be a universal, global blockchain? Not yet, but there is no obvious insurmountable barrier preventing it. Next time you hear somebody say that it's impossible to process all the world's financial transactions on a single blockchain, ask them to show their work.
It should be clear at this point that the barriers to Bitcoin's scalability are not primarily technical limitations, but rather business challenges which can be overcome with a sufficient amount of time and investment.
Before anyone can decide whether or not building the infrastructure needed to scale Bitcoin to 1 million tps is a good investment, they need to know the potential upside benefit and compare this to the cost.Previously, we used a target of $1 per day per user. Assuming that one billion users are willing to pay that much, it means that operating the Bitcoin network would be a $300 billion per year industry. That is a prize worth investing in the possibility of achieving, but is it necessary to pay the cost of putting everything on a single ledger? Why not pursue technically easier solutions that shard the transactions across multiple ledgers?
There are enormous benefits to moving financial transactions onto a single ledger. If the value of a ledger is proportional to the square to the number of users, no solution involving independent ledgers can possibly compete with a universal ledger.
Anyone considering potential infrastructure investments into the blockchain technology space should consider that, based on our best understanding of network effects, splitting the world's transactions into 10 independent ledgers would destroy 90% of the value of blockchain technology and splitting the world's transactions into 100 independent ledgers would destroy 99% of the value of blockchain technology.
From an investment standpoint, is it better to own 1% of a $300 billion industry, or 100% of a $300k walled garden? Given  the potential stakes involved, it would be prudent to insist on more detailed explanations from anyone who states, "Bitcoin can't scale." – Justus Ranvier
ALTCOINS
Ethereum
Does everything I say have to revolve around cryptocurrency? I've been explicitly trying to expand my mind beyond that lately – Vitalik Buterin
The Euro
The single currency, which has lost roughly a quarter of its value against the US dollar since mid-2014, rose 0.9% to $1.0595 after earlier hitting its lowest level since January 2003.
Comments by Italy's central bank governor that the euro had fallen faster than the European Central Bank expected contributed to the currency's rise today as the ECB launched quantitative easing.
Italian governor Ignazio Visco is also a member of the ECB Governing Council. He told a conference over the weekend that the euro had weakened faster than expected since the ECB first hinted at the programme of money-printing last year – RTE News
Shapeshift Currency Exchange
Instant bitcoin and altcoin exchange ShapeShift has received $525,000 in seed funding from investors Barry Silbert and Roger Ver.
The Swiss-based platform, which lets users swap between 25 digital currencies and tokens, differs from traditional exchanges in that it operates without user accounts and requires no form of registration.
As part of the funding announcement, entrepreneur Erik Voorhees has come forward as ShapeShift's creator and CEO, having operated under the alias Beorn Gonthier – a reference to J R R Tolkein's own shapeshifter – since its launch in 2013.
"I wanted the early launch of ShapeShift to be about the innovation of the site itself and its advancement over traditional order-book exchanges, rather than about me," he said. According to Voorhees, the $525,000 will go towards improvements to the exchange engine, as well as marketing and legal work in Switzerland, the company's base.
The company runs entirely on bitcoin, so it has no bank accounts and no fiat passing through its books – Grace Caffyn
What is unfolding is truly remarkable. People are beginning feel the promise of this new technology – Thomas Vaughan
————————
This is consumer protection. And not only is it far safer for users, it is much faster. The marketplace seems to like this model; ShapeShift's exchange volume has been growing by 30% per month for the past six months. There is no easier or safer way to trade Bitcoin with Litecoin, Darkcoin, Ripple, NXT, Bitshares, and other leading digital assets.
There is no signup process whatsoever. You can now move between digital assets with the grace and elegance that only cryptocurrency permits – Emily, Shapeshift
EQUITIES
Foundation Medicine
Foundation Medicine (FMI:NASDAQ), which uses genetic data to create diagnostic oncology tools, is generating huge buzz this year. In January, Roche Holding announced plans to take a majority stake in the company, in a transaction valued at $1 billion. The stock more than doubled the next day. Google Ventures has a 4 percent stake in the company.
For Bill Maris (Google Ventures), Foundation Medicine represents the beginning of a revolution. "The analogy I use is this," he says, holding up his iPhone 6. "Even five years ago, this would have been unimaginable. Twenty years ago, you wouldn't have been able to talk to anyone on this."
When Google Ventures invested in Foundation in 2011, the company's promise was mostly theoretical. The world was still waiting for the breakthroughs that have seemed inevitable ever since scientists first mapped the human genome in 2003. Foundation's team included eminent geneticists, including Eric Lander, one of the leaders of the Human Genome Project. Still, the company had no viable commercial product.
Technology has made huge strides since then, allowing Foundation to create products like its Interactive Cancer Explorer, which is a kind of Google for oncologists, allowing them to do research and devise treatments for their patients. "We had a lot to learn from the experts in Silicon Valley," says Foundation's CEO, Dr. Michael Pellini, who sought out Google Ventures as an investor for help with designing his company's technology. "Think about Google search. We never think about all the algorithms that go behind what we see on the screen. They were able to do the same for us with genetic information."
"Twenty years ago, without genomics, you could only treat cancer with a poison," Maris says. "That's really different from, 'We can cure your cancer by reverse-engineering a stem cell.' You can now legitimately invest in a company that could cure cancer." – Katrina Brooker
COMPANIES / PROJECTS / PRODUCTS
Bits vs. Atoms: De-Materializing Products
We have seen how digital pixels replaced Kodak analog film cameras that needed photographic chemicals and paper. At its height, Kodak had 144,000 employees and a $10 billion market capitalization. Today, Instagram has the same market cap with only 13 employees – Peter Diamandis, X Prize, Singularity University, Planetary Resources
—————————–
Digitisation is a hugely positive force, leading to abundance where before there was scarcity. When you de-materialise a product or service, you can usually make it free at the margin.
Hyatt Hotels has revenues of $4bn and a market value of $8.4bn. AirBnB has revenues of $250m, 13 staff, pretty much no assets, and a market value of $14bn. It will soon be the world's largest hotel company.
Über was founded in 2009 and has a market cap of $40bn, despite – again – having pretty much no physical assets. It has taxi drivers up in arms all over the world.
Magic Leap, a virtual reality company, raised $50m in February 2014 and then $550m in October. It persuaded the second set of investors to contribute by showing them a virtual cup of coffee alongside a real one and asking them to pick up the real one.
These are examples of the new kind of company which is disrupting industries all round the world. Disruption of industries is not new, but the digital revolution means it is happening more often, and faster – Calum Chace
The SanDisk 200GB MicroSD Card for $399
Remember when having just 4 or 6 gigabytes of space on a clunky iPod hard drive seemed revolutionary? It sounds so long ago, and I'm not even that old. Well prepare to become even more painfully aware of the unstoppable passage of time thanks to SanDisk's record-setting 200GB microSD card.
SanDisk previously pushed their memory format to the limit with last year's 128GB microSDXC card, and using similar technology they've now raised that cap to 200GB.
The 200GB SanDisk Ultra microSDXC UHS-I card hits shelves in the next few months for $399. But if that's still not enough space, you could also check the card's big brother the $800 512GB SD card. – Jordan Minor
———————————————————-
Brad Newman: Storage is my generation's "I remember when a computer filled a room". I remember when a 1GB drive was $500 and 5.25″
Grady Booch: And as Feynman would observe, there is still plenty more room at the bottom.
Yuri Yerofeyev: And they say the blockchain is too big…
The HTC Vive
Release Date: November 2015
I saw the future today. I mean that. I got the chance here at MWC to try the new VR headset that Valve and HTC are developing. Is it good? It's absolutely incredible. This thing is just…my god you guys I can't even.
What this headset nails—and I mean fucking nails—is a sense of presence. A sense that you're not just seeing a different world, but that your actual body is being transported there. Strap on the Vive and you are somewhere else. I slapped at fish in a shipwreck, walked like a giant through a battlefield, cooked in a virtual kitchen, and it felt so unbelievably real.
With the original Oculus Rift and things like Samsung Gear VR, that sensation of really being somewhere else is present, but fleeting. Those can't track your body, so as soon as you lean just slightly, the illusion is shattered. The Oculus Rift DK2 did it better, with a motion tracking camera that at least let you lean, but you were still a sort of an armless half-body. Sony's Project Morpheus improved it further by using controllers keep track of your hands.
But the Vive? It's like nothing that's ever come before.
Virtual Reality is coming in many ways, shapes and flavors, and it's coming right now. And that, my friends, is that awesome scifi future I've always dreamed of. Let it roll – Carlos Rebato
DJI First Billion Dollar Consumer Drone Company
Over the last two years DJI has emerged as the world's most popular consumer drone maker, at least by revenue. DJI reported around $500 million in revenue for 2014, roughly four times what it did in 2013, and is on pace to do about $1 billion in sales this year.
The potential valuation of the company would be a healthy multiple of that, several billion dollars.
The company helped bring small, powerful drones to the masses with its Phantom line of quadcopters, our favorite unit during last year's testing. In doing so, the Shenzhen based firm became one of the first Chinese companies to help forge a new category of consumer electronics at global scale. The Phantom was simple enough for beginners, but powerful enough to interest serious hobbyists, professional photographers, and filmmakers.
They also had a potent pitchman in Colin Guinn. Mr. Guinn has since left for rival drone maker 3D Robotics, which two weeks ago announced a $50 million round of funding led by Qualcomm.
Up until now, DJI had taken on relatively little outside capital, preferring to bootstrap the business. But as competition heats up, it is considering taking on venture capital to help maintain its lead and potentially branch out into new sectors of the booming drone market – Ben Popper
PRIVACY / SECURITY / INTERNET
CIA Spent Years Hacking iPhone
U.S. government-sponsored research has been aimed at discovering ways to decrypt and ultimately penetrate Apple's encrypted firmware. This could enable spies to plant malicious code on Apple devices and seek out potential vulnerabilities in other parts of the iPhone and iPad currently masked by encryption.
The security researchers also claimed they had created a modified version of Apple's proprietary software development tool, Xcode, which could sneak surveillance backdoors into any apps or programs created using the tool. Xcode, which is distributed by Apple to hundreds of thousands of developers, is used to create apps that are sold through Apple's App Store.
The modified version of Xcode, the researchers claimed, could enable spies to steal passwords and grab messages on infected devices. Researchers also claimed the modified Xcode could "force all iOS applications to send embedded data to a listening post."
Researchers also claimed they had successfully modified the OS X updater, a program used to deliver updates to laptop and desktop computers, to install a "keylogger."
For years, U.S. and British intelligence agencies have consistently sought to defeat the layers of encryption and other security features used by Apple to protect the iPhone. A joint task force comprised of operatives from the NSA and Britain's Government Communications Headquarters, formed in 2010, developed surveillance software targeting iPhones, Android devices and Nokia's Symbian phones. The Mobile Handset Exploitation Team successfully implanted malware on iPhones as part of WARRIOR PRIDE, a GCHQ framework for secretly accessing private communications on mobile devices.
One GCHQ slide from 2010 stated that the agency's ultimate goal was to be able to "Exploit any phone, anywhere, any time." – Jeremy Scahill and Josh Begley
The Black Budget
The Apple research is consistent with a much broader secret U.S. government program to analyze "secure communications products, both foreign and domestic" in order to "develop exploitation capabilities against the authentication and encryption schemes," according to the 2013 Congressional Budget Justification.
Known widely as the "Black Budget," the top-secret CBJ was provided to The Intercept by Snowden and gives a sprawling overview of the U.S. intelligence community's spending and architecture.
The black budget also noted that the U.S. intelligence community partners with "National Laboratories" to conduct the type of research presented at the CIA's annual Jamboree conference. It confirms the U.S. government's aggressive efforts to steal encryption and authentication keys, as occurred in the NSA and GCHQ operations against Gemalto, the world's largest manufacturer of SIM cards, through the use of Computer Network Exploitation attacks.
In that case, spy agencies penetrated Gemalto's internal networks and cyberstalked its employees to steal mass quantities of keys used to encrypt mobile phone communications – Jeremy Scahill and Josh Begley
Microsoft's BitLocker Encryption
Microsoft has, for nearly a decade, included BitLocker, an encryption technology that protects data stored on a computer, in its Windows operating system.
Unlike Apple, which made encryption available to all customers, Microsoft had included this feature only in its more expensive premium and professional versions of Windows, up until a few years ago. BitLocker is designed to work with a Trusted Platform Module, a special security chip included in some computers, which stores the encryption keys and also protects against unauthorized software modification.
Presented at the Jamboree were successes in the targeting of Microsoft's disk encryption technology, and the TPM chips that are used to store its encryption keys. Researchers at the CIA conference in 2010 boasted about the ability to extract the encryption keys used by BitLocker and thus decrypt private data stored on the computer.
Because the TPM chip is used to protect the system from untrusted software, attacking it could allow the covert installation of malware onto the computer, which could be used to access otherwise encrypted communications and files of consumers. Microsoft declined to comment for this story – Jeremy Scahill and Josh Begley
Canadian Refuses to Unlock Phone, Faces $20k Fine, Jail Time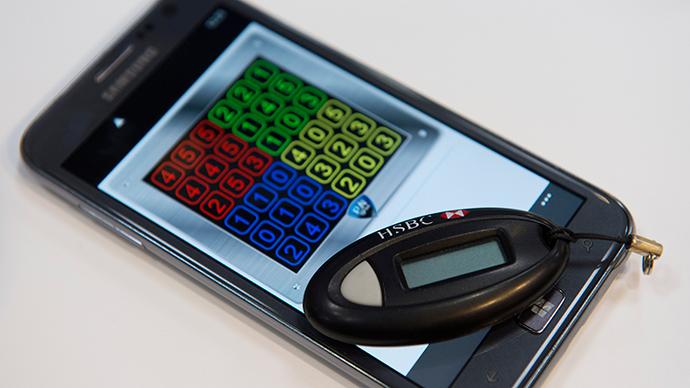 Alain Philippon has been detained and charged with "obstructing border officials" after he refused to provide his BlackBerry phone password to Canada Border Services Agency (CBSA) officers upon his arrival from the Dominican Republic this week.
"Philippon refused to divulge the passcode for his cell phone, preventing border services officers from their duties," the Canada Border Services Agency told AFP. Philippon told local media he would fight the charges, saying that he refused to provide the password because his smartphone data is "personal."
Philippon's case may make him the first person in Canada to test the depth and the scope of the applicable law. "This is a question that has not been litigated in Canada, whether they can actually demand you to hand over your password to allow them to unlock the device," Rob Currie, director of the Law and Technology Institute at the Schulich School of Law at Dalhousie University told CBC.
"[It's] one thing for them to inspect it, another thing for them to compel you to help them," Currie added. – Ina Fassbender
PLACES
Thailand
Whenever I land in Bangkok, I instantly feel the buzz. This is a city that's alive, unlike any other in the world.
Commerce is everywhere and sometimes it feels that the whole city is one big marketplace. Bangkok is known across the world for its exhilarating social life, but that same incredible energy is put towards business and entrepreneurship as well.
More expats are living in Thailand than just about anywhere else in the world; and many of these people are actually making their dream lifestyles a reality through online and offline businesses. They choose to come here because they can live well at just a fraction of the cost that they could back home. Delicious food, nice digs, tropical weather, and a great social life—all at a substantial discount.
Especially for online businesses, the connections here are great; there's an entire cadre of young entrepreneurs who have made a home in Thailand—primarily in Bangkok, Chiang Mai, and Phuket.
And an increasing number of VC firms are now flocking to the scene. Both local VCs and those with Silicon Valley experience are springing up, including that of InVent and Ardent Capital. Open to entrepreneurs both from Thailand and abroad you can have great access to training, mentorship and seed capital through incubators, such as HUBBA, MAD, and True Incube.
A lot of cities in the world have a lot to offer entrepreneurs, but to have everything a startup needs in terms of culture, excitement, budget, and opportunity all in one place—Bangkok is hard to beat – Simon Black
THE SINGULARITY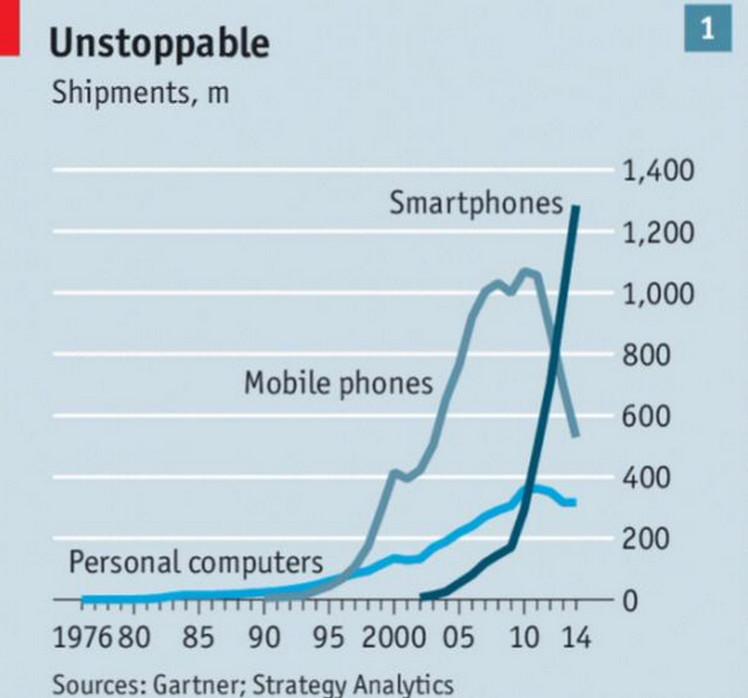 I wonder if there was ever a technology that took off as fast as the Smartphone, or if there will ever be another –

Bill Gross
Foxconn Expects Robots to Take Over 70% of Factory Work Within 3 years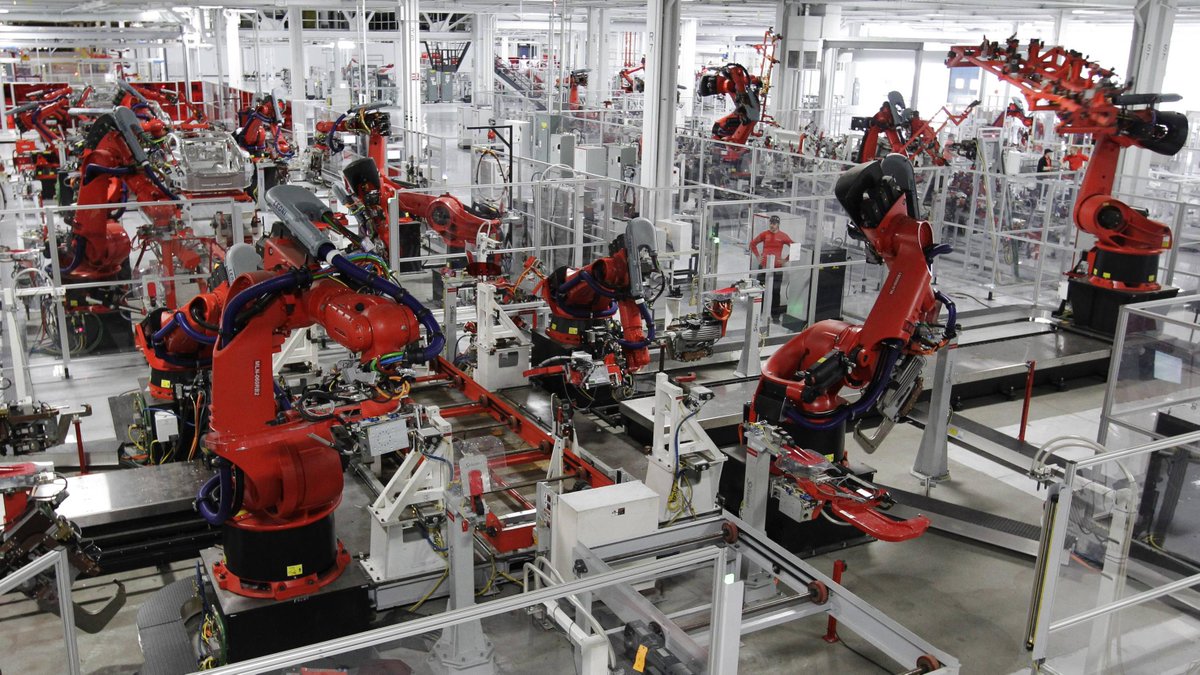 The electronics industry may still be reliant on human workers to assemble products, but Apple supplier Foxconn Technology Group is hopeful that robots will take over more of the workload soon.
Although the Taiwanese manufacturing giant employs over 1 million workers in mainland China, it has also been investing in robotics research. Previously Gou said he hoped to one day deploy a "robot army" at the company's factories, as a way to offset labor costs and improve manufacturing.
Last year, Gou said that the company already had a fully automated factory in the Chinese city of Chengdu that can run 24 hours a day with the lights off.
Gou declined to say more about the factory, or what it produced, but Foxconn has been adding 30,000 industrial robots to its facilities each year, he said in June. "I think in the future, young people won't do this kind of work, and won't enter the factories," he said – Michael Kan
How Long Until the First Machine Reaches Superintelligence?
Not shockingly, opinions vary wildly and this is a heated debate among scientists and thinkers. Many, like professor Vernor Vinge, scientist Ben Goertzel, Sun Microsystems co-founder Bill Joy, or, most famously, inventor and futurist Ray Kurzweil, agree with machine learning expert Jeremy Howard when he puts up this graph during a TED Talk:
Those people subscribe to the belief that this is happening soon—that expontential growth is at work and machine learning, though only slowly creeping up on us now, will blow right past us within the next few decades.
Others, like Microsoft co-founder Paul Allen, research psychologist Gary Marcus, NYU computer scientist Ernest Davis, and tech entrepreneur Mitch Kapor, believe that thinkers like Kurzweil are vastly underestimating the magnitude of the challenge and believe that we're not actually that close to the tripwire.
The Kurzweil camp would counter that the only underestimating that's happening is the underappreciation of exponential growth, and they'd compare the doubters to those who looked at the slow-growing seedling of the internet in 1985 and argued that there was no way it would amount to anything impactful in the near future.
The doubters might argue back that the progress needed to make advancements in intelligence also grows exponentially harder with each subsequent step, which will cancel out the typical exponential nature of technological progress. And so on.
Kurzweil's depiction of the 2045 singularity is brought about by three simultaneous revolutions in biotechnology, nanotechnology, and, most powerfully, AI.
I suggested earlier that our fate when this colossal new power is born rides on who will control that power and what their motivation will be. Kurzweil neatly answers both parts of this question with the sentence, "[ASI] is emerging from many diverse efforts and will be deeply integrated into our civilization's infrastructure. Indeed, it will be intimately embedded in our bodies and brains. As such, it will reflect our values because it will be us." – Tim Urban
Nanotechnology
Nanotech was first discussed by Richard Feynman in a 1959 talk, when he explained: "The principles of physics, as far as I can see, do not speak against the possibility of maneuvering things atom by atom. It would be, in principle, possible … for a physicist to synthesize any chemical substance that the chemist writes down…. How? Put the atoms down where the chemist says, and so you make the substance." It's as simple as that. If you can figure out how to move individual molecules or atoms around, you can make literally anything.
Nanotech became a serious field for the first time in 1986, when engineer Eric Drexler provided its foundations in his seminal book Engines of Creation, but Drexler suggests that those looking to learn about the most modern ideas in nanotechnology would be best off reading his 2013 book, Radical Abundance.
Once we really get nanotech down, we can use it to make tech devices, clothing, food, a variety of bio-related products—artificial blood cells, tiny virus or cancer-cell destroyers, muscle tissue, etc.—anything really. And in a world that uses nanotechnology, the cost of a material is no longer tied to its scarcity or the difficulty of its manufacturing process, but instead determined by how complicated its atomic structure is. In a nanotech world, a diamond might be cheaper than a pencil eraser.
We're not there yet. And it's not clear if we're underestimating, or overestimating, how hard it will be to get there. But we don't seem to be that far away. Kurzweil predicts that we'll get there by the 2020s. – Tim Urban
Death And Taxes
In 1800 there was no country with a life expectancy over 40. – Max Roser
Because everyone has always died, we live under the "death and taxes" assumption that death is inevitable. We think of aging like time—both keep moving and there's nothing you can do to stop them.But that assumption is wrong. Richard Feynman writes:
It is one of the most remarkable things that in all of the biological sciences there is no clue as to the necessity of death. If you say we want to make perpetual motion, we have discovered enough laws as we studied physics to see that it is either absolutely impossible or else the laws are wrong. But there is nothing in biology yet found that indicates the inevitability of death.
This suggests to me that it is not at all inevitable and that it is only a matter of time before the biologists discover what it is that is causing us the trouble and that this terrible universal disease or temporariness of the human's body will be cured.
The fact is, aging isn't stuck to time. Time will continue moving, but aging doesn't have to. If you think about it, it makes sense. All aging is is the physical materials of the body wearing down. A car wears down over time too—but is its aging inevitable? If you perfectly repaired or replaced a car's parts whenever one of them began to wear down, the car would run forever. The human body isn't any different—just far more complex.
If we ever do cure death, the aging of humanity's past will seem like this great tragedy that happened, which killed every single human until it was fixed – Tim Urban
Drugs That Dramatically Increase Healthy Lifespan Discovered
A research team has identified a new class of drugs that in animal models dramatically slows the aging process, alleviating symptoms of frailty, improving cardiac function, and extending a healthy lifespan.
They found two drugs — the cancer drug dasatinib (sold under the trade name Sprycel) and quercetin, a natural compound found in many fruits, vegetables, leaves and grains and also sold as a supplement that acts as an antihistamine and anti-inflammatory — can kill senescent cells. These are cells that have stopped dividing and accumulate with age, accelerating the aging process.
The scientists coined the term "senolytics" for this new class of drugs.
"We view this study as a big first step toward developing treatments that can be given safely to patients to extend healthspan or to treat age-related diseases and disorders," said TSRI Professor Paul Robbins, PhD – Kurzweil Accelerating Intelligence
Google Ventures Funding Life Extension Efforts
Bill Maris has $425 million to invest this year, and the freedom to invest it however he wants. He's looking for companies that will slow aging, reverse disease, and extend life.
"If you ask me today, is it possible to live to be 500? The answer is yes," Bill Maris says one January afternoon in Mountain View, California. The president and managing partner of Google Ventures just turned 40, but he looks more like a 19-year-old college kid at midterm.
Here's where you really figure out who Bill Maris is: on his bookshelf. There's a fat text called Molecular Biotechnology: Principles and Applications of Recombinant DNA. There's a well-read copy of Biotechnology: Applying the Genetic Revolution. And a collection of illustrations by Fritz Kahn, a German physician who was among the first to depict the human body as a machine.
Wedged among these is a book that particularly stands out to anyone interested in living to 500. The Singularity Is Near: When Humans Transcend Biology, published in 2005, is the seminal work by futurist Ray Kurzweil. He famously predicted that in 2045, humankind will have its Terminator moment: The rise of computers will outpace our ability to control them. To keep up, we will radically transform our biology via nanobots and other machines that will enhance our anatomy and our DNA, changing everything about how we live and die.
"It will liberate us from our own limitations," says Maris, who studied neuroscience at Middlebury College and once worked in a biomedical lab at Duke University. Kurzweil is a friend. Google hired him to help Maris and other Googlers understand a world in which machines surpass human biology. This might be a terrifying, dystopian future to some. To Maris, it's business.
This is where he hopes to find, and fund, the next generation of companies that will change the world, or possibly save it. "We actually have the tools in the life sciences to achieve anything that you have the audacity to envision," he says. "I just hope to live long enough not to die."
Google puts huge resources into looking for what's coming next. It spends millions on projects like Google X, the internal lab that developed Google Glass and is working on driverless cars. In January, the company made a $900 million investment in Elon Musk's SpaceX. In 2014, it started Google Capital to invest in later-stage technology companies. Maris's views on the intersection of technology and medicine fit in well here: Google has spent hundreds of millions of dollars backing a research center, called Calico, to study how to reverse aging, and Google X is working on a pill that would insert nanoparticles into our bloodstream to detect disease and cancer mutations.
With Google's money and clout behind him, Maris has a huge amount of freedom. He can, and does, go after Silicon Valley's most-sought-after startups. Uber, Nest, and Cloudera are among the firm's big wins. Maris doesn't intend to stop pursuing these kinds of deals. But he has other ambitions, too. "There are plenty of people, including us, that want to invest in consumer Internet, but we can do more than that," he says. He now has 36 percent of the fund's assets invested in life sciences, up from 6 percent in 2013.
"There are a lot of billionaires in Silicon Valley, but in the end, we are all heading to the same place," Maris says. "If given the choice between making a lot of money or finding a way to make people live longer, what do you choose?"
"We aren't trying to gain a few yards," Maris says. "We are trying to win the game. And part of it is that it is better to live than to die." – Katrina Brooker
Follow me on Twitter @leebanfield1
Bitcoin: 1Jwh6nZiASJf4d3hNytjxqiimWBmEJvJ4S
Bitmessage: BM-2cXjeAykLT7gbjzNHZFnCxdawvyryyb4Nf