BITCOIN
1 Bitcoin = $259
The Year of Wall Street in Bitcoin Continues

There is not one single whiteboard on Wall Street that does not have the word 'bitcoin' on it
– Matthew Roszak, Investor in NASDAQ Powered Noble Markets
Whether its former Wall Street executives moving into positions at bitcoin companies or large firms making investments in the bitcoin space, it's obvious that traders, traditional investors, and others are finally ready to take bitcoin seriously.
Stories of Wall Street involvement in bitcoin have been popping up all year long, and the most recent action comes in the form of Nasdaq's agreement to provide Noble Markets with the technology they need to attract hedge funds and other institutional investors to their digital currency exchange.
The X-stream trading technology created by Nasdaq will be implemented on Noble Markets's digital currency trading platform, and Noble Markets CEO John Betts noted, "We are excited that Nasdaq shares our vision and commitment to support the development of this ground-breaking market." – Kyle Torpey
Government Agent Busted in Silk Road Heist A Bitcoin Fanboy
At the same time that Carl Mark Force IV worked at the Drug Enforcement Administration investigating illicit online underworlds such as the Silk Road, he was also a budding bitcoin fanboy.
Force and Secret Service agent Shaun Bridges were arrested last month for allegedly funneling more than $1 million in digital currencies into their personal bank accounts. Force's digital footprint reveals that he was deeply entrenched in the world of bitcoin, even when he wasn't on duty.
In February 2014, for example, Force interviewed with the bitcoin news and analysis site CoinDesk about digital currency tax issues.
"I'm a proponent of bitcoin and hope it does succeed and take over the monetary system of the world," he told former San Francisco Chronicle writer Carrie Kirby – Kristen V. Brown
———————————————————
Tara Vancil: Bitcoin is too disruptive to ignore. Even the federal agents investigating Silk Road couldn't resist!
Michael Goldstein: Daniel Krawisz has written some fantastic articles about the incentives for defection that Bitcoin creates in organizations, especially of a criminal nature. They are must-reads for people interested in this story :
Bitcoin's Rugged Individualism
Bitcoin's Shroud of Subtlety and Allure
The Fappening – Brought to You By the Information Marketplace
As Bitcoin's value proposition becomes clearer to government agents, we can expect more of these events to happen, though we will only ever hear about the defectors who get caught.
The Technical Doubts Have Evaporated, Now Fear is Setting In.
First they said Bitcoin was a Ponzi Scheme, then they said it was only for "techies" then they said it was a bubble, then they said some other nonsense about it.
Now, no one says any of those things, and they are onto the next iteration of their FUD; for example, the transaction rate is "not fast enough". They have conceded that Bitcoin works exactly as specified, and are running out of novel attacks.
The rumblings of complete capitulation are starting to be written, and its a distinct pleasure to read them – Beautyon
Bitcoin's Success is Deeply Disturbing to the Statists
What the Statists do not like about Bitcoin not being under central control, is that its success is a strong, undeniable signal that control by democratic government is not needed for essential societal functions like money, and that there are better ways to organize every aspect of society that do not require government.
The idea that money will no longer be the special preserve of the State and its corrupt central banks is deeply disturbing to these men, and so, they do anything they can (which is precisely nothing) and say anything they can (which is too much) to undermine the idea that Bitcoin does not need to be centrally controlled – Beautyon
Obama Orders War on "Malicious" Cyber Activity in Emergency Order
The document, 'Blocking the Property of Certain Persons Engaging in Significant Malicious Cyber-Enabled Activities,' which surfaced Wednesday, states that the measures are needed to counteract "an unusual and extraordinary threat to the national security" posed by "cyber-enabled activities originating from, or directed by persons located, in whole or in substantial part, outside the United States."
I, BARACK OBAMA, President of the United States of America, find that the increasing prevalence and severity of malicious cyber-enabled activities originating from, or directed by persons located, in whole or in substantial part, outside the United States constitute an unusual and extraordinary threat to the national security, foreign policy, and economy of the United States. I hereby declare a national emergency to deal with this threat.
While the impetus for the order's hasty enactment is not elaborated upon, it is in the interests of "national security" that authorities in the US are now seemingly able to immediately seize and hold an individual's cryptocurrency wealth without giving prior notice.
The declaration by Obama states:
"I find that because of the ability to transfer funds or other assets instantaneously, prior notice to such persons of measures to be taken pursuant to this order would render those measures ineffectual. I therefore determine that for these measures to be effective in addressing the national emergency declared in this order, there need be no prior notice of a listing or determination made pursuant to section 1 of this order."
———————————————————
The description of activities determined to be malicious under the order is so vague as to potentially include any user of a computing system, but especially targets the normal work of security researchers in civilian employment as Rob Graham highlights.
The declaration of National Emergency establishes "hackers" as a clear and present danger to the point that people who have merely associated with or even unknowingly contributed any form of support to "hackers" can be subjected to sanctions typically reserved for war criminals, terrorists, and the leaders of drug cartels – Bingo Boingo
'Obama Effect' Results in 200 Bitcoin Donations to Edward Snowden
I just donated to Snowden in violation of Barack Obama's recent Executive Order (Official Snowden Defense Fund) #ArrestMe #Bitcoin
In light of a sudden "executive order" issued by Barack Obama in America, many Bitcoin redditors surmised that it's now illegal to donate money to people like Edward Snowden.
Within just a few hours of the legalese going up at WhiteHouse.gov, a whole swarm of Bitcoin users and miners alike decided to send some extra thanks to Snowden.
In less than 24 hours, nearly 200 unique Bitcoin donations – ranging from 25 cents to US$2,141 – poured into 1snowqQP5VmZgU47i5AWwz9fsgHQg94Fa
ALTCOINS
Monero
I probably should get around to finally buying some Monero. xmr.to is a pretty clever service.
We're going to find out the hard way that Bitcoin will get outcompeted by currencies like Monero and Zerocash if we don't act to get better anonymity and privacy into Bitcoin itself – Peter Todd
The Euro / Gold: Capital Controls in France
Few days ago in france: "terrorism is bad, let's lower the limit for cash payments from 3000 to 1000€" – Davout
——————————————–
French paper Le Parisien didn't mince words in the headline: "La chasse au cash est lancee". Basically 'hunting season on cash is launched'.
Most importantly, moving and transporting GOLD through France, even through a professional freight service, must now be declared and reported to French customs.
These restrictions are capital controls, plain and simple. And they're designed for one single purpose: to keep people's savings trapped in the banking system.
Interest rates in most of Europe are negative… and likely becoming even MORE negative. It's obscene. And no one in his/her right mind is going to put up with this for too long. After all, what's the point of paying a banker NEGATIVE 0.25% if you can simply withdraw all of your savings in cash and hold it in a safety deposit box?
And as interest rates become even more negative, more and more people will realize that they're much better off holding physical cash instead of paying their banker.
Their aim is to close every door possible… to eliminate every alternative that people have to hold savings outside of the banking system.
IBM and Intel Chase Blockchain Gold, But Demonstrate a Lack of Understanding
A Reuters article titled "IBM looking at adopting bitcoin technology for major currencies" states:
"International Business Machines Corp is considering adopting the underlying technology behind bitcoin, known as the "blockchain," to create a digital cash and payment system for major currencies, according to a person familiar with the matter.
The objective is to allow people to transfer cash or make payments instantaneously using this technology without a bank or clearing party involved, saving on transaction costs, the person said. The transactions would be in an open ledger of a specific country's currency such as the dollar or euro, said the source, who declined to be identified because of a lack of authorization to discuss the project in public."
The article goes on to state that this would be a private implementation:
"The company has been in informal discussions about a blockchain-tied cash system with a number of central banks, including the U.S. Federal Reserve, the source said. If central banks approve the concept, IBM will build the secure and scalable infrastructure for the project."
But here's the rub. A private implementation of the blockchain is an oxymoron.
If IBM intends to "build the secure and scalable infrastructure," then the blockchain trust model isn't needed or even beneficial. If the system is owned or operated by a single entity, then that entity becomes the central authority and may as well implement the solution on a traditional database – Tim Sloane
—————————
Like I said. If you want to run a database, run MySQL or PostgreSQL. You don't need a Bitcoinless Blockchain – Beautyon
MARKETS
Markets are More Distorted Than Ever Before
The current cycle is very unusual, because never before have we seen authorities, central banks in particular, intervening on such a large scale and pumping so much money into global financial markets. Hence, global financial markets are more distorted than ever before and accordingly, the risks are very high.
Investing becomes very difficult in such an unprecedented environment, as it can't be compared to previous situations.
Zero or even negative interest rates have distorted the valuation and pricing of virtually all assets. We know that the longer a distortion prevails, the more investors get used to it and it becomes the "new normal" to them. That's where the problem lies! – Felix Zulauf, Zulauf Asset Manangement
Negative Interest Rates
Europe has such dangerous financial incentives now that in certain cases there are SAVERS who are paying the bank to deposit their money, and BORROWERS who are being paid by the bank to go into debt.
It's completely upside down.
Interest rates literally are negative. Most notably, you have to pay money for the privilege of loaning your savings to bankrupt governments.
It's easy to look back on the housing crisis with 20/20 hindsight and say, "That was dumb…"
Yeah. It was. But this is even dumber… and very few people in finance seem to care – Simon Black
Overstock Buys 25% in Broker Dealer for $250k to Develop Cryptosecurities
Overstock.com says it has acquired a 24.9% stake in an unnamed "registered broker-dealer" as part of efforts to "develop and license software to trade cryptosecurities using the Bitcoin network and its protocols." The company paid $250,000
A passionate supporter of Bitcoin and vocal critic of Wall Street, Overstock's Patrick Byrne announced intentions to create a registered marketplace for "cryptosecurities" last year. Dubbed the "Medici" project, the aim is to "democratize Wall Street" and remove the middleman in securities trading, much like Bitcoin is envisioned for the movement of money.
Byrne did stipulate that he wants Overstock "to be an adult partner to everyone involved in this" and that he doesn't "want to be an adversary." The project aims to create a fully regulated platform and is working with a legal team seasoned with digital currency to see how this can be done.
A number of "Bitcoin 2.0″ protocols were proposed, the first one to be employed for active development being Counterparty. Recently, Counterparty developers left the project. According to Overstock, there was a shift in the project's direction and other protocols are being incorporated – Leon Pick
COMPANIES / PROJECTS / PRODUCTS
IBM to Launch a New Internet of Things Unit Worth $3 Billion
On Tuesday, IBM announced its plans to start a new Internet of Things (IoT) unit, in which IBM will invest $3 billion during the next four years.
"Our knowledge of the world grows with every connected sensor and device, but too often, we are not acting on it, even when we know we can ensure a better result," said Bob Picciano, senior vice president of IBM Analytics, commenting on the launch of the new IoT unit.
CNET reports IBM's statement regarding the parts of the unit:
* A cloud platform for industries aimed at verticals. IBM will offer dynamic pricing models and cloud delivery to various verticals.
* Bluemix IoT platform as a service so developers can create and deploy applications for asset tracking, facilities management and engineering tools.
* An ecosystem of partners ranging from AT&T to ARM to The Weather Company.
* It's worth mentioning that in January, IBM issued a paper on the Autonomous Decentralized Peer-to-Peer Telemetry (ADEPT), a new decentralized Internet of Things system using the blockchain technology.
"Applying the blockchain concept to the world of [Internet of Things] offers fascinating possibilities. Right from the time a product completes final assembly, it can be registered by the manufacturer into a universal blockchain representing its beginning of life. Once sold, a dealer or end customer can register it to a regional blockchain (a community, city or state)," stated the draft paper – Eugenia Romanenko
Bitseed Personal Server: The Bitcoin Node edition
Just bought two of these – Bitseed standalone hardware Bitcoin nodes (strengthen the P2P network!) – Erik Voorhees
$149.00
The Bitcoin Node edition of the Bitseed Personal Server comes preconfigured as a full bitcoin node.
The bitcoin blockchain has grown to over 26GB in size, and is no longer convenient to run on a notebook, mobile device or even a workstation PC – yet full nodes are necessary for the health of the network.
The Bitseed Personal Server allows you to keep bitcoin running 24/7 without slowing your PC or crimping your mobile lifestyle.
Features
* Automatically runs Bitcoin Core full node client
* Easy Setup – just plug it into your router and turn it on
* Low Power – uses less than 10 watts
* Perfect for bitcoin developers and hobbyists.
– http://bitseed.org/product/blockchain-node-developer-version/
There Are Now More Uber Cars Than Yellow Taxis In New York City
The ride-sharing company has 14,088 cars operating in New York, compared to the 13,587 yellow medallion cabs allowed to drive at any one time – Jacob Pramuk
Driverless Car Travels 3,400 Miles from San Francisco to New York
Delphi's driverless SQ5 covered almost 3,400 miles while crossing 15 states and the District of Columbia in nine days.
Delphi packed their SUV full of autonomous features that should make it into production in just a few years from now. The coast-to-coast trip was the longest automated drive in America so far, and with 99 percent of the distance covered in fully autonomous mode, Delphi calls it a success despite missing that crucial final percent – Mate Petrany
Tesla Cars Will Start Self Driving This Summer
All Teslas will get an over-the-air update this summer, probably around June, allowing them to drive in "Autopilot" mode.
Musk did confirm that the Autopilot mode would be "technically capable of driving from parking lot to parking lot." The car will also be allowed to drive itself when you summon it, and when you're parking it in your garage.
It seems Autopilot will be disabled when you're not doing freeway driving, which is by far the easiest aspect of autonomous vehicle activity.
Just to be clear, we're not talking about some far-off future Tesla. We're not talking about Google driverless car prototypes or government road tests. This is a car you can buy today, which will be given the ability to drive itself in a few months via the same setup that updates your iPhone. Automated automobiles, automatically activated – Chris Taylor

Google's Driverless Car Project
The head of its secretive Google X labs, Astro Teller, casually dropped in to his South by Southwest talk an intriguing nugget: the company could have offered freeway-driving driverless cars as much as two years ago, but preferred to build a vehicle from the ground up that could handle all driving — and didn't have so much as a steering wheel.
"We could have taken a much easier path than the one we've chosen," Teller told a packed crowd in an Austin ballroom.
"Two years ago we had a perfectly good freeway commute helper. Freeway driving was easy for our cars at that point. You stay in your lane, change lanes occasionally, and don't hit the guy in front of you — there's the occasional poor driver who makes things a little interesting, but the car had basically mastered freeways."
And how about surface streets? We know the biggest problem is trying to figure out those unpredictable pedestrians who might step out into traffic at any moment, or do one of a hundred crazy things; we've long assumed that's the sort of situation that only a human brain can handle. But according to Teller, Google X is mastering the most complex pedestrian situations, too – Chris Taylor
PRIVACY
These are the Belladonnas of the Digital Garden
Anti-virus software : This is pure security theatre. If you need a rubber stamp to make you feel safe about your computing environment, you're either a professional ass-coverer or a just very simple man indeed.
Javascript : Regularly used to make websites more "dynamic," Javascipt is widely used in phishing attacks and to execute malicious code on the client's computer.
PDF : There are no less than 279 critical vulnerabilities published for Adobe Reader and hundreds of "less serious" ones that don't exactly inspire confidence.
Tor : The NSA designed and controls this system and the nodes that support it. You don't have anonymity, you just have really, really slow Internet.
Webwallets : There are proper ways to store your bitcoins, namely paper wallets, and there are improper ways, namely webwallets
Whole-disk encryption : While an appealing idea, whole-disk encryption doesn't work like it says on the box. You're better off using PGP to encrypt on a file-by-file basis.
Windows : This warning encompasses anything produced by Microsoft, including but not limited to operating systems and the widely used and equally loathed Office suite. It's all really rather horrifying.
PLACES
Chile
Despite its volatile political past, Chile is a stunning example of what can happen when a country embraces economic freedom.
In 1975 Chile was next to last among all the countries ranked by the Fraser Report. Today it is among the world's top 10 economically free countries – Johan Norberg, Economic Freedom in Chile
Hong Kong
Hong Kong has made it clear they will not regulate. It is now destination number one for all Bitcoin Businesses that want to profit – Beautyon
——————————————————–
The Hong Kong government has rebuffed requests for new legislation aimed at curtailing the use of Bitcoin because it is unlikely to have a significant impact on the Hong Kong financial system.
Professor KC Chan believes there is no need for the government to consider the introduction of new legislation to regulate or prohibit Bitcoin at this time – cazalla
South Korea
It's hard to believe how much the bitcoin industry has grown in Korea over the past year. There's a good chance it will be one of the first Asian countries where bitcoin really takes off – RubenSomsen
Coinplug made bitcoin more accessible by providing 2-way ATMs and is selling bitcoins at 24,000 7-Eleven convenience stores.
On top of that, they recently unveiled their collaboration with Nautilus Hyosung – one of the largest ATM manufacturers in Asia – making bitcoin purchasable at 7000 ATMs across the country.
Recently in the heart of Seoul, the Bitcoin Center Korea opened its doors. The Center is a bitcoin information center, a community center for meetups, and a co-working space. They're open daily to the public and welcome anyone interested in bitcoin. The focus of the Center will be on education, as it aims to provide daily tutorials and workshops on various Bitcoin-related topics – Alireza Beikverdi
The United Kingdom 
The United Kingdom has a long history of being hostile to civilian applications of cryptography of which the Bitcoin network is the greatest application so far.
As far back in history as the Search Legislation Regulation of Investigatory Powers of Act 2000 the United Kingdom has reserved the power to compel ostensible citizens of the Kingdom to disclose private keys to benefit the economic interests of the state.
That old law of course meaning that anyone in the United Kingdom who happened to hold any Bitcoin at all could be subject to seizure to bolster the state's holdings if it decides on a whim it needs Bitcoin to hold.
It is a simple fact of the legal system constructed in the United Kingdom that residents outside of the royal family are not citizens, but subjects. Any property subjects of the crown might imagine themselves entitled to is regarded a property of the state that has been of right always a property of the state – Bingo Boingo
Indonesia to Scrap Visa Requirments for More Tourists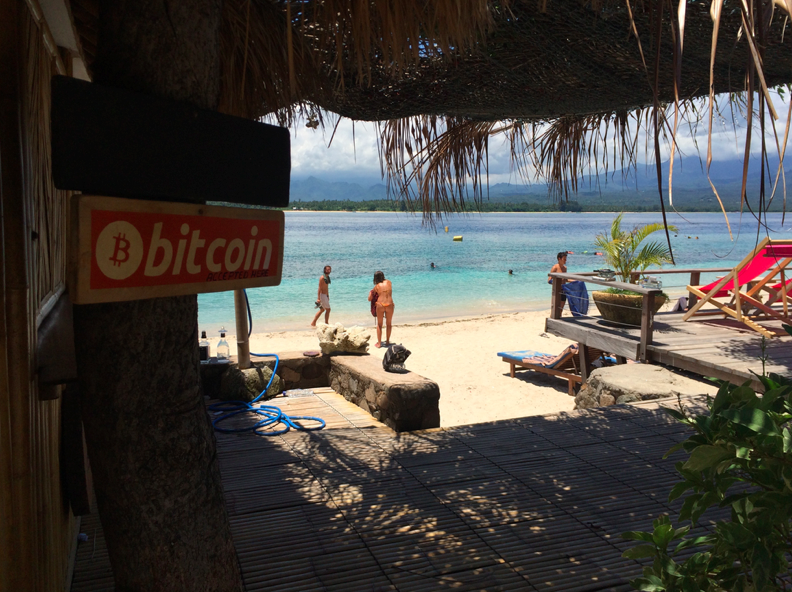 Indonesia says tourists from an additional 30 countries will soon be allowed to visit without a visa.
Announcing the changes, Mr Yahya said he hoped the policy, which could bring in an extra $1 billion a year to Indonesia's economy, would come into effect next month.
"People who want to travel to Indonesia won't need to worry about a visa any more"
"We hope that we can attract an additional one million foreign tourists." he said.
———————————————
Before the extra 30 states were added to the visa-free travel plan, the original 15 were the 10 member countries of the Association of South East Asian Nations, and Macau, Hong Kong, Chile, Ecuador and Peru.
The 30 countries that are joining this list as from next month include China, South Korea, Japan, the US, Canada, Mexico, New Zealand, Russia, the UK, Germany, France, the Netherlands, Italy, Spain, Belgium, Switzerland, Denmark, Austria, Norway, Sweden, Finland, Poland, the Czech Republic, Hungary, Qatar, Kuwait, the UAE, Oman, Bahrain and South Africa.
Global Internet Rankings
* Asia leads the world and claims the top three positions for Internet speeds during 2014.
* On a global basis, the average connection speed increased 20% year over year to 4.5 Mbps.
———————————————————-
* South Korea has the highest average connection speed in the world (22.2 Mbps)
* Hong Kong has the highest peak connection speed in the world (87.7 Mbps)
———————————————————-
* Thailand ranks 45th in the world for average connection speed (7.1 Mbps). Average connection speed increased 46% YoY
* Malaysia average speed = 4.1 Mbps
* Vietnam = 2.7 Mbps
* Philippines = 2.7 Mbps
* Indonesia = 1.9 Mbps
THE SINGULARITY
William Gibson tries VR headset for the 1st time."they did it!" – Perry Chen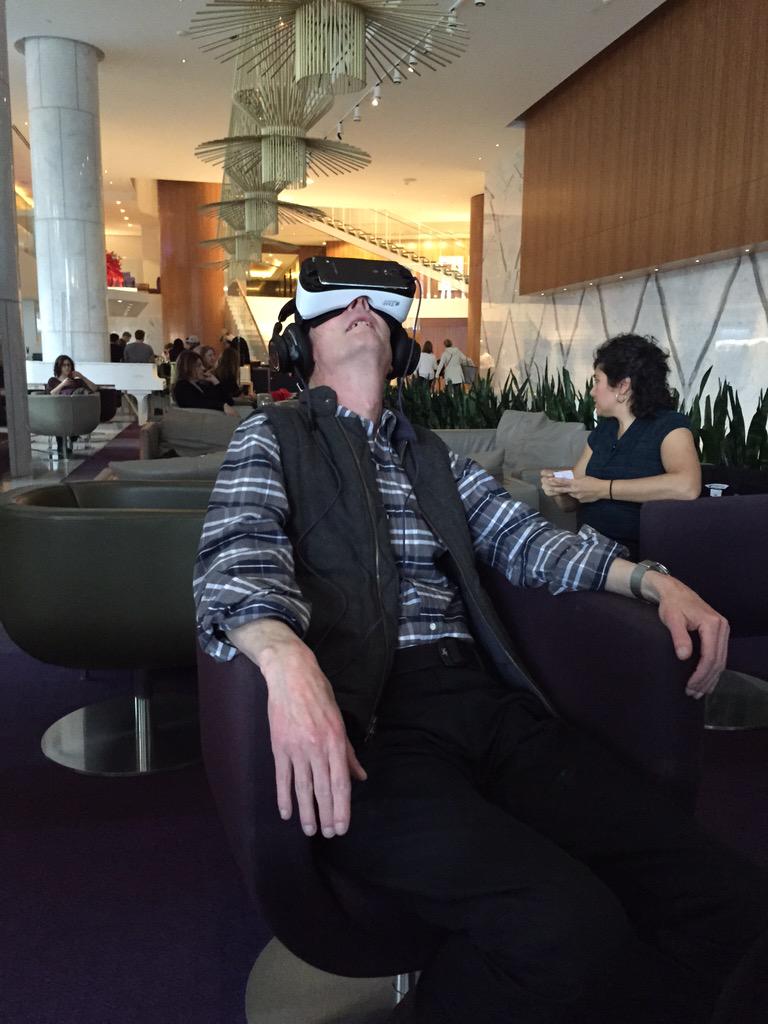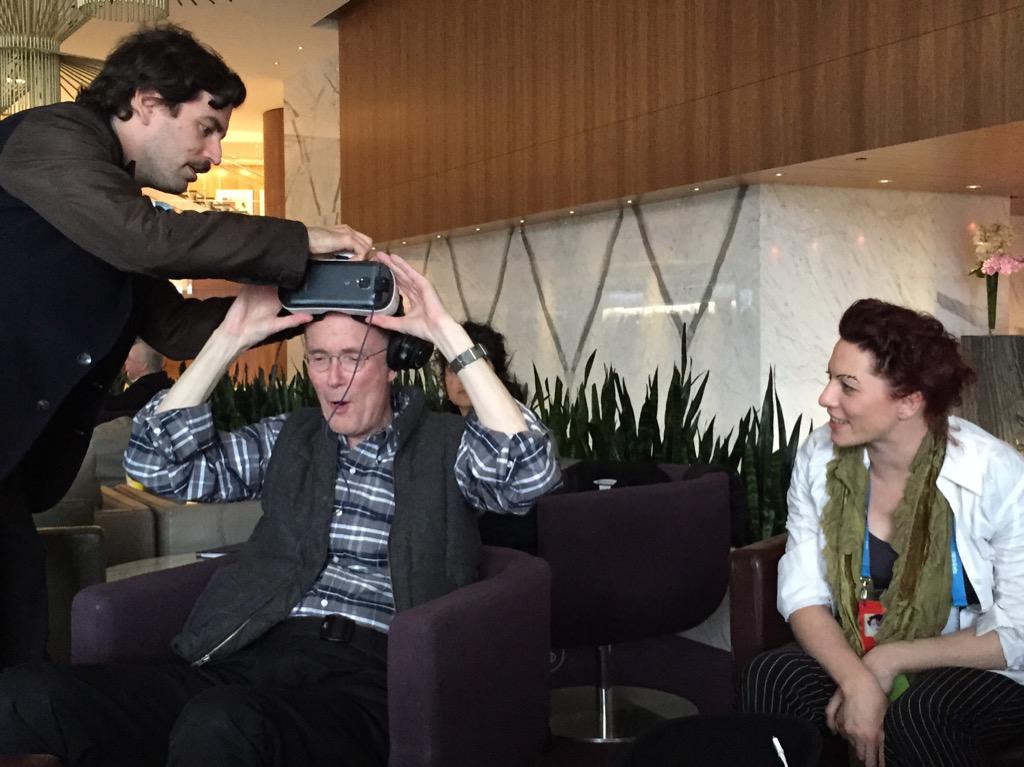 SpaceX: No one laughs anymore when we talk about colonizing Mars
When Elon Musk founded SpaceX, way back in 2002, the plan was to colonize Mars. The company is now profitable, America's number one choice for flying astronauts to the International Space Station, and thinking about building a satellite-based internet to connect the world. But all of those are stepping stones for the Mars plan, which is very much still the focus of the company.
"We're not shy about talking about Mars, which would be an extraordinary step for humans, to actually have a settlement there. The whole company is geared up on that, everybody's eye is on the Red Planet," SpaceX President Gwynne Shotwell said.
We know that SpaceX is developing a methane-based rocket engine known as Raptor to get to Mars, but beyond that, much of it is speculative – Jason Koebler
The Law of Accelerating Returns 
An analysis of the history of technology shows that technological change is exponential…….. we won't experience 100 years of progress in the 21st century — it will be more like 20,000 years of progress (at today's rate)
The "Babel Fish" Universal Translator
Wired (Dec 2014) wrote: "Microsoft is already using some of the text translation technology underpinning Skype Translate to power its Bing Translate search engine translation service, and to jump start the foreign language translation of its products, manuals, and hundreds of thousands of support documents."http://www.wired.com/2014/12/skype-used-ai-build-amazing-new-language-translator/
Live Science wrote (21 Mar 2015): "Ongoing research could eventually power machine translators that rival the fluidity of sci-fi translators, Google researcher Geoffrey Hinton suggested in a Reddit AMA— he likened the possibilities to those of the "Babel Fish" universal translator in Douglas Adam's "Hitchhiker's Guide to the Galaxy." (In the book, the Babel Fish is a small leechlike fish inserted into the ear that provides instant, universal translation.)" http://www.livescience.com/50216-star-wars-artificial-intelligence-universal-translator.html
GigaOm (29 Jan 2015) quoted Geoffrey Hinton: "In few years time we will put it on a chip that fits into someone's ear and have an English-decoding chip that's just like a real Babel fish." https://gigaom.com/2015/01/29/how-ai-can-help-build-a-universal-real-time-translator/
What it Would be Like to Live on Saturn's Moons Titan and Enceladus
Titan
If you were in the outer solar system and you had to make an emergency landing, go to Titan," NASA astrobiologist Chris McKay told Space.com.
Titan is the only moon in our solar system with a dense atmosphere and thick cloud cover.
If you lived on Titan, you wouldn't need a pressurized suit to survive; all you'd really need is an oxygen mask and very warm clothing, McKay said.
Titan's surface is covered with dunes and rocks of water ice, and the moon has networks of methane lakes, rivers and seas concentrated at its poles.
The moon doesn't have any tornadoes or other cyclones. Living on Titan, you'd also be safe from cosmic rays and moonquakes. "It's a pretty benign environment," McKay said.
Enceladus
The best location for a base on Enceladus would be close to its "tiger stripes," which are cracks in the surface at the moon's south pole. Here, giant fissures spew plumes of frozen ice particles and cold vapor into space
In all, this region produces about 15.8 gigawatts of heat-generated power, which is roughly equivalent to the output of 20 coal-fired power plants. "If you build your base fairly close to the tiger stripes, you might have a source of heat you could tap into," Cassini project scientist Linda Spilker told Space.com.
Scientists think the south pole's plumes come from a potentially life-harboring ocean located beneath the moon's 19- to 25-mile (30 to 40 kilometers) thick ice shell. If you were living near the tiger stripes, you'd probably want to drill into the ice and explore the ocean for signs of life, Spilker said.
Follow me on Twitter @leebanfield1
Bitcoin: 1Jwh6nZiASJf4d3hNytjxqiimWBmEJvJ4S
Bitmessage: BM-2cXjeAykLT7gbjzNHZFnCxdawvyryyb4Nf