BITCOIN

1 Bitcoin = $236
Price
It was only 2 years and 1 month ago that people were ecstatic about bitcoin hitting $100 for the first time – Roger Ver
Goldman Sachs Has Called the Virtual Currency a Coming "Megatrend"
Goldman Sachs is becoming the first major bank to make a significant investment in a Bitcoin-focused company.
The Wall Street bank announced late Wednesday that it had struck a partnership with a major Chinese investment firm, IDG Capital Partners, to lead a $50 million investment into Circle Internet Financial
A few other Bitcoin companies have recently announced small investments from European banks, and several bank executives have spoken of their interest recently. But Goldman is the first major bank to make such a prominent investment – Nathaniel Popper
—————————————————-
Tara Vancil: In Oct I spoke w/a friend who's a G. Sachs analyst. I introduced her to Bitcoin. She said it would never work. Oh?
—————————————————-
Samada: I can't get very enthusiastic about an organised crime syndicate digging the promise of crypto currency.
Erik Voorhees: The impossibility of inflation and transparency of the blockchain would limit the scope of their nefarious action
ALTCOINS
US Dollar Index (DXY)
US Dollar all-time monthly win streak of 9 ends –  Ryan Detrick
Buy on Amazon at Discounted Prices: Purse.io Integrates ShapeShift
Spend Tether, Dash, Litecoin, XRP, Monero, CounterParty, NXT & more at Amazon – Erik Voorhees
Supports the following countries: UK, Canada, Germany, Japan, China, France, Italy, Spain, India – ShapeShift.io
Namecoin
So here's my opinion, which is really going to get me hated, but I think Namecoin as a decentralized DNS-type system is dead.
It's had nearly four years to catch on, and it has pretty much zero adoption. There are 100,000s of squatted domains, but only about 30 developed Dot-Bit sites. All of those are mirrors of Dot-Com or Dot-Net or Dot-Org sites (as they probably should be, to provide redundancy and protection against censorship), and about half of those 30 sites are mine.
There are probably less than 5,000 people in the world set up to actually view Dot-Bit sites, based on downloads of MeowBit and FreeSpeechMe. There was a lot of mining and trading of Namecoin, and a lot of squatting domains, but almost no building of domains or use of resolvers.
The problem is three-fold:
1) Namecoin wasn't easy enough to use. The wallet still sucks
2) Some of the team tried to partner Namecoin with Google and even ICANN. That makes no sense. That's making a technology to circumvent governments and then handing it over to governments.
3) Most people don't care. Despite censorship of the Web around the world, and the threat of more impending Web censorship in the US, most people would rather spend hours forwarding and discussing horror stories of censorship and impending doom than actually spending an hour making their own domain censorship-proof by setting up a Dot-Bit mirror URL and then promoting it.
MARKETS
Overstock Files for Permission to Issue $500m of Cryptosecurities
Overstock filed what is called a "shelf registration." Basically, this would allow the company to sell any kind of security—common stock, preferred, debt, warrants, etc.—if and when it chooses to. Such filings are not uncommon–though this one is unusual in that it says the company could issue the securities in digital form.
"We may decide to offer securities as digital securities…the ownership and transfer of which are recorded on a cryptographically-secured distributed ledger system using technology similar to (or the same as) the distributed ledger technology used for trading digital currencies," the filing reads.
According to Overstock's filing, the company would offer its digital security through what's called an alternative trading system, or ATS. This is essentially a stock market alternative that must be registered with the SEC. Overstock would have to make arrangements with an existing ATS or somehow create a new one. It must also answer any SEC objections from the SEC.
The SEC declined to comment on Overstock's filing. But according to Byrne and company spokesperson Judd Bagley, Overstock expects the SEC to open a review of the filing. Byrne has an unusually combative history with the SEC, but he says that he intends to take a more diplomatic route towards a cryptosecurity. Of the filing, he says: "I wouldn't have taken all the time and trouble and expense to do this if I didn't plan on using it someday soon." – Cade Metz
Mainland Chinese Stocks
Wow. Chinese investors opened 3.26 million new accounts this past week… Gives new meaning to 'chasing the dragon' – John Kicklighter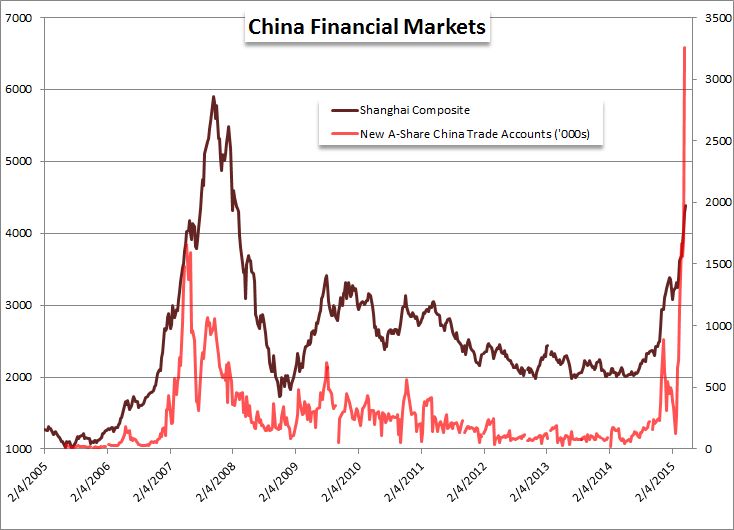 Swiss Bank Refuses Request for Cash Withdrawl
A Swiss pension fund manager calculated that he could save his clients a substantial amount of money by withdrawing cash from his fund's bank account, which was yielding a negative interest return, and depositing the cash in an insured vault.  Exercising his fiduciary responsibility, he notified his bank of an impending large withdrawal of CHF.
The bank rebuffed the fund manager's request, informing him: "We are sorry, that within the time period specified, no solution corresponding to your expectations could be found".
One banking expert argues that the bank's action "is most definitely not legal" because the pension fund holds a "sight account,"  which gives the holder the right to withdraw cash on demand.
The president of the pension funds association (ASIP), Hanspeter Konrad sees in this incident the hand of the Swiss National Bank, which wants to discourage the hoarding of cash as a means of circumventing negative interest rates.  Accordingly, "The National Bank has therefore recommended to the banks to approach withdrawal demands in a restrictive manner." – Joseph T. Salerno
A Bubble That is Bound to End Badly
Here's an astonishing statistic; more than 30pc of all government debt in the eurozone – around €2 trillion of securities in total – is trading on a negative interest rate.
On a country by country basis, the statistics are even more startling. According to investment bank Jefferies, some 70pc of all German bunds now trade on a negative yield. In France, it's 50pc, and even in Spain, which was widely thought insolvent only a few years ago, it's 17pc.
Not only has this never happened before on such a scale, but it marks a scarcely believable turnaround on the situation at the height of the eurozone crisis just a little while back, when some European bond markets traded on yields that reflected the very real possibility of default. Yet far from being a welcome sign of returning economic confidence, this almost surreal state of affairs actually signals the very reverse.
The combined public debt of the G7 economies alone has grown by close to 40 percentage points to around 120pc of GDP since the start of the crisis, while globally, the total debt of private non-financial sectors has risen by 30pc, far in advance of economic growth.
The flip side of the cheap money story is soaring asset prices. The bond market bubble is just the half of it; since most other assets are priced relative to bonds, just about everything else has been going up as well. Eventually, there will be a massive correction, in which creditors will suffer sickening losses.
One burst of money printing is met by another in an ultimately futile, zero-sum game of competitive currency devaluation. Both Keynsian and monetary economics seem to be in some kind of end game. What comes next is anyone's guess – Jeremy Warner
COMPANIES / PROJECTS / PRODUCTS
OpenBazaar
The New York Times article on Bitcoin disrupting the Argentinian economy was great. Primarily use seems to be money transmission.
Eventually this will shift as OpenBazaar is translated into Spanish. Followed by Mandarin, also Hindi & Portuguese for emerging markets.
Network stability and a lean efficient client are tough to build at this stage, mostly in time, but it will more than pay off – Washington Sanchez, OpenBazaar Labs Lead
Fold Coffee
Izabella Kaminska: The blockchain may be useful, but not Bitcoin. At least not as a currency in the real world.
Erik Voorhees: Bitcoin is not useful? I save 20% at Starbucks every damn day with coffee.foldapp.com Try that with fiat.
——————————————————
Though the app will warn you that it is untested outside the United States, the good folks at Bitcoin Hong Kong have confirmed that it works here too – Coconuts Hong Kong
Lowe's To Offer In-Store Customized 3D Printing
Home improvement giant Lowe's debuting scanning and 3D printing services at an Orchard Supply Hardware store in Mountain View, California.
Customers can choose from various template objects—light switch plates, address plates, door handles, cabinet knobs—and customize and 3D print them.
Online Education
I'm HUGELY bullish. I love what all of these companies are doing. Education currently has too many political interests that are screwing over kids, and the playing field is extremely uneven globally.
The future of education is software, including open-source projects like the Global Literacy X PRIZE, which I am a supporter of.
I'm also heavily involved in startups like CreativeLive and Duolingo. Duolingo now teaches more students foreign languages per month than the entire K-12 public school system in the US. They now have 70 million+ users, and it's all free. Their business model is genius: businesses pay for crowdsourced translations!
It's amazing what good, scalable technology can do. I'm very optimistic – Tim Ferriss
Magic Leap
It's not clear when Magic Leap's technology will be available for consumers, but founder Rony Abovitz has some big ideas about how they'll use it.
He believes that one of the early uses of Magic Leap will be games. Eventually, though, the tech will infuse itself into every experience. "Imagine you are walking in China and all the billboards are in English. And at the restaurants, as the people are talking to you, there are live subtitles," he says, explaining what the device will enable. "You don't even realize you are in a computer; it's just happening." – Jessi Hempel
The Tesla Powerwall
$3,000
* Order at teslaenergy.com
* Shipping starts in 3 or 4 months
* Take Homes and Businesses Off the Grid
* Solar Powered Day and Night
* Avoid Paying Peak Rates
Powerwall is a home battery that charges using electricity generated from solar panels and powers your home in the evening.
It also fortifies your home against power outages by providing a backup electricity supply. Automated, compact and simple to install, Powerwall offers independence from the utility grid and the security of an emergency backup.
– Tesla
PRIVACY / SECURITY / INTERNET
Chainalysis
The fact that this company has a NPV >0 is proof that Bitcoin is failing in terms of privacy. Fix it. – Justus Ranvier
Chainalysis Roadmap, April 2015
THE SINGULARITY
Robots Entering the Workforce in Japan
A growing number of Japanese businesses are testing out robots as a possible solution to the country's shrinking workforce. They're appearing in stores, banks and soon even hotels.
Bank of Tokyo-Mitsubishi UFJ is trying out "Nao," a customer service robot that answers basic questions and is designed to speak 19 languages. The robotic polygot could prove useful serving foreign customers during the 2020 Tokyo Olympics. By then, the bank hopes to have even more robots on staff.
A hotel scheduled to open at Huis Ten Bosch theme park in Nagasaki this summer plans to have 10 robot staff members and aims to increase that to more than 90% of hotel services operated by robots – Will Ripley
Aritificial Intelligence: Viv
* Seed money came from the richest man in China and Gary Morgenthaler, the first investor in Siri. "I looked at the work they were doing," Morgenthaler remembers, "and said, This is as good or better than anything I've seen in twenty years."
* The solution was something they call the "planning objective function". They created a program that could write its own code and find its own solutions. They named their invention Viv, after the Latin for "life."
* They think they're about six months from a beta test and a year from a public launch
———————————————————–
It's a completely new concept for talking to machines and making them do our bidding—not just asking them for simple information but also making them think and react.
Right now, a founder named Adam Cheyer is controlling Viv from his computer. "I'm gonna start with a few simple queries," Cheyer says, "then ramp it up a little bit." He speaks a question out loud: "What's the status of JetBlue 133?" A second later, Viv returns with an answer: "Late again, what else is new?"
To achieve this simple result, Viv went to an airline database called FlightStats.com and got the estimated arrival time and records that show JetBlue 133 is on time just 62 percent of the time.
Onscreen, for the demo, Viv's reasoning is displayed in a series of boxes—and this is where things get really extraordinary, because you can see Viv begin to reason and solve problems on its own. For each problem it's presented, Viv writes the program to find the solution. Presented with a question about flight status, Viv decided to dig out the historical record on its own.
Now let's make it more interesting. "What's the best available seat on Virgin 351 next Wednesday?"
Viv searches an airline-services distributor called Travelport, the back end for Expedia and Orbitz, and finds twenty-eight available seats. Then it goes to SeatGuru.com for information on individual seats per plane, and this is when Viv really starts to show off. Every time you use Viv, you teach it your personal preferences. These go into a private database linked with your profile, currently called "My Stuff," which will be (they promise) under your complete control. So Cheyer is talking to his personal version of Viv, and it knows that he likes aisle seats and extra legroom. The solution is seat 9D, an economy-class exit-row seat with extra legroom – John H. Richardson
'Supercharged' Genomics: 100 Years of Breakthroughs Possible in 10 Years
A "supercharged" approach to human genome research could see as many health breakthroughs made in the next decade as in the previous century, says Brad Perkins, chief medical offer at Human Longevity Inc.
"I don't have a pill" to boost human lifespan, Perkins admitted on stage at WIRED Health 2015. But he has perhaps the next best thing — data, and the means to make sense of it. Based in San Diego, Human Longevity is fixed on using genome data and analytics to develop new ways to fight age-related diseases.
Perkins says the opportunity for humanity — and Human Longevity — is the result of the convergence of four trends:
1) The reduction in the cost of genome sequencing (from $100m per genome in 2000, to just over $1,000 in 2014)
2) The vast improvement in computational power
3) The development of large-scale machine learning techniques
4) The wider movement of health care systems towards 'value-based' models.
Together these trends are making it easier than ever to analyse human genomes at scale.
"Our focus is not being a fee for service sequencing operation," Perkins says. It is to "fully understand and fully interpret all the meaning in the human genome". To do that Human Longevity Inc is building machine learning systems which can act as a 'Google Translate' for genomics, taking in genetic code and spitting out insights.
The results, he believes, will be revolutionary — and make genuine differences in people's lives — including his own. "My daughter is graduating from university next month, my father if he were alive would be 78 years of age… I'm encouraged that we're on the verge of having lots more grandfathers and grandmothers at the special events of all of our lives," Perkins says. "As genomics begins the process of revolutionising human health and the practice of medicine, and opens the door to the next steps… of regenerative medicine. It's going to be an extraordinarily exciting ride." – Michael Rundle
Follow me on Twitter @leebanfield1
Bitcoin: 1Jwh6nZiASJf4d3hNytjxqiimWBmEJvJ4S
Bitmessage: BM-2cXjeAykLT7gbjzNHZFnCxdawvyryyb4Nf