BITCOIN
1 Bitcoin = $235
Sidechains
Launch of Elements Alpha, the first development sidechain a historic event in crypto-currencies http://elementsproject.org
As of this week sidechains are no longer vaporware.
The sidechains vision of the future is of a vast globe-spanning decentralized network of many blockchains, an intertwined cable rather than a single strand, each with its own protocol, rules, and features — but all of them backed by Bitcoin, and protected by the Bitcoin mining network, as the US dollar was once backed by gold – Jon Evans
Block Size
A lot of people, like Mike [Hearn], are pushing me to be more of a dictator.
That's maybe what has to happen with the block size, frankly. I may just have to throw my weight around and say, "this is the way it's going to be, and if you don't like it, find another project".
Frankly, that's what happened with the multisig P2SH thing. I just kind of said, "I've listened to everybody, we have a couple of proposals, this is the way it's going to be" – Gavin Andresen, April 2015
Venezuelans Can Escape Currency Collapse with Bitcoin
* Venezuela's official inflation rate hit 68% in 2014 and it is predicted to surpass 70% this year – Joseph Young
* There is a wonderful "underground railroad" opportunity – DI$RUPTV3
Stringent controls on access to foreign currency and runaway inflation have led to the number of Venezuela's bitcoin users doubling since 2014, according to data provided by Bitcoin Venezuela.
The Venezuelan government enacted strict controls over foreign currency in February 2003 under late former President Hugo Chávez. Citizens looking to travel abroad or shop online are only allowed a limited amount of dollars (for the latter purpose, the government grants them just US$300 per year).
The bitcoiner community in Venezuela, gathered in a Facebook group with almost 4,000 members, speaks to the growing interest in the cryptocurrency.
The SurBitcoin exchange is already the second largest in transaction volume in Latin America after Brazil. The growth is evident.
Bitcoin usage started around three years ago in Venezuela. Movi Ve explains that he makes enough to live on from transferring bitcoins. He says the cryptocurrency "is a lifeboat for Venezuelans" and is safer and faster than the black market for dollars, in which "scams are everywhere." – Belen Marty
ALTCOINS
The Zimbabwean Dollar
Zimbabweans will start exchanging 'quadrillions' of local dollars for a few U.S. dollars next week, as President Robert Mugabe's government discards its virtually worthless national currency, the central bank said on Thursday.
The southern African country started using foreign currencies like the U.S. dollar and South African rand in 2009 after the Zimbabwean dollar was ruined by hyper-inflation, which hit 500 billion percent in 2008.
From Monday, customers who held Zimbabwean dollar accounts before March 2009 can approach their banks to convert their Zimbabwean dollar balance into dollars, Reserve Bank of Zimbabwe (RBZ) Governor John Mangudya said in a statement.
Bank accounts with balances of up to 175 quadrillion Zimbabwean dollars will be paid $5. Those with balances above 175 quadrillion dollars will be paid at an exchange rate of $1 to 35 quadrillion Zimbabwean dollars.
The highest – and last – bank note to be printed by the RBZ in 2008 was 100 trillion Zimbabwean dollars. It was not enough to ride a public bus to work for a week – MacDonald Dzirutwe
US Dollar: The Fed's 2% Inflation Target
The Federal Reserve right now is trying to ward off technological deflation by having a target 2% inflation rate a year.
Yet economists I have read peg technological deflation at around 3% to 4% a year presently.
When nanotechnology really takes off and prices plummet 75-80% and technological deflation goes from 4% to 10% and then possibly 20% a year or more what is the FED going to do?
Will we have a race between technological deflation and the "printing press?" A fight between two exponential functions-the singularity versus exponential inflation and debt! It's absurd!
You can't stop the acceleration of the fall in prices set off by the law of exponential returns by a tsunami of inflation and debt like they have been doing for the last 100 years. The Welfare state and its old failed neo-Fabian ideas are done. Rumpelstiltskin economics, the art of spinning worthless paper into a currency that is forever losing its value is over – C. James Townsend
Ethereum
standardcrypto: Memo to Etehereum Foundation Council: impudence begins with calling your investors "donors"
fireinyourhole: in the doc some devs are admitting they have funds for a few more months and need to raise more money
—————————————————
Kelley Becker, deputy assistant to Jeffrey Wilkes of the Ethereum Foundation Council, just called ethereum investors "donors" in a skype chat leaked by (former?) ethereum employee Matt Liston:
[5/15/15, 11:58:16 AM] Matt Liston: Ethereum has plenty of investors
[5/15/15, 11:58:35 AM] Kelley Becker: Donors
[5/15/15, 11:58:39 AM] Kelley Becker: Not investors
MARKETS
World's First Cryptobond has First Buyer
Overstock.com, Inc. (Nasdaq:OSTK) announced its CEO Patrick M. Byrne today made the first purchase of the world's first cryptobond for $500,000.
"It's not exactly Jonas Salk injecting himself with his polio vaccine, but I wanted to own the first cryptosecurity ever issued," stated Byrne. "I intend to demonstrate my belief not just in Overstock, but in the TØ.com platform that we built and, indeed, in the cryptorevolution itself."
* This pioneering event is part of Overstock.com's larger cryptofinance initiative known as Medici, and uses the company's own TØ.com platform. TØ.com is powered by the blockchain and the Open Assets protocol.
* Those who purchase cryptobonds through TØ.com will be able to track their ownership on the bitcoin blockchain
* Trades on TØ.com securely settle same day, as opposed to the customary three day settlement on Wall Street (referred to as "T+3").
Symbiont
* Symbiont secures $1.25 million funding from financial industry heavyweights
* Symbiont is building on the Counterparty platform and employs the entire core Counterparty team.
* Counterparty's XCP token surged 31% to $1.60
* Symbiont's first Smart Security will be issued later this year.
Symbiont, which plans to use bitcoin's underlying technology to make it quicker and cheaper to transfer assets between buyers and sellers, has won the backing of several financial industry heavyweights.
The company, according to a statement Tuesday, has raised $1.25 million from a group including former New York Stock Exchange chief Duncan Niederauer, former Citadel LLC executive Matt Andresen, and two co-founders of high-frequency trading firm Getco LLC, Dan Tierney and Stephen Schuler.
Symbiont wants to sharply reduce the time it takes for most trades to settle, thereby reducing the need for a bank or investor to have its own money tied up in back-office operations. This use of blockchain, a ledger-like technology that underpins the digital currency called bitcoin, could give buyers and sellers almost instant confirmation their trades went through while also creating an indefinite and immutable record of the transaction.
"The blockchain not only has the potential to democratize markets, but to drive down the cost of doing business across all sectors," Mark Smith, co-founder and chief executive officer of Symbiont, said in the statement. "This is a once-in-a-generation opportunity to leverage this previously unimaginable technology."
"Symbiont is bridging the gap between Wall Street and the emerging blockchain ecosystem," Niederauer, once the CEO of NYSE Euronext, said in the statement. "It's an exciting, timely and much-needed development for the long-term health of the markets." – Matthew Leising
Emerging Market Stocks Suffer Massive Losing Streak
Emerging-market stocks have fallen in each of the past 12 days in the longest losing streak since 1990.
Bloomberg's gauge of the most-traded developing nation currencies sank 2.4 percent against the dollar in the two weeks through June 5, while it fell 3.3 percent versus the euro.
Capital outflows have already started. Investors pulled $577.7 million from U.S. exchange-traded funds that invest in emerging markets last week – Ye Xie and Lyubov Pronina
China's Stock Market on Track to Reach $10 Trillion in Value
The value of Chinese stocks is poised to reach $10 trillion after a world-beating rally added virtually the equivalent of Japan's equities market this year.
The Shanghai Composite Index climbed 8.9 percent this week, its biggest jump this year, to close above 5,000 for the first time since 2008.
Companies with a primary listing in China were valued at $9.7 trillion at the end of trading Friday, an increase of $4.8 trillion since the end of 2014, according to data compiled by Bloomberg.
Japan's stock market is valued at $5 trillion, while the U.S. is at almost $25 trillion.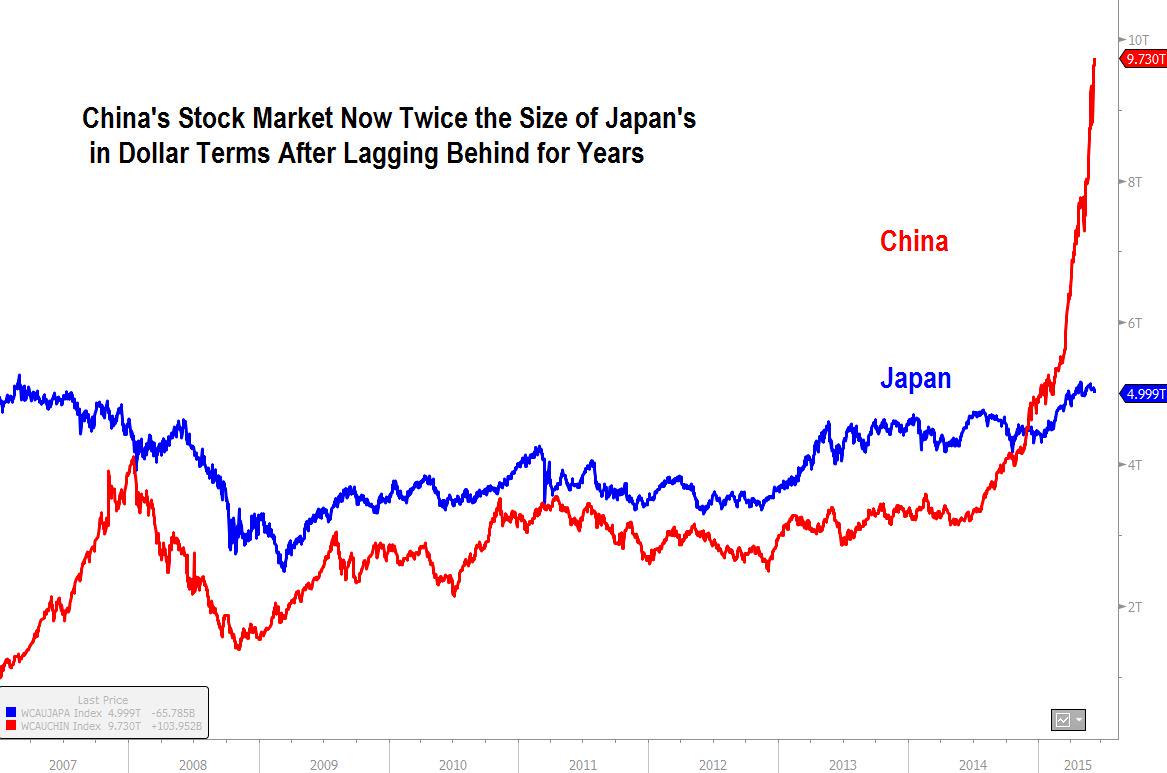 The Shanghai measure has jumped 146 percent in the past 12 months, the most among major global benchmark indexes, spurred by surging participation among individual Chinese investors and record margin debt. Worsening economic data has only fueled bets the government will step up stimulus efforts.
The Shanghai Composite trades at about 25 times reported earnings.
The Shenzhen Composite, the smaller of China's two exchanges, trades at 75 times profits, five times the multiple of the MSCI Emerging Markets Index.
COMPANIES / PROJECTS / PRODUCTS
OpenBazaar Gets $1m Cash Infusion
Two of the biggest names in the venture capital world announced today that they're getting behind a libertarian-themed tech project—a vote of confidence for an experimental enterprise that aims to facilitate free and "censorship resistant" trade. – Jim Epstein
—————————–
Chris Dixon leads the investment for Andreessen Horowitz, and managing partner Brad Burnham does the same for Union Square Ventures. Both are investing $500,000 in this seed round, and are joined by angel investor and board member William Mougaywar, who is investing $10,000 – Rob Price
—————————–
On OpenBazaar, everyone can host their own store and connect to a larger ecosystem. They'll have control unparalleled in big stores, from which they can sell, buy, auction, lend, crowdfund, arbitrate, and even build new ways to do business  – Patrick Howell O'Neill
—————————–
The seed funding will be used to pay the developers so that they can work full time on the project and speed up development. The developers previously relied on bitcoin donations – Alyssa Hertig
—————————–
The point of OpenBazaar is to remove the endless restrictions and high fees associated with currently available ecommerce sites and online payment rails. As lead developer Brian Hoffman put it, "The Internet has decentralized communications, and Bitcoin has decentralized money, but online commerce still relies on numerous intermediaries."  – Kyle Torpey
There is no central team of moderators who can reject certain products, services, or merchants. There is no ability for the OpenBazaar team to charge fees, track user data, or restrict trade in any way, which creates a completely new paradigm for online trade  – Kyle Torpey
—————————–
"Will there be illegal trade on OpenBazaar?" Hoffman asked. "We probably won't know (unless everyone is told) because it's encrypted and private and we certainly can't stop it. We do feel however that non-darknet marketplace content will overwhelm that kind of stuff dramatically if we are successful." – Patrick Howell O'Neill
—————————–
It's pretty mind-boggling that the most respected VC funds are backing a decentralized marketplace. Props to Brad Burnham for not avoiding the hard questions in that blog post announcing the investment – Zooko
The purpose of OpenBazaar is to promote unfettered trade.
When I first interviewed him last December, Hoffman told me that he was inspired in part by getting to know his wife's Iranian family. "It gave me a first-hand look at how hard it is for people to conduct any kind of online commerce across borders," he said. "Just to get an iPhone in Iran is such an encumbering process." – Jim Epstein
Here are its key characteristics:
* OpenBazaar removes the intermediaries and allows people to trade directly with each other.
* The OpenBazaar network is decentralized, and free to use.
* Because the network has no central point of control, there are no intermediaries to collect fees, monitor data, or restrict trade.
* The code is open source, allowing for permission-less innovation.
* OpenBazaar is available to anyone in the world; there are no geographical restrictions and it uses the global digital currency, Bitcoin.
As a platform, it consists of the following elements:
The peer-to-peer network, i.e. its plumbing
The trade protocol, i.e. the fundamental rules that govern a type of trade between peers
The Client/App, i.e. what the users interact with to execute trades
The Funding is Being Used to Create OB1 Which Offers Services to OpenBazaar Users
While OpenBazaar is a non-profit project, the funds are being used to create OB1, a for-profit company that will build revenue-generating value-added services — such as shopfronts or escrow services — on top of the OpenBazaar protocol layer  – Rob Price
—————————–
Up until now, OpenBazaar's programmers have been volunteering their nights and weekends, but that "wasn't cutting it," Hoffman says.
So the OpenBazaar team formed a for-profit venture called "OB1," which is the direct recipient of the venture capital funding that was announced today. Hoffman says that OB1 will eventually provide ancillary services on the platform, such as hosting listings and arbitrating disputes between buyers and sellers for a fee. But until it has customers for these services, the company will focus full time on core development.
The biggest hurdle ahead will be enticing merchants to start selling their products through this decentralized marketplace. eBay takes about a 10 percent cut of every sale, while OpenBazaar is free to use. But there are network effects at play. The OpenBazaar team will need to convince sellers that a critical mass of customers will find their products if they list them on its experimental platform.
Hoffman says he hopes to raise more funding for advertising and promotion, and having the imprimatur of Andreessen Horowitz and Union Square Ventures should help with that considerably – Jim Epstein
If we fast forward into the future, I believe that the OpenBazaar promise has the potential to change how we conduct global commerce. Once the network and contractual infrastructure is in place, and via the strength of their community's ecosystem, the possibilities are there.
From the get go, OpenBazaar has an unfair advantage. It will be the first large scale eCommerce network that is solely based on a single universal currency: Bitcoin.
I am excited to be participating in their inaugural round of financing alongside Union Square Ventures and Andreessen Horowitz, and humbled by the privilege of a first row seat into their amazing laboratory of innovation.
Given my previous history in eCommerce (I wrote the book Opening Digital Markets in 1997), running PeerIntelligence in 2001, and more recently via my Bitcoin and blockchain work, the OpenBazaar represents the ideal intersection of my three interests: ecommerce, peer-to-peer, and Bitcoin.
Please join me in wishing OpenBazaar and their community good luck as they take a leap ahead. Their ambitions are big, but so are the opportunities ahead for them, and for the future of global commerce – William Mougayar


How to Make Money on OpenBazaar
There's a ton of ways to make money on it. Just think about it for a few minutes and you'll see all the businesses that can pop around it.
My first business around openbazaar is about letting people that have no desire in setting up and running a p2p node, if all you want is to start shopping or selling, you just fire up a node in the cloud with http://www.provistor.com
We basically allow you to run OpenBazaar in a couple clicks on the cloud.
So hosting is one business.
Reputation, store reviews, centralized catalogs, professional escrow services, call centers to assist stores, delivery services, improved search, advertising, you name it, this thing is a whole new industry. Billions to be made. Just look at all the ways Amazon makes money, and start giving that to multiple parties.
If you want to try Openbazaar and launch a store within the hour, try doing so at http://provistor.com (absolutely free to try) – gubatron
PRIVACY / SECURITY / INTERNET
It's Dangerous Not Just to Create Something Like Silk Road. It's Dangerous to Defend It

Reason Magazine Subpoena Stomps on Free Speech
The subpoena seeks information about commenters who posted in response to an article by the site's editor Nick Gillespie about the letter that Silk Road founder Ross Ulbricht wrote to Judge Katherine B. Forrest before she sentenced him to life in prison without parole.
Judge Forrest handed down a sentence even more draconian than prosecutors had sought and made a point of condemning Ulbricht's political views. "In the world you created over time, democracy didn't exist," she said. "Silk Road's birth and presence asserted that its…creator was better than the laws of this country. This is deeply troubling, terribly misguided, and very dangerous."
Whatever you think of Ulbricht or Silk Road, you can see why libertarians might be upset. A federal judge has just made the belief that it's good for people to have "the freedom to make their own choices, to pursue their own happiness, however they individually saw fit" part of her justification for the most punitive sentence short of the death penalty. Her rationale offends libertarians on two grounds: It punishes political views and it punishes their particular political views.
The Reason commenters expressed heartbreak and rage. In their fury, some of them got nasty. "Its judges like these that should be taken out back and shot," wrote Agammamon. "Why waste ammunition? Wood chippers get the message across clearly. Especially if you feed them in feet first," responded croaker. "I hope there is a special place in hell reserved for that horrible woman," commented Rhywun. "I'd prefer a hellish place on Earth be reserved for her as well," chimed in ProductPlacement. (Reason has since removed the offending comments.)
No one in their right mind would take this hyperbolic venting seriously as threatening Judge Forrest, who back in the fall had personal information published on an underground site, along with talk of stealing her identity or calling in tips to send SWAT teams to her house. The Reason commenters, by contrast, included nothing so specific.
Venting anger about injustice is not a crime. Neither is being obnoxious on the Internet. The chances of one of these commenters being convicted of threatening the judge are essentially nil. Conviction isn't the point. Crying "threats" just makes a handy pretext for harassing Reason and its commenters
The real threats aren't coming from the likes of Agammamon and croaker. They're coming from civil servants in suits. Subpoenaing Reason's website records, wasting its staff's time and forcing it to pay legal fees in hopes of imposing even larger legal costs (or even a plea bargain or two) on the average Joes who dared to voice their dissident views in angry tones sends an intimidating message: It's dangerous not just to create something like Silk Road. It's dangerous to defend it, and even more dangerous to attack those who would punish its creator. You may think you have free speech, but we'll find a way to make you pay. – Virginia Postrel
US Government's Outrageous Encryption Failure
The hackers who infiltrated the Office of Personnel Management last year swiped the personal information of every federal employee working in government, a number potentially far greater than the 4 million previously reported, according to a labor union of government workers.
In a letter sent to OPM director Katherine Archuleta and obtained by National Journal, American Federation of Government Employees President J. David Cox wrote that the hackers stole Social Security numbers, birthdays, addresses, military records, job and pay histories, and various insurance information, in addition to age, gender, and race data.
"Based on the sketchy data OPM has provided, we believe that the Central Personnel Data File was the targeted database, and that the hackers are now in possession of all personnel data for every federal employee, every federal retiree, and up to one million former federal employees," Cox wrote in a letter dated Thursday.
"Worst, we believe that Social Security numbers were not encrypted, a cybersecurity failure that is absolutely indefensible and outrageous," he added.
————————————
* At least the Federal Government is not in charge of our healthcare, education and money supply. – Bud Leiser
————————————-
* Let's start a security company called "is your shit encrypted", that's all we do as well…walk in, ask q, send invoice for $50k – Brad Sams
PLACES
Australia
Australian academics who teach mathematics may need to run new ideas by the Department of Defence before sharing them or risk imprisonment.
From November 2016 Australian academics could face a potential 10-year prison term for sending information overseas if their ideas fall within the Defence Strategic Goods List (DSGL).Put another way, they could be jailed for delivering online course material to foreign students or providing international peers with access to a server hosting that material.
The laws are intended to prohibit the transfer of knowledge from Australia that could be used to produce weapons.
Academics like Kevin Korb are nervous that "overly broad" definitions in the DSGL could land them in court for teaching cryptography, high performance computing, image and signals processing and a number of other fields.
To avoid penalty, researchers may need to report newly hatched lines of inquiry to DECO (Defence Export Control Office).
"You will be coming to us and we will be working with you," a DECO officer recently explained to academics. "When your ideas aren't necessarily that formed, it may be that we say to you, 'Look, at the moment we don't see any concern, come back to us at a further stage'."
Korb, an artificial intelligence researcher at Monash University's Information Technology faculty, said the new restrictions will "suffocate" research. "Researchers and students are already leaving or avoiding Australia," he told Fairfax.
"What is likely to happen is that Australia becomes isolated as the research and the researchers move elsewhere. No one wants to work somewhere where there's totalitarian-like controls on thought," renowned US cryptographer Bruce Schneier told Fairfax. – Liam Tung
THE SINGULARITY
The computer revolution is going to keep going. Moore's Law has a lot of steam left in it. You might be hearing that Moore's Law is going to fall off a wall… well, maybe there'll be some fluctuations, but it's going to keep going – Ralph Merkle 
An Asymptote Toward Zero
The event horizon of a coming economic singularity where all prices drop down an asymptote toward zero as technology advances exponentially.
As ephemeralization escalates, as we can do "more and more with less and less until we can do almost anything with practically nothing," as Buckminster Fuller stated, old technology, old energy sources etc slowly vanish.
What we, the human race, are facing as we race toward the event horizon of the coming economic and technological singularity is something that no human society or culture has ever experienced before – C. James Townsend
Virtual Reality is About to Get Real
Oculus Rift unveiled a consumer version of the virtual reality headgear at a splashy news conference Thursday, bringing to life what until now has been mostly the stuff of science fiction: The ability to completely immerse yourself in a simulated three-dimensional world.
"This isn't science fiction," Oculus founder Palmer Luckey said. "This is reality and it's happening today."
The virtual-reality gear goes on sale in the first quarter of 2016 but Oculus won't say how much it will cost. Oculus Chief Executive Brendan Iribe has said that it will set people back $1,500 "all in" including the computer that powers the Rift experience
A Virtual Day Out: This Robot Could Take Sick Kids to the Zoo
An open-source project by a group called Robots for Good could soon let sick children, stuck in hospital rooms, experience virtual adventures from their beds.
The program consists of three main pieces: a 3D-printed robot from InMoov, an open-source Segway from OpenWheels, and an Oculus Rift VR headset.
The idea is that when the three components are combined, a sick child will have complete control over the robot, guiding it around an environment. The first location for the children to explore will be the London Zoo, where they will "touch, talk and listen to the animals as if they were really there."
It's not hard to imagine the robots being dispatched to other locations, such as a sporting event or concert.
According to Engadget, the robot can be built for around $2,500.
Implantable Brain Electronics Are Here
In a world first,  U.S. and Chinese scientists have developed a method to inject microelectronic devices such as wires and transistors directly into the brain (or other body parts) to measure or stimulate neural activity.
The new method could lead to sophisticated new ways to treat conditions ranging from neurodegenerative disorders to paralysis.
Developed by researchers in Charles Lieber's lab at Harvard University and the National Center for Nanoscience and Technology in Beijing, the invention is based on a simple but radical concept: injecting a biocompatible polymer scaffold mesh with attached microelectronic devices into the brain via syringe.
"I do feel that this has the potential to be revolutionary," Lieber said. "This opens up a completely new frontier where we can explore the interface between electronic structures and biology. For the past 30 years, people have made incremental improvements in micro-fabrication techniques that have allowed us to make rigid probes smaller and smaller, but no one has addressed this issue — the electronics/cellular interface — at the level at which biology works."
Going forward, researchers hope to better understand how the body reacts to the injectable electronics over longer periods. "The idea of being able to precisely position and record from very specific areas, or even from specific neurons over an extended period of time — this could, I think, make a huge impact on neuroscience," Lieber said. – kurzweilai.net
Glycine Supplementation Could Reverse Aging
The authors of the paper do not shy away from suggesting that glycine supplementation could decrease or reverse aging.
It's too early to say what the proper dose of glycine might be, but we can speculate that it would be enough to bring glycine levels up to those seen in young people. (Indeed, in infants.)
Very interestingly, we already know that, in rats, glycine supplementation increases lifespan, through increased clearance of methionine. (Glycine here acts as a methionine restriction mimetic.) The amount of glycine fed to those rats with increased lifespan was approximately 3 to 6 times the amount fed to controls, which is, I would say, a very doable proposition. A few grams of glycine daily might do the trick.
This is an exciting study and, although much more work will be needed, appears to open up a new avenue in potential anti-aging and life extension treatments. Best of all, glycine is cheap and likely very safe, since it's an amino acid the body produces itself – P.D. Mangan
The Singularity vs. The State
Plato's cave is our status quo and we sit in our chains and are mesmerized by the pretty pictures on the wall. It is high time humanity grew up and finally left the cave.
No matter what the political state and its crony's do, or try to do, they will fail as more and more individuals unite to help bring about the coming economic and technological singularity.
How can you regulate or ban such things as guns when you can print an entire AK 47 at home on a 3D printer?
Or because prices have dropped so low that you can have a fully equipped bio-lab in your garage how then can you suppress say an antiaging technology or a cure for cancer?
The techno-libertarians, techno-progressives and Transhumanist's are becoming a force to be reckoned with (though I am concerned with the influence of technocracy among many Transhumanist's) and if the political state moved to ban such things as Uber, Lyft, Airbnb etc you would have a riot on your hands and it is only going to get worse for the State.
I think more and more neo-leftist's are going to wake up and realize with the Libertarians, that Statism is an old failed religion and that their empowerment and freedom will truly come from the evolutionary forces released by the Technium.
The left-wing Hegelian's foresaw that the State was destined to wither away and a new holographic system, a holoarchy, would arise that would allow individuals to perfect themselves and to become the best they could be in a social and economic structure that gave them the time and abundance to do so.
If the techno-libertarians have taken up this course of action because we on "the left" have ignorantly abandoned it, then that is to our shame. We will have to play catch up and join them on the evolutionary journey to a new earth, one in which the arising Noosphere, the Global Brain, has fully evolved and the present order has been transcended.
I truly believe that the political State's days are numbered, especially as profits and prices drop as technological deflation accelerates the emperor will be seen by more and more people to be naked and standing in their way to the fuller life they wish to live.
The coming singularity is already showing us that the locus of power is shifting back to individuals united and interrelated in a new distributed network system. We have to have faith and trust in this new arising paradigm and complex system and help it along, to be its midwives, but instead I see too many people manipulated and moved by ideological fearmongering to prop up the old order and its outmoded ideas.
The old order has no answers for us and no solutions; in fact it has caused all of our problems that we are now dealing with.
I think in the end it may very well wither away from disuse as more and more people leave it alone and turn to technological solutions and innovations to solve their and the world's problems as A.J. Galambos theorized that we would finally learn to invent the technology that will give us the ability to have absolute liberty and freedom. To be in total possession of our primary property, which are ourselves, and all of our creative talents. – C. James Townsend
Follow me on Twitter @leebanfield1
Bitcoin: 1Jwh6nZiASJf4d3hNytjxqiimWBmEJvJ4S
Bitmessage: BM-2cXjeAykLT7gbjzNHZFnCxdawvyryyb4Nf