BITCOIN
1 Bitcoin = $249
Bitcoin: A Money Without Politicians, Bankers and Corruption
The collapse of the Euro and Greece's problems make this idea very attractive.
All you need to do is have a phone or a laptop. Everyone has them. The seeds are already sown. All that is needed is the rain. It's coming. – Beautyon
Bitcoin is 1/1000th (At Most) the Cost of 'Existing Systems'
Global bank IT spending is $200B pa but everyone KNOWS that a few hundred million to run BTC is terribly inefficient (Global bank IT Spending to hit $196 billion in 2015)
————————————————-
The government of Cameroon has implemented a centralized, insecure and potentially dangerous blockchain protocol and currency Trest in their project to enable the unbanked to transfer money quickly without transaction fees. Unlike Bitcoin, transactions on the Trest blockchain are not verified by miners or any entity incentivized by the network.
Why implement an altcoin, when they could just support and integrate bitcoin instead?
Antoine De Padoue, founder of Socapssi and president of RDPF KUMZE, Cameroon's minority opposition party, said: "Bitcoin's transaction fee to the user was low but the real cost to the network was unimaginable. That was a deal breaker for us. We couldn't believe the Bitcoin network consumed about US$18.95 of electricity to process a single transaction." – Joseph Young
"You Shouldn't Pay for Coffee on the Blockchain" is a Meme Being Spread by People Who Should Know Better
* Blockchain security is about protecting currency supply – not protecting transactions. Just as important for cups of coffee as cars. 2 billion cups of coffee sold every day. Not caring about double spends for small purchases is a big mistake. – Justus Ranvier
* Discussions of whether bitcoin should or should not be used for "buying coffee" sound embarrassingly like Politburo debates. Market discovery through real supply, demand, and pricing over time allow socially best-possible levels of [average fee multiplied by transaction volume relative to real bitcoin purchasing power] at any given point in (in-motion) time, to be discovered dynamically – Konrad S Graf
The block size limit has for the most part not ever been, and should not now be, used to determine the actual size of average blocks under normal network operating conditions. Real average block size ought to emerge from factors of supply and demand for what I will term "transaction-inclusion services."
Beginning to use the protocol block size limit to restrict the provision of transaction-inclusion services would be a radical change to Bitcoin. The burden of proof is therefore on persons advocating using the protocol limit in this novel way.
This protocol block size limit was introduced in 2010 as an anti-spam measure. It was to be an expedient to be removed or raised at a later stage as normal (non-attack) transaction volumes climbed. It was not envisioned as having anything to do with manipulating transaction fees and transaction-inclusion decisions on a normal operating basis. The idea of using the limit in this new way—not the idea of raising it now by some degree to keep it from beginning to interfere with normal operations—is what constitutes an attempt to change something important about the Bitcoin protocol. And there rests the burden of proof.
If that burden is not met, the limit ought to be (have already been) raised—by some means and by some amount. Those latter details do veer more legitimately into technical-debate territory (2, 8, or 20MB? new fixed limit or adaptive algorithm? Phased in how and when? etc.), but all such discussions would be greatly facilitated by a shared context on the goal and purpose of any such limit having been placed into the code.
A case for establishing some completely new reason to retain this same limit—other than as an anti-spam measure—would have to be made by its advocates if they were to overcome the default or "when in doubt" case. The context shows that this when-in-doubt default case is actually raising the limit, not keeping it unchanged – Konrad S Graf
ALTCOINS
US Dollar: Ben Bernanke "Appalled" by Alexander Hamilton's $10 Bill Demotion
While Ben Bernanke debates which head to put on US $10, Bitcoin creates multisig escrow and distributed consensus. Fiat is a joke. – Erik Voorhees
The World's Inflation Top 20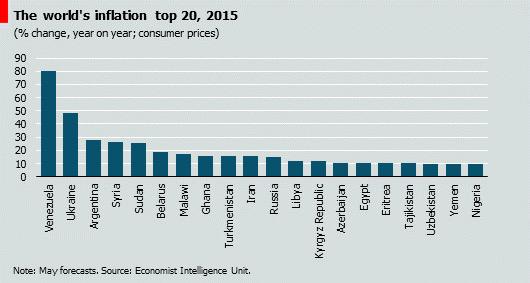 MARKETS
Western Union (NYSE:WU)
How does the market at large perceive Western Union's prospects?
Despite a barrage of press about the company's imminent demise, over the last 2 years, its stock has performed better than competition and even slightly outperformed the broader market – SaveOnSend
The ISE Cyber Security Index (HXR)
Cybersecurity is one of the buzzwords of the past few years, and companies in that sector have reaped the benefits.
According to a new note from analysts led by David Kostin, strategist at Goldman Sachs, the ISE Cyber Security Index is up 22 percent so far this year—much more than the 3 percent gain in the S&P 500 .
The chart below shows the staggering growth in the number of people exposed in data breaches and the performance of the ISE Cyber Security Index vs. the S&P 500.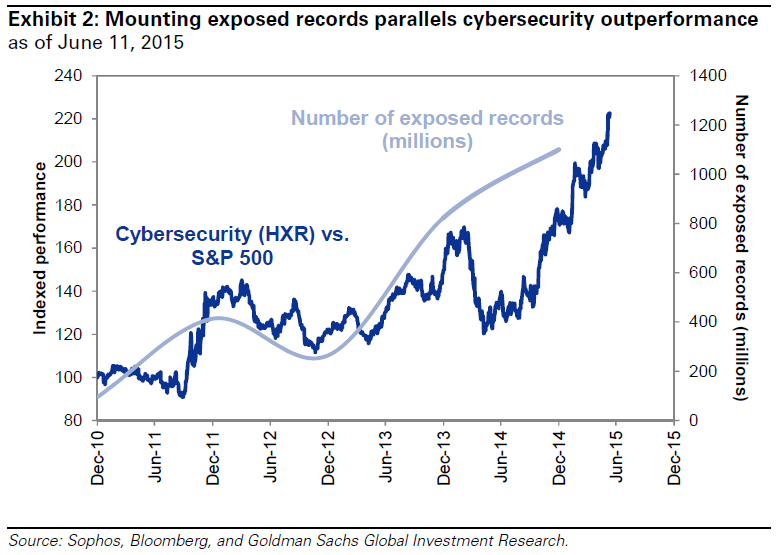 Cybersecurity stocks may become as hot as biotech
While Goldman generally believes that growth stocks will lag the market as the U.S. economy improves, Kostin and his team say the cybersecurity sector may be the exception to the rule:
… growth stocks historically underperform when GDP growth expectations accelerate. However, the prospect of significant and sustained sales growth for cybersecurity firms brings to mind the Biotechnology industry, another part of the market that has generated huge sales growth and soaring returns. Biotech returns have outpaced S&P 500 by 255 percentage points since 2011 (339% vs. 84%).
Shanghai Composite Down 12% Over Last Five Trading Sessions
China's benchmark Shanghai Composite index dropped by 7.4% on Friday, as hundreds of individual stocks lost 10%, the index's daily downward limit. The Shenzhen Composite, which is heavy on tech stocks, closed down 7.9%.
Even with recent losses, the Shanghai Composite has surged 30% this year, and the Shenzhen Composite is up 77%, easily making it the world's top-performing index.
Experts remain puzzled by the stock market boom. China's economy is going through a rough patch, with growth now at its weakest pace since 2009. Corporate profits are actually lower than a year ago.
In other words, exuberance for Chinese stocks isn't backed up by fundamentals. Instead, it appears the market is being carried higher by various forms of government stimulus and investor frenzy.
BlackRock analysts describe the market as one where "sentiment rules, while valuation is an afterthought."
"The value of turnover in China's domestic equity markets has more than doubled in 2015, and now often exceeds that of U.S. markets," BlackRock analysts wrote recently. "There are warning signs the … market has become overheated."
In recent years, people in China — who tend to save significantly more than their Western counterparts — sunk their excess savings into the real estate market. Now that the housing market has cooled, investors are turning to stocks. – Charles Riley
COMPANIES / PROJECTS / PRODUCTS
3D Printing Cafes Emerging Around the World
* Try a 3D Printer with Your Cup of Coffee.
* New 3D Printing Cafes Tempt Curious Amateur Creators in a Casual Setting
Customers sit at FabCafe, a 3-D-printing cafe in Tokyo
Now you can design and manufacture a coffee cup and fill it with coffee in the same place. In 3-D-printing cafes, customers can fabricate personalized curios, tools and even food, buying an espresso while waiting on their superhero figurines with the faces of family members.
As 3-D printing becomes more widely available and affordable, cafes that offer customers access to the technology have popped up around the world and are heading to the U.S. Owners say they cater to both beginners interested in learning more about an unfamiliar technology, plus architects and engineers who use 3-D modeling regularly.
Cafe pricing varies depending on location and the type of 3-D printer employed.
In Berlin, 3-D printer use starts at about $8.43 for half an hour; FabCafe Barcelona owner Cecilia Tham charges customers about $13.50 per half-hour. Owners say they aim to keep prices reasonable to lower the barrier to entry for beginners.
The friendly cafe atmosphere—some locations, including businesses in London and Tokyo, serve alcohol—is crucial in bringing in people who might not be familiar with 3-D-printing technology, says Todd Porter, co-founder of FabCafe Global, which oversees five 3-D-printing cafes world-wide.
Ms. Tham has noticed that a lot of older customers with time on their hands to learn about 3-D printing frequent her Barcelona spot.
At Mexico City's 3DLab Fab&Cafe, the environment is more professional than social, says Julieta Aranguiz, who opened the cafe in 2013.
Encouraging 3-D-printing novices is one reason FabCafe in Barcelona offers some free one- and two-hour classes, Ms. Tham says. Most workshops offered by cafes, however, come with a price tag, usually between $50 and $300 per course, owners say.
Some owners have defrayed their overhead costs by teaming with 3-D-printing manufacturers, who donate or loan their equipment to increase their own exposure. Mr. Porter says such partnerships have helped the Tokyo FabCafe turn a profit in a little over 18 months after opening – Kerry Close
Amazon's Delivery Drones Could be in the Air Within a Year
Commercial drone operations like Amazon's highly-touted delivery service could commence in about a year, according to a senior official from the Federal Aviation Administration.
FAA Deputy Administrator Michael Whitaker told a congressional committee on Wednesday the necessary regulations for commercial UAVs to operate in public airspace will "be in place within a year."
That's way shorter than the 2017 start date that the FAA originally figured on. And when the rules are finally settled on, Amazon will be ready.
"We'd like to begin delivering to our customers as soon as it's approved," Paul Misener, Amazon's VP of global public policy, testified at the hearing. "We will have it (the technology) in place by the time any regulations are ready. We are working very quickly." – Andrew Tarantola
Softbank Robot Pepper Sells Out in a Minute
Billed as the world's first robot capable of understanding and reacting to human emotions, the 121-centimeter tall, white plastic robot can recognize human voices and read facial expressions and body language, as well as carry on basic conversations.
SoftBank said it is no longer taking orders for June and that plans for additional sales of the robot, designed by French subsidiary Aldebaran Robotics, will be announced in July.
Masayoshi Son, SoftBank's founder and chief executive, said Thursday that the company plans to produce around 1,000 units a month. The Japanese telecommunications giant also announced a partnership with Chinese e-commerce giant Alibaba Group Holding Ltd. and Taiwan's Foxconn Technology Group with an eye toward bringing Pepper to the global market.
Pepper's price tag is ¥198,000 ($1,611), but to take full advantage of apps and other cloud-based functions, consumers need a service contract totaling nearly ¥25,000 a month over three years, including insurance – Alexander Martin
Roger Ver: Distributed Prediction Markets May Be Most Important Invention Since Bitcoin
Truthcoin, a Bitcoin sidechain designed by Yale Department of Economics Researcher Paul Sztorc, is described as a "peer-to-peer oracle system and prediction marketplace."
The platform is a decentralized method of bringing external data, such as the price of gold or the weather in a particular city, to the blockchain, which can then be used as the basis for complex smart contracts.
The perpetual Bitcoin angel investor Roger Ver has been silently funding a C++ programmer who is building a working Truthcoin implementation using a fork of the original Bitcoin codebase. Some of this early code is now available on GitHub.
Ver also shared some complimentary remarks in regard to Truthcoin Creator Paul Sztorc's understanding of the technical challenges ahead.
"Compared to Paul, I don't think there are many people on the planet" who could have created something like Truthcoin, Ver said. "Before meeting him, I already understood some of the benefits and exciting things that distributed prediction markets will bring to the world, so upon meeting Paul, he seemed like the right person to help make it a reality, so I agreed to get involved."
Sztorc also did not want to reveal any kind of release date as he "[doesn't] endorse that type of forecasting." In the past, Sztorc has poked fun at Ethereum's Frontier release due to prediction markets at Fairlay.com that seem to indicate that the release won't happen until after August 1. This is far off from the project's original launch date.
For now, anyone interested in the project can visit the Truthcoin forums, read the latest version (1.4) of the Truthcoin whitepaper, or follow Sztorc's blog.
PRIVACY / SECURITY / INTERNET
5G Network to Debut in South Korea in 2018, Worldwide by 2020
A 12-member committee from the International Telecommunication Union has hashed out a formal definition of the speed requirements for 5G mobile networking.
The union has decided to define 5G as a network which is capable of transmitting data at up to 20 gigabits-per-second. This means that users can download one ultra high-definition movie in 10 seconds.
The 5G network will also have a capacity to provide more than 100 megabits-per-second average data transmission to over one million Internet of Things devices within 1 square kilometer.
Video content services, including ones that use holography technology, will also be available thanks to the expanded data transmit capacity, the ministry said.
The 2018 PyeongChang Winter Olympic Games will be the world's first international event to showcase and demonstrate 5G technology. The union plans to start distributing the international spectrum for the 5G network in 2019 – Yoon Sung-won
PLACES
With $21 Trillion China's Savers Are Set to Change the World
"I don't think you can find any significant economic system where deposits in the banking system are twice GDP," said Nicholas Lardy, who has studied China for more than three decades and is a senior fellow at the Peterson Institute for International Economics. "That's the potential."
Few events will be as significant for the world in the next 15 years as China opening its capital borders, a shift that economists and regulators across the world are now starting to grapple with.
With China's leadership aiming to scale back the role of investment in the domestic economy, the nation's surfeit of savings — deposits currently stand at $21 trillion — will increasingly need to be deployed overseas. That's also becoming easier, as Premier Li Keqiang relaxes capital-flow regulations.
The consequences ultimately could rival the transformation wrought by the Communist nation's fusion with the global trading system, capped by its 2001 World Trade Organization entry.
Some changes are easy to envision: watch out for Mao Zedong's visage on banknotes as the yuan makes its way into more corners of the globe. China's giant banks will increasingly dot New York, London and Tokyo skylines, joining U.S., European and Japanese names. Property prices from California to Sydney to Southeast Asia already have seen the influence of Chinese buying – Enda Curran and Jeff Kearns
Subversive Math in Venezuela
"Benjamin" never intended to run a pirate website.
But every time the South Florida resident sits down at his computer to publish information about exchange rates in his native Venezuela, he has to carefully cover his tracks so no one can trace his IP address. That's because publishing the black-market exchange rate in Venezuela is illegal and considered an act of subversion by the socialist government of Nicolas Maduro.
"They're accusing us of waging an economic war against the country," said Benjamin, who asked me not to use his real name to avoid retaliation against his family in Venezuela. "If they knew who we were, they could threaten my parents, my uncles, my cousins, my family in Venezuela. It's a delicate issue because when you're dealing with a government that makes up conspiracy theories and weird stories, you don't know what they're capable of."
Benjamin says he needs to be careful even in Florida, because the Venezuelan government has a long reach. "I wouldn't underestimate Venezuela's intelligence services," he says.
But concerns over safety haven't stopped Benjamin from doing his work. On his website, Dolar Today, he publishes Venezuela's unofficial exchange rates several times a day.
That information has become a source of empowerment in a country that imposes strict controls on exchange rates and information.
"The government doesn't like it when we publish the price of the dollar," Benjamin says. "But I can see why; they are making all sorts of efforts to make people believe that everything there is alright."
Now, as the dollar trades for 410 bolivares in the black market — opposed to the official rate of 6:1 — Dollar Today's posts are becoming a source of increasing embarrassment to the Venezuelan government. The site is essentially reminding Venezuelans how life has become increasingly unaffordable under that country's socialist management.
"Sooner or later we will have those bandits behind bars," President Maduro said in a recent, nationally televised speech. "All of those bandits from Dolar Today who wage economic war against Venezuela from Miami."
In April the president said he was planning to ask Obama to hunt down the website's management and extradite them to face charges in Venezuela — although there's no indication Maduro followed through on his threat – Manuel Rueda
THE SINGULARITY
This is Pretty Phenomenal: Brain-to-Text System
* One step closer, a little every day, faster and faster – JJ
German and U.S. researchers have decoded natural continuously spoken speech from brain waves and transformed it into text — a step toward communication with computers or humans by thought alone.
Brain activity recorded by electrocorticography electrodes (blue circles). Spoken words are then decoded from neural activity patterns in the blue/yellow areas – KurzweilAI
Robot Controlled Remotely with Thoughts
From his hospital bed, a disabled patient is capable of controlling a telepresence robot and interacting with people he meets over Skype.
For someone suffering from paralysis or limited mobility, visiting with other people is extremely difficult. Scientists have been working on a revolutionary brain-machine approach in order to restore a sense of independence to the disabled. The idea is to remotely control a robot from home with one's thoughts.
The research, involving numerous subjects located in different countries, produced excellent results in both human and technical terms.
19 people tested, 100% success rate
For several weeks, each of the subjects put on an electrode-studded hat capable of analysing their brain signals. They then instructed the robot to move, transmitting their instructions in real time via internet from their home country. By virtue of its video camera, screen and wheels, the robot, located in a laboratory of Ecole polytechnique fédérale de Lausanne (EPFL, Switzerland), was able to film as it moved while displaying the face of the remote pilot via Skype.
The person at the controls, as if moving in place of the robot, was able to interact with whoever the robot crossed paths with. "Each of the 9 subjects with disabilities managed to remotely control the robot with ease after less than 10 days of training," said Professor Millán – ScienceDaily
How Computers Will Crack the Genetic Code and Improve Billions of Lives
Machine learning and data science will do more to improve healthcare than all the biological sciences combined.
Human Longevity Inc. (HLI) is working on the most epic challenge — extending the healthy human lifespan.
Your genome consists of approximately 3.2 billion base pairs (your DNA) that literally code for "you."
Your genes code for what diseases you might get, whether you are good at math or music, how good your memory is, what you look like, what you sound like, how you feel, how long you'll likely live, and more.
This means that if we can decipher this genomic "code," we can predict your biological future and proactively work to anticipate and improve your health.
It's a data problem — and if you are a data scientist or machine-learning expert, it is the most challenging, interesting and important problem you could ever try to tackle.
When we compare your sequenced genome with millions of other people's genomes AND other health data sets (see below), we can use machine learning and data mining techniques to correlate certain traits (eye color, what your face looks like) or diseases (Alzheimer's, Huntington's) to factors in the data and begin to develop diagnostics/therapies around them.
It' a Translation Problem, Like Google Translate
With millions and millions of documents/websites/publications online that were already translated, and a crowd of 500 million users to correct and "teach" the algorithm, GT can quickly and accurately translate between 90 different languages.
Our challenge now is applying similar techniques to all of this genomic and integrated health records… and we found the perfect person to lead this effort: Franz Och — the man responsible for building Google Translate.
Franz is a renowned expert in machine learning and machine translation. He spent 10 years at Google as a distinguished research scientist and the chief architect of Google Translate, literally building the system from the ground up.
Now, Franz is Human Longevity Inc.'s chief data scientist, responsible for developing new computational methods to translate between all of the human biological information.
When you ask Franz why he's so excited about HLI, his answer is twofold: the mission and the challenge.
Franz explains, "The big thing is the mission — the ability to affect humanity in a positive way. If you are a data scientist, why focus on making a better messaging app or better Internet advertising, when you could be advancing the understanding of disease to make sick people better and of aging to make people live longer, healthier lives?"
As far as the challenge, he goes on: "The big mission is to learn how to interpret the human genome — to be able to predict anything that can be predicted from the source code that runs us." – Peter Diamandis
An Asymptote Toward Zero
The event horizon of a coming economic singularity where all prices drop down an asymptote toward zero as technology advances exponentially.
As ephemeralization escalates, as we can do "more and more with less and less until we can do almost anything with practically nothing," as Buckminster Fuller stated, old technology, old energy sources etc slowly vanish – C. James Townsend
————————————————-
* Cost of digital processing, storage and bandwidth all crashing to price point of $0 (Oracle Sales Erode as Startups Embrace Souped-Up Free Software)- Max Keiser
* Things getting cheap = we becoming rich – Max Roser
* Under a deflationary, i.e. free-market, monetary system, all prices would look like this – Rothbardian
Milestone: Solar Now Produces Over 1% of Global Electicity
Half way through the genome project, 7 years into a 15 year project we had finished 1 percent. And the critics that were in the main stream said "I told you, this is going to take 700 years." My response was "no, we are almost done, 1% in a geometric progression is only 7 doublings from a 100%." And indeed it continued to double every year and was done 7 years later – Ray Kurzweil
Follow me on Twitter @leebanfield1
Bitcoin: 1Jwh6nZiASJf4d3hNytjxqiimWBmEJvJ4S
Bitmessage: BM-2cXjeAykLT7gbjzNHZFnCxdawvyryyb4Nf