BITCOIN
1 Bitcoin = $292
People will understand that a currency beyond political manipulation is immensely valuable – Datavetaren
Capital Controls
Educating periphery economies within the Euro zone would prepare many businesses from being locked out of e-commerce.
Consumers and SME businesses of these economies, Spain and Portugal in particular, should begin looking at a plan B sooner rather than later.
Capital controls in Cyprus was the first warning. Greece is the second warning. – Support Me
Bitcoin Specific Cycles in Existing Supply Chains Must Be Set Up
Isolated Marketing to Just Exporters or Importers Far Less Effective
The imposition of capital controls is a disaster for a modern trade-driven economy, a catastrophe which digital technology, and in particular the digital currency bitcoin (which given the Greek environment usually must involve direct use of the Bitcoin blockchain), has the potential to mitigate.
Potential bitcoin solutions could also be applied to other countries with some similar financial problems and controls such as Argentina and Venezuela.
Under capital controls, ATM withdrawals from Greek bank accounts are now limited to 60 euros a day.  Debit cards can still be used for payments within the country, but the money simply gets transferred from one frozen bank account to another.  As a result many businesses no longer accept debit cards, and many more are demanding a substantial premium price (in  at least one business, double) for debit cards (transferred bank balances) versus hard cash.  There is a growing shortage of such cash; as a result some stores are paying their suppliers in private "scrip", which can be used by the supplier's workers to purchase goods from the issuing store. (more on this below).
Use of credit and debit cards to pay out of the country is banned and effectively blocked, resulting in a near-complete freeze-out of Greeks from Internet commerce. This restriction, along with the controls resulting in Greeks being excluded from the pan-European money settlement system, means that Greek businesses can't pay for imports.  Many shipments into the country have been halted as a result. (The government plan is to create a whitelist of politically approved cases in which such payments for imports will be unblocked).
Private Scrip
A crucial feature of store-issued scrip is that it literally circulates through a complete closed cycle: store –> supplier –> workers –> store.  Such specific cycles are a pattern that is commonly found when currencies are primitive or newly emerging, and every Bitcoin marketer and evangelist should be familiar with them.
In many developing countries and in countries under financial crisis such as Greece, there are urgent needs bitcoin potentially can address.  In terms of these needs Bitcoin is mainly useful as a way to send money across borders for investment in more stable assets overseas, and to substitute for cash or other substitute currencies in a money-starved environment.
To have value as a medium of exchange, bitcoin must be taken up by a community of people who already frequently trade with each other,  and who have a strong need to use it in these trades. It is especially important to market to the links in the cycle that have the strongest negotiating leverage with the others (in the case of Greek the Greek store scrip cycle, the store and its larger suppliers).  The link in the cycle with the greatest incentives to switch to bitcoin here are likely the store's suppliers, because they don't fully trust the store, nor the underlying currency, euro or post-euro, that is the "O" in an IOU, but are participating in the scrip because, sans bitcoin, they have no other choice.
Bitcoin specific cycles create other cost savings.  Almost everywhere they economize on the increasingly high KYC/AML (know your customer/anti-money-laundering) costs of going through a fiat-bitcoin exchange.  What's more, in a capital controls environment like Greece specific cycles avoid the capital controls that would be imposed on a Greek-based fiat-bitcoin exchange, and avoid the need nearly all Greek customers using out-of-country exchanges would have to futilely try to tap into their frozen bank accounts in order to purchase bitcoin. Bitcoin will not, contrary to some feverish news reporting, help Greeks get money out of their frozen bank accounts.
But bitcoin does have great potential to help in less obvious ways: for one thing, as a superior (not vulnerable to trust in an issuing store, and in any currency underlying an IOU) substitute for the emerging store scrips.  For another, it could help greatly with the severe cross-border commerce issues that are emerging.
Exporters, including freelancers working over the Internet, can bring bitcoin into the country, thereby avoiding earning wages that get deposited to frozen bank accounts (per Greek lore, be wary of a cave with many tracks coming in but few coming out). Importers can pay for goods with bitcoin while other electronic payment channels (European money settlements, Paypal, and credit & debit cards when paying foreign businesses, etc.) remain frozen. Again specific cycles must be set up: isolated marketing to just exporters or importers will be far less effective than organizing existing supply chains that involve both.
There are likely many other, mostly highly non-obvious, niches in which bitcoin, and other cryptocurrencies, and smart contract platforms could play a quite valuable role in capital-controlled and other financially handicapped countries – Nick Szabo
Bitcoin's Mere Existence is Incredible
Is it possible to develop a heartfelt and deep affection for a string of 1s and 0s? This is how I feel about Bitcoin right now. I'm just so proud of this little tool, an implausible techno-monetary creation that, only 6 years ago, just a handful of people believed could work. Today, it is emerging as a safe haven currency for the entire world.
Keep in mind that hardly anyone believed that it would be possible to invent a new global currency built entirely of code, outside the banking structure, backed by no physical assets or government promises, with no capital investment, no big names behind it, and no institutional backing.
And yet there it was on that beautiful day, like a tiny sprout emerging from the ground as an indication that this little thing was alive and could grow.
And grow it has! Nothing annoys me more than when people talk as if Bitcoin has been a disappointment because it is still below its exchange-rate high of 18 months ago. That it has any value at all is amazing. That it ever obtained dollar parity is almost miraculous. And that it has become a safe haven for a world in monetary chains is nothing short of awesome.
It is once against strutting its stuff with the news of the Greek meltdown, the pressure on the euro, and the tumbling stock market in China. All this economic upheaval around the world used to cause a flight to the heavy yellow metal. But in the last 30 days, gold has fallen. Indeed, the price seems almost entirely industrialized and nonmonetary at this point — quite a change after 6,000 years as the embodiment of sound money and a hedge against uncertainty.
As Andreas Antonopolous has said, there is no longer any question of whether money in the future will be digital. It is a question of whether money will be a tool used by the state or whether it will belong to the people.
That Bitcoin introduced this option to us should earn our respect and gratitude. Never let it be said that there is no way out. No system is so locked down as to leave no escape – Jeffrey Tucker
MINING
Mining Difficulty Reaches New High
The Bitcoin network enter new territory with the mining difficulty advancing to 51,076,366,303, crossing the 50 billion difficulty mark for the first time in its history.
The increase represents a 3.39% increase over June 28th's difficulty – cazalla
MARKETS
Shanghai / Shenzhen Stock Exchange
Shanghai Stock Exchange -30%, Bitcoin +30%
George Samman: Shanghai and Shenzen have been in freefall in recent weeks despite actions by the People's Bank of China (PBOC) to reassure investors. This has resulted in over US$3.9 trillion in wealth destruction. To put this in perspective, that is bigger than the entire French stock market (CAC).
Przemyslaw Baginski: If all that capital (est. $3.3 tn) migrated from china->bitcoin, each btc would be worth ~$250 000.
The Shanghai composite index began an upward tear in late 2014, soaring 151 percent from the start of July last year to the June 12 high.
The chart shows how easy it is to frame market data in a way that sounds either scary or benign, depending on your inclination. "The Chinese stock market has dropped 32 percent in a month" is scary. "The Chinese stock market is up 70 percent over the last year" sounds great. Both are true. – Neil Irwin
—————————————–
As of last Friday, stocks on the Shenzhen Stock Exchange traded at an average of 45 times their earnings.
That price/earnings ratio is down from its high of 68.9 in June. But it's still more than double the average P/E of 18.5 for stocks world-wide, according to the investment firm MSCI – Jason Zweig
——————————————
It's not just short selling that is illegal in China now. It's selling. Market sources: Police checking who sold off Ping An, PetroChina stocks in last 30mins of trading July 8 while Gov was buying to boost index – Patrick Chovanec
* Several friends in China have told me that brokers have refused their sell orders – Patrick Chovanec
Wall Street Tries Out Research Reports Written by Artificial Intelligence
Each day, Wall Street churns out millions of words encouraging investors to buy or sell stocks, bonds and mutual funds.
Now, a host of startups that use artificial intelligence to write news stories and other reports have set their sights on writing work at banks and financial-service companies.
As artificial intelligence takes on ever more tasks, Wall Street is getting more comfortable putting it to use. Programs such as Narrative Science's essentially take data from filings, databases or internal documents and then use algorithms to synthesize the information for corporate presentations or product descriptions.
Swiss bank Credit Suisse Group AG is using automated writing to provide clients with corporate summaries on thousands of companies.
Fund companies T. Rowe Price GroupInc. and American Century Investments are testing automated-writing products that would tell customers how the companies' funds invest money in a variety of stock-market strategies – Stephanie Yang
COMPANIES / PROJECTS / PRODUCTS
You Are Not Late
Marc Andreessen: In Tech in the Early 1990's, It Felt Like All the Good Ideas were Already Taken. Really.
Joyce Zenner: How do you feel now, in 2015?
Marc Andreessen: Like the world is just starting now.
The Early Adopters are Here. Swiss Post Begins Postal Delivery Using Drones
"The drone has an extremely light construction and is capable of transporting loads of up to one kilo over more than 10 kilometres with a single battery charge," Swiss Post said in a statement.
The drone "flies autonomously, following clearly defined, secure flight paths, which are drawn up by cloud software developed by Matternet (the drone's US manufacturer)", Swiss Post added – Agence France-Presse
MinION MkI Genome Sequencer
Biology is being reduced in cost at 5 or 6 x the speed of Moore's Law. It's coming faster than the internet.
MinION MkI genome sequencer
$1,000
In 2003 it cost $2.5 billion to sequence the human genome.
Last month Oxford Nanopore came up with an amazing device, a $1,000 gene sequencer that was deployed in Africa to look for mutations in ebola.
So we've gone from billions of dollars in 2003 to a $1,000 hand-held USB genge encoder – Joi Ito
OCZ Toshiba Breaks 40 Cent per GB Barrier
OCZ is launching a brand new series of solid state drives today, dubbed the Trion 100.
Not only are they the first drives from the company to use TLC NAND, but they're also the first to use all in-house Toshiba technology with the drive's Flash memory and controller both designed and built by Toshiba.
The OCZ Trion 100 series is targeted at budget conscious consumers and users still contemplating the upgrade from a standard hard drive.
As such, they're not barn-burners in the benchmarking department, but performance is still good overall and a huge upgrade over any HDD.
Pricing is going to be very competitive as well, at under .40 per GiB for capacities of 240GB, 480GB and 960GB and .50 per GiB for the smallest 120GB drive – Marco Chiappetta
PRIVACY / SECURITY / INTERNET
Akamai Releases Q1 2015 State of the Internet Report
"We saw generally positive results across all of the key metrics during the first quarter of 2015," said David Belson, editor of the report. "The increase in global broadband speeds demonstrates an ongoing commitment to higher standards.
* Global average connection speed increased 30% to 5.0 Mbps
* South Korea still leads with an average speed of 23.6 Mbps
* Thailand has the 4th fastest peak mobile connection speed in the world, one of just four countries averaging over 100 Mbps.
– Akamai State of the Internet Report
XKEYSCORE: The NSA's Google for the World's Private Communications
One of the most extensive programs of mass surveillance in human history.
The NSA's XKEYSCORE program, first revealed by The Guardian, sweeps up countless people's Internet searches, emails, documents, usernames and passwords, and other private communications.
The reach and potency of XKEYSCORE as a surveillance instrument is astonishing. The Guardian report noted that NSA itself refers to the program as its "widest reaching" system.
Around the world, when a person gets online to do anything — write an email, post to a social network, browse the web or play a video game — there's a decent chance that the Internet traffic her device sends and receives is getting collected and processed by one of XKEYSCORE's hundreds of servers scattered across the globe.
The system automatically detects if a given piece of traffic is an email. If it is, the system tags if it's from Yahoo or Gmail, if it contains an airline itinerary, if it's encrypted with PGP, or if the sender's language is set to Arabic, along with myriad other details.
Analysts access XKEYSCORE's web interface to search its wealth of private information, similar to how ordinary people can search Google for public information. – Morgan Marquis-Boire, Glenn Greenwald, Micah Lee
PLACES
Dawei Special Economic Zone, Myanmar
Thailand, Japan and Myanmar on Saturday effectively launched the US$50 billion Dawei special economic zone by signing an agreement in Tokyo that will have a deep impact on trade and investment in Southeast Asia.
When completed, the 200-square-kilometre economic zone "will become a new distribution centre for the world", Gen Prayut said.
Dawei is projected to become the major gateway for the Mekong region's trade with India, the Middle East and Africa, while linking Myanmar by road to Thailand, Cambodia and southern Vietnam.
The largest of its kind in Southeast Asia, the Dawei project in southeastern Myanmar will include:
* A deep-sea port with the capacity to hold 250 million tonnes of cargo
* An economic zone that will cover more than 200 square kilometres
* Factories
*A coal mine and power plant for electricity
*Golf courses and five-star hotels for visiting executives.
Japan
Japan's population is so old that elderly workers are getting robot exoskeletons.
Tokyo's Haneda Airport has partnered with robotics company Cyberdyne to equip its staff with robotic exoskeletons that can assist with the grueling practice of lifting luggage.
Normally, those duties would be assigned to younger staff members. But Japan is running out of those. A country with one of the highest rates of people living past their 100th birthday has stopped having kids almost altogether.
The new apparatus, known as HAL for Labor Support, sits on the user's waist and picks up bioelectric signals from his or her muscles to aid movement – Chris Weller
We not only have bionic limbs for replacement parts for paraplegics and quadriplegics, but we're starting to get exoskeletons, strap on braces. There are now ankle braces and knee braces for the elderly that put energy back in the system.
Our brain evolved in such a way that getting old was something that happened, there was nothing we could do about it, and the number one complaint about getting old is a loss of mobility. So we now have technology that is taking that away. It's here today, and it's only getting better because they're all on exponential growth curves.
So what's interesting to me about the transformation from science fiction to science fact is less about the whizz bang technologies, and more about the fact that we're starting to fuck with really deep evolutionary adapted systems. We're starting to really poke into what it means to be human at a really really really deep level, and it's going to start getting interesting – Steven Kotler
THE SINGULARITY
History Made with Moore's Law Breakthrough: IBM Reveals 7nm Chips
* IBM processors built at 7nm will be four times more powerful with up to 20bn transistors squeezed onto a single chip
* Breakthrough erases fears that current 14-nanometer generation of chips are the end of the road for Moore's Law.
* New chips have circuits 10,000 times thinner than hairs
A working sample of a chip with seven-nanometer transistors. IBM said it made the advance by using silicon-germanium instead of pure silicon.
Fears that Moore's law – which dictates the exponential growth of processing power – would falter this year have been allayed after IBM revealed processors with circuits just 7nm wide.
The last major chip breakthrough was in making 14nm transistors, and doubts were raised about whether silicon-based processors could get much smaller due to the physics of atom sizes and the microscopic scale.
The product of its partnership with New York State, GlobalFoundries, Samsung, and a $3bn investment in next-generation chips announced last year, IBM claims its new processors will be four times more powerful than today's chips with up to 20bn transistors on a single chip.
While the prototype chips prove that 7nm transistors are possible and that the march of increasing processor power can continue for one more generation, IBM warned that it would take two years before chips made at 7nm scale would be available to buy.
IBM is licensing the technology to partner GlobalFoundaries, which produces chips for AMD, Qualcomm and Broadcom among others, meaning chips built at 7nm could appear in anything from computers to smartphones – Samuel Gibbs
An Asymptote Toward Zero
"As ephemeralization escalates we can do more and more with less and less until we can do almost anything with practically nothing" – Buckminster Fuller
————————————–
The US economy: a tug of war between Moore's Law (hyperdeflation) and federal subsidies (price inflation)
* Technology: disruption, automation, and an exponential drop in prices.
* Policy: bailout, subsidies, and continually rising prices.
—————————————
Wikipedia: free
EdX: free
Codecademy: free
Twitter: free
Google Search: free
Coursera/Khan Academy: free
Learn something new everyday, $0.
—————————————-
* Bloomberg Commodity Price Index near 14-yr low – BCOM Quote
* Whatever isn't deflationary deserves to die – Urban Future (2.1)
The Singularity Draws Ever Closer: China's Hunger for Robots Marks Significant Shift
China's emergence as automation hub contradicts assumptions about robots, global economy.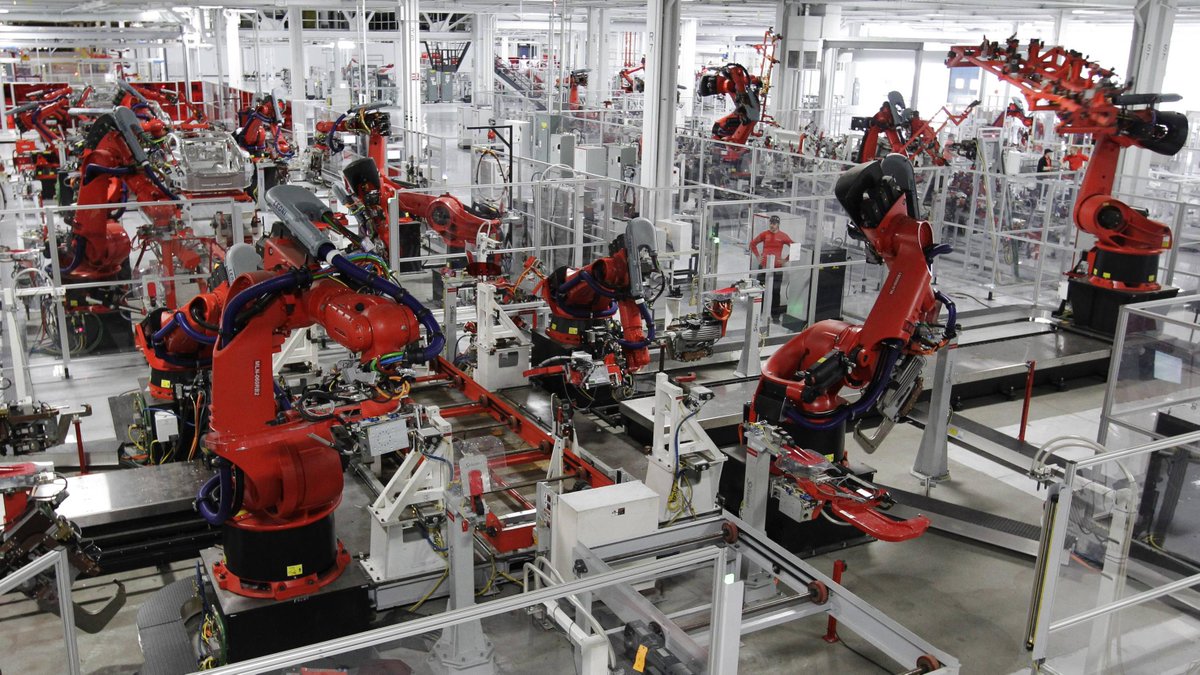 Having devoured many of the world's factory jobs, China is now handing them over to robots.
China already ranks as the world's largest market for robotic machines. Sales last year grew 54% from a year earlier, and the boom shows every sign of increasing. China is projected to have more installed industrial robots than any other country by next year, according to the International Federation of Robotics.
"We think of [the Chinese as] producing cheap widgets," but that is not what they're focused on, said Adams Nager, an economic research analyst at the Information Technology and Innovation Foundation in Washington, D.C.
The International Federation of Robotics estimates about 225,000 industrial robots were sold world-wide last year—a record number and up 27% from the year before. Robot sales grew in all the major markets, with over half the growth in Asia. But China is the rising star, with about 56,000 robots sold there in 2014.
"China has explosive growth [in robots]," said Henrik Christensen, head of Georgia Institute of Technology's robotics lab, adding that all the world's biggest automation companies are rushing to build factories there to supply demand for new machines.
Terry Hannon, chief business development and strategy officer for Adept Technology Inc., a U.S. robotics maker based near Silicon Valley, said he was startled to see 400 new domestic robotics makers at a Chinese trade show last year.  Among those jumping in: Hon Hai Precision Industry Co.—better known as Foxconn—which has announced plans to build and install thousands of robots to assemble Apple Inc. iPhones and other products – Timothy Aeppel & Mark Magnier
Follow me on Twitter @leebanfield1
Bitcoin: 1Jwh6nZiASJf4d3hNytjxqiimWBmEJvJ4S
Bitmessage: BM-2cXjeAykLT7gbjzNHZFnCxdawvyryyb4Nf