BITCOIN
1 Bitcoin = $267
"The Times 03/Jan/2009 Chancellor on brink of second bailout for banks"
There is absolutely no question in my mind that the world of financial geopolitics changed on that morning in January 2009 and that change is going to ripple out through history over the next 20 years. It is going to rock the foundations of the world. – Andreas Antonopoulos
————————————
The story of Bitcoin itself is instructive. None of the "big players" had the capacity to invent it. They are NOT the big players anymore. The big players are the little developers. The anonymous. The adventurous. The big don't know what's happening; follow them into the ditch. – Beautyon
Bitcoin Will Replace the Dollar Within 15 Years
Brian Armstrong: I think Bitcoin could suprass the dollar as reserve currency within 10 – 15 years
Datavetaren: Reminder: When this happens then 1 Bitcoin is worth the equivalent of today's $10,000,000+.
MINING
Bitcoin Hashing Rate over time (source: Blockchain.info) 
Every few weeks, someone involved in Bitcoin writes the following somewhat breathless blog post:
1)  Block rewards account for almost all mining rewards
2) Block rewards are going to drop (next drop in 2016/2017) and drop by 50% every four years forever
3) There won't be enough rewards for miners leading to insufficient hashing power
4) Therefore either (a) Bitcoin is in trouble (anti-Bitcoin camp) or (b) block rewards / inflation will have to be increased to keep miners incented (pro-Bitcoin camp)
Points 1 and 2 are true.
Points 3 and 4 are an exercise in ignoring all data that you can't model, like the old cliche of the drunk looking for his keys under the lamppost because that is the only place he can see…
Things to ask the author when you read the inevitable Concerned-About-Hashing-Rate-In-The-Future-But-Sanguine-About-Hashing-Rate-In-The-Present Blog Post:
1) What is your assumption for BTC price at the time of the block reward drop?  Also, in the long-future (2020s before it drops again!), what are your assumptions about transaction volume and fees?
2) Isn't it a bit odd to be predicting that BTC price certainly won't double at least once every 4 years (particularly since reduced block rewards mean fewer BTC to market)?
3) How does your model account for the last 2 years?  The block reward in $ terms swung 10x over the last couple of years during the price run up/down.  During that period, hashing rate has gone consistently up (see chart above)   Why would a crisis emerge with a 2x swing in block rewards when it did not with a 10x shift in block rewards?
It is hard to imagine too many cases where Bitcoin is a big success and either BTC price doesn't go up or transaction volume doesn't go up.
ALTCOINS
Dat Blockchain So Hot Right Now.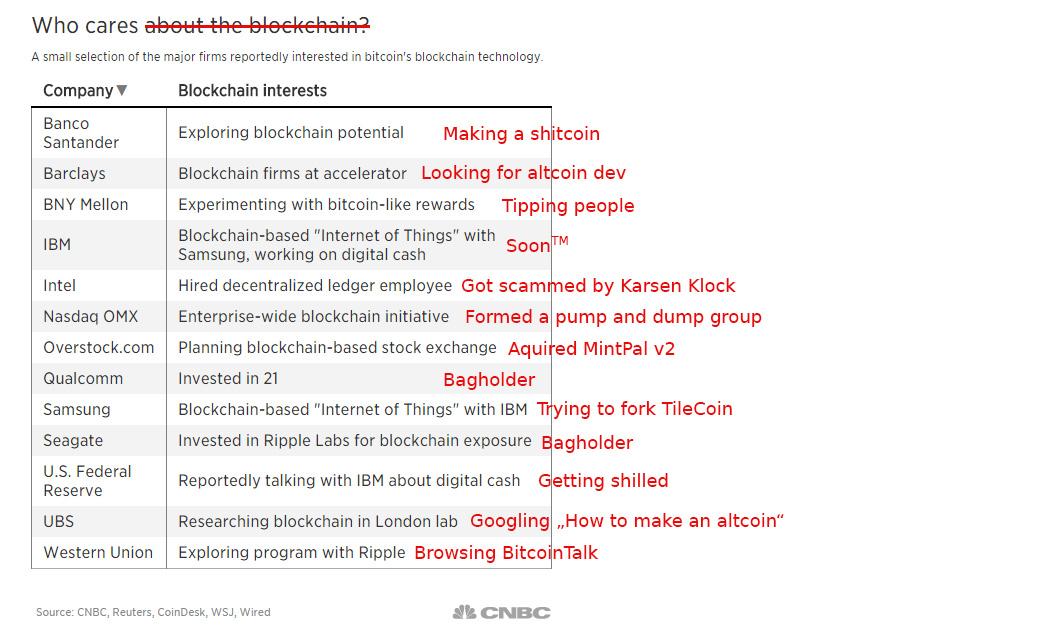 Greeks Opting for Really Terrible Altcoins
Alternative Currencies Flourish in Greece as Euros Are Harder to Come by – The Wall Street Journal
Athens Time Bank. I wonder how it trades against Ithaca Hours.
lol, and they say these currencies won't take off and "overhaul the financial system". psh.
> 2009
> fiat system collapses
> people choose barter currency
This is like the Bizarro Bitcoin.
MARKETS
Overstock Issues $5mill Cryptobond at 7%
Overstock.com, Inc. announced the sale of a $5 million digital security in the form of a cryptobond to FNY Managed Accounts LLC ("First New York"), an affiliate of FNY Capital.
Donald Motschwiller, CEO of First New York, commented, "Our investment in this $5 million cryptobond reflects our commitment to be at the forefront when it comes to adopting new technologies."
The $5 million cryptobond Overstock has sold to First New York bears interest at 7 percent per annum over a five-year term. – Overstock.com, Inc
The Trade Is The Settlement
Overstock and Patrick Byrne hosted a flashy launch party for several hundred people at Nasdaq headquarters overlooking Times Square, at which they unveiled their version of the smart-contract trading platform, t0.com (that's "t" and zero, not the letter "o;" it's a play off "T+3," Street shorthand for the three days it takes a contract to settle).
Mr. Byrne unveiled it in a typically colorful, impassioned speech that included references to the Torah, Martin Luther, "the holy church of capitalism," the development of the Nasdaq and electronic exchanges, and his own sometimes contentious history with Wall Street.
People familiar with Mr. Byrne's long history may be surprised that he chose a site like Nasdaq for the launch. More than a decade ago, he was involved in a bitter, pitched fight against naked short sellers who were targeting Overstock shares. But, saying that he was raised on free markets, he viewed it as a sort of homecoming, and hoped that these contracts would put an end to naked shorting and other abuses.
"Think about what this is," he said on a visit to the Journal's office on Monday. "It's really about getting the existing capital markets to be crypto-capital markets." – Paul Vigna
Symbiont Issues Securities on the Bitcoin Blockchain
Symbiont offered a live demonstration of its smart-contract trading platform
Symbiont was founded in March by Counterparty and MathMoney f(x) founders to create the first issuance and trading platform for smart securities based on the blockchain technology. Now, Symbiont has issued the first Smart Securities on the Bitcoin blockchain.
Symbiont's live platform allows institutions and investors to issue, manage, trade, clear, settle and transfer a range of financial instruments more efficiently on decentralized and distributed peer-to-peer financial networks that are cryptographically secured.
Initial use cases for Smart Securities include corporate debt, syndicated loans, securitized instruments and private equity. According to the Symbiont press release, Smart Securities bring capital markets into the blockchain era.
Smart Securities transform the way that security issuance, management, trading, and clearing and settlement take place within global capital markets. Generically known as "smart contracts," these instruments are programmable versions of traditional securities issued on any type of distributed ledger, such as a blockchain.
Once a security is issued onto the ledger, it acts autonomously, eliminating traditionally manual mid- and back-office functions. – Giulio Prisco
Negative Interest Rates
This has basically never happened before in my whole life.
I can remember 1½ percent rates. It certainly surprised all the economists. It surprised the people who created the life insurance industry in Japan, who basically all went broke because they guaranteed to pay a 3% interest rate.
I think everybody's been surprised by it, including all the people who are in the economics profession who kind of pretend they knew it all along. But I think practically everybody was flabbergasted. I was flabbergasted when they went low; when they went negative in Europe – I'm really flabbergasted.
How many in this room would have predicted negative interest rates in Europe? Raise your hands. [No hands go up]. That's exactly the way I feel. How can I be an expert in something I never even thought about that seems so unlikely. It's new territory….
I think something so strange and so important is likely to have consequences. I think it's highly likely that the people who confidently think they know the consequences – none of whom predicted this – now they know what's going to happen next? Again, the witch doctors. You ask me what's going to happen? Hell, I don't know what's going to happen.
I regard it all as very weird. If interest rates go to zero and all the governments in the world print money like crazy and prices go down – of course I'm confused. Anybody who is intelligent who is not confused doesn't understand the situation very well. If you find it puzzling, your brain is working correctly. – Charlie Munger
COMPANIES / PROJECTS / PRODUCTS
Amazon is Now Bigger Than Walmart
The retail king has lost its crown.
The changing of the guard reflects the growing consensus that online retailing will play an increasingly central role in the global economy over the coming decades and underscores the high premium investors are placing on the growth they expect Amazon to deliver.
Online retailing currently accounts for only 7% of US retail sales. (Though online sales dominate some sectors such as books, electronics, toys, and baby supplies.)
That suggests there's plenty of room for growth. It's those expectations that have supercharged Amazon shares in recent years. – Matt Phillips & Shelly Banjo
Bitmarkets
Anonymous decentralized markets based on two party escrow.
* Fully peer to peer (no central servers).
* No fees
* No middle men.
* No altcoin
* Open protocol and source.
It's inevitable that all markets are going to be decentralized, potentially anonymous, no fees, no middlemen. With the internet there's just no reason to have centralized middlemen anymore. We can connect without them.
Why do we need Amazon or Craigslist or eBay? Why can't people just connect to each other?
The big barrier has been a decentralized messaging system. We're slowly piecing together the parts to solve that problem. We're using Bitmessage to solve that problem. It's not ideal, but it's good enough for the scale that we need to do Craigslist and eBay like uses. – Steve Dekorte, Creator of Bitmarkets
Soylent 2.0
Soylent creator Rob Rhinehart has announced a new development: ready-to-drink Soylent.
Called "Soylent 2.0," the pre-mixed product will ship in October to the US and Canada (more international shipping is coming, both for the old powder and the new liquid, but there isn't a solid timeframe).
* The 2.0 premixed form again alters the fat/carb/protein ratios of the product, going from 43/40/17 to 47/33/20.
* The shift results in a glycemic index of 49.2
Soylent 2.0 remains vegan, like the powder, and Rhinehart stressed to Ars that about half of the lipid calories come from algal sources, which he calls a "very efficient, very sustainable way of producing food."
Just because the premixed version carries the number "2.0" doesn't mean that the powdered variant will be phased out. Rhinehart explained that the powdered form's lack of water will always be cheaper to ship and will result in a cheaper cost-per-calorie (not to mention that the unmixed variant will be storable for much longer periods of time).
"We're always going to keep our powdered product around," he told us. " – Lee Hutchinson
PRIVACY / SECURITY / INTERNET
Bitmarkets Combines Bitcoin, Bitmessage, and Tor
Bitmarkets is focused on anonymity. I saw a recent interview about the OpenBazaar project and they said specifically that that wasn't one of their goals. It really is one of ours.
Bitmessage is undervalued and under recognized in the community. It's really very clever how it's done, and as far as I can tell it's the most ready for consumer use of any of the solutions for peer to peer messaging that I've seen. It's not scalable to 30 billion messages a day that are being done with instant messages and SMS and things like that, but for these kinds of uses it seems pretty perfect and doesn't seem to be as well recognized as I think it should be.
Tor: All of our communications with the Bitmessage and Bitcoin networks happen over Tor.
– Steve Dekorte, Creator of Bitmarkets
EDUCATION / LEARNING
The Ratio of Educational Capital to Signal Has Never Been More Skewed
Harvard has never been a purely academic institution – offering as it has the weight of prestige that's served as an important signal to prospective employers and proud parents since day one – very much like a Louis Vuitton purse, a new Mercedes, or an iPhone 6 – but the ratio of educational capital to signal has never been more skewed towards the latter than it is today.
A degree from Harvard has become, like Porsche, another symbol of Asian financial dominance. Sure, all of these degrees and cars and leather goods ostensibly serve some practical purpose, but really not any more than related items costing hundredths the price. And that's the point. – Pete Dushenski
Ernst & Young Drops University Degree Criteria
Big Four accountancy firm Ernst & Young has dropped its requirement for a university degree from its entry criteria for their 2016 graduate, undergraduate and school leaver programme.
The decision came after an 18-month analysis of the firm's student selection process.
Ernst & Young said that there is "no evidence" that a university degree will lead to future success. – ITV Report
Make School – The College Replacement for Founders and Developers
College has failed, or so many Silicon Valley entrepreneurs believe. Not only are tuition costs spiraling out of control, but students are leaving college without the ability to produce … anything.
We are living in the era of code, and yet, college students are graduating barely able to read or write an essay – let alone make an app.
Make School hopes to change this sordid state of affairs. Through a rigorous and lengthy two-year curriculum, the school hopes to instill deeper critical thinking skills while also providing students engineering and product skills that will allow them to be highly productive at startups and large tech companies.
Make School teaches the requisite coding and product skills, but what makes the program unique is all the other skills that they have added into the curriculum.
"The first half is spent on psychology, sales relationships, pitching, and writing and communication," Desai explains, "the second half is more about society – what kind of socioeconomic issues and political issues" are important to the tech community?
"Everywhere in the US, Austin, or New York or other cities, or outside the US like Japan and India, we are seeing the same fundamental problem, which is that the universities are not teaching the right things."
We appear to be on the tip of a revolution in education. Educators are finally starting to understand that no one likes lectures and rote studying for final exams. New schools are popping up to take advantage of the large gap between traditional four-year universities and the potential for a 21st-century curriculum with the skills and thinking that students need in the marketplace. – Danny Crichton
PLACES
Silicon Valley: American Capitalism Has a New Hub
California's Silicon Valley, the 50-mile stretch between San Francisco and San Jose, is perhaps the most productive and innovative land mass in the world.
Silicon Valley's entrepreneurs and innovators, technologists and moneymen are busy revolutionising nearly every aspect of the global economy. The Economist has identified 99 listed technology companies with market values of over $1 billion that call the Valley home.
Wall Street used to be the place to seek fortunes and make deals; now it is increasingly the Valley. The area's tech companies are worth over $3 trillion. Last year one in five American business-school graduates piled into tech. Jamie Dimon, the boss of JPMorgan Chase, has warned of mounting competition for Wall Street. Goldman Sachs recently held its annual shareholder meeting in San Francisco.
The enormous, disruptive creativity of Silicon Valley is unlike anything since the genius of the great 19th-century inventors.  Silicon Valley is an expression of iconoclastic freedom and creativity. Its triumph is to be celebrated. – The Economist
Beijing's Zhongguancun is the Closest Thing China Has to Silicon Valley
The entrepreneurial instincts at work in Beijing are stoked by huge sums of private-sector cash.
With homegrown champions such as Baidu attracting top talent, Beijing's Zhongguancun high-tech district has since 2003 created the most software companies valued at more than $1 billion each. Only the U.S. has created more, according to venture capital investor Atomico.
The allure of Zhongguancun comes from the camaraderie that promotes brainstorming in the district's coffee shops and at the numerous forums that attract the city's brightest electronics innovators. – Lulu Yilun Chen & Dexter Roberts
In a Libertarian Society There are Property Lines, Not Borders.
* Why is governmental discrimination based on skin color not acceptable but on birth place is? – Roger Ver
* Why immigration controls are not regarded as disgusting and outrageous as racial segregation? What's the moral difference? – Oleg Andreev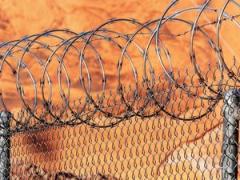 In a libertarian society, there is no commons or public space. There are property lines, not borders. When it comes to real property and physical movement across such real property, there are owners, guests, licensees, business invitees, and trespassers — not legal and illegal immigrants.
Let's be clear: the tendencies of a society based on property rights may well make progressives and left-libertarians quite unhappy. Such a society necessarily entails freedom of association and its corollary, the right to exclude.
Free association might well result in regions that develop naturally based on (gasp) shared familial, economic, linguistic, social, and cultural interests. Contra the DNC, government is not "the only thing we all belong to."
This is not to say that a libertarian concept of naturally arising "nations" entails a clannish retreat into suspicious enclaves. Surely a free society would have regions where market demand for the cosmopolitan benefits of life in a multicultural society prevails (imagine a stateless Singapore). – Jeff Deist
THE SINGULARITY
Chinese Factory Replaces 90% of Humans with Robots, Productivity Soars
A technology company has set up a factory run almost exclusively by robots, and the results are fascinating.
The Changying Precision Technology Company factory in Dongguan has automated production lines that use robotic arms to produce parts for cell phones. The factory also has automated machining equipment, autonomous transport trucks, and other automated equipment in the warehouse.
The robots have produced almost three times as many pieces as were produced before. According to the People's Daily, production per person has increased from 8,000 pieces to 21,000 pieces. That's a 162.5% increase.
The increased production rate hasn't come at the cost of quality either. In fact, quality has improved. Before the robots, the product defect rate was 25%, now it is below 5%. – Conner Forrest 
Easy DNA Editing will Remake the World. Buckle Up.
We now have the power to quickly and easily alter DNA. It could eliminate disease. It could solve world hunger. It could provide unlimited clean energy.
Crispr-Cas9 is a gene-editing technique which makes it easy, cheap, and fast to move genes around—any genes, in any living thing, from bacteria to people. Crispr promises direct access to the source code of life.
"These are monumental moments in the history of biomedical research,"  genetic researcher David Baltimore says. "They don't happen every day."
Using the three-year-old technique, researchers have already:
* Reversed mutations that cause blindness
* Stopped cancer cells from multiplying
* Made cells impervious to the virus that causes AIDS
Agronomists have rendered wheat invulnerable to killer fungi like powdery mildew, hinting at engineered staple crops that can feed a population of 9 billion on an ever-warmer planet.
Bioengineers have used Crispr to Alter the DNA of yeast so that it consumes plant matter and excretes ethanol, promising an end to reliance on petrochemicals.
* Startups devoted to Crispr have launched.
* International pharmaceutical and agricultural companies have spun up Crispr R&D.
* Two of the most powerful universities in the US are engaged in a vicious war over the basic patent.
Depending on what kind of person you are, Crispr makes you see a gleaming world of the future, a Nobel medallion, or dollar signs.
Today swarms of investors are racing to bring genetically engineered creations to market. The idea of Crispr slides almost frictionlessly into modern culture. When the US government said it wouldn't fund research on human embryonic stem cells, private entities raised millions of dollars to do it themselves. Engineered humans are a ways off—but nobody thinks they're science fiction anymore.
The world has changed. "Genome editing started with just a few big labs putting in lots of effort, trying something 1,000 times for one or two successes," says Hank Greely, a bioethicist at Stanford. "Now it's something that someone with a BS and a couple thousand dollars' worth of equipment can do. What was impractical is now almost everyday. That's a big deal." – Amy Maxmen
Follow me on Twitter @leebanfield1
Bitcoin: 1Jwh6nZiASJf4d3hNytjxqiimWBmEJvJ4S
Bitmessage: BM-2cXjeAykLT7gbjzNHZFnCxdawvyryyb4Nf