BITCOIN
1 Bitcoin = $245
'How to Buy Bitcoin' Google Searches
Since May, global number of searches on how to buy bitcoin is up 50%, highest in 18 months. – Tuur Demeester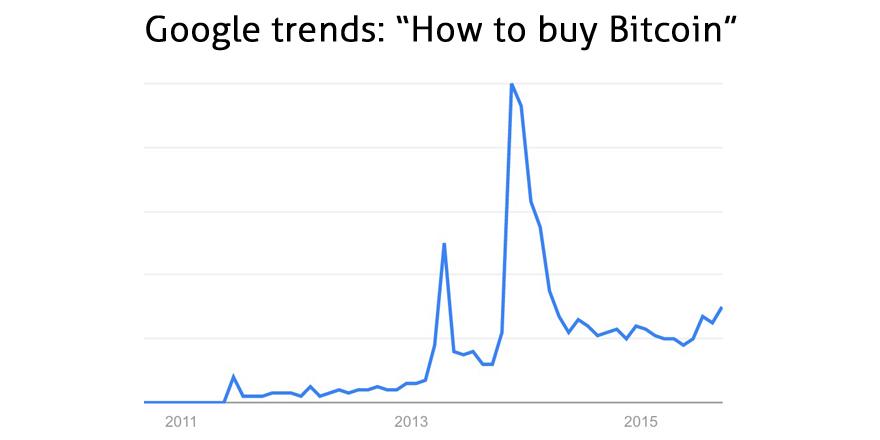 The Greatest Generational Opportunity
I think bitcoin is one of the greatest mispriced assets I've seen in my career. I am extremely bullish on bitcoin.
Given the investment capital and human capital dynamics pouring into this ecosystem, I believe bitcoin is one of the greatest generational opportunities for investors and entrepreneurs.
The easiest way for people to invest in this ecosystem is by simply buying bitcoin — which I like to characterize as a tracking stock representing this exciting, new frontier in technology, and well beyond. – Matthew Roszak
As Serious as the Development of the Internet
It's analogous to e-mail for money. You should be taking this technology as seriously as you should have been taking the development of the Internet in the early 1990s.  – Blythe Masters
Dark Web Markets Process More Bitcoin Transactions than Bitpay
The news came as part of a paper released this week by Kyle Soska and Nicholas Christin from Carnegie Mellon University.
The paper said that, even by conservative estimates, the daily sales volume of six large-scale dark markets reached up to $650,000 (£415,820) in 2014.
The bitcoin merchant processor's self-reported annual total, $158.8m (£101.59m), would produce a daily average of around $435,000 (£101,590).
"In the short four years since the development of the original Silk Road, total volumes have reached up to $650,000 daily (averaged over 30-day windows) and are generally stable around $300,000–$500,000 a day, far exceeding what had been previously reported," it says in the report. – Sead Fadilpasic
———————–
The Deep Web contains nearly ten times as much information as the Surface Web. The information in it is much more valuable than the surface Web. I have been working on a Deep Web browser for some time. – John McAfee
MARKETS
Global Price-Earnings Ratios
– Kyoungwha Kim, Cindy Wang, and Kana Nishizawa
Chinese Government Punishes 197 Over Stock Market and Tianjin 'Rumours'
Chinese authorities have punished 197 people for spreading rumours online about the recent stock market crash and fatal explosions in Tianjin, according to state news agency Xinhua.
The rumours described by the latest statement include reports that a man had jumped to his death in Beijing due to the stock market slump and that as many as 1,300 people were killed in Tianjin blasts, Xinhua said.
The news agency said "seditious rumours about China's upcoming commemorations of the 70th anniversary of the end of World War II" were also among the offences. A journalist was also arrested along with several stock market officials, according to a Xinhua report. The journalist, Wang Xiaolu, is accused of "spreading fake information" about the market slump, the report said.
The state news agency said Mr Wang confessed that he "wrote fake report on Chinese stock market based on hearsay and his own subjective guesses without conducting due verifications".
In 2013 Chinese authorities introduced a possible three-year sentence for spreading rumours – the sentence was supposed to apply to anyone who posted a rumour that was reposted 500 times or viewed 5,000 times. – BBC
Radical Experiment: 21 Central Banks Have Interest Rates at Zero
The really crazy, radical experiment in money, isn't Bitcoin..
In the last six years there has been an absolutely radical experiment in money, and that is, that in the first time in history, central banks took interest rates to zero.
And it wasn't just one of them, even though it was unprecedented, but 21 central banks have taken the interest rates to zero. Left it there for 6 years. And cannot raise it again, because if they raised it a tiny bit.. the entire economy would collapse.
This has never happened before.
It's the most radical monetary policy experiment since the introduction of central banking in the 1920's. We don't know how it will end. But in most likelyhood it will not end well.. – Andreas Antonopoulos
COMPANIES / PROJECTS / PRODUCTS
E-commerce
A quick reality check.
Ecommerce as % of total retail sales, even in the US, is only 7%.
Still Day One, as Amazon calls it. – Subrahmanyam KVJ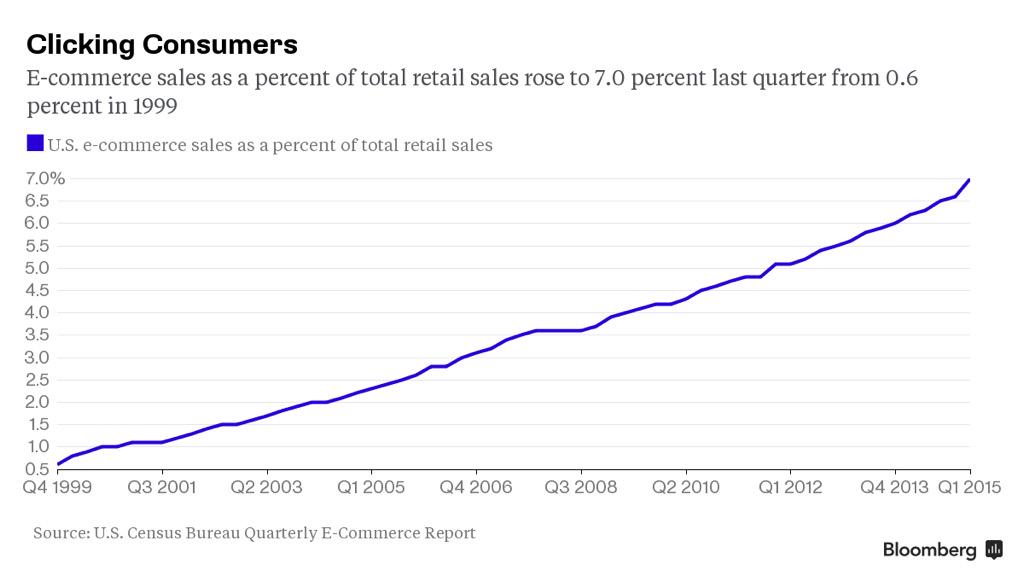 The Right Model for a Bitcoin ATM
At one point during his presentation, Andreas Antonopoulos turned his attention to Bitcoin ATMs, asking the audience how many of them had used one of the machines in the past. While a few people raised their hands, those hands went down when Antonopoulos then asked how many of them enjoyed their experience with the Bitcoin ATM.
After describing the problems with currently available Bitcoin ATMs, Antonopoulos explained how he would design such a device:
"The average user of Bitcoin ATM is someone who has never seen bitcoin before. It is a person who doesn't understand what bitcoin is, and the ATM is their first introduction to this currency. It is a person who does not have a pre-existing relationship with anyone in the Bitcoin space. It is a person who does not currently have a wallet because they didn't know they needed one – because they don't know what a wallet is.
1) If I was designing a Bitcoin ATM, first of all, I'd put it in bodegas.
2) It wouldn't have a lick of English on it. It'd be all-Spanish because I'm going to really push the remittance model.
3) The first function on the ATM would be 'Send money to Mexico City.' That's it. Because I want people to use the bitcoin for something.
4) I'd have a big button on the front that says 'Talk to a human.' I've got an Internet-connected device with a forward-facing camera and a tablet screen, and I'm not using it to do video customer service? Are you kidding me?"
Government Backed Lobby Tried to Crush Hampton Creek
USDA official joined American Egg Board in planning to ruin Hampton Creek, Silicon Valley firm that created plant-based egg alternative and Just Mayo.
A US government-appointed agricultural body tried to crush a Silicon Valley food startup after concluding the company represented a "major threat" and "crisis" for the $5.5bn-a-year egg industry, according to documents obtained by the Guardian.
In potential conflict with rules that govern how it can spend its funds, the American Egg Board (AEB) lobbied for a concerted attack on Hampton Creek, a food company that has created a low-cost plant-based egg replacement and the maker of Just Mayo, a mayonnaise alternative.
In a series of emails obtained under the Freedom of Information Act (Foia), AEB staff, a US department of agriculture official and egg industry executives attempted to orchestrate the attack.
The emails, totalling 600 pages, show the AEB has become deeply concerned about Hampton Creek. The San Francisco-based tech company has attracted $120m in funding from some of tech's biggest names, including the Founders Fund, started by Facebook backer Peter Thiel, and Vinod Khosla's Khosla Ventures.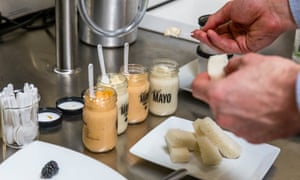 More than one member of the AEB made joking threats of violence against Hampton Creek's founder, Josh Tetrick. "Can we pool our money and put a hit on him?" asked Mike Sencer, executive vice-president of AEB member organization Hidden Villa Ranch. Mitch Kanter, executive vice-president of the AEB, jokingly offered "to contact some of my old buddies in Brooklyn to pay Mr. Tetrick a visit".
The AEB represents egg farmers across the US and its board is selected by the secretary of agriculture. This year the politically connected AEB provided 14,000 eggs for the White House's annual Easter egg roll and AEB head Joanne Ivy was photographed with President Barack Obama.
Hampton Creek has recently signed a deal with Compass, the world's largest catering company, and is pursuing contracts with other fast-food and food supply companies that have traditionally been held by the egg industry. – Sam Thielman and Dominic Rushe
The Tipping Point for Car Ownership: 'I Don't Own, I Uber'
We're at the tipping point where car ownership is becoming uneconomical in Uber markets. Huge implications…! – Katy Kasmai
Everyone should do the math. And mostly, they will all be suprised. On average, Americans spend $9000 per year to own and maintain their cars — that's 18% of their income. – Robin Chase
————————————————–
A little over a year ago, I moved to London and as part of the move, I sold my car.
I knew Uber was more expensive in London, but everything was more expensive in London and I had factored that into my decision to move in the first place.
What I didn't expect was that depending on Uber (UberX specifically) would actually be cheaper than owning and driving a car. Much cheaper. Yes, the company says this, but I didn't think it was realistic yet.
Well, it is. At least for me.
I've been back in SF for a couple of months and have been wondering if I should buy a car.
1 Year of Car Ownership in San Francisco = $10,281 
Apartment Parking Space $4,200 + Gas $4,485 + Insurance $1,596
That's just the basics, not factoring in normal servicing, repairs, car washes, other parking, tolls or tickets (and there were tickets). And of course, that's not including the amortized cost for the purchase of the car in the first place. It's just the bare annual minimum.
This also doesn't include the additional Uber, taxi or public transportation fares I had throughout the year when I wasn't driving — for example, after drinks or when traveling in other cities.
————————————————–
1 Year of Uber in London = $4,655
That's a dramatic difference in cost. But to be fair, I had to rent a car 3–4 times in the last year for an additional $1k or so combined. And of course, like the car, this doesn't factor in public transportation costs, etc.
If anything, I was traveling more miles in Europe and riding with Uber more frequently because it was dependable and familiar to me.
————————————————–
Conclusion
Uber has reached such high city density, geographic ubiquity and price diversity that it can truly be an economical replacement for car ownership for some people. – Megan Quinn
PRIVACY / SECURITY / INTERNET
Ashley Madison's Cypherpunk Nightmare
Christopher Hayes: Forget Ashley Madison, for a moment, and replace it with: medical records. Your full income tax returns. Your inbox.
Littleman Mendez: The sad thing is, millions of people's authentication secrets (ss#, etc.) have been leaked, & now our identity system is broken.
Pierre Rochard: Crypto Anarchy Spreads. Deal with it: Meditations on Cypherpunk Nightmares
"I would recommend that everyone not only assume that their secrets will be leaked, but live as though they have already been leaked."
girevik: SSNs are a crappy identity system. Look into GPG.
Brad: What if people are hurt or die as a result of this leak?
Pierre Rochard: What if people benefit or don't die as a result of leak? How will we net it out and render cosmic justice?
Michael Goldstein: The leaks happened regardless of their consequences. You can only plan for the future, not the past.
The Alleged $7.5 Billion Fraud in Online Advertising
Just because a server answers a browser request for an advertisement does not mean that the person using the browser will see it.
Ad networks knowingly sell bot traffic to publishers and publishers knowingly buy the bot traffic because the resulting ad impressions earn both of them money—at the expense of the clients who are paying for the impressions.
Only 8% of impressions have the opportunity to be seen by a real person.
92% of the entire ad budget is being flushed down the digital toilet.
The 92% non-viewable impressions still earn money for publishers and ad networks
Essentially: If you have an online display ad budget of $100,000, then only $8,000 of that ad spend has the chance to put advertisements in front of human eyeballs. (And that's not even taking into account the poor clickthrough rates of display ads when people do see them.) – Samuel Scott
Do you think publishers know when they're buying fake traffic?
Publishers know. They might say "we had no idea" and blame it on their traffic acquisition vendor, but that's bullshit, and they know it. If you're buying visits for less than a penny, there's no way you don't understand what's going on.
Any publisher that's smart enough understand an arbitrage opportunity is smart enough to understand that if it was a legitimate strategy that the opportunity would eventually disappear as more buyers crowded in. What we were doing was 100 percent intentional.
Some articles revolving around bot traffic paint publishers as rubes who were duped into buying bad traffic by shady bot owners. Rather, I believe publishers are willing to do anything to make their economics work.
If display advertising were to suffer the disgrace it deserves, imagine the fallout. Imagine the damage to Facebook, which at last report gets over 80% of its revenue from display. Imagine the damage to online publishers whose bogus, inflated numbers probably constitute their margin of profit.
If the comScore findings are correct and projectable, it means that of the 14 billion dollars spent on display advertising last year in America, 7.5 billion was worthless and constituted some degree of fraud or misrepresentation. – Bob Hoffman
The Ad Blocking War Has Begun
Wired: Apple is taunting publishers with ad-blocking and Apple views 
JJ: Publishers deserve exactly what's coming to them. Lemme show you something. I'ma paste some standard shitbaggery. Check this out:
Dailymail, linked often on Twitter & elsewhere:
http://www.webpagetest.org/result/150906_XS_Q11/2/details/
Good luck even loading the RESULTS on mobile.
Are they mining Bitcoin w/ JavaScript? 1600 objects, 15MB, & that CPU %, I can't even. What the fuck is going on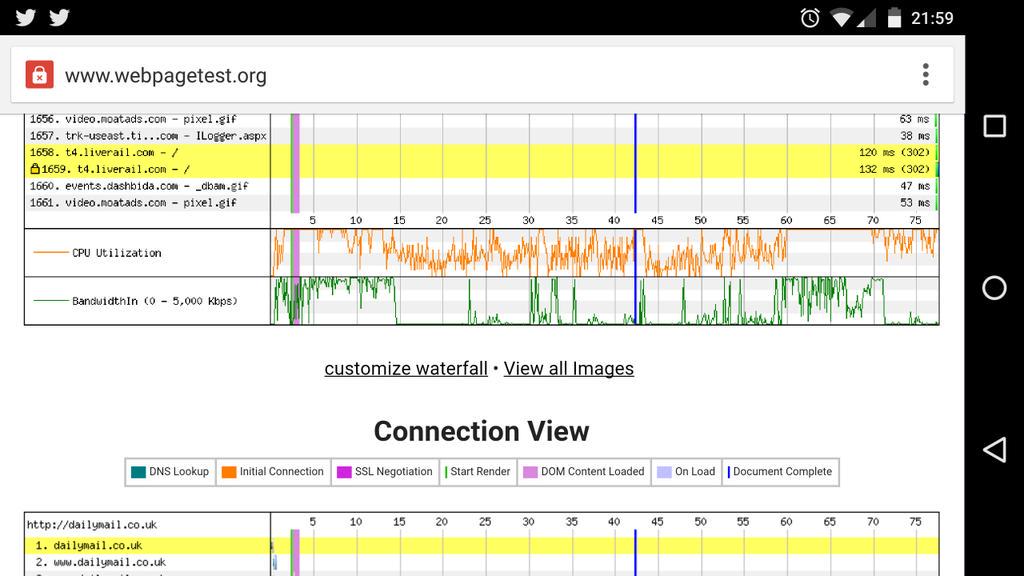 It takes nearly as long to bring up an average story page in 2015 as it did in 1998. Oppressive adware and popup videos are the new dial-up. – Will Leitch
—————————————————-
Over the last few days I've been testing an experimental content blocker called Crystal, which promises to speed up browsing on iOS.
I've been particularly impressed by the results and taken aback by how much removing trackers, ads and other scripts makes a difference over a cellular connection.
iMore loading with an iOS 9 content blocker and without.
The first page load was always with Crystal disabled (pictured left), then followed by a test with it turned on (pictured right).
Content blocking is a part of Apple's upcoming iOS 9 release and Crystal is currently in private testing.
———————————————-
Left: Google search for "ad networks" on iOS 8
Right: same on iOS 9 with Crystal App content blocker. Well now.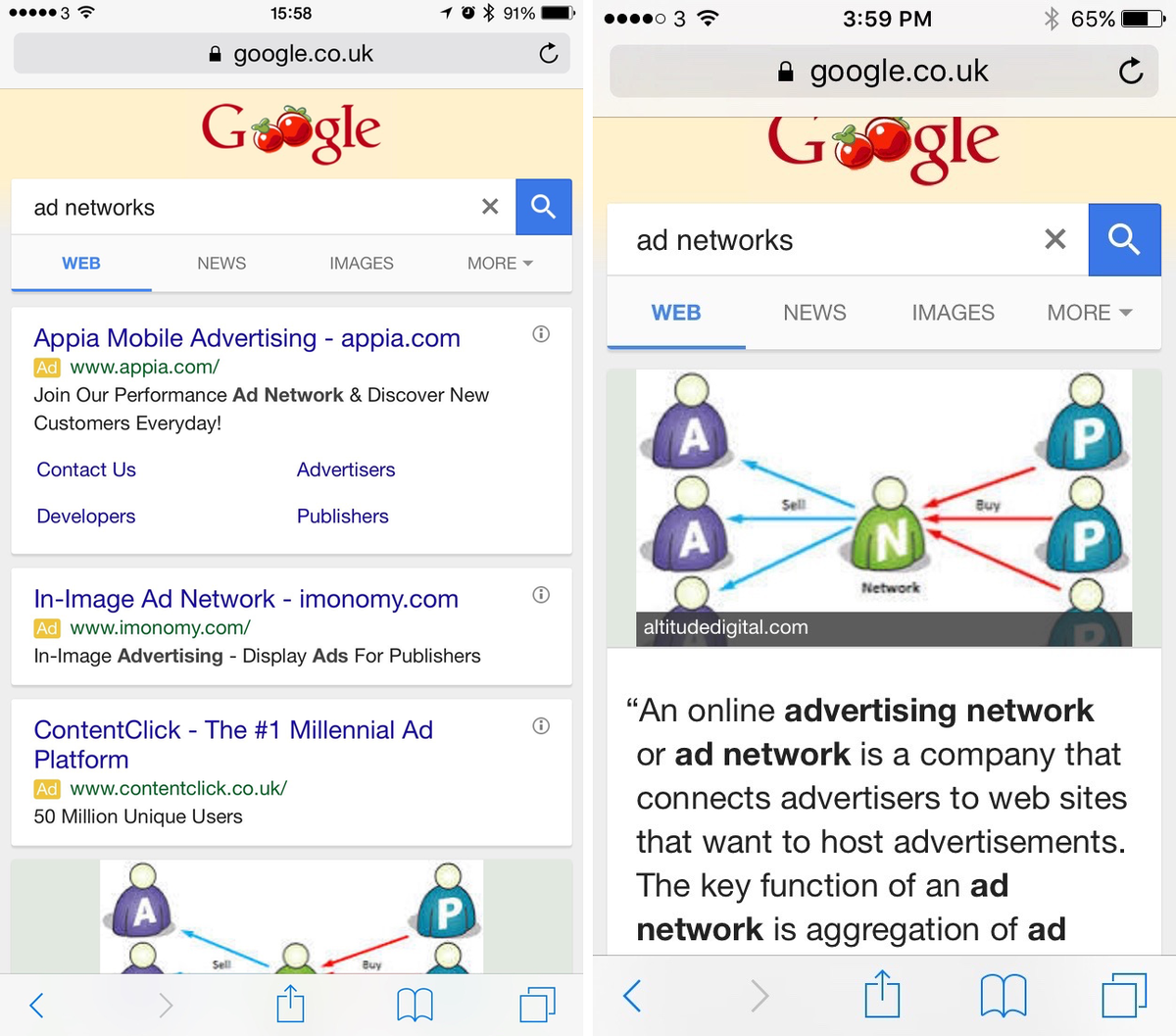 Apple is opening Pandora's Box – Jon Markman
The Interactive Advertising Bureau Explores Options to Destroy Ad Blockers
To catch up with the growing issue, the IAB hosted a member leadership summit  to discuss ad blocking.
"I advocated for the top 100 websites to, beginning on the same day, not let anybody with ad blockers turned on [to view their content]," said Mr. Moore. He said that the other IAB members in attendance considered it "a good idea but the possibility of pulling it off slim."
The ad blockers "are interfering with websites' ability to display all the pixels that are part of that website, arguably there's some sort of law that prohibits that," Mr. Moore said. "I'm not by any means a lawyer, but there is work being done to explore whether in fact that may be the case." – Tim Peterson
—————————————
So the IAB is peeved, eh? Ha ha ha. Good.
The IAB cannot be so pig-headed or pretentious to think it can be the 800-pound gorilla and force Apple (and the developer community) to reverse the AD Blocking feature. It's about as absurd as it gets.
5,000 interruptions a day, or zero. Which do you prefer? – Bartley Wilson
LEARNING / EDUCATION
Free Online Courses
For college students (& anyone else who wants to access free curriculum) here's a good list of open courseware: – CSU OpenCourseWare 
– Tamara
University Costs
As is the case with most investments, many of the best deals are found overseas.
Peking University is the most prestigious in China; yet tuition runs less than $5,000 per year.
Ecole Polytechnique Federale de Lausanne, where you'd be studying at one of the finest universities in the world—in ENGLISH—for less than $1,500 a year.
Technical University of Munich, one of the most highly regarded universities in Europe, where you can get an advanced degree for a whopping $120 a semester.
What stuns me is how few people take advantage of this, especially when they come from high cost countries like the United States. – Simon Black
Compulsory State Education: Training a Bureaucratic Population
Mass education of populations, originally developed as a means of improving the military readiness of the population in an era of mass conscription, has developed into a tool for the preparation of mass bureaucratic labor forces.
The standards that educational institutions hold students to are bureaucratic standards rather than other standards. The chief expectation is that it will prepare people for a life of either paperwork or academia.
Standard education is also a force for increasing labor fungibility — which is to say that one laborer of a certain academic class can be substituted for another, rather than different laborers being so specialized that it be reflected in their surname, as was the case before the era of mass mobilization.
What's important about developing a bureaucrat is creating the correct emotional temperament. It doesn't have much to do with cultivating excellence, because the presence of excellence tends to be disruptive to any bureaucratic setting, as excellence tends to be unpredictable and challenging to account for.
Adult bureaucrats tend to complain a lot about 'stress,' in part because they have been trained from an early age to respond to distress resulting from verbal disapproval by authorities and peers. This takes a lot of repetitive operant conditioning, which is one of the top reasons why school curricula tend to be so repetitive and pointless on the surface.
The purpose isn't to create good calculators or a labor force aware of trigonometry, but to create a mass of people who are docile, predictable, and easily frightened into compliance.
The long term consequence of this has been an overproduction in clerk-like personalities. Because the state mandates that everyone go through clerk training, you wind up with a homogenous population marked by the character traits that have been historically associated with clerks — bad physical health, obedience to authority, intense respect for arbitrary rules, a weak aesthetic sensibility, an obsession with official approval, and androgyny.
Everywhere that this mass education model has been in place for significant amounts of time, there is an oversupply in aimless bureaucrat-people without bureaucracies to stuff them into.
Europe in particular suffers from 'mass youth unemployment,' especially among the educated, which is because they have been educated to fill slots in imaginary bureaucracies which both don't exist and are uneconomical where they do exist. Their mentalities have been shaped to expect a didactic, predictable, safe, office-existence in which people tell them what they need to 'learn,' and then they complete an assignment graded by a light hand. – Henry Dampier
PLACES
Lisbon for Digital Nomads
It has become one of the startup hubs in Europe, living costs are low and the south of Portugal (Algarve) is beautiful and easy to reach.
There are plenty nice beaches around. You might even be able to make some shorter trips by bus or so to cities in the south of Spain (Seville, Malaga etc.) and the airport of Lisbon is better connected by "discount airlines" to the rest of Europe.
The spirit of the city seemed young and tech-savvy. The overall mood was open for young, fresh and small businesses. You saw plenty of unique little boutique shops and services. In addition it has the largest university of the country with roughly 50k students, which is 10% of the city's population, which of course caters for that.
Last month I read an article about it on venturebeat: Portugal Discovers Its Spirit Of Entrepreneurial Adventure – Seemed like there are some successful startup incubators. I guess the economic trouble the country had (real estate bubble burst) made the people hustle really hard, especially the young talented ones. In addition this also allowed people with little income (students, founders) to be able to live at affordable rate in a large young city. Something you wouldn't easily be doing in London, for example. I guess the bootstrap mentality is quite high in Lisbon.
Also if you check meetup.com for events you'll see that a lot are in the realm of tech, coding, hackathons, product-talks, business-growth etc. – That's always a good indicator.
– nezia
THE SINGULARITY
As More Work is Being Done by Machines, What will Humans be Good for?
One of the things I like about Kurzweil is that he doesn't get bogged down in the politics of such issues, but it's evident that he understands how markets work. He realizes that as menial tasks are replaced by automation (as proven historically), people will find more fulfilling things to do with their time. Everybody benefits when innovation occurs, just sometimes not right now for certain individuals.
He's actually the person that got me on the libertarian track because he spoke about the deflationary effect of technological progress in Age of Spiritual Machines and how it was ultimately going to be a positive development. This went counter to everything I had been taught in undergrad economics, so my ears definitely pricked up when he said that.
When I did more research on that subject, I found a multitude of information on it from free-market economists and ultimately accepted that all innovation and wealth generation in modern times is as a result of liberty surrounding our economic lives.
As Kurzweil so insightfully explains in that book, if you try to hold back the advancement of technologies, you simply drive them underground into the criminal world and/or centralize them into governments. I would go on to say that if you hold back the economic freedom of individuals within societies, you will eliminate much of the benefit that technological advancement affords. – BradskyB
Is a Cambrian Explosion Coming for Robotics?
Many of the base hardware technologies on which robots depend—particularly computing, data storage, and communications—have been improving at exponential growth rates. Two newly blossoming technologies—"Cloud Robotics" and "Deep Learning"—could leverage these base technologies in a virtuous cycle of explosive growth.
In Cloud Robotics—a term coined by James Kuffner (2010)—every robot learns from the experiences of all robots, which leads to rapid growth of robot competence, particularly as the number of robots grows.
Deep Learning algorithms are a method for robots to learn and generalize their associations based on very large (and often cloud-based) "training sets" that typically include millions of examples. Interestingly, Li (2014) noted that one of the robotic capabilities recently enabled by these combined technologies is vision—the same capability that may have played a leading role in the Cambrian Explosion.
How soon might a Cambrian Explosion of robotics occur? It is hard to tell.
The very fast improvement of Deep Learning has been surprising, even to experts in the field. The recent availability of large amounts of training data and computing resources on the cloud has made this possible; the algorithms being used have existed for some time and the learning process has actually become simpler as performance has improved.
The timing of tipping points is hard to predict, and exactly when an explosion in robotics capabilities will occur is not clear. Commercial investment in autonomy and robotics—including and especially in autonomous cars—has significantly accelerated, with high-profile firms like Amazon, Apple, Google, and Uber, as well as.
Human beings communicate externally with one another relatively slowly, at rates on the order of 10 bits per second. Robots, and computers in general, can communicate at rates over one gigabit per second—or roughly 100 million times faster. Based on this tremendous difference in external communication speeds, a combination of wireless and Internet communication can be exploited to share what is learned by every robot with all robots.
Human beings take decades to learn enough to add meaningfully to the compendium of common knowledge. However, robots not only stand on the shoulders of each other's learning, but can start adding to the compendium of robot knowledge almost immediately after their creation.
The online repository of visually recorded objects and human activity is a tremendous resource that robots may soon exploit to improve their ability to understand and interact with the world, including interactions with human beings. Social media sites uploaded more than 1 trillion photos in 2013 and 2014 combined, and given the growth rate may upload another trillion in 2015.
The key problems in robot capability yet to be solved are those of generalizable knowledge representation and of cognition based on that representation. How can computer memories represent knowledge to be retrieved by memory-based methods so that similar but not identical situations will call up the appropriate memories and thoughts?
Significant cues are coming from the expanding understanding of the human brain, with the rate of understanding accelerating because of new brain imaging tools. Some machine learning algorithms, like the Deep Learning approached discussed earlier, are being applied in an attempt to discover generalizable representations automatically.
It is not clear how soon this problem will be solved. It may only be a few years until robots take off—or considerably longer. Robots are already making large strides in their abilities, but as the generalizable knowledge representation problem is addressed, the growth of robot capabilities will begin in earnest, and it will likely be explosive. The effects on economic output and human workers are certain to be profound. – Gill A. Pratt
Follow me on Twitter @leebanfield1
Bitcoin: 1Jwh6nZiASJf4d3hNytjxqiimWBmEJvJ4S
Bitmessage: BM-2cXjeAykLT7gbjzNHZFnCxdawvyryyb4Nf