BITCOIN
1 Bitcoin = $239
'How to Buy Bitcoin' Google Searches
Since May, global number of searches on how to buy bitcoin is up 50%, highest in 18 months. – Tuur Demeester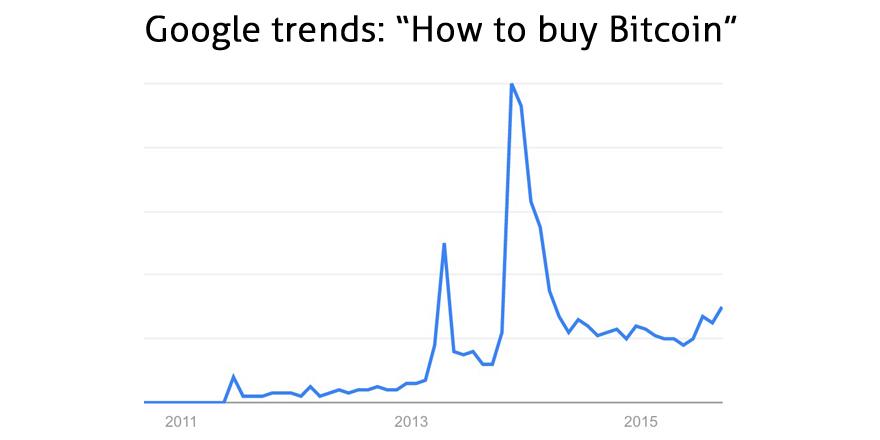 The Greatest Generational Opportunity
I think bitcoin is one of the greatest mispriced assets I've seen in my career. I am extremely bullish on bitcoin.
Given the investment capital and human capital dynamics pouring into this ecosystem, I believe bitcoin is one of the greatest generational opportunities for investors and entrepreneurs.
The easiest way for people to invest in this ecosystem is by simply buying bitcoin — which I like to characterize as a tracking stock representing this exciting, new frontier in technology, and well beyond. – Matthew Roszak
Two Big Opportunities for Bitcoin Entrepreneurs
1) Developing Countries
Poor financial infrastructure
Capital controls
2) Cross-Border Applications
Remittances
The way stock dividends and bond coupons are paid across borders
When you market bitcoin you don't want to market it to individuals, because every individual will tell you "the people I do business with, the people I know, they don't use bitcoin". So you need to market to groups in a really focused manner. – Nick Szabo
ALTCOINS
Emerging Market Currencies are Collapsing
China capital flight hits record high as yuan plunges
Mexico peso slumps to record low on global growth worries
Brazilian real at all-time low against dollar
Argentina's unofficial peso currency rate hits an all-time low
S.Africa's rand falls to all-time low as China woes hit emerging markets
Turkey's lira sinks to record low against dollar
Sri Lankan rupee hits record low on importer dollar demand
Indian rupee depreciates to record low
Asian currencies had their biggest quarterly loss since the global financial crisis, having been battered by China's surprise devaluation of the yuan and the prospect of a U.S. interest-rate increase.
Malaysia's ringgit led the rout with a 14 percent slide as oil prices retreated and Prime Minister Najib Razak was caught up in a corruption investigation.
Indonesia's rupiah weakened 9 percent against the dollar this quarter and Thailand's baht dropped 6.9 percent, its worst performance since 2000. – Lilian Karunungan
COMPANIES / PROJECTS / PRODUCTS
E-commerce
A quick reality check.
Ecommerce as % of total retail sales, even in the US, is only 7%.
Still Day One, as Amazon calls it. – Subrahmanyam KVJ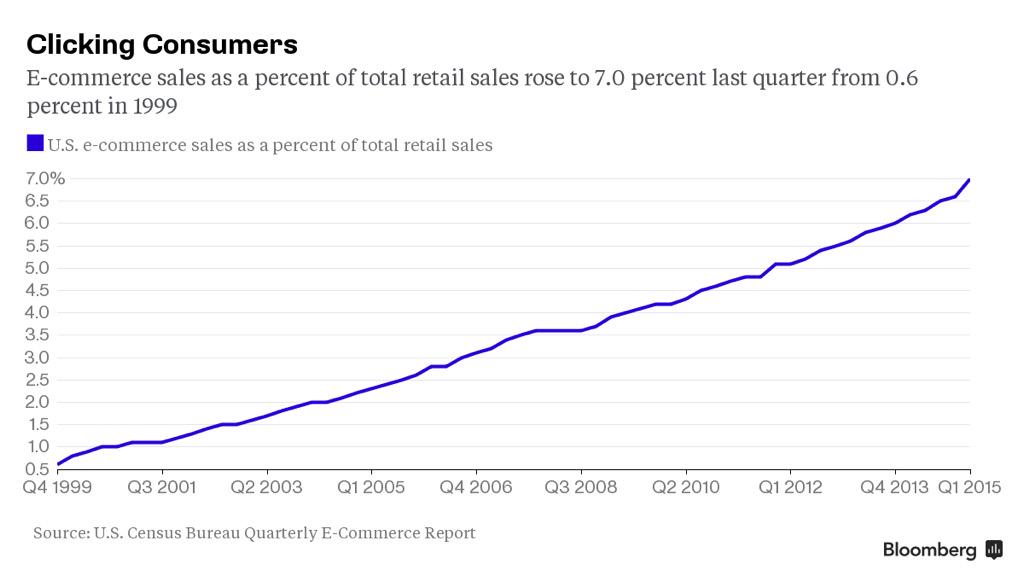 The 21 Bitcoin Computer
The 21 Bitcoin Computer is the first computer with native hardware and software support for the Bitcoin Protocol.

Buy digital goods with the constant stream of bitcoin mined by a 21 Bitcoin Chip

Sell anything to anyone for bitcoin with the built-in 21 Micropayments Server

Easily build Bitcoin-payable apps, services, and devices
I'm just unreasonably excited about this amazing new Bitcoin product from our company 21! – Marc Andreessen
The 21 computer is a matter of convenience and ease for getting involved with bitcoin by bundling everything into hardware. – Demian Brener
The goal: flick on a new paid internet service like you turn on a new lightbulb. No ads, no signup. – Balaji S. Srinivasan
Thanks to 21.co, Bitcoin could take a big step toward becoming the Internet's monetary lingua franca. –Brian Patrick Eha
The 21 Bitcoin Computer is a small, bare bones, Linux-based piece of hardware in which the bitcoin protocol is a feature of the operating system. Any products or services built with it – games or music or any online content – would have bitcoin built in as a component.
"I'm very excited about it," said Ben Horowitz, a co-founder of Andreessen Horowitz, which led the startup's funding earlier this year. "The thing that's completely missing that I think would make the Internet better would be machine-to-machine payments. It's just amazingly hard to do right now."
The 21 computer is aimed at developers rather than consumers, and is part of the company's wider goal of turning bitcoin into an Internet protocol, a common language shared between connected devices. – Paul Vigna
$399.99
You can order the 21 Bitcoin Computer here and it will ship on November 15, 2015.- 21.co
Stash: Open Transactions Based Financial Cryptography
Stash Co-Founder and CTO Chris Odom claims that their software "solves the Mt.Gox problem" by eliminating the need to store user funds.
"Services running our software will be incapable of stealing or losing customer funds," said Odom, "because they will never receive nor store those funds in the first place."
We will begin releasing products in Q4. – Stash Inc
Stash was founded by Chris Odom, creator of Open-Transactions and co-founder of Monetas, and Cliff Baltzley, the founder of Hushmail.
The software they're developing integrates Open-Transactions with Bitcoin to add a multisig poolslayer, allowing users to retain 100% control over their funds even while transacting off-blockchain.
That's in contrast with existing services who take possession of user funds in order to provide advanced functionality such as bid/ask exchange, versus Stash's software, which is able to provide such advanced functionality without a server taking possession of the user's funds.
User funds are stored in a Stash Pool, allowing all transactions to occur "off-blockchain" using Open Transactions unforgeable receipts. Users themselves maintain all of the wallet's functionality even if the user is offline and also while funds are locked safely in the multisig pool.
Stash wants to make the need for trust obsolete in the crypto and FinTech environment. Odom and Baltzley grew tired of seeing the hacks, scams and thefts in the Bitcoin space. The team realized that all of the services within the cryptocurrency environment share one similar problem: holding user funds.
Stash technology eliminates the need for a man in the middle and they want their business actions to create a new "normal" in the Bitcoin industry. – Jamie Redman
Virtual Reality Startup Jaunt Raises $65mill from Giant Media Firms
The investment is among the largest funding rounds in virtual reality and brings Jaunt's funding to about $100 million.
Google Inc. and several venture funds last year invested $542 million in augmented-reality firm Magic Leap Inc., and virtual-reality-headset maker Oculus VR raised $75 million in 2013 before Facebook Inc purchased the company for $2 billion last year. Jaunt declined to disclose its valuation.
Jaunt helps create and distribute live-action virtual-reality content, which differs from the computer-generated content that has fueled the rise of virtual-reality gaming. Jaunt, with about 60 employees, leases to filmmakers a spherical 24-lens camera for thousands of dollars a day and then stitches the different lenses' footage into a single image.
Jaunt also hosts and distributes virtual-reality content, including a Paul McCartney concert and a video produced for VF Corp's North Face that makes viewers feel as if they're base jumping into a Utah canyon.
"I find virtual reality to be the most compelling new visual medium to come onto the entertainment landscape in my lifetime," said Rick Hess, the 50-year-old head of Evolution Media. "It's going to open an entirely new monetization market for the industry."
The technology faces its mainstream moment over the next year as several virtual-reality headsets are released to the public, from Sony Corp, HTC Corp, and Facebook Inc.'s Oculus unit, among others. While those companies' devices run off computers or game consoles, Samsung Electronics Co.  this year released a $200 headset that holds a smartphone as a screen. Google also sells a $20 cardboard headset for smartphones. – Jack Nicas
LEARNING / EDUCATION
Boom in Private Coding Schools Amid Growing Demand for Tech Skills
Sabastian Belser is a former human-resources worker who learned programming languages like Ruby on Rails during a three-month course that he hopes will prepare him for a career in coding.
"It's a pretty dramatic transition from HR to Web development, but one that I'm excited about," said Mr. Belser, 26, who graduated from the program in mid-September and is currently looking for a job in programming.
His crash course in coding happened at General Assembly, a five-year-old education startup training workers in software programming and other technical skills increasingly in demand by employers.
To continue fueling its expansion, the New York-based company has raised a $70 million round of funding from investors.
The company now offers classes in 14 cities, from San Francisco to Sydney, and has helped more than 240,000 students learn new skills. It says more than 99% of them seeking new jobs have succeeded in doing so within six months of completing a course.
General Assembly charges $10,000 to $12,000 for full-time, 12-week classes and $3,000 to $4,000 for part-time courses. It expects 15,000 students to go through the courses this year.
The startup has raised a total of $110 million from investors. – Douglas Macmillan
Employers Increasingly Recognizing Udacity's Nanodegrees
Economists and technologists agree that in the future, just about everyone's job will involve more technology. During the last few years, many local and online schools have popped up to teach people how to code. They offer a vast range of prices and techniques. Some, like Codecademy, are free, while others can cost thousands or even tens of thousands of dollars. Some offer more personalized coaching, while others leave students to figure things out on their own.
Now Udacity, a four-year-old online teaching start-up, believes that after years of trial and error, it has hit on a model of vocational training that can be scaled up to teach millions of people technical skills.
Udacity's founder, Sebastian Thrun, a specialist in artificial intelligence at Stanford University who once ran Google X, the search company's advanced projects division, said that the "nanodegree" program that the firm created last year will result in vastly lower education costs and wider accessibility. Early data suggests the program is efficient and reliably results in new jobs.
The nanodegree works like this:
Last year, Udacity partnered with technology companies to create online courses geared toward teaching a set of discrete, highly prized technical skills — including mobile programming, data analysis and web development.
Students who complete these courses are awarded the nanodegree, a credential that Udacity has worked with Google, AT&T and other companies to turn into a new form of workplace certification.
A year after the program's start, the company has 10,000 students enrolled in its nanodegree courses, and the number is growing by a third every month.
Udacity charges $200 a month for the courses (students can take as little or as much time as they want to finish). When they successfully complete a course, Udacity gives back half the tuition.
The company says that a typical student will earn a nanodegree in about five months — in other words, for around $500. – Farhad Manjoo
Compulsory State Education: Training a Bureaucratic Population
Mass education of populations, originally developed as a means of improving the military readiness of the population in an era of mass conscription, has developed into a tool for the preparation of mass bureaucratic labor forces.
The standards that educational institutions hold students to are bureaucratic standards rather than other standards. The chief expectation is that it will prepare people for a life of either paperwork or academia.
Standard education is also a force for increasing labor fungibility — which is to say that one laborer of a certain academic class can be substituted for another, rather than different laborers being so specialized that it be reflected in their surname, as was the case before the era of mass mobilization.
What's important about developing a bureaucrat is creating the correct emotional temperament. It doesn't have much to do with cultivating excellence, because the presence of excellence tends to be disruptive to any bureaucratic setting, as excellence tends to be unpredictable and challenging to account for.
Adult bureaucrats tend to complain a lot about 'stress,' in part because they have been trained from an early age to respond to distress resulting from verbal disapproval by authorities and peers. This takes a lot of repetitive operant conditioning, which is one of the top reasons why school curricula tend to be so repetitive and pointless on the surface.
The purpose isn't to create good calculators or a labor force aware of trigonometry, but to create a mass of people who are docile, predictable, and easily frightened into compliance.
The long term consequence of this has been an overproduction in clerk-like personalities. Because the state mandates that everyone go through clerk training, you wind up with a homogenous population marked by the character traits that have been historically associated with clerks — bad physical health, obedience to authority, intense respect for arbitrary rules, a weak aesthetic sensibility, an obsession with official approval, and androgyny.
Everywhere that this mass education model has been in place for significant amounts of time, there is an oversupply in aimless bureaucrat-people without bureaucracies to stuff them into.
Europe in particular suffers from 'mass youth unemployment,' especially among the educated, which is because they have been educated to fill slots in imaginary bureaucracies which both don't exist and are uneconomical where they do exist. Their mentalities have been shaped to expect a didactic, predictable, safe, office-existence in which people tell them what they need to 'learn,' and then they complete an assignment graded by a light hand. – Henry Dampier
PRIVACY / SECURITY / INTERNET
BIP-47: Reusable Payment codes
FoneBTC: BIP70? BIP47 is the most import privacy development of the past 6 months.
Keonne Rodriguez: Very excited about BIP 47. Justus Ranvier has done the community a great service with this BIP. Would love to see an implementation.
Samourai Wallet: Implentation coming in 3-4 months if all goes well. We're a small self funded team 🙂
—————————–
Payment codes are a technique for creating permanent Bitcoin addresses that can be reused and publicly associated with a real-life identity without creating a loss of financial privacy.
They are similar to stealth addresses, but involve a different set of trade-offs and features that may make them more practical.
You can publicize your payment code in the same way that you can publicize your email address. Even if everyone knows your payment code, nobody can monitor the blockchain to see how many payments you have received or which transactions are yours. – Justus Ranvier
Britain's Internet Spying System Worse than the US
There was a simple aim at the heart of the top-secret program: Record the website browsing habits of "every visible user on the Internet."
Before long, billions of digital records about ordinary people's online activities were being stored every day. Among them were details cataloging visits to porn, social media and news websites, search engines, chat forums, and blogs.
The mass surveillance operation — code-named KARMA POLICE — was launched by British spies about seven years ago without any public debate or scrutiny. It was just one part of a giant global Internet spying apparatus built by the United Kingdom's electronic eavesdropping agency, Government Communications Headquarters, or GCHQ.
One system builds profiles showing people's web browsing histories. Another analyzes instant messenger communications, emails, Skype calls, text messages, cell phone locations, and social media interactions. Separate programs were built to keep tabs on "suspicious" Google searches and usage of Google Maps.
As of 2012, GCHQ was storing about 50 billion metadata records about online communications and Web browsing activity every day, with plans in place to boost capacity to 100 billion daily by the end of that year. The agency, under cover of secrecy, was working to create what it said would soon be the biggest government surveillance system anywhere in the world.
The system was designed to provide the agency with "either (a) a web browsing profile for every visible user on the Internet, or (b) a user profile for every visible website on the Internet."
The scope of GCHQ's surveillance powers explain in part why Snowden told The Guardian in June 2013 that U.K. surveillance is "worse than the U.S." In an interview with Der Spiegel in July 2013, Snowden added that British Internet cables were "radioactive" and joked: "Even the Queen's selfies to the pool boy get logged."
In recent years, the biggest barrier to GCHQ's mass collection of data does not appear to have come in the form of legal or policy restrictions. Rather, it is the increased use of encryption technology that protects the privacy of communications that has posed the biggest potential hindrance to the agency's activities.
"The spread of encryption … threatens our ability to do effective target discovery/development," says a top-secret report co-authored by an official from the British agency and an NSA employee in 2011.
"Pertinent metadata events will be locked within the encrypted channels and difficult, if not impossible, to prise out," the report says, adding that the agencies were working on a plan that would "(hopefully) allow our Internet Exploitation strategy to prevail." – Ryan Gallagher
The Ad Blocking War Has Begun
Wired: Apple is taunting publishers with ad-blocking and Apple views 
JJ: Publishers deserve exactly what's coming to them. Lemme show you something. I'ma paste some standard shitbaggery. Check this out:
Dailymail, linked often on Twitter & elsewhere:
http://www.webpagetest.org/result/150906_XS_Q11/2/details/
Good luck even loading the RESULTS on mobile.
Are they mining Bitcoin w/ JavaScript? 1600 objects, 15MB, & that CPU %, I can't even. What the fuck is going on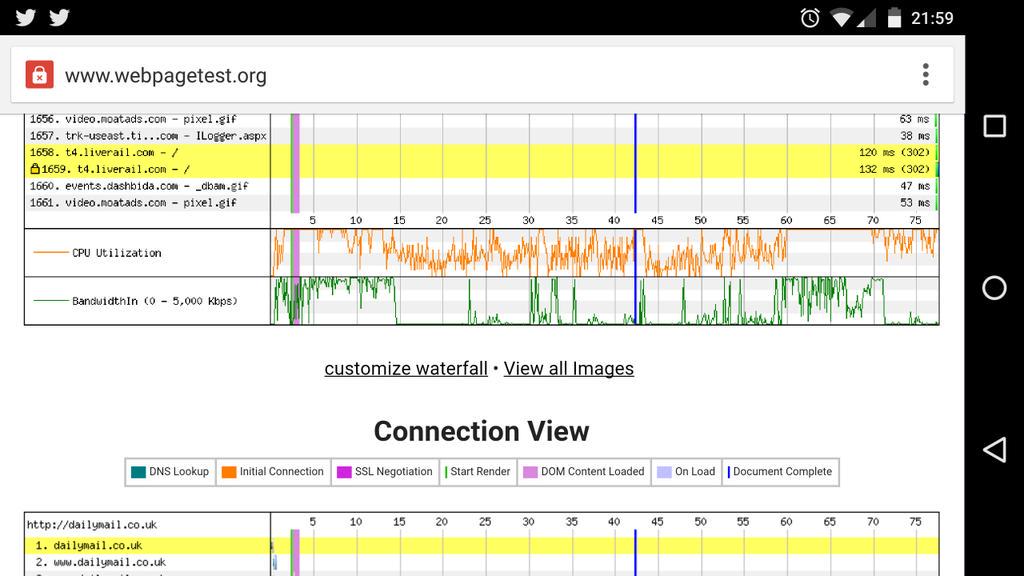 It takes nearly as long to bring up an average story page in 2015 as it did in 1998. Oppressive adware and popup videos are the new dial-up. – Will Leitch
—————————————————-
Over the last few days I've been testing an experimental content blocker called Crystal, which promises to speed up browsing on iOS.
I've been particularly impressed by the results and taken aback by how much removing trackers, ads and other scripts makes a difference over a cellular connection.
iMore loading with an iOS 9 content blocker and without.
The first page load was always with Crystal disabled (pictured left), then followed by a test with it turned on (pictured right).
Content blocking is a part of Apple's upcoming iOS 9 release and Crystal is currently in private testing.
———————————————-
Left: Google search for "ad networks" on iOS 8
Right: same on iOS 9 with Crystal App content blocker. Well now.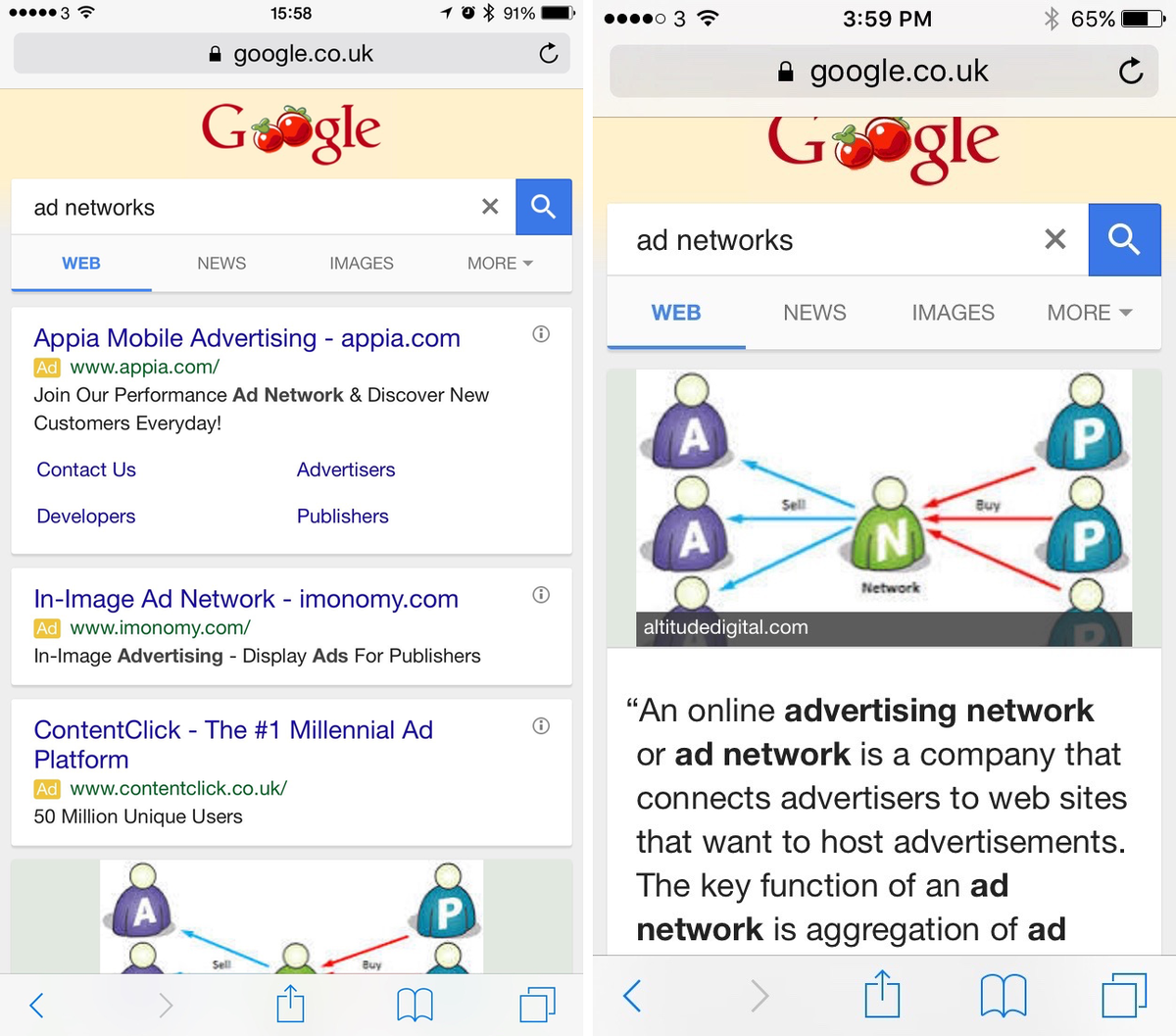 Apple is opening Pandora's Box – Jon Markman
The Interactive Advertising Bureau Explores Options to Destroy Ad Blockers
To catch up with the growing issue, the IAB hosted a member leadership summit  to discuss ad blocking.
"I advocated for the top 100 websites to, beginning on the same day, not let anybody with ad blockers turned on [to view their content]," said Mr. Moore. He said that the other IAB members in attendance considered it "a good idea but the possibility of pulling it off slim."
The ad blockers "are interfering with websites' ability to display all the pixels that are part of that website, arguably there's some sort of law that prohibits that," Mr. Moore said. "I'm not by any means a lawyer, but there is work being done to explore whether in fact that may be the case." – Tim Peterson
—————————————
So the IAB is peeved, eh? Ha ha ha. Good.
The IAB cannot be so pig-headed or pretentious to think it can be the 800-pound gorilla and force Apple (and the developer community) to reverse the AD Blocking feature. It's about as absurd as it gets.
5,000 interruptions a day, or zero. Which do you prefer? – Bartley Wilson
THE SINGULARITY
Stem Cell Therapy Will be Available Within Five Years
Revolutionary stem cell therapy could end the suffering of millions of arthritis patients within as few as five years. Preliminary findings of a trial of the treatment show that within days patients experienced a dramatic reduction in pain.
Sufferers' own stem cells were injected into their knees resulting in significantly increased joint function.
Study leader Professor Frank Barry said: "It is incredibly exciting. It is our strong belief that stem cell treatment will offer hope for millions of people."
Osteoarthritis affects 14 per cent of over 25s and a third of all pensioners. It causes severe and chronic pain, joint stiffness and loss of function.
Currently there is no drug, medical intervention or therapy that alters its progression and many patients have to take painkillers constantly and ultimately need total joint replacement surgery. –Lucy Johnston
Anti-Aging Drug: First Step Toward Boosting Immune System, Delaying Aging
The medication, which is a version of the drug known as rapamycin, proved to boost seniors' immune systems with regard to flu vaccine responses by 20 percent. The study was published in Science Translational Medicine.
Rapamycin belongs to a group of drugs called mTOR inhibitors, which have been shown in previous studies to work as anti-aging agents.
As people age, mTOR's genetic pathways seem to have a negative effect, even though they support healthy growth in children (this goes for all mammals). So, using rapamycin to inhibit the mTOR genetic pathway could, in theory, delay aging. In a 2013 study, for example, researchers discovered that rapamycin worked to increase both "mean and maximum life spans" in mice.
However, this is the first time that researchers are studying rapamycin's effect in humans. While more research is needed to better gauge whether rapamycin can extend a human lifespan like it does in mice, the study shows that it boosts older people's immune systems, particularly against the flu, which can be especially dangerous to elderly.
For the study, older participants who received the experimental dose of rapamycin had 20 percent more antibodies in response to the flu vaccine than people who didn't get rapamycin. In addition, rapamycin decreased the amount of white blood cells that are typically linked to aging and immune decline. – Lecia Bushak
Is a Cambrian Explosion Coming for Robotics?
Many of the base hardware technologies on which robots depend—particularly computing, data storage, and communications—have been improving at exponential growth rates. Two newly blossoming technologies—"Cloud Robotics" and "Deep Learning"—could leverage these base technologies in a virtuous cycle of explosive growth.
In Cloud Robotics—a term coined by James Kuffner (2010)—every robot learns from the experiences of all robots, which leads to rapid growth of robot competence, particularly as the number of robots grows.
Deep Learning algorithms are a method for robots to learn and generalize their associations based on very large (and often cloud-based) "training sets" that typically include millions of examples. Interestingly, Li (2014) noted that one of the robotic capabilities recently enabled by these combined technologies is vision—the same capability that may have played a leading role in the Cambrian Explosion.
How soon might a Cambrian Explosion of robotics occur? It is hard to tell.
The very fast improvement of Deep Learning has been surprising, even to experts in the field. The recent availability of large amounts of training data and computing resources on the cloud has made this possible; the algorithms being used have existed for some time and the learning process has actually become simpler as performance has improved.
The timing of tipping points is hard to predict, and exactly when an explosion in robotics capabilities will occur is not clear. Commercial investment in autonomy and robotics—including and especially in autonomous cars—has significantly accelerated, with high-profile firms like Amazon, Apple, Google, and Uber, as well as.
Human beings communicate externally with one another relatively slowly, at rates on the order of 10 bits per second. Robots, and computers in general, can communicate at rates over one gigabit per second—or roughly 100 million times faster. Based on this tremendous difference in external communication speeds, a combination of wireless and Internet communication can be exploited to share what is learned by every robot with all robots.
Human beings take decades to learn enough to add meaningfully to the compendium of common knowledge. However, robots not only stand on the shoulders of each other's learning, but can start adding to the compendium of robot knowledge almost immediately after their creation.
The online repository of visually recorded objects and human activity is a tremendous resource that robots may soon exploit to improve their ability to understand and interact with the world, including interactions with human beings. Social media sites uploaded more than 1 trillion photos in 2013 and 2014 combined, and given the growth rate may upload another trillion in 2015.
The key problems in robot capability yet to be solved are those of generalizable knowledge representation and of cognition based on that representation. How can computer memories represent knowledge to be retrieved by memory-based methods so that similar but not identical situations will call up the appropriate memories and thoughts?
Significant cues are coming from the expanding understanding of the human brain, with the rate of understanding accelerating because of new brain imaging tools. Some machine learning algorithms, like the Deep Learning approached discussed earlier, are being applied in an attempt to discover generalizable representations automatically.
It is not clear how soon this problem will be solved. It may only be a few years until robots take off—or considerably longer. Robots are already making large strides in their abilities, but as the generalizable knowledge representation problem is addressed, the growth of robot capabilities will begin in earnest, and it will likely be explosive. The effects on economic output and human workers are certain to be profound. – Gill A. Pratt
Follow me on Twitter @leebanfield1
Bitcoin: 1Jwh6nZiASJf4d3hNytjxqiimWBmEJvJ4S
Bitmessage: BM-2cXjeAykLT7gbjzNHZFnCxdawvyryyb4Nf