BITCOIN
1 Bitcoin = $325
I think there is a higher than 50% chance that 1 bitcoin will be worth more than $1 million. – Wences Casares
Bitcoin's Huge Target Market
The Cayman Islands has 1.9 trillion United States dollars on deposit in 281 banks. – Wikipedia
A global super-rich elite has exploited gaps in cross-border tax rules to hide an extraordinary amount of wealth offshore. At least £13tn ($21 trill)– perhaps up to £20tn ($32 trill) – has leaked out of scores of countries into secretive jurisdictions such as Switzerland and the Cayman Islands with the help of private banks, which vie to attract the assets of so-called high net-worth individuals. – Heather Stewart
———————-
1 BTC = ~$100k if Bitcoin grows to Cayman Island bank deposits level.
$32 trill up for grabs in offshore tax havens (1 BTC = ~$1.5mill)
Volatility is Good and Price is the Most Interesting Part
Andreas Antonopoulos: Don't be too excited with recent bitcoin short squeeze and rapid price climb. Volatility is bad even when it's going upwards #chillout
Alex B: Volatility and bubbles are the sole reasons why Bitcoin is alive today. #1 driver of adoption.
Marco Santori: Volatility is bad. The price is the least interesting thing about bitcoin.
Daniel Krawisz: No, volatility is good and price is the most interesting part. I Love Bitcoin's Volatility.
Jack Eldridge: The attention Bitcoin would get if the price went to $10,000 would be amazing for adoption.
All-Time High Transactions Per Day
Usage rate hits all-time high after roughly doubling over the past twelve months.
Number of Transactions per Day (Blockchain.info)
Bitcoin usage has risen pretty much steadily since the brief dip it took in the wake of the Mt. Gox implosion.
In fact, last week, as the price of bitcoin topped $500, the usage rate reached an all-time high, after roughly doubling over the past twelve months.
"The real usage is catching up to the hype. I still believe, 100 percent, that bitcoin is the future," Brian Armstrong, CEO of Coinbase, says.
Coinbase says that more than 41,000 businesses and 2.8 million people are using its various services. It's signing up about 3,500 new users a day, and this rate jumped about 70 percent in the wake of the recent price rally.
"Bitcoin has been in the news a lot as of late, and it has been good news. People will see that and say, basically: 'I want a cash option on the future of the technology,'" Van Valkenburgh, director of research at the Coin Center says. "It's like if you were able to buy a small piece of the Internet in 1994. Would you?"
The Ultimate Antifragile Technology
Bitcoin was not created in the monetary labs of the Federal Reserve or banks or universities. It emerged from a world of cypherpunks posting on private email lists — people not even using their own names.
In that sense, Bitcoin had every disadvantage: No funding, no status, no official endorsements, no big-name boosters. It has faced an ongoing flogging by bigshots. It's been regulated and suppressed by governments. It's been hammered constantly by scammers, laughed at by experts, and denounced by moralists for seven straight years.
And yet, even given all of this, it has persisted solely on its own merits. It is the ultimate "antifragile" technology, growing stronger in the face of every challenge. – Jeffrey A. Tucker
Bitcoin is Here to Stay
To all you bitcoin haters out there, please note the truth: It's here to stay.
Bitcoin "haters" were sure that the currency's decline from US$1,000 to less than US$200 was a sign of its demise. But bitcoin hasn't gone anywhere. Its user base continues to expand . Bitcoin is real. It is here to stay.
If you thought that its rise to $1k was a bubble wait until you see what happens when all those dollar holders try to fit in this small door.
The bottom line for bitcoin is a simple one. People are accepting the currency because it isn't subject to central bank debasement (being private and decentralized) and because of its growing ease of use. And they are doing it voluntarily.
Its ascent, like language, is spontaneous, not forced, like those fiat dollars we're accustomed to using.
That's as it should be with money. The biggest growth of bitcoin is yet to come. – Ed Bugos
The Most Promising Innovation of Our Lifetimes
Bitcoin is perhaps the most promising innovation of our lifetimes, one that points to a future of commodified, immutable, and universal information exchange. It could not only revolutionize contracting and titling. It could become a global currency that operates outside the nation state and banking structures as we've known them for 500 years. It could break the model of money monopolization that has been in operation for thousands of years.
Those of us in the Bitcoin space, aware of the sheer awesomeness of the technology, can grow impatient waiting for history to catch up to technical reality.
What will be the main source of Bitcoin's breakout into the mainstream?
Commentary trends suggest it will be international remittances. It is incredible that moving money across national borders is as difficult and expensive as it is. With Bitcoin, you remove almost all time delays and transaction costs. So it is not surprising that this is a huge potential growth area for Bitcoin.
No one knows for sure. What we do know is that we desperately need this as a tool to disintermediate the world, liberating us from the governments that have come to stand between individuals and the realization of their dreams.
In 1974, F.A. Hayek dreamed of a global currency that operated outside governments and central banks. If governments aren't going to reform money, markets would need to step up and do it themselves. Bitcoin is the most successful experiment in this direction we've yet seen. – Jeffrey A. Tucker
ALTCOINS
Federal Reserve Notes
Why don't steady productivity increases lead to lower prices?
They should, but are constantly outrun by money supply increases. – FreeDumb Fighter!
Gold and Silver
bonestabone: Physical gold and silver can be easily subject to capital controls. This relates because a lot of gold and silver bugs are also Bitcoin haters. Doesn't matter if you bury it in the backyard, ask the Cubans fleeing the communist revolution if it helped them to hide their gold coins before leaving, they never saw it again. With Bitcoin it can be transferred anywhere in the world in seconds, it is not possible to institute capital controls with something like this, so in a true SHTF scenario, Bitcoin would be the winner, not physical gold and silver.
Luke Parker: It often surprises me how few people believe this. Especially the goldbugs; they seem to think that gold is the most portable item imaginable, but when you tell them here's something that WASN'T confiscated and made illegal for half of the last century in the USA, and you can fit it inside your head, making it infinitely portable while still undetectable, they simply think we're lying or something. I guess they'll learn the hard way.
Ethereum
Just about the only altcoin (it's much more than an altcoin) that's worth paying attention to is Ethereum, and that's because it's got a better smart contract language than Bitcoin.
Satoshi was very conservative with Bitcoin's smart contract language because he wanted Bitcoin to be first and foremost a currency. He used a reduced generality, pocket calculator type of scripting language, whereas Ethereum is like a general purpose computer for doing smart contracts (Pocket Calculator vs. Apple Computer).
The good news is that Sergio Lerner is working on Rootstock, which would use Ethereum as a sidechain of Bitcoin so you've potentially got, if you can make it work, the best of both worlds (we'd have bitcoin the currency which is a better currency than Ether, and the smart contract environment of Ethereum). – Nick Szabo
MARKETS
Nasdaq Launches Blockchain Platform
CEO of Nasdaq announced they will settle trades by end of 2015 in 10 min using blockchain with Chain – Ian Lee
Nasdaq's first fruits from its enterprise-wide blockchain technology plan,the Linq share ownership platform, has attracted an initial group of users it was announced at the Money20/20 conference in Las Vegas.
The first users on the platform include financial network company Chain.com, online payments company ChangeTip, enterprise blockchain company PeerNova, cyber security specialist Synack, free calling/messaging company Tango and data security specialist Vera.
Nasdaq first outlined its plans in this area back in May. Linq uses distributed ledger technology to create a comprehensive, historical record of issuance and transfer of securities for its users, which should provide increased auditability.
"We are extremely encouraged by the initial demand for Nasdaq Linq from these innovative, first-mover companies, and the validation it represents of our application of blockchain technology," said Bob Greifeld, chief executive at Nasdaq. "Blockchain applied to the private market is innovation built on top of innovation, and carries with it the opportunity to forever alter the future of financial services infrastructure."
"Chain is thrilled to be powering Nasdaq Linq and to be an inaugural client of this innovative new platform," said Adam Ludwin, chief executive of Chain.com. "We are excited to leverage Nasdaq Linq to issue and manage our company's securities in a more efficient and transparent way."
Nasdaq recently announced it will undertake an effort to manage proxy voting via blockchain technology in Estonia, as its next proof-of-concept for the company's blockchain initiative. – Elliot Holley
Australian Securities Exchange Replacing CHESS with Blockchain
The Australian Securities Exchange could be about to replace its current clearing and settlement technology with blockchain.
Blockchain could save both time and money in the current Clearing House Electronic Subregister System (CHESS), said ASX chief executive Elmer Funke Kupper, who is "seriously considering" using the celebrated technology:
We see CHESS replacement as a one in 20-year opportunity.
We are looking at what we can do to bring end-to-end efficiencies, and we have people looking very closely at blockchain to see if we can create efficiencies for our clients, investors and companies.
The upgrade of the stock exchange's clearing and settlement system is due to begin by the end of next year. – Clara Guibourg
COMPANIES / PROJECTS / PRODUCTS
Self-Driving Cars
Tesla Autopilot Prevents a 45mph Head-On Collision – Seth Weintraub
"Was travelling a little under 45 mph. There was some rain, but roads were pretty dry. I was watching stopped traffic to my right.
I did not touch the brake. Car did all the work. Sadly no audio, because I had an Uber passenger and Washington has strict privacy laws about recording conversations."
Death on the Roads
Road traffic accidents kill an estimated 1.25m people a year, according to a new report by the World Health Organisation.
Road accidents kill more men than women, and are the biggest killer of 15- to 29-year olds globally.
As well as the human toll, it is an economic burden, costing the global economy an estimated 3% of GDP, and up to 5% in the poor and middle-income countries where 90% of deaths occur but only half the world's vehicles are driven.
In Thailand, which has the second-worst death rate, around three-quarters of people who die are motorcyclists. – The Economist Data Team
Tesla Self Drives Coast to Coast
Two new EV world records! – Carl Reese
Congrats on driving a Tesla from LA to NY in just over two days! – Elon Musk
The Model S crossed the country in record time for an electric vehicle—and drove itself nearly the entire way (from the Portofino Hotel in Redondo Beach California to East 31st Street in Manhattan).
Carl Reese, Deena Mastracci, and Alex Roy made the coast-to-coast drive in 57 hours and 48 minutes, a time that is still to be verified by an independent third party.
They had autopilot mode engaged 96 percent of the time, Reese says, using it at speeds around 90 mph. It eased the burden on the team, a big deal when you're in a car for 57 hours straight.
It highlights how quickly and enthusiastically autonomous technology is likely to be adopted. – Alex Davies
The OS Fund
Oct 20th 2014: Today I am announcing the OS Fund — $100 million of my personal capital dedicated to investing in inventors and scientists who aim to benefit humanity through quantum leap discoveries at the operating system, or OS, level – Bryan Johnson
OS Fund Turns 1: A Year of Learning, Adventure, And Reward
One year ago, we launched OS Fund; what a fantastic year it's been! It's been uniquely satisfying to work alongside many of the world's most capable entrepreneurs focusing on some of the most audacious projects on planet Earth.
Here's a snapshot of what some of our portfolio companies are working to achieve:
In less than 18 months, one of our first investments, Human Longevity, has become the world's largest sequencer of human genomes, launched the newly imagined preventive care center Health Nucleus , and inked a deal with one of the largest insurance companies in the world (Discovery) for low-cost exome sequencing, redefining personalized health care.
This past summer, Matternet piloted its autonomous vehicles to deliver mail in Switzerland. Where else better to test your product than within one of the world's most efficient postal services?
One particularly exciting area to us is synthetic biology, which uses organisms and designs from nature to engineer new tools. Synthetic biologists are the future of engineering and are creating solutions now in food, flavors, textiles, and cosmetics – working toward solutions in health and medicine, the environment, and more.
A good example of this industry at work is a company we invested in this year, Ginkgo Bioworks. Based in Boston, this company is working to make the programming of biology more predictable. Ginkgo signed several deals this year in fragrances and flavoring, and we are proud to support them and excited to see what comes next!
Taking a different approach to reinventing the food industry is Hampton Creek, a company we invested in last year. It's been a remarkable year for Hampton Creek – with their Just Mayo and other products on the shelves everywhere from Dollar Tree to Whole Foods – and also a tumultuous one – with recent stories surfacing that they were a target of an ugly attack by the American Egg Board. Reinventing an entire industry is no small task, and we look forward to seeing what the next year brings for Hampton Creek. – Bryan Johnson
Magic Leap
GamesBeat: You said you saw Magic Leap under NDA and they were doing things you didn't think were possible. Can you narrow that down a little bit?
Tim Sweeney: Who's heard about the Xerox PARC laboratory from the '60s and '70s? It was before my time. But I feel like what I saw there, it was like an extension. I hadn't thought some of that stuff was possible, but they were doing it right there. They had the devices in their lap. They were making it work. It felt like if you teleported back to 1972 and saw the first mouse, the first graphical user interface, the future of computing right there.
This is probably happening in a lot of other places besides Magic Leap that I haven't seen. But that's part of the revolution that's happening right now.
The Apple Watch
The company hasn't published a breakdown of the sales of the Apple Watch, but Cook says that "I think we will set a new [sales] record this quarter; so things are going well."
He is keen to highlight its health benefits – it contains sensors which allow people to monitor activity levels and heart rates — and recounts how it saved a schoolboy. "He is an [American] football player, a senior in high school. He learnt from his watch that his heart rate was elevated; he mentioned it to his trainer who became very worried about it. He sent him to the doctor and the doctor told him he would have died the following day had he not come in. Basically his organs were shutting down."
Cook hints that Apple may have more plans for the health sphere, in a revelation which will intrigue Wall Street, but he doesn't want the watch itself to become a regulated, government-licensed health product.
"We don't want to put the watch through the Food and Drug Administration (FDA) process. I wouldn't mind putting something adjacent to the watch through it, but not the watch, because it would hold us back from innovating too much, the cycles are too long. But you can begin to envision other things that might be adjacent to it — maybe an app, maybe something else." – Allister Heath
PRIVACY / SECURITY / INTERNET
Tor Director: FBI Paid Carnegie Mellon $1M to Break Tor, Hand Over IPs
Feds may have obtained Tor IP addresses with no warrant during Silk Road 2 Case
The head of the Tor Project has accused the FBI of paying Carnegie Mellon computer security researchers at least $1 million to de-anonymize Tor users and reveal their IP addresses as part of a large criminal investigation.
One of the IP addresses revealed belongs to Brian Farrell, an alleged Silk Road 2 lieutenant who is due to stand trial in federal court in Seattle later this month. A new filing in Farrell's case, which was first reported Wednesday by Vice Motherboard, says that a "university-based research institute"aided government efforts to unmask Farrell.
As Ars reported in January 2015, a Homeland Security search warrant affidavit states that from January to July 2014, a "source of information" provided law enforcement "with particular IP addresses" that had accessed the vendor-side of Silk Road 2.
By July, the Tor Project managed to discover and shut down this sustained attack. The Tor Project further concluded that the attack resembled a technique described by a team of Carnegie Mellon University researchers who a few weeks earlier had canceled a security conference presentation on a low-cost way to deanonymize Tor users. The Tor officials went on to warn that an intelligence agency from a global adversary also might have been able to capitalize on the vulnerability. – Cyrus Farivar
LEARNING / EDUCATION
Computer Science
Nick Szabo: Computer science gives you far more leverage to change the world than any other study in our age.
Patrick Molgaard: I'd argue the winning combo is (strong domain knowledge) + (programming ability), which might preclude actually studying compsci
Nick Szabo: No: the best combo is domain knowledge + comp sci. Mere programmers have far less ability to reason about what is possible.
Great News: Intro to Computer Science Overtakes Economics as Harvard's Most Popular Class
The most popular fall-semester course at Harvard is Introduction to Computer Science I.
The tech course enrolled almost 820 students for the current fall semester. That total is the highest in the three decades the course has been offered and it's the biggest class offered at Harvard in at least a decade, according to The Harvard Crimson.
Most interesting, though, is that the course has supplanted "Introduction to Economics" as the Ivy League school's most popular course. – Tom Huddleston, Jr.
Learning in Virtual Reality
Humanity is standing on a precipice. We have never been closer to achieving a world where everyone has the ability to live and thrive. Biotech, nanotech and AI promise to reshape the world and have the potential to imbue humanity with near-godlike powers.
Virtual reality (VR) is often called the "final medium" due to its unparalleled power to share experiences and ideas. VR films and stories are shockingly effective at generating empathy and creating the impetus for action. VR education will allow us to learn faster and more interactively than ever before. And VR collaboration spaces will allow us to work from anywhere to solve the world's grand challenges.
The potential use cases for VR in classrooms are endless:
A history teacher could lead his or her class on a tour of ancient Rome, providing a visceral connection to the past which was never before possible.
Science teachers can take their students to another galaxy or shrink them down and show them chemical reactions from the molecular scale.
Imagine a physics class where students take a trip to Mars, learn the physics of launching a rocket to orbit and then work with a group to plan out a rocket launch.  – Jason Ganz
Collaborative Virtual Reality Communities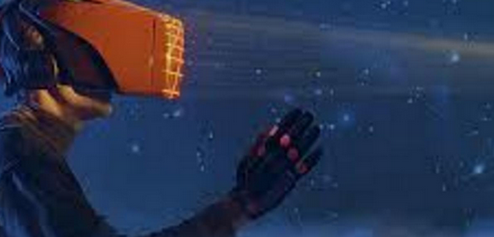 Social virtual reality is going to be an absolute game changer for collaboration. Because social VR will do what no other has been able to do—actually make you feel like you are in the same room with another person. Very soon, we'll start to see virtual reality seminars, meetup groups and hackerspaces.
It's tough to explain just how impactful social VR can be.
The first time I was in a social VR space, I was floored at how real it felt. I spoke to a group of VR enthusiasts around the world, swapping stories of our VR projects, and it honestly felt nearly as natural as being there. If you haven't tried social VR, it's hard to get across just how impressive of an experience it can be. Even compared with the best video telepresence tools we have available, there still is nothing like the feeling of actually working together in the same room. That is the feeling that virtual reality provides.
We'll see VR hackathons where groups meet up in social VR to compete to create the greatest project. We'll see open source groups holding weekly town halls and meetups where contributors get together to improve the project. – Jason Ganz
THE SINGULARITY
The Metaverse
The Metaverse is a collective virtual shared space, created by the convergence of virtually enhanced physical reality and physically persistent virtual space,  including the sum of all virtual worlds, augmented reality, and the internet.
The word metaverse is a portmanteau of the prefix "meta" (meaning "beyond") and "universe" and is typically used to describe the concept of a future iteration of the internet, made up of persistent, shared, 3D virtual spaces linked into a perceived virtual universe. – Wikipedia
————————————–
With at least 250 companies working on VR now, a large number of them are working on realizing the Metaverse, this science-fiction idea of virtual reality and all that it leads to. – Tim Sweeney
Perhaps, it's reasonable to assume that over time, our virtual worlds will become indistinguishable from our current reality.
Soon, we won't visit the Internet from the glass window of our computer screens, but rather walk around inside it as a physical place.
Philip Rosedale, the creator of Second Life, recently announced plans for a bold new virtual universe with a potential physical game map as large as the landmass of Earth.
Essentially, he'll create a virtual world with its own laws of physics, and once he's pressed play, a newly formed universe will have its own "let there be light" creation moment.
Where we go from there will be stunning to watch. – Aaron Frank
The Metaverse: Immersive 3D Equivalent of the Internet
We're building an open-source virtual reality platform that gives everyone the power to create, explore and share virtual worlds. – High Fidelity
What is the metaverse? It's Philip Rosedale's second crack at playing god—at least in the virtual sense. Rosedale created his first virtual world, Second Life, in 2002. Now, he and his new company, High Fidelity, are building another world—and this time, they're thinking on planetary scales.
Speaking at the Silicon Valley Virtual Reality conference, Philip Rosedale said that by harnessing the shared power of home PCs, "We could collectively create a space whose literal scale is comparable to the landmass of the planet Earth."
Rosedale and High Fidelity aim to build a scaffold, set the ground rules, and hit play. That is, they'll provide laws of physics and a Big Bang. The High Fidelity world itself, however, will be built by residents. There's no predicting what will emerge, and that's the beauty of it.
While you can access the world on your laptop or desktop PC, you can also visit using a headmounted display, like the Oculus Rift.
In his talk, Rosedale also hit on some other perhaps more intriguing visions for High Fidelity beyond simply social VR. As virtual reality comes online: The big question is what will we use it for most?
Looking back to the early days of computing in two dimensions, games and word processing were fun and useful. But they were dwarfed and ultimately embedded in something bigger. Something we call the Internet. Done right, Rosedale thinks virtual worlds can build on the Internet, even encompass it, and grow just as fast (only in three dimensions). How? By making sure they are free, open, and interconnected.
Back in the mid-90s, AOL and CompuServe were our first online portals, but they were eclipsed by a wilder, more chaotic model. Why? The hyperlink. An isolated web page isn't as useful as one linking to other pages for more information. Their usefulness as a whole rapidly climbs with interconnectivity.
"If we can build a metaverse in which the spaces we create are linked together—or whoever successfully does that,"Rosedale says, "Those combined spaces with those hyperlinks will rapidly dominate everything, in terms of our total usage."
How will we create the 3D equivalent of webpages? How will we connect them to each other? And how will we organically search them to find whatever we like?
These are questions High Fidelity and its community of cocreators will explore. If it's early days for virtual reality—it's even earlier for Internet-like VR. – Jason Dorrier
Moving Into The Metaverse In The Same Way We Moved Onto The Internet
Philip Rosedale wants to build the Metaverse, the virtual reality experience depicted in the Neal Stephenson's 1992 novel Snow Crash so many years ago. His first-generation attempt to do so was Second Life, the virtual world created by his former company Linden Lab.
Rosedale believes that the Metaverse will be the destination for all things, with applications expanding far beyond entertainment and gaming. It will enable a global village for communication with a billion other people in the world, he said.
Rosedale believes the Metaverse will happen because the technology to do it is getting cheaper and more accessible.
You can manipulate virtual environments in a natural way and communicate," Rosedale said. "These virtual experiences are not science fiction. We are in alpha. It is starting to work. All of the components are there."
He noted that his board of directors had a meeting inside virtual reality the other day.
But it's still a ways off before everybody will be able to step into the Metaverse. First, the experience has to be low-latency, or with instantaneous interactions. As you move, your avatar, or virtual representation of yourself in the animated world, should also move. It should also sort out matters of identity.
Right now, about 15 people can participate in the same room at the same time. Rosedale wants features such as identity, hyperlinks, shared content, infinite spaces, and large audiences.
"The revolution and exponential growth in 3D content will be mind-boggling," he said. "If we have a Metaverse where people build things, it will be ten times more fun with this gear. We'll be buying and selling virtual goods."
The Metaverse will rapidly become a huge virtual space, and exploring it will become a pastime, much like it has in Second Life, he said.
He added, "It would be totally editable. You could go into a space in virtual Siberia  and write on the wall and come back years later and find it."
In conclusion, Rosedale said, "Much of our human creativity may move into these spaces. I think that it will. We will move into the Metaverse for much of our work, design, education, and play in the same way we moved onto the Internet. There is very little that stands in the way of that happening." – Dean Takahashi
America Has Started to Dematerialize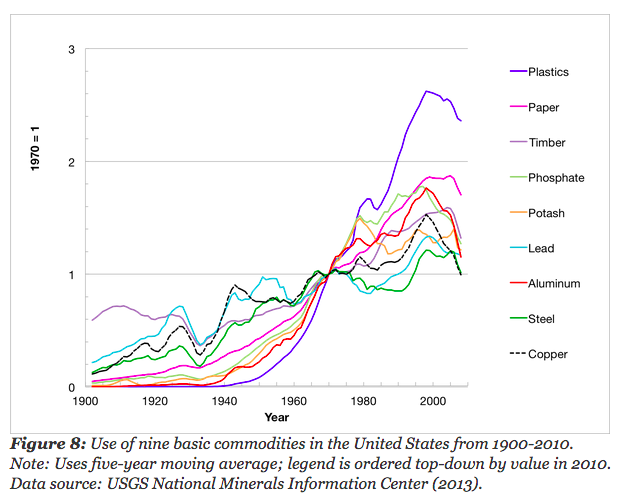 Back in the 1970s, it was thought that America's growing appetite might exhaust Earth's crust of just about every metal and mineral. But a surprising thing happened: even as our population kept growing, the intensity of use of the resources began to fall.
For each new dollar in the economy, we used less copper and steel than we had used before — not just the relative but also the absolute use of nine basic commodities, flat or falling for about 20 years (Figure 8). By about 1990, Americans even began to use less plastic. America has started to dematerialize.
Much dematerialization does not surprise us, when a single pocket-size smartphone replaces an alarm clock, flashlight, and various media players, along with all the CDs and DVDs. – Jesse H. Ausubel
CRISPR Gene Editing to be Tested on People by 2017
Biotech company will test advanced gene engineering methods to treat blindness.
The biotechnology startup Editas Medicine intends to begin tests of a powerful new form of gene repair in humans within two years.
If Editas's plans move forward, the study would likely be the first to use CRISPR to edit the DNA of a person.
CRISPR technology was invented just three years ago but is so precise and cheap to use it has quickly spread through biology laboratories. Already, scientists have used it to generate genetically engineered monkeys.
Editas is one of several startups, including Intellia Therapeutics and CRISPR Therapeutics, that have plans to use the technique to correct DNA disorders that affect children and adults. Bosley said that because CRISPR can "repair broken genes" it holds promise for treating several thousand inherited disorders caused by gene mistakes, most of which, like Huntington's disease and cystic fibrosis, have no cure.
Editas, which had not previously given a timeline for an initial human test of CRISPR, will try to treat one form of a rare eye disease called Leber congenital amaurosis, which affects the light-receiving cells of the retina.
The disease was picked in part because it is relatively easy to address with CRISPR, Bosley said. The exact gene error is known, and the eye is easy to reach with genetic treatments. "It feels fast, but we are going at the pace science allows," she said.
Editas plans to deliver the CRISPR technology as a gene therapy. The treatment will involve injecting into the retina a soup of viruses loaded with the DNA instructions needed to manufacture the components of CRISPR, including a protein that can cut a gene at a precise location. Bosley said in order to treat LCA, the company intends to delete about 1,000 DNA letters from a gene called CEP290 in a patient's photoreceptor cells.
After the edit, preliminary lab experiments show, the gene should function correctly again. Bosley said Editas still needs to test the approach further in the lab and in animals before a human study starts.
Editas was created by venture capital funds including Third Rock Ventures in 2013 and was cofounded by scientists including Feng Zhang of the MIT/Harvard Broad Institute. It has raised more than $160 million in capital, allowing it to pursue ideas for several treatments simultaneously, Bosley said. – Antonio Regalado
The Death of Cancer
A critical mass of medical knowledge could soon end the death threat of cancer, but politics stands in the way.
That more people than necessary continue to die from cancer has nothing to do with 'the failed war on cancer' – a familiar refrain in the press – or a lack of scientific tools, which have begun to accumulate at a breathtaking pace. Rather, obstacles take the form of not using the tools we already have to cure more; a reluctance to drop outdated beliefs; bureaucratic battles among physicians and medical groups; and outdated regulation by the US Food and Drug Administration (FDA) whose policies hinder the innovations wrought by cancer drug‑development in recent years.
These issues are well‑known to doctors and researchers, but many are reluctant to talk about them overtly for fear that they could damage their colleagues or their chances of getting a grant or drug application approved.
I say we're winning the war on cancer. By 1990, the overall mortality rate of all kinds of cancers in the US had begun to decline. By 2005, the absolute number of people in the US dying of cancer had declined even as the population, including the elder population, grew. (Risk of cancer is higher in the elderly).
Childhood leukemia is now almost completely curable. Hodgkin's disease and several types of advanced lymphomas are almost completely curable. Mortality from colon cancer has dropped by 40 per cent in the past two decades. Mortality from breast cancer has dropped by about 25 per cent; for prostate cancer, by 68 per cent.
So much of the mortality declines come from refinement of old technology: mutilating surgeries, such as the radical mastectomy, have given way to more refined ones that still get the job done; radiotherapy equipment has become more refined, allowing radiotherapy to be delivered to the tumour without killing the normal tissue surrounding it; drugs have been developed to prevent nausea and vomiting, the bane of the existence of chemotherapists, so people can tolerate drug treatment.
And the best is yet to come. We have the critical mass of usable knowledge to get us the rest of the way, to bring about the end of cancer as a major public health issue in the next decade.
Recently, at a dinner for the FDA Commissioner, I sat next to an outstanding clinical investigator who works with the exciting new drugs recently available for advanced melanoma. For the first time in my long career, we are seeing remissions that are likely cures of this ferocious disease. I asked my dinner companion how he was affected by all the regulations that have been piled on the FDA and the NCI. He said: 'Vince, if they would leave me alone, I could cure so many more patients.'
We are so close to ending the death threat of cancer. We have the science. We just need to put the final pieces in place. But forward movement requires that some people relinquish their positions of power, and power players can be entrenched. – Elizabeth DeVita-Raeburn & Vincent DeVita
Follow me on Twitter @leebanfield1
Bitcoin: 1Jwh6nZiASJf4d3hNytjxqiimWBmEJvJ4S
Bitmessage: BM-2cXjeAykLT7gbjzNHZFnCxdawvyryyb4Nf