BITCOIN
1 Bitcoin = $428
Peace, Liberty, Progress
As 2015 wraps up, Bitcoin, with no government backing, enjoys being the best performing currency in the world. – Erik Voorhees
The World's Strongest Currency in 2010, 2011, 2012, 2013, and 2015
The Bitcoin Central Bank's Perfect Monetary Policy
Bitcoin's core service is its impeccable monetary policy. Everything else is epiphenomena. – Pierre Rochard
Bitcoins Per Person
Total BTC / World Pop = 0.00205182
14,950,900 bitcoins
7,286,639,688 people
Given that a bitcoin currently cost $433, there are only enough bitcoins for every person to have $0.89 worth.
If bitcoins were distributed using the current global distribution of wealth, 99.9% of people would have $0.17 worth of bitcoins, and people in the top .001% would have 0.62 bitcoins each.
It might make sense just to get some in case it catches on. If enough people think the same way, that becomes a self fulfilling prophecy. – Satoshi Nakamoto 
All-Time High Transactions Per Day
Usage rate hits all-time high after roughly doubling over the past twelve months.
Number of Transactions per Day (Blockchain.info)
Bitcoin usage has risen pretty much steadily since the brief dip it took in the wake of the Mt. Gox implosion.
In fact as the price of bitcoin topped $500, the usage rate reached an all-time high, after roughly doubling over the past twelve months.
"The real usage is catching up to the hype. I still believe, 100 percent, that bitcoin is the future," Brian Armstrong, CEO of Coinbase, says.
Coinbase says that more than 41,000 businesses and 2.8 million people are using its various services. It's signing up about 3,500 new users a day, and this rate jumped about 70 percent in the wake of the recent price rally.
"Bitcoin has been in the news a lot as of late, and it has been good news. People will see that and say, basically: 'I want a cash option on the future of the technology,'" Van Valkenburgh, director of research at the Coin Center says. "It's like if you were able to buy a small piece of the Internet in 1994. Would you?"
MINING

Hash Rate Hits All-Time High of 900 Petahash/s
Bitcoin has added more computational power to securing its network in the past 2 weeks than it had in total 18 months ago. – Jameson Lopp
ALTCOINS
Federal Reserve Notes
Why don't steady productivity increases lead to lower prices?
They should, but are constantly outrun by money supply increases. – FreeDumb Fighter!
Top 5 Strongest Currencies in 2015
(Change against US $ at 12 December 2015 against rates one year ago)
Bitcoin (XBT) +21%
Israeli Shekel (ILS) +2%
US Dollar (USD)
Swiss Franc (CHF) -2%
Japanese Yen (JPY) – 2%
Bottom 5 Weakest Currencies in 2015
Venezuelan Bolivar (Black market rate) -78%
Ukrainian Hryvnia (UAH) -34%
Brazilian Real (BRL) -33%
South African Rand (ZAR) -31%
Colombian Peso (COP) -28%
Note that the money used in the world's freest financial system — Bitcoin — has appreciated the most, and the money used in the world's most Socialist and regulated economy — Venezuela — has lost the most value. – SG Kinsman
Gold and Silver
bonestabone: Physical gold and silver can be easily subject to capital controls. This relates because a lot of gold and silver bugs are also Bitcoin haters. Doesn't matter if you bury it in the backyard, ask the Cubans fleeing the communist revolution if it helped them to hide their gold coins before leaving, they never saw it again. With Bitcoin it can be transferred anywhere in the world in seconds, it is not possible to institute capital controls with something like this, so in a true SHTF scenario, Bitcoin would be the winner, not physical gold and silver.
Luke Parker: It often surprises me how few people believe this. Especially the goldbugs; they seem to think that gold is the most portable item imaginable, but when you tell them here's something that WASN'T confiscated and made illegal for half of the last century in the USA, and you can fit it inside your head, making it infinitely portable while still undetectable, they simply think we're lying or something. I guess they'll learn the hard way.
Short Gold, Long Bitcoin was a Great Trade in 2015
The bear market in gold continued in 2015 (down 11.2 per cent).
Sell an ounce of gold to buy bitcoins at the beginning of this year, and you can now buy back 1.62 ounces. – John Authers
You know gold bugs are starting to get uncomfortable. Bound to become one of the biggest contributors to BTC future rally. – Alex B.
PRIVACY
Bitcoin Wallet Privacy Threat Model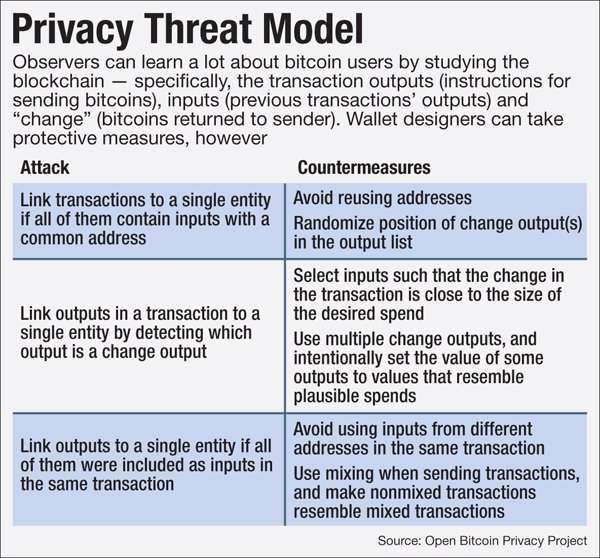 An updated version of our threat model is on GitHub: Open Bitcoin Privacy Project Threat Model
BIP47: Reusable Payment Codes
I think BIP47 (reusable payment codes) is one of the most important developments in bitcoin this year. – Andreas Antonopoulos
—————————–
Payment codes are a technique for creating permanent Bitcoin addresses that can be reused and publicly associated with a real-life identity without creating a loss of financial privacy.
They are similar to stealth addresses, but involve a different set of trade-offs and features that may make them more practical.
You can publicize your payment code in the same way that you can publicize your email address. Even if everyone knows your payment code, nobody can monitor the blockchain to see how many payments you have received or which transactions are yours. – Justus Ranvier
Samourai Wallet and Chris Odom's Stash are currently working together to get reusable payment codes implemented into usable software. – Kyle Torpey
—————————–
Besides running circles around blockchain analysis outfits, BIP47 reusable payment codes are very Blockchain Alliance unfriendly. – SamouraiWalletDev
—————————–
Something . . . that we're heavily involved in is BIP 47 . . . [also known as] payment codes. Remember that? I prefer to use the phrase payment address because I think they're comparable in many ways to an email address and a Bitcoin address is not
A payment address is more like an email address. For example, you can use the same address every time. So, you have a single address. People can always send to that same address, and that means they don't have to ask you first for an address to send to . . . Furthermore, whenever you receive a payment through a payment address (or payment code, BIP 47), there is a return address. Both parties can see a complete history of all the transactions that were sent between them; the critical point is no one else can.
You know what this means? This means that all those companies who are sprouting up to provide blockchain analytics on the source of funds — these companies are not going to last. They're going to cease to exist. They are a temporary aberration. They're building on the past instead of the future. – Chris Odom, Stash
MARKETS
Overstock.com SEC Approved to Issue Shares Using Bitcoin Blockchain
In a Form S-3 filed with the SEC on November 10, Overstock.com sought approval to issue up to $500 million in new securities "from time to time" in the form of common stock, preferred stock, depositary shares, warrants, debt securities or units.
Overstock's t0 (tee-zero) platform has been working on bringing equity trades and settlement to the blockchain since it was first announced in April 2015. In July, Overstock sold the first cryptobond on the blockchain. – Jacob Donnelly
Emerging Market Stock Allocations at All-Time Low
Investors have cut their emerging market stock allocations to an all-time low and raised cash balances to levels seen during the 2008 crisis as risk appetite has evaporated, a Bank of America Merrill Lynch (BAML) survey showed. – Claire Milhench
Emerging Economies: First Capital Outflow in 27 Years
A "triple fall" — in currencies, stocks and bonds — is taking place. 
According to the Institute of International Finance, capital inflows to 30 major emerging countries in 2015 will decrease by 50% from 2014. Capital outflows from emerging countries will also decline but still exceed inflows by $540 billion.
This means direct investments — for participating in management and building factories, in the form of loans by financial institutions and money intended for securities investment — are dwindling.
By country, China will see a record net outflow of $477.5 billion because of an 80% decrease in investments and loans from overseas and because of wealthy Chinese sending their money overseas.
Russia, which is under economic sanctions from the U.S. and Europe, will face a net outflow of $57.5 billion, and politically unstable Malaysia will suffer an excess outflow of $33.4 billion. – Nikkei Asian Review
Bloomberg Commodity Index
Commodities are down again. The Bloomberg Commodity Index is at the lowest level since June 1999.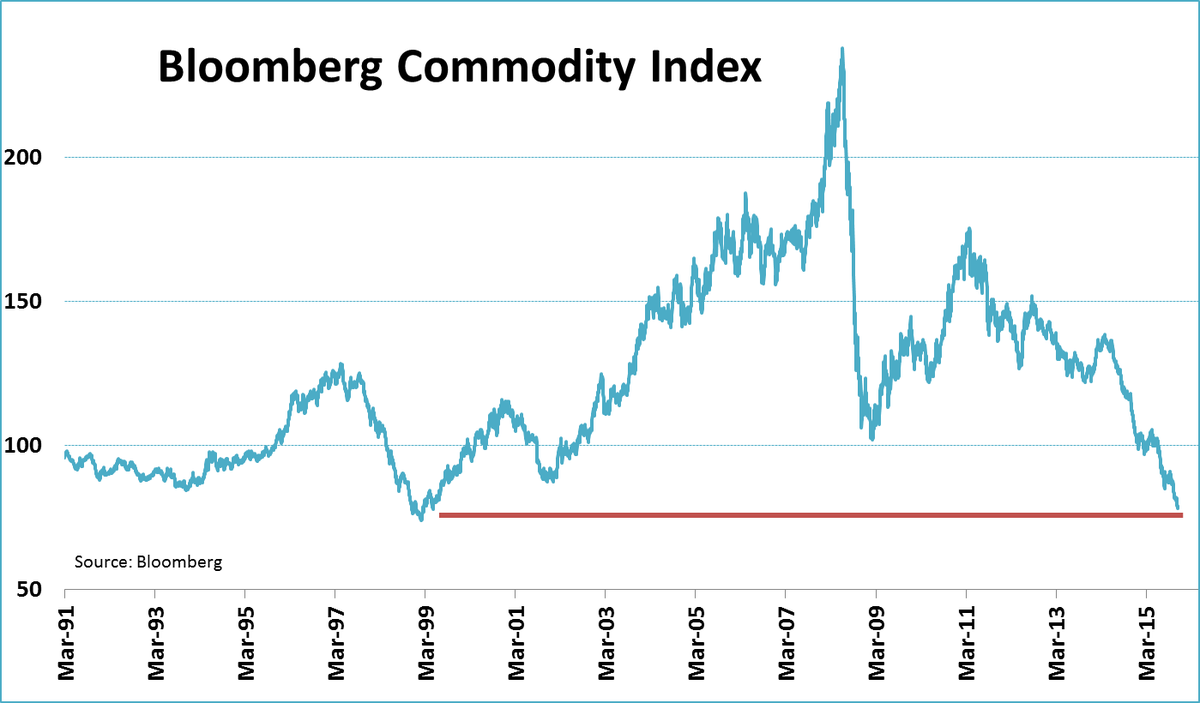 COMPANIES / PROJECTS / PRODUCTS
Tesla Autopilot 7.0 Unleashes Self-Driving Capabilities on Model S
Tesla's use of an over-the-air update to create self-driving cars is one of the most important things ever to happen in technology.
Think of the foresight required. Hardware sensors had to be built years in advance to accommodate the future software. Think of the boldness. Establish facts on the ground – everywhere. Ship the future so fast they can't ban it. The Network outruns the State.
There will be rearguard actions. Some states may try to ban it. Cross a border, car turns dumb. The future: now a geographical patchwork.
But on balance, Tesla has set a new precedent for permissionless innovation. And it can be applied to many other verticals outside cars. – Balaji S. Srinivasan
Regulators will not allow full autonomy for one to two years – maybe one to three years – after that. It depends on the particular market; in some markets the regulators will be more forward leaning than others. But in terms of when [full autonomy] will be technologically possible, I think three years." –Elon Musk
I never thought I'd see autonomous automobiles driving on the freeways.
It wasn't many years ago [they] put out a request to see who could build a car that could go across the Mojave Desert to Las Vegas from a place in Southern California, and several engineering teams across the country set out to do this. Nobody got more than about 300 yards before there was a problem.
Two years later, they made the full 25-mile trip across this desert track, which I thought was a huge achievement, and from that it was just a blink before they were driving on the freeways." – Gordon Moore
Death on the Roads
Road traffic accidents kill an estimated 1.25m people a year, according to a new report by the World Health Organisation.
Road accidents kill more men than women, and are the biggest killer of 15- to 29-year olds globally.
As well as the human toll, it is an economic burden, costing the global economy an estimated 3% of GDP, and up to 5% in the poor and middle-income countries where 90% of deaths occur but only half the world's vehicles are driven. – The Economist Data Team
Tesla Autopilot Prevents a 45mph Head-On Collision
"Was travelling a little under 45 mph. There was some rain, but roads were pretty dry. I was watching stopped traffic to my right.
I did not touch the brake. Car did all the work. Sadly no audio, because I had an Uber passenger and Washington has strict privacy laws about recording conversations."
Tesla Self Drives Coast to Coast
Two new EV world records! – Carl Reese
Congrats on driving a Tesla from LA to NY in just over two days! – Elon Musk
The Model S crossed the country in record time for an electric vehicle—and drove itself nearly the entire way (from the Portofino Hotel in Redondo Beach California to East 31st Street in Manhattan).
Carl Reese, Deena Mastracci, and Alex Roy made the coast-to-coast drive in 57 hours and 48 minutes, a time that is still to be verified by an independent third party.
They had autopilot mode engaged 96 percent of the time, Reese says, using it at speeds around 90 mph. It eased the burden on the team, a big deal when you're in a car for 57 hours straight.
It highlights how quickly and enthusiastically autonomous technology is likely to be adopted. – Alex Davies
The First Person to Hack the iPhone Built a Self-Driving Car… in His Garage.
This is a fantastic story on many levels.
From the self-motivated hacking to the visionary tech to the unwillingness to conform to corp interests to the "Bitcoin preferred here"
Lesson from tech history seems to be that no matter how astonishing a company may seem just wait til you see the guys working out of their garage. – Michael Goldstein
George Hotz is taking on Google and Tesla by himself.
George Hotz, the first person to hack the iPhone, says he built a self-driving car in a month. How did he do it? Bloomberg's Ashlee Vance went to Hotz's home to find out…
"The Falcon Has Landed"
SpaceX Breakthrough with Falcon Rocket Return
Elon Musk's SpaceX has for the first time brought a booster rocket back to earth after it deployed satellites into space, a key step towards making space flights more commercially viable.
Amid deafening cheers from employees watching in the company's mission control room on Monday, SpaceX returned the first stage of the rocket to a launch pad at Cape Canaveral around 10 minutes after it had lifted off.
The landing at Cape Canaveral — during which the rocket landed gracefully on a series of landing legs that had helped to slow it during the descent — came after three failed attempts at landing rockets on barges at sea by the company.
The retrieval of the SpaceX booster marks the fulfilment of a goal that rocket engineers have been pursuing almost since the dawn of space exploration.
The only previous reusable space launch vehicle — the US's Space Shuttle — proved to need far more reconstruction between flights to repair damage caused during atmospheric re-entry than anticipated when it was initially planned in the 1960s.
Shortly after the rocket's return and the satellites' deployment, Mr Musk, SpaceX's chief executive, said on Twitter that he was heading to the landing area to see the returned rocket.
"Welcome back, baby!" he wrote.
After SpaceX Makes History, Musk Talks About a City on Mars
"This may one day be looked back upon as the day that the Space Age really began, because it showed that you can return a stage for reuse without a huge standing army of technicians to do it—unlike the shuttle," Charles Lurio, who writes a space newsletter wrote Monday evening after the launch and landing.
For Musk, whose main goal is the colonization of Mars, the landing shows that the technology to reuse powerful rockets is real.
"I think it really quite dramatically improves my confidence that a city on Mars is possible," he said on a call with reporters Monday evening. "That's what all this is about." – Christian Davenport
Will SpaceX Accomplish It's Goal of Getting to Mars in the Next 15 Years?
Yes, absolutely. The colony might take 20 years to get started, but if they just wanted to send something to Mars and not get it back they could do that a lot sooner. They could do that in a year or two. – Steve Jurvetson
LEARNING / EDUCATION

Education is the Process of Conquering One's Environment
* The widening of this circle ends only with life. Every day the world should be made new by some new acquisition of truth. – John H. Finley
* I don't care about money. I want power. Not power over people, but power over nature and the destiny of technology. I just want to know how it all works. – George Hotz
Formal Education?
Sure, if you are lazy, want to fit in, be one in the herd, 'secure' a lowest level. But,if ambitious & curious go online. – Sprezzaturian
Computer Science
Nick Szabo: Computer science gives you far more leverage to change the world than any other study in our age.
Patrick Molgaard: I'd argue the winning combo is (strong domain knowledge) + (programming ability), which might preclude actually studying compsci
Nick Szabo: No: the best combo is domain knowledge + comp sci. Mere programmers have far less ability to reason about what is possible.
Great News: Intro to Computer Science Overtakes Economics as Harvard's Most Popular Class
The most popular fall-semester course at Harvard is Introduction to Computer Science I.
The tech course enrolled almost 820 students for the current fall semester. That total is the highest in the three decades the course has been offered and it's the biggest class offered at Harvard in at least a decade, according to The Harvard Crimson.
Most interesting, though, is that the course has supplanted "Introduction to Economics" as the Ivy League school's most popular course. – Tom Huddleston, Jr.
Augmented Reality Education
The future of learning, if this new Magic Leap video is any indication, is mighty interesting. –Subrahmanyam KVJ
Learning in Virtual Reality
Humanity is standing on a precipice. We have never been closer to achieving a world where everyone has the ability to live and thrive. Biotech, nanotech and AI promise to reshape the world and have the potential to imbue humanity with near-godlike powers.
Virtual reality (VR) is often called the "final medium" due to its unparalleled power to share experiences and ideas. VR films and stories are shockingly effective at generating empathy and creating the impetus for action. VR education will allow us to learn faster and more interactively than ever before. And VR collaboration spaces will allow us to work from anywhere to solve the world's grand challenges.
The potential use cases for VR in classrooms are endless:
A history teacher could lead his or her class on a tour of ancient Rome, providing a visceral connection to the past which was never before possible.
Science teachers can take their students to another galaxy or shrink them down and show them chemical reactions from the molecular scale.
Imagine a physics class where students take a trip to Mars, learn the physics of launching a rocket to orbit and then work with a group to plan out a rocket launch.  – Jason Ganz
Collaborative Virtual Reality Communities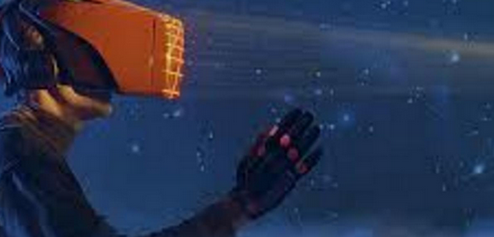 Social virtual reality is going to be an absolute game changer for collaboration. Because social VR will do what no other has been able to do—actually make you feel like you are in the same room with another person. Very soon, we'll start to see virtual reality seminars, meetup groups and hackerspaces.
It's tough to explain just how impactful social VR can be.
The first time I was in a social VR space, I was floored at how real it felt. I spoke to a group of VR enthusiasts around the world, swapping stories of our VR projects, and it honestly felt nearly as natural as being there. If you haven't tried social VR, it's hard to get across just how impressive of an experience it can be. Even compared with the best video telepresence tools we have available, there still is nothing like the feeling of actually working together in the same room. That is the feeling that virtual reality provides.
We'll see VR hackathons where groups meet up in social VR to compete to create the greatest project. We'll see open source groups holding weekly town halls and meetups where contributors get together to improve the project. – Jason Ganz
THE SINGULARITY
The Metaverse
The Metaverse is a collective virtual shared space, created by the convergence of virtually enhanced physical reality and physically persistent virtual space,  including the sum of all virtual worlds,augmented reality, and the internet.
The word metaverse is a portmanteau of the prefix "meta" (meaning "beyond") and "universe" and is typically used to describe the concept of a future iteration of the internet, made up of persistent, shared, 3D virtual spaces linked into a perceived virtual universe. – Wikipedia
————————————–
With at least 250 companies working on VR now, a large number of them are working on realizing the Metaverse, this science-fiction idea of virtual reality and all that it leads to. – Tim Sweeney
Perhaps, it's reasonable to assume that over time, our virtual worlds will become indistinguishable from our current reality.
Soon, we won't visit the Internet from the glass window of our computer screens, but rather walk around inside it as a physical place.
Philip Rosedale, the creator of Second Life, recently announced plans for a bold new virtual universewith a potential physical game map as large as the landmass of Earth.
Essentially, he'll create a virtual world with its own laws of physics, and once he's pressed play, a newly formed universe will have its own "let there be light" creation moment.
Where we go from there will be stunning to watch. – Aaron Frank
The Metaverse: Immersive 3D Equivalent of the Internet
We're building an open-source virtual reality platform that gives everyone the power to create, explore and share virtual worlds. – High Fidelity
What is the metaverse? It's Philip Rosedale's second crack at playing god—at least in the virtual sense. Rosedale created his first virtual world, Second Life, in 2002. Now, he and his new company, High Fidelity, are building another world—and this time, they're thinking on planetary scales.
Speaking at the Silicon Valley Virtual Reality conference, Philip Rosedale said that by harnessing the shared power of home PCs, "We could collectively create a space whose literal scale is comparable to the landmass of the planet Earth."
Rosedale and High Fidelity aim to build a scaffold, set the ground rules, and hit play. That is, they'll provide laws of physics and a Big Bang. The High Fidelity world itself, however, will be built by residents. There's no predicting what will emerge, and that's the beauty of it.
While you can access the world on your laptop or desktop PC, you can also visit using a headmounted display, like the Oculus Rift.
In his talk, Rosedale also hit on some other perhaps more intriguing visions for High Fidelity beyond simply social VR. As virtual reality comes online: The big question is what will we use it for most?
Looking back to the early days of computing in two dimensions, games and word processing were fun and useful. But they were dwarfed and ultimately embedded in something bigger. Something we call the Internet. Done right, Rosedale thinks virtual worlds can build on the Internet, even encompass it, and grow just as fast (only in three dimensions). How? By making sure they are free, open, and interconnected.
Back in the mid-90s, AOL and CompuServe were our first online portals, but they were eclipsed by a wilder, more chaotic model. Why? The hyperlink. An isolated web page isn't as useful as one linking to other pages for more information. Their usefulness as a whole rapidly climbs with interconnectivity.
"If we can build a metaverse in which the spaces we create are linked together—or whoever successfully does that,"Rosedale says, "Those combined spaces with those hyperlinks will rapidly dominate everything, in terms of our total usage."
How will we create the 3D equivalent of webpages? How will we connect them to each other? And how will we organically search them to find whatever we like?
These are questions High Fidelity and its community of cocreators will explore. If it's early days for virtual reality—it's even earlier for Internet-like VR. – Jason Dorrier
Moving Into The Metaverse In The Same Way We Moved Onto The Internet
Philip Rosedale wants to build the Metaverse, the virtual reality experience depicted in the Neal Stephenson's 1992 novel Snow Crash so many years ago. His first-generation attempt to do so was Second Life, the virtual world created by his former company Linden Lab.
Rosedale believes that the Metaverse will be the destination for all things, with applications expanding far beyond entertainment and gaming. It will enable a global village for communication with a billion other people in the world, he said.
Rosedale believes the Metaverse will happen because the technology to do it is getting cheaper and more accessible.
You can manipulate virtual environments in a natural way and communicate," Rosedale said. "These virtual experiences are not science fiction. We are in alpha. It is starting to work. All of the components are there."
He noted that his board of directors had a meeting inside virtual reality the other day.
But it's still a ways off before everybody will be able to step into the Metaverse. First, the experience has to be low-latency, or with instantaneous interactions. As you move, your avatar, or virtual representation of yourself in the animated world, should also move. It should also sort out matters of identity.
Right now, about 15 people can participate in the same room at the same time. Rosedale wants features such as identity, hyperlinks, shared content, infinite spaces, and large audiences.
"The revolution and exponential growth in 3D content will be mind-boggling," he said. "If we have a Metaverse where people build things, it will be ten times more fun with this gear. We'll be buying and selling virtual goods."
The Metaverse will rapidly become a huge virtual space, and exploring it will become a pastime, much like it has in Second Life, he said.
He added, "It would be totally editable. You could go into a space in virtual Siberia  and write on the wall and come back years later and find it."
In conclusion, Rosedale said, "Much of our human creativity may move into these spaces. I think that it will. We will move into the Metaverse for much of our work, design, education, and play in the same way we moved onto the Internet. There is very little that stands in the way of that happening." – Dean Takahashi
Science's 2015 Breakthrough of the Year is CRISPR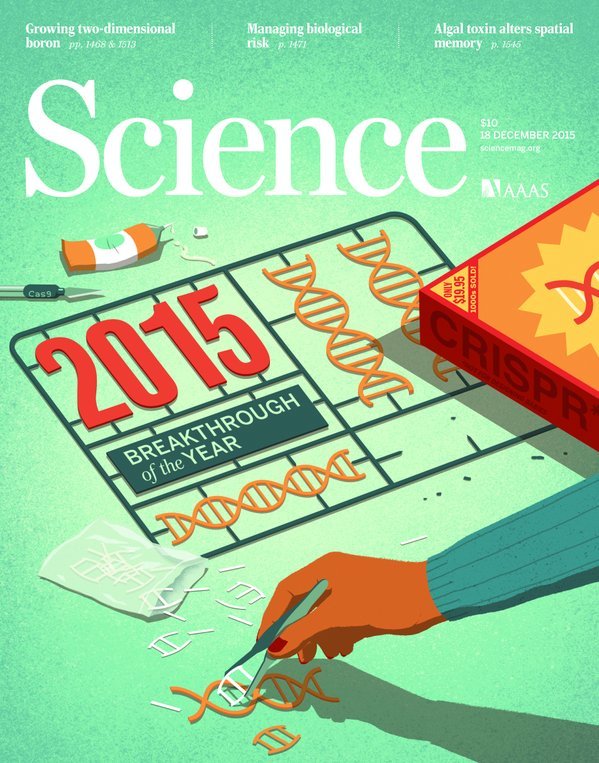 The genome-editing method called CRISPR has matured into a molecular marvel that much of the world—not just biologists—has noticed, which is why it has been selected Science's 2015 Breakthrough of the Year.
CRISPR has appeared in Breakthrough sections twice before, in 2012 and 2013, each time as a runner-up in combination with other genome-editing techniques. But this is the year it broke away from the pack, revealing its true power in a series of spectacular achievements.
Two striking examples—the creation of a long-sought "gene drive" that could eliminate pests or the diseases they carry, and the first deliberate editing of the DNA of human embryos—debuted to headlines and concern.
Each announcement roiled the science policy world. The embryo work (done in China with nonviable embryos from a fertility clinic) even prompted an international summit this month to discuss human gene editing.
The summit confronted a fraught—and newly plausible— prospect: altering human sperm, eggs, or early embryos to correct disease genes or offer "enhancements." As a genetic counselor quipped during the discussion: "When we couldn't do it, it was easy to say we shouldn't." – John Travis
CRISPR: Humans 2.0
CRISPR's unprecedented ability to edit genetic code will make possible a new generation of medical treatments.
In 2010 Biological engineer Feng Zhen attended a meeting during which one of his colleagues mentioned that he had encountered a curious region of DNA in some bacteria he had been studying. He referred to it as a CRISPR sequence.
"I had never heard that word," Zhang told me recently as we sat in his office. "So I went to Google just to see what was there," he said. Zhang read every paper he could; five years later, he still seemed surprised by what he found.
CRISPR, he learned, was a strange cluster of DNA sequences that could recognize invading viruses, deploy a special enzyme to chop them into pieces, and use the viral shards that remained to form a rudimentary immune system. T
The sequences, identical strings of nucleotides that could be read the same way backward and forward, looked like Morse code, a series of dashes punctuated by an occasional dot. The system had an awkward name—clustered regularly interspaced short palindromic repeats—but a memorable acronym.
The day after Zhang heard about CRISPR, he flew to Florida for a genetics conference. Rather than attend the meetings, however, he stayed in his hotel room and kept Googling. "I just sat there reading every paper on CRISPR I could find," he said. "The more I read, the harder it was to contain my excitement."
It didn't take Zhang or other scientists long to realize that, if nature could turn these molecules into the genetic equivalent of a global positioning system, so could we.
Researchers soon learned how to create synthetic versions of the RNA guides and program them to deliver their cargo to virtually any cell. Once the enzyme locks onto the matching DNA sequence, it can cut and paste nucleotides with the precision we have come to expect from the search-and-replace function of a word processor.
"This was a finding of mind-boggling importance," Zhang told me. "And it set off a cascade of experiments that have transformed genetic research."
With CRISPR, scientists can change, delete, and replace genes in any animal, including us. Working mostly with mice, researchers have already deployed the tool to correct the genetic errors responsible for sickle-cell anemia, muscular dystrophy, and the fundamental defect associated with cystic fibrosis. One group has replaced a mutation that causes cataracts; another has destroyed receptors that H.I.V. uses to infiltrate our immune system.
The potential impact of CRISPR on the biosphere is equally profound.
Last year, by deleting all three copies of a single wheat gene, a team led by the Chinese geneticist Gao Caixia created a strain that is fully resistant to powdery mildew, one of the world's most pervasive blights.
In September, Japanese scientists used the technique to prolong the life of tomatoes by turning off genes that control how quickly they ripen.
Agricultural researchers hope that such an approach to enhancing crops will prove far less controversial than using genetically modified organisms, a process that requires technicians to introduce foreign DNA into the genes of many of the foods we eat.
The technology has also made it possible to study complicated illnesses in an entirely new way.
A few well-known disorders, such as Huntington's disease and sickle-cell anemia, are caused by defects in a single gene. But most devastating illnesses, among them diabetes, autism, Alzheimer's, and cancer, are almost always the result of a constantly shifting dynamic that can include hundreds of genes.
The best way to understand those connections has been to test them in animal models, a process of trial and error that can take years. CRISPR promises to make that process easier, more accurate, and exponentially faster.
Inevitably, the technology will also permit scientists to correct genetic flaws in human embryos. That raises the possibility, more realistically than ever before, that scientists will be able to rewrite the fundamental code of life, with consequences for future generations that we may never be able to anticipate.
For much of the past century, biology has been consumed with three essential questions:
What does each gene do?
How do we find the genetic mutations that make us sick?
And how can we overcome them?
With CRISPR, the answers have become attainable, and we are closing in on a sort of grand unified theory of genetics.
"I am not sure what a Golden Age looks like," Winston Yan, a member of Zhang's research team, told me one day when I was with him in the lab, "but I think we are in one."
Rose's Law for Quantum Computers Marches On
[Update in 2015: the hardware curve that is "Rose's Law" (blue diamonds) remains on track. The software and performance/qubit (red stars, as applied to certain tasks) is catching up, and may lag by a couple years from the original prediction overlaid onto the graph] – Steve Jurvetson
When I first met Geordie Rose in 2002, I was struck by his ability to explain complex quantum physics and the "spooky" underpinnings of quantum computers. I had just read David Deutsch's Fabric of Reality [1997] where he predicts the possibility of such computers, and so I invited Rose to one of our tech conferences.
We first invested [in D-Wave] in 2003 , and Geordie predicted that he would be able to demonstrate a two-bit quantum computer within 6 months.
There was a certain precision to his predictions. With one bit under his belt, and a second coming, he went on to suggest that the number of qubits in a scalable quantum computing architecture should double every year. It sounded a lot like Gordon Moore's prediction back in 1965, when he extrapolated from just five data points on a log-scale.
So I called it "Rose's Law" and that seemed to amuse him. Well, the decade that followed has been quite amazing.
So, how do we read the graph above?
Like Moore's Law, a straight line describes an exponential. But unlike Moore's Law, the computational power of the quantum computer should grow exponentially with the number of entangled qubits as well. It's like Moore's Law compounded. (D-Wave just put together an animated visual of each processor generation in this video, bringing us to the present day.)
And now, it gets mind bending. If we suspend disbelief for a moment, and use D-Wave's early data on processing power scaling (more on that below), then the very near future should be the watershed moment, where quantum computers surpass conventional computers and never look back. Moore's Law cannot catch up.
A year later, it outperforms all computers on Earth combined.
Double qubits again the following year, and it outperforms the universe. What the???? you may ask… Meaning, it could solve certain problems that could not be solved by any non-quantum computer, even if the entire mass and energy of the universe was at its disposal and molded into the best possible computer. It is a completely different way to compute — as David Deutsch posits — harnessing the refractive echoes of many trillions of parallel universes to perform a computation.
First the caveat (the text in white letters on the graph).  D-Wave has not built a general-purpose quantum computer. Think of it as an application-specific processor, tuned to perform one task — solving discrete optimization problems.
This happens to map to many real world applications, from finance to molecular modeling to machine learning, but it is not going to change our current personal computing tasks. In the near term, assume it will apply to scientific supercomputing tasks and commercial optimization tasks where a heuristic may suffice today, and perhaps it will be lurking in the shadows of an Internet giant's data center improving image recognition and other forms of near-AI magic. In most cases, the quantum computer would be an accelerating coprocessor to a classical compute cluster.
There is also the question of the programming model. Until recently, programming a quantum computer was more difficult than machine coding an Intel processor. Imagine having to worry about everything from analog gate voltages to algorithmic transforms of programming logic to something native to quantum computing (Shor and Grover and some bright minds have made the occasional mathematical breakthrough on that front).
With the application-specific quantum processor, D-Wave has made it all much easier, and with their forthcoming Black Box overlay, programming moves to a higher level of abstraction, like training a neural network with little understanding of the inner workings required.
In any case, the possibility of a curve like this begs many philosophical and cosmological questions about our compounding capacity to compute… the beginning of infinity if you will.
While it will be fascinating to see if the next three years play out like Rose's prediction, for today, perhaps all we should say is that it's not impossible. And what an interesting world this may be. –Steve Jurvetson, October 2012
The Watershed Moment: Quantum Computer Announcement from Google
Boom! Google just announced their watershed results in quantum computing using their D-Wave Two.
It is rare to see a 100,000,000x leap in computing power… at least in this universe! =)
From the D-Wave board meeting today, I learned that it cost Google $1m to run the massive computation on their classic computers. The SA and QMC (classic computers) data points cost $1m of energy, and the green curve totally choked on large problem sets (that's why there are no green data points in the top right). The D-wave computer operating cost was well over 100x less.
Has there ever been a leap forward like this in human history? (in any thing, like computing, energy processing, transportation… I am guessing there have purely algorithmic advances of this magnitude, but having trouble thinking of a single advance of this scale) – Steve Jurvetson, December 2015
Building The Quantum Dream Machine
John Martinis has been researching how quantum computers could work for 30 years. Now he could be on the verge of finally making a useful one.
With his new Google lab up and running, Martinis guesses that he can demonstrate a small but useful quantum computer in two or three years. "We often say to each other that we're in the process of giving birth to the quantum computer industry," he says.
The new computer would let a Google coder run calculations in a coffee break that would take a supercomputer of today millions of years.
The software that Google has developed on ordinary computers to drive cars or answer questions could become vastly more intelligent. And earlier-stage ideas bubbling up at Google and its parent company, such as robots that can serve as emergency responders or software that can converse at a human level, might become real.
As recently as last week the prospect of a quantum computer doing anything useful within a few years seemed remote. Researchers in government, academic, and corporate labs were far from combining enough qubits to make even a simple proof-of-principle machine.
A well-funded Canadian startup called D-Wave Systems sold a few of what it called "the world's first commercial quantum computers" but spent years failing to convince experts that the machines actually were doing what a quantum computer should.
Then NASA summoned journalists to building N-258 at its Ames Research Center in Mountain View, California, which since 2013 has hosted a D-Wave computer bought by Google.
There Hartmut Neven, who leads the Quantum Artificial Intelligence lab Google established to experiment with the D-Wave machine, unveiled the first real evidence that it can offer the power proponents of quantum computing have promised.
In a carefully designed test, the superconducting chip inside D-Wave's computer—known as a quantum annealer—had performed 100 million times faster than a conventional processor.
However, this kind of advantage needs to be available in practical computing tasks, not just contrived tests. "We need to make it easier to take a problem that comes up at an engineer's desk and put it into the computer," said Neven.
That's where Martinis comes in. Neven doesn't think D-Wave can get a version of its quantum annealer ready to serve Google's engineers quickly enough, so he hired Martinis to do it.
"It became clear that we can't just wait," Neven says. "There's a list of shortcomings that need to be overcome in order to arrive at a real technology."
He says the qubits on D-Wave's chip are too unreliable and aren't wired together thickly enough. (D-Wave's CEO, Vern Brownell, responds that he's not worried about competition from Google.)
Google will be competing not only with whatever improvements D-Wave can make, but also with Microsoft and IBM, which have substantial quantum computing projects of their own.
But those companies are focused on designs much further from becoming practically useful. Indeed, a rough internal time line for Google's project estimates that Martinis's group can make a quantum annealer with 100 qubits as soon as 2017.
The difficulty of creating qubits that are stable enough is the reason we don't have quantum computers yet. But Martinis has been working on that for more than 11 years and thinks he's nearly there.
The coherence time of his qubits, or the length of time they can maintain a superposition, is tens of microseconds—about 10,000 times the figure for those on D-Wave's chip.
Martinis aims to show off a complete universal quantum computer with about 100 qubits around the same time he delivers Google's new quantum annealer, in about two years.
He thinks that once he can get his qubits reliable enough to put 100 of them on a universal quantum chip, the path to combining many more will open up. "This is something we understand pretty well," he says. "It's hard to get coherence but easy to scale up."
Figuring out how Martinis's chips can make Google's software less stupid falls to Neven.
He thinks that the prodigious power of qubits will narrow the gap between machine learning and biological learning—and remake the field of artificial intelligence. "Machine learning will be transformed into quantum learning," he says. That could mean software that can learn from messier data, or from less data, or even without explicit instruction.
Neven muses that this kind of computational muscle could be the key to giving computers capabilities today limited to humans. "People talk about whether we can make creative machines–the most creative systems we can build will be quantum AI systems," he says.
Neven pictures rows of superconducting chips lined up in data centers for Google engineers to access over the Internet relatively soon.
"I would predict that in 10 years there's nothing but quantum machine learning–you don't do the conventional way anymore," he says.
A smiling Martinis warily accepts that vision. "I like that, but it's hard," he says. "He can say that, but I have to build it." – Tom Simonite
Follow me on Twitter @leebanfield1
Bitcoin: 1Jwh6nZiASJf4d3hNytjxqiimWBmEJvJ4S
Bitmessage: BM-2cXjeAykLT7gbjzNHZFnCxdawvyryyb4Nf