BITCOIN
1 Bitcoin = $420
The biggest complaint about Bitcoin right now is that it's too hard to make changes. Ironically, this is its best feature. – bravetheworld
Banks Will Fail Not Bitcoin
The bitcoin network has been running without interruption for seven years now; a feat no banking system can claim.
What began as a small experiment is now a rapidly expanding ecosystem. There are so many people using it now that we have to plan for more capacity.
More than 5 million new users started transacting in bitcoin last year alone. More importantly, the total transaction volume has more than doubled over the past 12 months.
A graph displaying the increase in Bitcoin transactions since the beginning of 2009. BLOCKCHAIN.INFO
In 2016 people expect to be able to send money over the internet as quickly and cheaply as sending an email. The fact that it still takes several days to send an international money transfer is a throwback to yesteryear. Bitcoin solves that problem.
This currency is not a "failed experiment," as Hearn suggested. Our firm, Blockchain (a bitcoin wallet provider), had its best month yet in December.
In five years, hundreds of millions of users will be sending money on the internet as easily as they send chats, and the only obituaries being written will be those of the traditional banks. – Nicolas Cary
Bitpay Transactions Up 110% Globally, 1,747% in Latin America
In 2015 volume grew by 110%, with the peak of growth reached in November and December 2015, when more than 100,000 BitPay invoices were processed monthly.
"Every 25 seconds a shopper somewhere in the world was spending bitcoin at a BitPay merchant."
The majority of transactions (54%) took place in Europe but some other regions showed prodigious growth, with the maximum reached in Latin America: 1747% more in 2015 as compared to 2014. – Alexey Tereshchenko
90% of Users Opt for Payouts in Bitcoin in Venezuela
Payments is one of Premise's biggest and most interesting challenges. We currently operate networks in 34 countries, and when deciding where and how quickly we can launch a new network, one of the most important things we consider is how quickly we can pay our contributors. Quick payments are essential to maintaining our contributors' trust.
One of the payment methods we're most optimistic about is Bitcoin.
We're currently using Coinbase to pay our contributors in Venezuela and India, and this integration gives us the flexibility and footprint to more rapidly scale our payments infrastructure to new countries using Bitcoin. To date, we've paid out more than 332 bitcoin (~$125,000 USD) since we began experimenting with the digital currency.
Currently, we pay more than 90% of our contributors in Venezuela using Bitcoin, up from 10% in September 2015. The integration reduces the time it takes for us to pay our contributors from weekly to nearly instantaneously.
We currently use 15 different payments providers globally, about half of which are integrated in-app. We simply can't launch in a new country until we have an efficient way of paying contributors. We're optimistic about both Bitcoin's future in the developing world and its potential to one day serve as a universal payment method for Premise. – Nikila Sri-Kumar, Premise Product Manager
MINING
Bitcoin Mining Difficulty Rises 20.06%
Mining difficulty is now 144,116,447,847.34866333, 20.06% above the previous value.
This is the largest increase since August 19th, 2014. – Adlai
Mining Difficulty
Bitcoin is now 140 billion times more difficult to mine than in 2009. – Oleg Andreev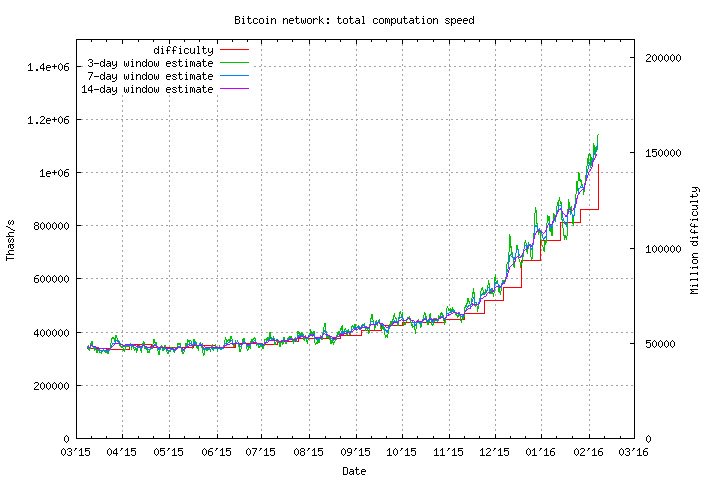 ALTCOINS
Bitcoin Dominance Index
Bitcoin Dominance Index has fallen to 86% – Coincap.io
Record Altcoin Trading
New record: ShapeShift just hit 20,000 orders processed in the month, with a week to go – Erik Voorhees
Ethereum
Ethereum can solve any problem a computer can solve: but with far greater reliability and security and far less performance and efficiency. – Nick Szabo
The Dawn of Trustworthy Computing
"Block chain computer" (not just "block chain") & "fiduciary code" very helpful concepts for building mental model – Richard Gendal Brown, December 2014
The most elegant explanation of on-chain computing, well, ever. By Nick Szabo – Stephan Tual, December 2014
This Nick Szabo post on the 'rise of trustworthy computing' is one of the top 10 things I have read on blockchains – Antonis Polemitis, December 2014
The most important breakthrough in computing since the Internet. "The Dawn of Trustworthy Computing" by Nick Szabo – Bill Barhydt, December 2014
This new Nick Szabo article "The dawn of trustworthy computing" is a roadmap to about a dozen new companies – BTCplainEnglish, December 2014
Today's computers are not very trustworthy, but they are so astronomically faster than humans at so many important tasks that we use them heavily anyway. We reap the tremendous benefits of computers and public networks at large costs of identity fraud and other increasingly disastrous attacks.
Recently developed and developing technology, often called "the block chain", is starting to change this.
A block chain computer is a virtual computer, a computer in the cloud, shared across many traditional computers and protected by cryptography and consensus technology. A Turing-complete block chain with large state gives us this shared computer.
QuixCoin is a recent and Ethereum is a current project that has implemented such a scheme. These block chain computers will allow us to put the most crucial parts of our online protocols on a far more reliable and secure footing, and make possible fiduciary interactions that we previously dared not do on a global network
Much as pocket calculators pioneered an early era of limited personal computing before the dawn of the general-purpose personal computer, Bitcoin has pioneered the field of trustworthy computing with a partial block chain computer.
Bitcoin has implemented a currency in which someone in Zimbabwe can pay somebody in Albania without any dependence on local institutions, and can do a number of other interesting trust-minimized operations, including multiple signature authority. But the limits of Bitcoin's language and its tiny memory mean it can't be used for most other fiduciary applications, the most obvious example being risk pools that share collateral across a pool of financial instruments.
A block-chain computer, in sharp contrast to a web server, is shared across many such traditional computers controlled by dozens to thousands of people. By its very design each computer checks each other's work, and thus a block chain computer reliably and securely executes our instructions up to the security limits of block chain technology, which is known formally as anonymous and probabilistic Byzantine consensus (sometimes also called Nakamoto  consensus).
Trust-minimized code means you can trust the code without trusting the owners of any particular remote computer. Regardless of where any of the computers or their owners are, the block chain computer they share will execute as reliably and securely as consensus technology allows, up to the aforementioned limits. This is an extremely high level of reliability, and a very high level of security, compared to web server technology.
While there is much futurism in many block chain discussions, including many trying to solve problems that aren't actually solved by the block chain, I will generally stick to low-hanging fruit that could be usefully implemented on Quixcoin, Ethereum, or similar technology in the near future, often interfacing to still necessary parts of traditional protocols and institutions rather than trying to reinvent and replace them in whole – Nick Szabo, December 2014
COMPANIES / PROJECTS / PRODUCTS
The Beam Telepresence Robot
They offered @piamancini either jump on a plane to NY or jump on a telepresence robot. here she's chatting with our pal Mike. it's 2016! – Santiago Siri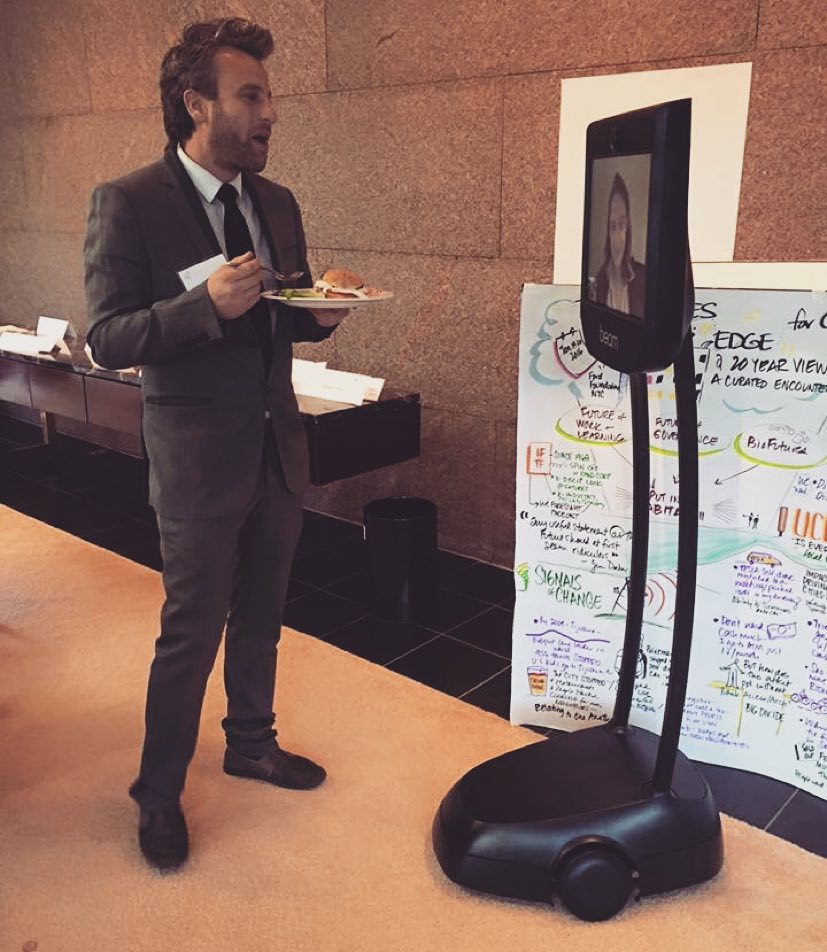 Viv: Artificial Intelligence Virtual Personal Assistant
The company is working on what co-founder and CEo Dag Kittlaus describes as a "global brain" – a new form of voice-controlled virtual personal assistant.
With the odd flashes of personality, Viv will be able to perform thousands of tasks, and it won't just be stuck in a phone but integrated into everything from fridges to cars. "Tell Viv what you want and it will orchestrate this massive network of services that will take care of it," he says.
It is an ambitious project but Kittlaus isn't without a track record. The last company he co-founded invented Siri, the original virtual assistant now standard in Apple products. Siri Inc was acquired by the tech giant for a reported $200m in 2010.
But, Kittlaus says, all these virtual assistants he helped birth are limited in their capabilities. Enter Viv. "What happens when you have a system that is 10,000 times more capable?" he asks. "It will shift the economics of the internet."
Kittlaus pulls out his phone to demonstrate a prototype (he won't say when Viv will launch but intimates that 2016 will be a big year). "I need a ride to the nearest pediatrician in San Jose," he says to the phone. It produces a list of pediatricians sorted by distance and with their ratings courtesy of online doctor-booking service ZocDoc. Kittlaus taps one and the phone shows how far away the Uber is that could come and collect him. "If I click, there is going to be a car on the way," he says. "See how those services just work together."
He moves on to another example. "Send my mom a dozen yellow roses." Viv can combine information in his contact list – where he has tagged his mother – with the services of an online florist that delivers across the US. Others requests Kittlaus says Viv will be able to accomplish include "On the way to my brother's house, I need to pick up some good wine that goes well with lasagne" and "Find me a place to take my kids in the last week of March in the Caribbean". Later I test out how well both Siri and Google's virtual assistant perform on these examples. Neither gets far.
Viv can be different because it is being designed to be totally open, says Kittlaus. Any service, product or knowledge that any company or individual wants to imbue with a speaking component can be plugged into the network to work together with the others already in there. (Dozens of companies, from Uber to Florist One, are in the prototype). Other virtual assistants are essentially closed. Apple and only Apple, for example, decides what capabilities get integrated into Siri.
Viv's biggest secret is the technology to bring the different services together on the fly to respond to requests for which it hasn't been specifically programmed. "It is a program that writes its own program, which is the only way you can scale thousands of services working together that know nothing about one another," says Kittlaus. Other personal assistants generally have their responses programmed by a developer. They are, essentially, scripted. There was no choice but to do things differently, says Kittlaus. To think of every combination of things that could be asked would be impossible. Viv will also include elements of learning; it will adapt as it comes to know your preferences.
Expect a phone app initially, says Kittlaus, but the loftier ambition is to incorporate Viv into all manner of devices, including cars. He imagines Viv's icon becoming ubiquitous. "Anywhere you see it will mean you can talk to that thing," he says. Of course this will require time: for companies to volunteer their services, and for users to come on board. But Kittlaus says some of the world's largest consumer electronics companies are "very interested in plugging in".
Viv has the potential to upend internet economics, says Kittlaus. Companies currently spend billions to advertise online with Google, and much traffic arrives based on web users' keyword searches. But if instead requests are directed at Viv, it would cut out the middleman. The team are still exploring different business models, but one involves charging a processing fee on top of every transaction. – Zoe Corbyn
Viv's Competition: Today's Virtual Personal Assistants
Name: Siri
Company: Apple
Communication: Voice
The original personal assistant, launched on the iPhone in 2011 and incorporated into many Apple products. Siri can answer questions, send messages, place calls, make dinner reservations through OpenTable and more.
Name: Google Now
Company: Google
Communication: Voice and typing
Available through the Google app or Chrome browser, capabilities include answering questions, getting directions and creating reminders. It also proactively delivers information to users that it predicts they might want, such as traffic conditions during commutes.
Name: Cortana
Company: Microsoft
Communication: Voice
Built into Microsoft phones and Windows 10, Cortana will help you find things on your PC, manage your calendar and track packages. It also tells jokes.
Name: Alexa
Company: Amazon
Communication: Voice
Embedded inside Amazon's Echo, the cylindrical speaker device that went on general sale in June 2015 in the US. Call on Alexa to stream music, give cooking assistance and reorder Amazon items.
Name: M
Company: Facebook
Communication: Typing
Released in August 2015 as a pilot and integrated into Facebook Messenger, M supports sophisticated interactions but behind the scenes relies on both artificial intelligence and humans to fulfil requests, though the idea is that eventually it will know enough to operate on its own.
LEARNING / EDUCATION
Private and Federal Student Loan Debt is > $1 Trillion
It'll be funny if in time not having a college degree becomes the new college degree. Signals independence. – Michael Goldstein
Elon Musk on How to Build Knowledge
How do you learn so much so fast? Lots of people read books and talk to other smart people, but you've taken it to a whole new level.
I do kinda feel like my head is full! My context switching penalty is high and my process isolation is not what it used to be.
Frankly, though, I think most people can learn a lot more than they think they can. They sell themselves short without trying.
One bit of advice: it is important to view knowledge as sort of a semantic tree — make sure you understand the fundamental principles, ie the trunk and big branches, before you get into the leaves/details or there is nothing for them to hang on to. – Elon Musk
Sci-hub: The Pirate Bay of Science
Add ".sci-hub.io" after the .com in the URL of pretty much any paywalled paper to gain instant free access. – Jon Tennant
The first pirate website in the world to provide mass and public access to tens of millions of research papers – Sci Hub: Removing Barriers in the Way of Science
A researcher in Russia has made more than 48 million journal articles – almost every single peer-reviewed paper every published – freely available online. And she's now refusing to shut the site down, despite a court injunction and a lawsuit from Elsevier, one of the world's biggest publishers.
For those of you who aren't already using it, the site in question is Sci-Hub, and it's sort of like a Pirate Bay of the science world. It was established in 2011 by neuroscientist Alexandra Elbakyan, who was frustrated that she couldn't afford to access the articles needed for her research, and it's since gone viral, with hundreds of thousands of papers being downloaded daily. But at the end of last year, the site was ordered to be taken down by a New York district court – a ruling that Elbakyan has decided to fight, triggering a debate over who really owns science.
"Payment of $32 is just insane when you need to skim or read tens or hundreds of these papers to do research. I obtained these papers by pirating them,"Elbakyan told Torrent Freak last year.
Journal subscriptions have become so expensive that leading universities such as Harvard and Cornell have admitted they can no longer afford them. Researchers have also taken a stand – with 15,000 scientists vowing to boycott publisher Elsevier in part for its excessive paywall fees.
The site works in two stages. First of all when you search for a paper, Sci-Hub tries to immediately download it from fellow pirate database LibGen. If that doesn't work, Sci-Hub is able to bypass journal paywalls thanks to a range of access keys that have been donated by anonymous academics (thank you, science spies).
This means that Sci-Hub can instantly access any paper published by the big guys, including JSTOR, Springer, Sage, and Elsevier, and deliver it to you for free within seconds. The site then automatically sends a copy of that paper to LibGen, to help share the love.
It's an ingenious system, as Simon Oxenham explains for Big Think:
"In one fell swoop, a network has been created that likely has a greater level of access to science than any individual university, or even government for that matter, anywhere in the world. Sci-Hub represents the sum of countless different universities' institutional access – literally a world of knowledge."
THE SINGULARITY
Building The "Metaverse" — A Successor to the Internet
Every new employee at Oculus VR, the Facebook-owned virtual reality company, is given a copy of the 2011 science fiction novel Ready Player One. In Ernest Cline's book, which Steven Spielberg is adapting for a film, the death of a tech company's founder prompts a worldwide search for his fortune, which is hidden in the virtual world of the Oasis.
Mark Zuckerberg, who as Facebook chief paid $2bn to acquire Oculus in 2014, is very much alive, but in other respects Mr Cline's book is informing the development of its Rift VR headset, which will be released next month.
"We love the book," Brendan Iribe, Oculus chief executive, told the Financial Times last year. "It is required reading for every employee. We all want to create the Oasis."
Oculus is not the only tech company taking inspiration from sci-fi as it explores the potential of virtual reality. Magic Leap, a Florida start-up, is developing an even more audacious "mixed reality" headset and has gone a step further.
Soon after raising more than $500m in 2014 from Google and other investors, it hired Neal Stephenson, author of Snow Crash, another book in the VR canon . The action in the 1992 sci-fi book takes place in both the physical world and the "metaverse" — a successor to the internet — and has inspired many VR developers.
"When I wrote it, it seemed as though those technologies were just around the corner," Mr Stephenson wrote after his appointment as chief futurist at Magic Leap. "In practice, it has taken longer than just about anyone expected to get that kind of tech consumer-ready."
One demonstration of Magic Leap's technology, he said, was enough to convince him that the metaverse was finally about to arrive.
"We think of this as the birth of a new medium, like Apple computers in the late 1970s and early 80s," Rony Abovitz, who founded Magic Leap in 2011, told the FT this week. "We are really opening up the surface area of human experience with computing. A text feed is not my normal interaction with the world. The computer needs to bend itself to you."
Investors are buying into his vision. This week, Magic Leap raised $793.5m from Google and Alibaba, the Chinese ecommerce group, giving it a valuation of $4.5bn — unprecedented for a start-up that has not even revealed its product publicly, let alone begun to sell it.
"It's a further endorsement of the fact that we are on the cusp of something quite transformative," says Ben Wood, a technology analyst at CCS Insight, a research firm. "People are placing some very, very big bets on this technology wave." – Tim Bradshaw
Google Achieves AI 'Breakthrough' by Beating Go Champion
The Chinese game is viewed as a much tougher challenge than chess for computers because there are many more ways a Go match can play out.
Earlier on Wednesday, Facebook's chief executive had said its own AI project had been "getting close" to beating humans at Go.
DeepMind's chief executive, Demis Hassabis, said its AlphaGo software followed a three-stage process, which began with making it analyse 30 million moves from games played by humans.
It learns what patterns generally occur – what sort are good and what sort are bad. If you like, that's the part of the program that learns the intuitive part of Go.
"It now plays different versions of itself millions and millions of times, and each time it gets incrementally better. It learns from its mistakes.
"The final step is known as the Monte Carlo Tree Search, which is really the planning stage.
"Now it has all the intuitive knowledge about which positions are good in Go, it can make long-range plans."
"Many of the best programmers in the world were asked last year how long it would take for a program to beat a top professional, and most of them were predicting 10-plus years," Mr Hassabis said.
"The reasons it was quicker than people expected was the pace of the innovation going on with the underlying algorithms and also how much more potential you can get by combining different algorithms together."
Prof Zoubin Ghahramani, of the University of Cambridge, said: "This is certainly a major breakthrough for AI, with wider implications.
"The technical idea that underlies it is the idea of reinforcement learning – getting computers to learn to improve their behaviour to achieve goals. That could be used for decision-making problems – to help doctors make treatment plans, for example, in businesses or anywhere where you'd like to have computers assist humans in decision making."
DeepMind now intends to pit AlphaGo against Lee Sedol – the world's top Go player – in Seoul in March.
"For us, Go is the pinnacle of board game challenges," said Mr Hassabis. "Now, we are moving towards 3D games or simulations that are much more like the real world rather than the Atari games we tackled last year." – BBC News
Biggest Ever Space Telescope on Track for 2018 Launch
This week, NASA is set to reach a milestone on one of its most ambitious projects. If all goes to plan, workers will finish assembling the huge mirror of the James Webb Space Telescope — an $8 billion successor to the famous Hubble telescope.
The Webb telescope will be one of the most expensive things NASA has ever built. Its segmented mirror is so big that, once it's in space, it will have to unfold like an elaborate piece of origami. And to make observations, it will need to be a million miles from Earth, so far that no astronauts could fix it if it breaks.
But the Webb will be able to do things no other telescope can. It is designed to capture light from the first stars and galaxies, which has been traveling billions of years across the universe to reach our solar system. It will probe the atmospheres of potentially habitable planets outside the solar system. Astronomer John Mather is the telescope's project scientist at NASA, and he is pretty sure it's going to do other things too:
"Every time we build bigger or better pieces of equipment, we find something astonishing," he says.
The Webb is currently scheduled for launch in 2018. – Geoff Brumfiel
CRISPR/Cas9 is a Big Deal, But it's Just the Tip of the Iceberg
CRISPR/Cas9 has been touted as an almost magical technology in the news—and rightly so. The technique allows scientists to alter the DNA of living cells and, it's hoped, achieve a longstanding goal of science to treat disease at the genetic level.
That's a really big deal.
An estimated 6,000 diseases are caused by genetic mutations, and only 5% can be treated. Take sickle-cell anemia, for example. Often deadly, it is caused by a single mutation in one of the human body's three billion DNA base pairs. It's a small, well-understood error in the genetic code, but so far we have been helpless to repair it.
The CRISPR/Cas9 system, often described as a pair of DNA scissors, could zero in on the troublesome base pairs causing sickle-cell anemia, and replace them.
In September of last year, Zhang and his team at the Broad Institute published a study in Cell describing an even simpler and more precise system for genome editing using the Cpf1 enzyme instead of Cas9.
Cpf1 is better than Cas9 for several reasons. Most significantly, Cpf1 cuts DNA differently than Cas9. Cas9 cuts both strands of DNA in the same place, leaving "blunt ends" that often experience mutations when they are reattached. Cpf1 cuts are offset, allowing researchers to integrate a piece of DNA more accurately and easily and lowering the chances of unwanted mutations.
"We see much more to come, even beyond Cpf1 and Cas9, with other enzymes that may be repurposed for further genome editing advances," says Zhang.
We are entering an era where humans have an unprecedented ability to control our own evolution.
As Juan Enriquez says, we are on our way to becoming Homo Evolutis: a species which can deliberately control our own biology and evolution.
As far back as recorded history goes, humans have desired and achieved greater and greater control of our biology and environment. And today we are closer than ever, not only to eliminating genetic diseases but also eventually taking the best biology of the known animal kingdom and making it our own.
All of our bodies have genetic weaknesses, and while nature has consistently used its own methods to tweak and improve the human body, we are coming into an era where we are capable of deliberately evolving our own biology. – Sveta McShane
Marvin Minsky, "Father of Artificial Intelligence," Dies at 88
Marvin Minsky combined a scientist's thirst for knowledge with a philosopher's quest for truth as a pioneering explorer of artificial intelligence, work that helped inspire the creation of the personal computer and the Internet.
His family said the cause of death was a cerebral hemorrhage.
Well before the advent of the microprocessor and the supercomputer, Professor Minsky, a revered computer science educator at M.I.T., laid the foundation for the field of artificial intelligence by demonstrating the possibilities of imparting common-sense reasoning to computers.
"Marvin was one of the very few people in computing whose visions and perspectives liberated the computer from being a glorified adding machine to start to realize its destiny as one of the most powerful amplifiers for human endeavors in history," said Alan Kay, a computer scientist and a friend and colleague of Professor Minsky's.
Fascinated since his undergraduate days at Harvard by the mysteries of human intelligence and thinking, Professor Minsky saw no difference between the thinking processes of humans and those of machines.
Beginning in the early 1950s, he worked on computational ideas to characterize human psychological processes and produced theories on how to endow machines with intelligence.
Professor Minsky, in 1959, co-founded the M.I.T. Artificial Intelligence Project (later the Artificial Intelligence Laboratory) with his colleague John McCarthy, who is credited with coining the term "artificial intelligence."
Professor Minsky's scientific accomplishments spanned a variety of disciplines.
He designed and built some of the first visual scanners and mechanical hands with tactile sensors, advances that influenced modern robotics.
In 1951 he built the first randomly wired neural network learning machine, which he called Snarc.
In 1956, while at Harvard, he invented and built the first confocal scanning microscope, an optical instrument with superior resolution and image quality still in wide use in the biological sciences. – Glenn Rifkin
The Most Foundational Person after Turing on Computability
Marvin Minsky is rightly being remembered for his foundational and continuing contributions to Artificial Intelligence. But let's not forget that he was also the most foundational person after Turing on computability.
His 1967 book Computation: Finite and Infinite Machines is a mathematical masterpiece—I shall pull it off my bookshelf when I get home tonight from a multi-day trip and savor it once again, as I have so many times before.
That book pulled together the threads of what computation meant, from Turing, Post, and Kleene, into coherent mathematical unity, and extended the questions and answers around what could be computed with many new insights and theorems.
With this foundation, the theory of computation could turn to algorithmic complexity which has dominated the field ever since. That book is an amazing tour de force. For a normal mortal it would have been the defining point of a life's work. Forget about all that AI stuff he did! – Rodney A. Brooks
Remembering Minsky
He was the consummate educator, for that was his greatest joy and passion. But he was also many other things: a scientist, a mathematician, an inventor, an engineer, a roboticist, a writer, a philosopher, a polymath, a poet, a musician, and most of all a student of human nature and thinking.
He was the principal pioneer of both the symbolic and connectionist schools of AI and made profound contributions that have enriched the field of computer science and all of science. He was one of humanity's great thinkers. He was also my only mentor. He will be deeply missed. – Ray Kurzweil
Minsky on Life Expectency
Human longevity is going to grow very rapidly.
In the past 60 years in developed countries, the lifespan has been increasing about 1 year every 4, so people live 15 years longer and healthy than they did in 1940. I expect that this will keep going on or accelerate.
One reason to be optimistic is that we live twice as long as chimpanzees. They live about 40 years, we live about 80 years and it's been only about 4 or 5 million years, not many genes have changed, so it could be that you can double the lifespan by just changing a few genes, and I expect that we'll discover what those are pretty soon – Marvin Minsky, 2010
Minsky on the Singularity
Is the Singularity near?
The answer is yes, depending on what you mean by near, but it may well be within our lifetimes. – Marvin Minsky, 2010
Follow me on Twitter @leebanfield1
Bitcoin: 1Jwh6nZiASJf4d3hNytjxqiimWBmEJvJ4S
Bitmessage: BM-2cXjeAykLT7gbjzNHZFnCxdawvyryyb4Nf