BITCOIN
1 Bitcoin = $414
Banks Will Fail Not Bitcoin
The bitcoin network has been running without interruption for seven years now; a feat no banking system can claim.
What began as a small experiment is now a rapidly expanding ecosystem. There are so many people using it now that we have to plan for more capacity.
More than 5 million new users started transacting in bitcoin last year alone. More importantly, the total transaction volume has more than doubled over the past 12 months.
A graph displaying the increase in Bitcoin transactions since the beginning of 2009. BLOCKCHAIN.INFO
In 2016 people expect to be able to send money over the internet as quickly and cheaply as sending an email. The fact that it still takes several days to send an international money transfer is a throwback to yesteryear. Bitcoin solves that problem.
This currency is not a "failed experiment," as Hearn suggested. Our firm, Blockchain (a bitcoin wallet provider), had its best month yet in December.
In five years, hundreds of millions of users will be sending money on the internet as easily as they send chats, and the only obituaries being written will be those of the traditional banks. – Nicolas Cary
Bitcoin Growing in Venezuela
Venezuelan bitcoin exchange SurBitcoin volume and trades
Venezuela's state media says Bitcoin is primarily used by criminals and terrorists: Venezuelan Government Lambasts Bitcoin as Currency of Criminals
Hopefully the fact that the Venezuelan government is promoting this falsehood shows that Bitcoin is gaining traction in Venezuela! – zooko
BitCoin: The cybercriminal system (BitCoin: El Sistema Cibercriminal) #winning
"… many people have begun using the BitCoin, as an alternative to evade policies on foreign exchange"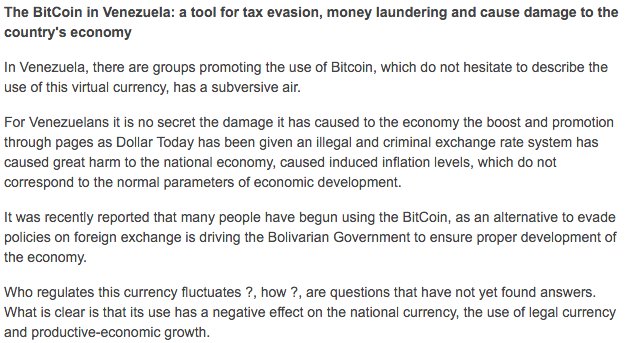 – AKW
In Venezuela, 90% of Premise Users Opt for Payouts in Bitcoin 
Payments is one of Premise's biggest and most interesting challenges. We currently operate networks in 34 countries, and when deciding where and how quickly we can launch a new network, one of the most important things we consider is how quickly we can pay our contributors. Quick payments are essential to maintaining our contributors' trust.
One of the payment methods we're most optimistic about is Bitcoin.
We're currently using Coinbase to pay our contributors in Venezuela and India, and this integration gives us the flexibility and footprint to more rapidly scale our payments infrastructure to new countries using Bitcoin. To date, we've paid out more than 332 bitcoin (~$125,000 USD) since we began experimenting with the digital currency.
Currently, we pay more than 90% of our contributors in Venezuela using Bitcoin, up from 10% in September 2015. The integration reduces the time it takes for us to pay our contributors from weekly to nearly instantaneously.
We currently use 15 different payments providers globally, about half of which are integrated in-app. We simply can't launch in a new country until we have an efficient way of paying contributors. We're optimistic about both Bitcoin's future in the developing world and its potential to one day serve as a universal payment method for Premise. – Nikila Sri-Kumar, Premise Product Manager
MINING
The Exahash Era
Hashrate cracked the 1 Exahash benchmark (2.5x power increase since August 2015!)
This is the first time in history that the hashrate has crossed the one quintillion or exahash per second benchmark. – Avi Mizrahi
Bitcoin Mining Difficulty Rises 20.06%
Mining difficulty is now 144,116,447,847.34866333, 20.06% above the previous value.
This is the largest increase since August 19th, 2014. – Adlai
Mining Difficulty
Bitcoin is now 140 billion times more difficult to mine than in 2009. – Oleg Andreev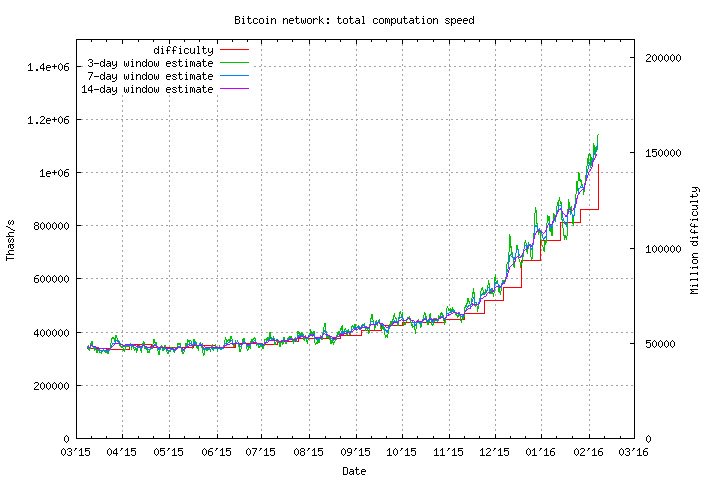 ALTCOINS
Bitcoin Dominance Index
Bitcoin Dominance Index has fallen to 78% – Coincap.io
ShapeShift Volumes Surge as Demand for Ethereum Explodes
ShapeShift grew 1,000% in 2015. It has already grown another 1,000% in the first 2 months of 2016. Thank you everyone! #Bitcoin #Ethereum – Erik Voorhees
Ethereum Hits $1 billion
A rise of 1550% in 100 days: Coinmarketcap.com/ethereum
Ethereum
Ethereum can solve any problem a computer can solve: but with far greater reliability and security and far less performance and efficiency. – Nick Szabo
PRIVACY / SECURITY / INTERNET
JoinMarket
Private bitcoin transactions, via decentralized mixing, for low fees: github.com/JoinMarket
Money was never meant to be a government tracking mechanism.  – Jon Matonis
L.A. Hospital Pays $17K Ransom in Bitcoin to Regain Control of Hacked Computers
If bitcoin is traceable, then why is it used in these types of transactions?
None of the hacked stolen btc from Gox or Bitstamp have ever been located. #forensics – Jon Matonis
Top 5 Wallets of 2016 for Privacy
The Open Bitcoin Privacy Project (OBPP) released its 2nd edition review of the "Bitcoin Wallet Privacy Rating Report."
The creators say the wallet review is a way to "measure their effectiveness at protecting user privacy."
The number one Bitcoin wallet on the list this year goes to the hardware device Ledger Wallet.
The group says, "we found it outperformed its competitors in handling privacy basics." This includes avoiding address reuse, and support for multiple accounts within a single wallet.
Number two on the list is BreadWallet
Airbitz takes the third position in the privacy report with its hierarchical deterministic (HD) wallet
Darkwallet was the OBPP's top contender last year but has now dropped to the fourth position. Lack of development has left Darkwallet's code collecting dust and the organization says it's remained "untouched since our last review." This, in turn, threatens the model with progress by the many competitors coming into the wallet ecosystem. However, the project still holds a couple features others have not yet accomplished. OBPP explains in the report:
To date, Darkwallet is still one of only two graphical wallets with CoinJoin support, and one of a handful with ECDHM address support. Darkwallet enables both CoinJoin and ECDHM addresses by default. However, disuse has reduced the available number of Darkwallet partners for CoinJoin transactions, yielding very limited use at present. After a short timeout period, if no other users are available to mix with, the transaction will proceed without the use of CoinJoin.
The fifth wallet in the rankings goes to Arcbit. The Privacy Project says this a new "contender on the iOS platform," that also includes ECDHM address use. – Jamie Redman
COMPANIES / PROJECTS / PRODUCTS
The Oculus Rift is Now Four Months Backordered
Oculus Rift pre-orders opened on January 6th and were met with both excitement and resentment over the $600 price tag. That doesn't seem to have stopped excited early-adopters from getting in line.
Oculus says that the first Rift headsets will begin shipping on March 28th. However, as day one pre-orders began to stack, folks watched as the estimated shipping date started to slip. First into April, then May, then June… and now those pre-ordering today likely won't see their Rift until July.
At CES last week, only a few days after the Rift initially opened for pre-order, Oculus Founder Palmer Luckey said "pre-orders are going much better than I ever could have possibly expected."
The company is surely building up stock as quickly as they can, but the sliding shipping date suggests that demand has exceeded Oculus' manufacturing capacity. In a Q&A session on Reddit, Luckey said that the company was scaling up production to meet demand. – Ben Lang
Microsoft HoloLens
Mind blown today at TED imagining a future where you walk around the moon with Neil Armstrong w/Hololens. – Bill Gross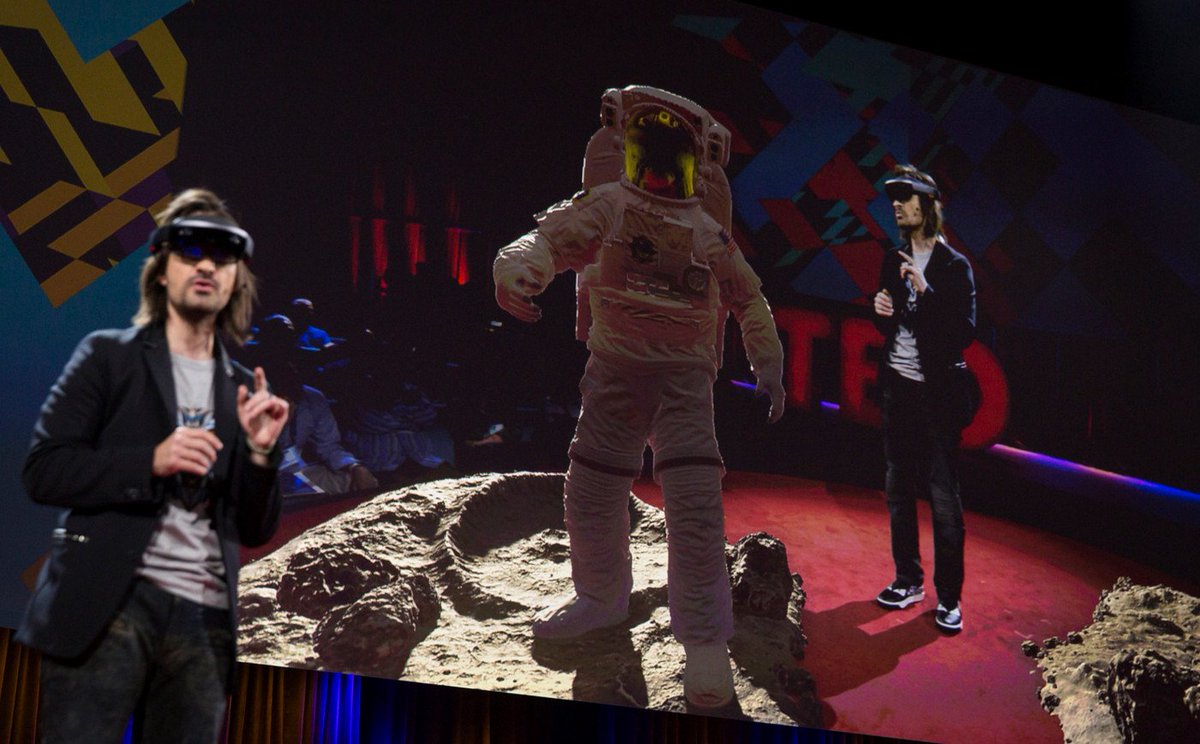 Compared to Oculus Rift and Gear VR, Microsoft HoloLens offers an authentic augmented-reality experience, meaning the images coming from the device are projected on the user's actual environment.
The device is doing it by projecting light directly to the user's eyes to draw images.
The HoloLens Development Edition pre-orders started on Feb. 29.
The much-awaited virtual reality (VR) headset from Microsoft costs $3,000 and its shipping starts at the end of March.
The consumer edition of the device is expected to be released very soon. – Mark Aserit
The Internet Allowed Us to Learn Anything – VR Will Let us Experience Everything
Just as the Internet and smartphones have enabled the rapid and cheap sharing of information, virtual reality will be able to provide the same for experiences. That means that just as we can read, listen to, and watch videos of anything we want today, soon we'll be able to experience stunning lifelike simulations in virtual reality.
The Internet made the world smaller. VR is about to make it exhilarating.
Soon you'll be able to explore every city, watch every sports game, and explore the universe in VR. Content plus presence is an extremely potent combination.
We'll be learning in virtual-reality classrooms, shopping at virtual-reality stores, and even working in virtual-reality offices.
We can only begin to speculate on the long-term consequences of this. How are cities affected when the VR office becomes the standard? How will the entertainment industry respond to live-streamed VR sports and concerts? Can we finally create a digital university that surpasses the quality of our oldest and grandest learning institutions?
Sometimes this all seems hard to fathom. Could we really see these massive changes coming in just a few short years? – Jason Ganz
Building The "Metaverse" — A Successor to the Internet
Every new employee at Oculus VR, the Facebook-owned virtual reality company, is given a copy of the 2011 science fiction novel Ready Player One. In Ernest Cline's book, which Steven Spielberg is adapting for a film, the death of a tech company's founder prompts a worldwide search for his fortune, which is hidden in the virtual world of the Oasis.
Mark Zuckerberg, who as Facebook chief paid $2bn to acquire Oculus in 2014, is very much alive, but in other respects Mr Cline's book is informing the development of its Rift VR headset, which will be released next month.
"We love the book," Brendan Iribe, Oculus chief executive, told the Financial Times last year. "It is required reading for every employee. We all want to create the Oasis."
Oculus is not the only tech company taking inspiration from sci-fi as it explores the potential of virtual reality. Magic Leap, a Florida start-up, is developing an even more audacious "mixed reality" headset and has gone a step further.
Soon after raising more than $500m in 2014 from Google and other investors, it hired Neal Stephenson, author of Snow Crash, another book in the VR canon . The action in the 1992 sci-fi book takes place in both the physical world and the "metaverse" — a successor to the internet — and has inspired many VR developers.
"When I wrote it, it seemed as though those technologies were just around the corner," Mr Stephenson wrote after his appointment as chief futurist at Magic Leap. "In practice, it has taken longer than just about anyone expected to get that kind of tech consumer-ready."
One demonstration of Magic Leap's technology, he said, was enough to convince him that the metaverse was finally about to arrive.
"We think of this as the birth of a new medium, like Apple computers in the late 1970s and early 80s," Rony Abovitz, who founded Magic Leap in 2011, told the FT this week. "We are really opening up the surface area of human experience with computing. A text feed is not my normal interaction with the world. The computer needs to bend itself to you."
Investors are buying into his vision. This week, Magic Leap raised $793.5m from Google and Alibaba, the Chinese ecommerce group, giving it a valuation of $4.5bn — unprecedented for a start-up that has not even revealed its product publicly, let alone begun to sell it.
"It's a further endorsement of the fact that we are on the cusp of something quite transformative," says Ben Wood, a technology analyst at CCS Insight, a research firm. "People are placing some very, very big bets on this technology wave." – Tim Bradshaw
LEARNING / EDUCATION
Sci-hub: The Pirate Bay of Science
Add ".sci-hub.io" after the .com in the URL of pretty much any paywalled paper to gain instant free access. – Jon Tennant
The first pirate website in the world to provide mass and public access to tens of millions of research papers – Sci Hub: Removing Barriers in the Way of Science
A researcher in Russia has made more than 48 million journal articles – almost every single peer-reviewed paper every published – freely available online. And she's now refusing to shut the site down, despite a court injunction and a lawsuit from Elsevier, one of the world's biggest publishers.
For those of you who aren't already using it, the site in question is Sci-Hub, and it's sort of like a Pirate Bay of the science world. It was established in 2011 by neuroscientist Alexandra Elbakyan, who was frustrated that she couldn't afford to access the articles needed for her research, and it's since gone viral, with hundreds of thousands of papers being downloaded daily. But at the end of last year, the site was ordered to be taken down by a New York district court – a ruling that Elbakyan has decided to fight, triggering a debate over who really owns science.
"Payment of $32 is just insane when you need to skim or read tens or hundreds of these papers to do research. I obtained these papers by pirating them,"Elbakyan told Torrent Freak last year.
Journal subscriptions have become so expensive that leading universities such as Harvard and Cornellhave admitted they can no longer afford them. Researchers have also taken a stand – with 15,000 scientists vowing to boycott publisher Elsevier in part for its excessive paywall fees.
The site works in two stages. First of all when you search for a paper, Sci-Hub tries to immediately download it from fellow pirate database LibGen. If that doesn't work, Sci-Hub is able to bypass journal paywalls thanks to a range of access keys that have been donated by anonymous academics (thank you, science spies).
This means that Sci-Hub can instantly access any paper published by the big guys, including JSTOR, Springer, Sage, and Elsevier, and deliver it to you for free within seconds. The site then automatically sends a copy of that paper to LibGen, to help share the love.
It's an ingenious system, as Simon Oxenham explains for Big Think:
"In one fell swoop, a network has been created that likely has a greater level of access to science than any individual university, or even government for that matter, anywhere in the world. Sci-Hub represents the sum of countless different universities' institutional access – literally a world of knowledge."
THE SINGULARITY
The Singularity is Here: World GDP in Trillions (2012 $)

From Nick Bostrom's Book Superintelligence
Things Are Progressing So Amazingly Fast
If I compare AI to what it was like when I first learned about it in 1971 or 1972 when I was a kid, it's astounding what we can do now.
Self-driving cars on the streets, every game no matter how hard has master level AI players, major funds are trading billions of dollars using AIs, diseases diagnosed by editing genomes according to patterns determined by AIs. It's incredible. I look at the news everyday and it reads like science fiction did when I was a kid. – Ben Goertzel
Google's Boston Dynamics Has Created the Most Human Robot Yet
Boston Dynamics just released another incredible video featuring its latest version of the humanoid robot, ATLAS that was initially developed for the DARPA Robotics Challenge.
The company says this version is the "next generation" of their humanoid, but the technological leap they have made is far from incremental.
This incredibly upgraded model of ATLAS is electrically powered and hydraulically actuated. It uses sensors in its body and legs to balance and LIDAR and stereo sensors in its head to avoid obstacles, assess the terrain, help with navigation and manipulate objects.
Seriously, the gulf between the robots featured in contemporary science fiction like Chappie and the stuff coming out of Boston Dynamics does not seem that far apart anymore. It is amazing how far the robot has been developed in the past three years! – 33rd Square
Google's AI Takes Historic Match Against Go Champ
*  Machines have conquered the last games. Now comes the real world
Google's artificially intelligent Go-playing computer system has claimed victory in its historic match with Korean grandmaster Lee Sedol after winning a third straight game in this best-of-five series.
Go is exponentially more complex than chess and requires an added level of intuition—at least among humans. This makes the win a major milestone for AI—a moment whose meaning extends well beyond a single game.
Just two years ago, most experts believed that another decade would pass before a machine could claim this prize. But then researchers at DeepMind—a London AI lab acquired by Google—changed the equation using two increasingly powerful forms of machine learning, technologies that allow machines to learn largely on their own. Lee Sedol is widely regarded as the best Go player of the past decade. But he was beaten by a machine that taught itself to play the ancient game..
The machine learning techniques at the heart of AlphaGo already drive so many services inside the Internet giant—helping to identify faces in photos, recognize commands spoken into smartphones, choose Internet search results, and much more. They could also potentially reinvent everything from scientific research to robotics
The machine plays like no human ever would—quite literally.
Using what are called deep neural networks—vast networks of hardware and software that mimic the web of neurons in the human brain—AlphaGo initially learned the game by analyzing thousands of moves from real live Go grandmasters. But then, using a sister technology called reinforcement learning, it reached a new level by playing game after game against itself, coming to recognize moves that give it the highest probability of winning.
The result is a machine that often makes the most inhuman of moves.
This happened in Game Two—in a very big way. With its 19th move, AlphaGo made a play that shocked just about everyone, including both the commentators and Lee Sedol, who needed nearly fifteen minutes to choose a response. The commentators couldn't even begin to evaluate AlphaGo's move, but it proved effective. Three hours later, AlphaGo had won the match.
This week's match is so meaningful because this ancient pastime is so complex. As Google likes to say of Go: there are more possible positions on the board than atoms in a universe.
Just a few days earlier, most in the Go community were sure this wasn't possible. But these wins were decisive. Machines have conquered the last games. Now comes the real world. – Cade Metz
In Two Moves, AlphaGo and Lee Sedol Redefined the Future
In Game Two, the Google machine made a move that no human ever would. And it was beautiful. As the world looked on, the move so perfectly demonstrated the enormously powerful and rather mysterious talents of modern artificial intelligence.
But in Game Four, the human made a move that no machine would ever expect. And it was beautiful too. Indeed, it was just as beautiful as the move from the Google machine—no less and no more. It showed that although machines are now capable of moments of genius, humans have hardly lost the ability to generate their own transcendent moments. And it seems that in the years to come, as we humans work with these machines, our genius will only grow in tandem with our creations.
Move 37
With the 37th move in the match's second game, AlphaGo landed a surprise on the right-hand side of the 19-by-19 board that flummoxed even the world's best Go players, including Lee Sedol. "That's a very strange move," said one commentator, himself a nine dan Go player, the highest rank there is. "I thought it was a mistake," said the other.
Lee Sedol, after leaving the match room, took nearly fifteen minutes to formulate a response. Fan Gui—the three-time European Go champion who played AlphaGo during a closed-door match in October, losing five games to none—reacted with incredulity. But then, drawing on his experience with AlphaGo—he has played the machine time and again in the five months since October—Fan Hui saw the beauty in this rather unusual move.
AlphaGo had calculated that there was a one-in-ten-thousand chance that a human would make that move. But when it drew on all the knowledge it had accumulated by playing itself so many times—and looked ahead in the future of the game—it decided to make the move anyway. And the move was genius.
Move 78
In Game Four, Lee Sedol was intent on regaining some pride for himself and the tens of millions who watched the match across the globe. But midway through the game, the Korean's prospects didn't look good. "Lee Sedol needs to do something special," said one commentator. "Otherwise, it's just not going to be enough." But after considering his next move for a good 30 minutes, he delivered something special. It was Move 78, a "wedge" play in the middle of the board, and it immediately turned the game around.
As we found out after the game, AlphaGo made a disastrous play with its very next move, and just minutes later, after analyzing the board position, the machine determined that its chances of winning had suddenly fallen off a cliff.
Commentator and nine dan Go player Michael Redmond called Lee Sedol's move brilliant: "It took me by surprise. I'm sure that it would take most opponents by surprise. I think it took AlphaGo by surprise."
Among Go players, the move was dubbed "God's Touch." It was high praise indeed. But then the higher praise came from AlphaGo.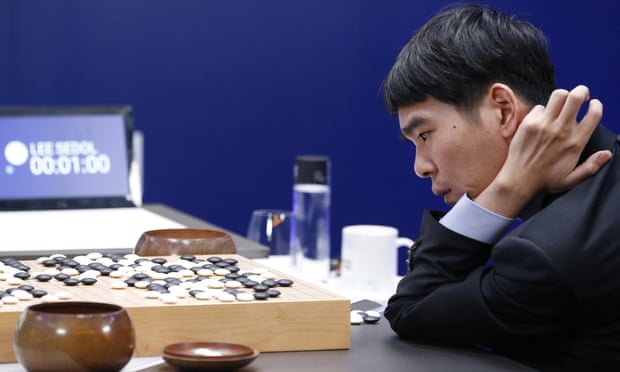 One in Ten Thousand – Again
The next morning, as he walked down the main boulevard in Sejong Daero just down the street from the Four Seasons, I discussed the move with Demis Hassabis, who oversees the DeepMind Lab and was very much the face of AlphaGo during the seven-day match. As we walked, the passers-by treated him like a celebrity—and indeed he was, after appearing in countless newspapers and on so many TV news shows. Here in Korea, where more than 8 million people play the game of Go, Lee Sedol is a national figure.
Hassabis told me that AlphaGo was unprepared for Lee Sedol's Move 78 because it didn't think that a human would ever play it. Drawing on its months and months of training, it decided there was a one-in-ten-thousand chance of that happening. In the other words: exactly the same tiny chance that a human would have played AlphaGo's Move 37 in Game Two.
The symmetry of these two moves is more beautiful than anything else. One-in-ten-thousand and one-in-ten-thousand. This is what we should all take away from these astounding seven days. Hassabis and Silver and their fellow researchers have built a machine capable of something super-human. But think about what happens when you put these two things together. Human and machine. Fan Hui will tell you that after five months of playing match after match with AlphaGo, he sees the game completely differently. His world ranking has skyrocketed. And apparently, Lee Sedol feels the same way. Hassabis says that he and the Korean met after Game Four, and that Lee Sedol echoed the words of Fan Hui. Just these few matches with AlphaGo, the Korean told Hassabis, have opened his eyes.
This isn't human versus machine. It's human and machine. Move 37 was beyond what any of us could fathom. But then came Move 78. And we have to ask: If Lee Sedol hadn't played those first three games against AlphaGo, would he have found God's Touch? The machine that defeated him had also helped him find the way. – Cade Metz
DeepMind Founder Demis Hassabis Wants to Solve Intelligence
The aim of DeepMind is not just to beat games, fun and exciting though that is. It's to the extent that they're useful as a testbed, a platform for trying to write our algorithmic ideas and testing out how far they scale and how well they do and it's just a very efficient way of doing that. Ultimately we want to apply this to big real-world problems.
We're concentrating on the moment on things like healthcare and recommendation systems, these kinds of things.
What I'm really excited to use this kind of AI for is science, and advancing that faster. I'd like to see AI-assisted science where you have effectively AI research assistants that do a lot of the drudgery work and surface interesting articles, find structure in vast amounts of data, and then surface that to the human experts and scientists who can make quicker breakthroughs.
I was giving a talk at CERN a few months ago; obviously they create more data than pretty much anyone on the planet, and for all we know there could be new particles sitting on their massive hard drives somewhere and no-one's got around to analyzing that because there's just so much data. So I think it'd be cool if one day an AI was involved in finding a new particle. – Demis Hassabis
What Problems Can Humans and Machines Overcome Together?
The AI research community has made incredible progress in five years.
A key insight has been that it's much better to let computers figure out how to accomplish goals and improve through experience, rather than handcrafting instructions for every individual task. That's also the secret to AlphaGo's success.
The real challenges in the world are not "human versus machine," but humans and whatever tools we can muster versus the intractable and complex problems that surround us. The most important struggles already have thousands of brilliant and dedicated people making progress on issues that affect every one of us.
Technologies such as AI will enhance our ability to respond to these pressing global challenges by providing powerful tools to aid experts make faster breakthroughs. We need machine learning to help us tame complexity, predict the unpredictable and support us as we achieve the previously impossible.
As our tools get smarter and more versatile, it's incumbent upon us to start thinking much more ambitiously and creatively about solutions to society's toughest global challenges. We need to reject the notion that some problems are just intractable. We can aim higher.
Consider what the world's best clinicians or educators could achieve with machine learning tools assisting them. The real test isn't whether a machine can defeat a human, but what problems humans and machines can overcome together. – Sundar Pichai and Demis Hassabis
AI is Coming
Artificial Intelligence keeps progressing, no matter whether you know about (or like it) or not.
First an AI application is typically seen as a curiosity. Then it becomes a tool you need to learn how to use. And eventually it will develop to the point where it could take your job.
IBM's Watson easily beat the world's best Jeopardy masters several years ago. Since then it has become the world's foremost oncology expert.
Currently Watson is on its way to start replacing swathes of paralegals at law firms as well as finding new oil reserves.
A few years down the road, anyone with a cellphone (or AugReal contact lens) will be able to tap into Watson-like powers for any kind of search or research. – Mikael Syding
Ageing Research Picks Up Speed
It's an exciting time to be working in ageing research. New findings are coming thick and fast, and although eliminating the process in humans is still some way away, studies regularly confirm what some have suspected for decades: that the mechanisms of ageing can be treated.
"It's an amazingly gratifying field to be part of," says biomedical gerontologist Aubrey de Grey, chief science officer and founder of SENS Research Foundation, the leading organisation tackling ageing. "It moves on almost every week at the moment."
At the start of February, for example, a study was published that had hugely significant findings for the field.
"There was a big announcement in Nature showing that if you eliminate a certain type of cell from mice, then they live quite a bit longer," says de Grey. "Even if you do that elimination rather late; in other words when they're already in middle age."
For those following the field, this was exciting news, but for de Grey, it was concrete proof that ageing can be combated.
"That's the kind of thing that I've been promoting for a long time, and it's been coming but it's been pretty tricky to actually demonstrate directly. This was really completely unequivocal proof of concept," he says. "So of course it motivates lots of work to identify ways to do the same thing in human beings. These kinds of things are happening all the time now." – Lucy Ingham
Anti-Ageing Pill: Metformin
Metformin is a generic diabetes drug that costs only a few cents a dose.
Metformin reduces blood sugar and works on multiple pathways involved in cell growth, inflammation and metabolism — all of which constitute the major pillars of aging.
Epidemiological studies suggest that metformin reduces the risk of cancer and dementia.
What's more, a large 2014 study of 78,000 people showed that on average, people with Type 2 diabetes who take the drug live longer than those of the same age who don't. – Shelly Fan
TAME (Targeting Aging with Metformin) to be Tested on 3,000 Volunteers
To most of the scientific community, "anti-aging" is a dirty word.
A medical field historically associated with charlatans and quacks, scientists have strictly restricted the quest for a "longevity pill" to basic research. The paradigm is simple and one-toned: working on model organisms by manipulating different genes and proteins, scientists slowly tease out the molecular mechanisms that lead to — and reverse — signs of aging, with no guarantee that they'll work in humans.
But it's been a fruitful search: multiple drug candidates, many already on the market for immune or psychiatric disorders, have consistently delayed age-associated diseases and stretched the lifespan of fruit flies, roundworms and mice.
Yet human trials have been far beyond reach — without the FDA acknowledging "aging" as a legitimate target for drug development, researchers have had no way of pitching clinical trials to the regulatory agency.
Until now.
Last year, the FDA green lighted an audacious proposal that seeks to test in 3,000 volunteers a drug that — based on animal studies — could extend human lifespan by up to 40 percent and decrease chances of getting age-related diseases.
The double-blind, multi-centered trial, Targeting Aging with Metformin (TAME), is the first that pushes aging as a bona fide disease — one that may eventually be tamed with drugs.
Metformin seems to fit the bill of a longevity drug. But it was the chemical's two other perks that made it a winner to the TAME team.
First, it's very safe. When taken as prescribed, the drug has few side effects, and those that do occur are well documented.
Second, is that in addition to extending lifespan, it also extends healthspan — the number of years that an organism remains healthy, even in old age.
"We think this is a groundbreaking, perhaps paradigm-shifting trial," said Dr. Steven Austad, scientific director of the American Federation for Aging Research (AFAR). – Shelly Fan
Surge in Private Funding as Perceptions of Ageing Changes
Funding for ageing research is forever in short supply. SENS is always asking for donations, and there is always more research to be done than there is money to fund it.
"We do our best with the very limited funding we have, obviously, and some of our work is done in-house: we have our own laboratory in Mountain View, California, where we do two of our major projects, but most of our work is done in university laboratories, mostly in the US, but there's also one group outside Cambridge [UK] at the Babraham Institute," de Grey says.
"We've got certainly quite a long list of researchers that we feel have the potential to do extremely valuable work, and it's a great source of frustration to us that we can't fund them all."
However, this is starting to improve, both for SENS and for other institutions engaging in this field of research.
In particular, the investment community has shown growing interest in ageing research.  February's breakthrough findings were funded by private investors, and SENS, too, is spinning out some of its research into companies.
"Over the past year we've actually spun out a few companies, a few startups that have been able to attract investment from people who prefer to invest rather than donate," he says.
The growing involvement of private investors is, according to de Grey, evidence of the changing perceptions of ageing research.
"Not only is the science moving forward, but the appreciation of the science within the investor community is also moving forward," he says. "And that is absolutely critical to what we can expect to see in the future."
For de Grey, there are two drivers of this growing appreciation.
"Number one is that the general idea that ageing [in] mice in the foreseeable future be brought under a fair degree of medical control; that has become much more mainstream," he says.
"The second thing is that within that kind of concept, the specific idea of reversing ageing by repairing the damage that accumulates throughout life, which is of course the focus of my work, that itself has also become much more mainstream, much more accepted as a realistic option." – Lucy Ingham
Incredible Things Are Happening
Each year is more exciting than the last in the research areas I'm involved in. AI, Robotics, Longevity, Biology… all over the place we're just seeing new things happening year after year.
The number of breakthrough reports in longevity research in the last few months is incredible. This last year everyone is using CRISPR all of a sudden for gene editing. We see that you're now able to make mice live much longer than they otherwise would have simply by making them flush out old senescent cells. There's incredible things happening all around. – Ben Goertzel
Follow me on Twitter @leebanfield1
Bitcoin: 1Jwh6nZiASJf4d3hNytjxqiimWBmEJvJ4S
Bitmessage: BM-2cXjeAykLT7gbjzNHZFnCxdawvyryyb4Nf