BITCOIN
1 Bitcoin = $592
Daily Transaction Growth
Beneath all the "hype cycle" talk, bitcoin delivers consistent exponential growth year in and year out.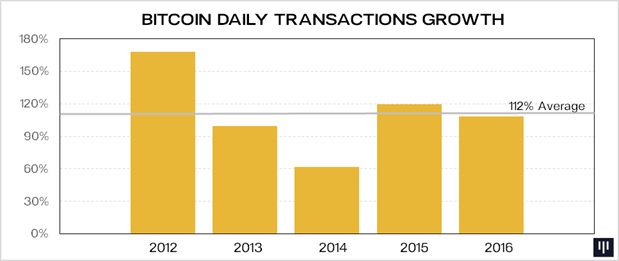 Confirmation Times and Fees
Despite the sky is falling FUD, bitcoin is working just fine.
Confirmation times and fees are still low even today: bitcoinfees.21.co
– Hernz
Bitcoin: A Genius Combination
Bitcoin is a genius combination of Finance, Economics, Cryptography, Computer Science, Distributed Networks, and Game Theory. – Mark Howard
Austrian Economics vs. Keynesian Economics
Bitcoin is quite literally applied Austrian Economics. An island of regulatory freedom in a Keynesian ocean. – Ansel Lindner
Bitcoin's second halving means we are actually doing the experiment. Keep inflating fiat as Bitcoin keeps deflating. Let's see what happens. – Balaji S. Srinivasan
Investing in Bitcoin
Bitcoin price at start of:
50btc Era: $0
25btc Era: $12
12.5btc Era: $630
6.25btc Era: ?
Bitcoin has doubled in value in the last four months, in spite of the endless parade of charlatans continuously declaring it dead. You think if you ignore bitcoin it will go away. It won't. It will continue operating flawlessly long after your national currency has died. – Saifedean Ammous
Everybody likes to think they'd have put $25k into Facebook in '04. But digital currency as a category removes any excuse for not trying. – Balaji S. Srinivasan
If bitcoin was the sole world currency, between 7 billion people we would all own 0.003 BTC. – Laird 8 Badge
ALTCOINS
ZCash
I would like to see Bitcoin adopt greater privacy tools and be able to integrate good privacy systems but at the the rate of advancement of the Bitcoin protocol itself and gridlock, I'm not all that optimistic that Bitcoin is going to be able to do that. That's one of the reasons why I agreed to invest in ZCash.
I think the more options and more tools people have the better. If it's on Bitcoin, that's great. If it's on something else, that's fine as well.
ZCash is coming out in September. – Roger Ver
Government Currencies
Collective, global QE by central banks is now up to $250 billion per month in asset purchase programs. Totally Insane! – WallStForMainSt
The Euro
€80bn per month of helicopter money is pumped into the EU by this team. I feel revulsion seeing this…
PRIVACY / SECURITY / INTERNET
Privacy Tools
It's important to keep in mind that bitcoin is not automatically anonymous. You have to be really, really careful in your use of it in order to have some privacy.
It is getting pretty darn worrisome in terms of just how good they are getting at being able to track bitcoin transactions on the blockchain.
Hopefully some tools will be coming out in the future that will provide people with a higher degree of financial privacy with their Bitcoins.
We need to try a thousand different things and see which ones do work.
There is the Confidential Transaction project where you can hide a bitcoin transaction while it's taking place.
And if you combine that with CoinJoin and Coin Shuffle, then it makes it very hard to track and see what's going on.
Cross blockchain swaps are also pretty useful for this as well. The more experiments we try the sooner we are going to find ones that work really, really well. – Roger Ver
Happy 25th Birthday to the World Wide Web!
Pierre Roberge: 25 years ago, on August 6, 1991, the world's first website went live to the public from a lab in the Swiss Alps. www.info.cern.ch/hypertext/WWW/TheProject.html
Farmer & Farmer: If you asked people in 1989 what they needed to make their life better, it was unlikely that they would have said a decentralized network of information nodes that are linked using hypertext.
Global Average Internet Speed Surges 23% YoY
South Korea still the world's fastest internet at an average of 29 Mbps.
Thailand 39th globally at 10.8 Mbps (up 49% YoY).
Malaysia's average internet connection speed now 6.4 Mbps, also up 49% in the past year.
Global average internet connection speed increased to 6.3Mbps
Vietnam (5 Mbps) up an impressive 59% YoY and 31% over the last 3 months.
Indonesia (4.5 Mbps) sees massive improvements as average speed more than doubles from a year ago.
Philippines and India worst in Asia Pacific with speeds of just 3.5 Mbps.
– Akamai Technologies, First Quarter, 2016 State of the Internet Report
MARKETS
The Italian Banking Crisis
Very amusing that the world is only now figuring out the obvious Italian banking crisis. By the way, there are a few others in the pipeline. – Rudolf E. Havenstein
Nintendo Shares Plummet After it Points Out to Idiotic Investors it Doesn't Make Pokémon Go
The stock dropped 18 percent, the maximum one-day move allowed, losing $6.4 billion in value
Nintendo's shares shot way, way up to new highs…right up until investors realized that Nintendo actually had very little to do with making the game.
Nintendo actually issued a memo to investors reminding them that it was Niantic and the Pokémon Company that made the game, not them. – Matt Weinberger
COMPANIES / PROJECTS / PRODUCTS
Elon Musk Unveils Part 2 of His "Master Plan" for Tesla.
The first master plan that I wrote 10 years ago is now in the final stages of completion. It wasn't all that complicated and basically consisted of:
Create a low volume car, which would necessarily be expensive
Use that money to develop a medium volume car at a lower price
Use that money to create an affordable, high volume car

And…

Provide solar power. No kidding, this has literally been on our website for 10 years.
In short, Master Plan, Part Deux is:
1 – Create stunning solar roofs with seamlessly integrated battery storage
Create a smoothly integrated and beautiful solar-roof-with-battery product that just works, empowering the individual as their own utility, and then scale that throughout the world. One ordering experience, one installation, one service contact, one phone app.
We can't do this well if Tesla and SolarCity are different companies, which is why we need to combine and break down the barriers inherent to being separate companies. That they are separate at all, despite similar origins and pursuit of the same overarching goal of sustainable energy, is largely an accident of history.
Now that Tesla is ready to scale Powerwall and SolarCity is ready to provide highly differentiated solar, the time has come to bring them together.
2 – Expand the electric vehicle product line to address all major segments
Today, Tesla addresses two relatively small segments of premium sedans and SUVs. With the Model 3, a future compact SUV and a new kind of pickup truck, we plan to address most of the consumer market.
In addition to consumer vehicles, there are two other types of electric vehicle needed: heavy-duty trucks and high passenger-density urban transport. Both are in the early stages of development at Tesla and should be ready for unveiling next year.
3 – Develop a self-driving capability that is 10X safer than manual via massive fleet learning
Tesla is deploying partial autonomy now rather than waiting until some point in the future.
The most important reason is that, when used correctly, it is already significantly safer than a person driving by themselves and it would therefore be morally reprehensible to delay release simply for fear of bad press or some mercantile calculation of legal liability.
It is important to explain why we refer to Autopilot as "beta". This is not beta software in any normal sense of the word. Every release goes through extensive internal validation before it reaches any customers. It is called beta in order to decrease complacency and indicate that it will continue to improve (Autopilot is always off by default).
Once we get to the point where Autopilot is approximately 10 times safer than the US vehicle average, the beta label will be removed.
4 – Enable your car to make money for you when you aren't using it
When true self-driving is approved by regulators, it will mean that you will be able to summon your Tesla from pretty much anywhere. Once it picks you up, you will be able to sleep, read or do anything else enroute to your destination.
You will also be able to add your car to the Tesla shared fleet just by tapping a button on the Tesla phone app and have it generate income for you while you're at work or on vacation.
Tesla's Gigafactory Factory 1: New World's Largest Building
Grand opening of "Gigafactory 1".
Bigger than Pentagon. Doubles world's battery production. And only the first one! – David Sacks
The world's second-largest building by usable space, smaller than only the Boeing Everett Factory, and the world's largest building by physical area
Augmented Reality Hits The Mainstream
Augmented Reality game Pokemon Go sweeps the world.
The most popular augmented reality (AR) app in history has taken the technology mainstream.
The number of daily active users exceeded Twitter and Tinder users within the first few days.
100 million downloads in its first month.
Crosses $200M in global revenue.
Pokémon Go is just the commercial proof of concept of the technologies. It's a modem day Pong. This is just the beginning of something bigger. – Guillermo
AR has gone from a conceptual future that Silicon Valley was debating to mainstream interest. Future is always lurking near us! – Anshu Sharma
---
Pokémon Go is a harbinger of things to come.
Venture capitalist Chris Dixon has a line I like. "The next big thing will start out looking like a toy,".
Welp, Pokémon Go looks like a toy. Hell, it is a toy. But it's also the first widespread, massive use case for augmented reality — even though it's operating on smartphones that aren't designed for AR
What's going to happen as the hardware improves, the software improves, and the architects learn to use these more immersive environments? – Erza Klein
Magic Leap's Augmented Reality Device Nears Launch
On stage at a conference in China, Magic Leap CMO Brian Wallace had a one on one discussion with Alibaba CMO Chris Tung (Alibaba is one of Magic Leap's investors).
Brian confirmed that the company is working on an AR headset that's portable, lightweight, and can be worn all day, and further said that the aim is to replace smartphones completely.
Magic Leap CEO Rony Abovitz noted that the company is "turning on the first production line in its factory throughout this summer."
Abovitz said the company is getting very close to releasing its first products. The company now has over 600 employees and the system is working. – Stereoscopy News
PLACES
The New Silk Roads: Massive Development Push in the Greater Mekong Subregion
It's mainland Southeast Asia that should be the key driver for regional development in the near future.
The Greater Mekong sub-region includes the southern Chinese provinces of Yunnan and Guangxi.
Cambodia, Laos, Myanmar, Thailand and Vietnam bear a market of 250 million people and a GDP of $700 billion.
They are all expanding like crazy; the Mekong mainland is growing as much as six percent a year.
The East-West economic corridor – promoted by the Japan-based Asian Development Bank (ADB) – goes from southern Myanmar through central and northwest Thailand and southern Laos all the way to Danang in Vietnam.
The North-South corridor goes from Kunming in Yunnan, China to Bangkok and southern Thailand.
The southern corridor goes from southern Myanmar to northeast Thailand, Cambodia and Vung Tau in southern Vietnam; road connections in this corridor, also promoted by the ADB, are still relatively incipient, but advancing fast.
Of course there are still myriad problems – related to road construction, border crossings, stifling bureaucracy. But that's the way of the future.
And all that action also ties in with China positioning itself as a de facto high-speed rail power in Southeast Asia.
That happens to be a key plank of One Belt, One Road (OBOR); the Southeast Asian branches of the New Silk Roads.
China Railway Group Limited (CREC) is very well positioned to build the Malaysia-Singapore high-speed rail, against Japanese and Korean competition.
The 417 kilometer high-speed rail – stretching between Yunnan province and Vientiane in Laos – is already being built, while the China-Thailand high-speed rail project is also back on track after a few bumps on the financial road.
In practice, we're talking about over 3,000 kilometers of high-speed rail from China's Yunnan to Laos, Thailand, Malaysia, and Singapore; the Southeast Asian stretch of the New Silk Roads, eventually connected to central China, Central Asia, Southwest Asia – and Europe. – Pepe Escobar
THE SINGULARITY
New Boston Dynamics Robot: Introducing SpotMini
Google Turns on DeepMind AI, Cuts Cooling Energy Bill by 40%
This alone probably pays for the Deepmind acquisition. Shows how far below Pareto optimal limits even Google was. – Balaji S. Srinivasan
The electricity consumption of data centers is on a pace to account for 12 percent of global electricity consumption by 2017. – Dan Heilman
DeepMind controls about 120 variables in the data centers. The fans and the cooling systems and so on, and windows and other things. They were pretty astounded. – Demis Hassabis, DeepMind Co-Founder
I don't think most grasp the significance of this. Oil companies have similar systems they pay billions trying to optimize. – iandanforth
It's all about optimization. It can be used in supply logistics, shipping logistics and dynamic pricing in addition to keeping an industrial area at the right temperature. We'll be seeing AI being applied to a lot more areas. – Dave Schubmehl
Honestly, I'm skeptical a generalized AI will go fully conscious in my lifetime. But these specialized AI? These things are going to start changing our lives over the next ten years in unimaginable ways. The energy savings alone is incredible. – tendimensions
The amount of energy consumed by big data centers has always been a headache for tech companies.
Keeping the servers cool as they crunch numbers is such a challenge that Facebook even built one of its facilities on the edge of the Arctic Circle.
Well, Google has a different solution to this problem: putting its DeepMind artificial intelligence unit in charge and using AI to manage power usage in parts of its data centers.
The results of this experiment? A 40 percent reduction in the amount of electricity needed for cooling, which Google describes as a "phenomenal step forward."
A typical day of testing, including when machine learning recommendations were turned on, and when they were turned off.
The AI worked out the most efficient methods of cooling by analyzing data from sensors among the server racks, including information on things like temperatures and pump speeds.
DeepMind's engineers say the next step is identify where new data is needed to calculate further efficiencies, and to deploy sensors in those areas.
And the company won't stop with Google's data centers. "Because the algorithm is a general-purpose framework to understand complex dynamics, we plan to apply this to other challenges in the data centre environment and beyond in the coming months," said DeepMind in a blog post.
"Possible applications of this technology include improving power plant conversion efficiency […], reducing semiconductor manufacturing energy and water usage, or helping manufacturing facilities increase throughput." – James Vincent
Simple OpenCog Inference via Hanson Robot
We're undertaking a serious effort to build a thinking machine.
No challenge today is more important than creating Artificial General Intelligence (AGI), with broad capabilities at the human level and ultimately beyond.
OpenCog is an open-source software project aimed at directly confronting the AGI challenge, using mathematical and biological inspiration and professional software engineering techniques.
OpenCog is an ambitious project with many challenges. We are however confident that our design and software is capable of human preschool-level intelligence after years — not decades — of sustained effort along our roadmap.  After that, progress will become increasingly rapid. – opencog.org
This demo showcases aspects of some recently completed systems integration — the Hanson Robotics HEAD software framework controlling robot Han Hanson, and OpenCog's Probabilistic Logic Networks inference engine connected to OpenCog's English language comprehension and generation pipelines. – Ben Goertzel
Sophia is Hanson Robotic's Latest Robotic Creation
Chinese Scientists to Begin First Human CRISPR Trial
A team of researchers will be the first in the world to use CRISPR, a gene-editing technique, on human subjects.
The team, led by Lu You, an oncologist at Sichuan University's West China hospital in Chengdu, China, will perform the tests on patients with lung cancer.
CRISPR is a revolutionary technique that uses an enzyme called Cas9 to find, cut out, and replace parts of DNA. This gene-editing technique has the potential to cure genetic diseases, change physical aspects of organisms, create pest-resistant crops, and much more.
The Chinese team will use CRISPR to edit T cells removed from the patient's blood, and disable a gene that encodes for the protein PD-1, a protein that halts an immune response to help prohibit attacks on healthy cells.
After inspection to ensure there were no editing errors, the cells will be injected back into the patient's blood stream, with the hope that this will help the immune system target and kill tumor cells.
Thirty patients have been chosen for the clinical trial set to start in August, with one patient receiving the edited cells initially. – WorldHealth.net
CRISPR Wins Key Approval in the US to Fight Cancer in Human Trials
The rapid development of CRISPR gene-editing tech is the most interesting science/tech story I've seen in my career. – Alexis C. Madrigal
Scientists from the University of Pennsylvania want to edit the immune systems of 18 patients to target cancer cells more effectively.
The experiment won approval from the Recombinant DNA Advisory Committee (RAC), a federal ethics panel set up at the National Institutes of Health 40 years ago to review controversial experiments that change the human genome.
The scientists will remove blood samples from patients and alter their T-cells — central to human immune response — to more effectively target and pursue cancer.
The T cells will then be infused back into patients and studied for the safety and effectiveness of the technique.
The trial still needs final approval from the U.S. Food and Drug Administration. – Tom Randall
SENS Research Foundation Announces $50 Million Project 21 Campaign
Campaign Focus: Ending Aging
SENS Research Foundation has announced its Project 21 campaign to secure $50 million in private support from individual donors, foundations, and corporations.
The goal of Project 21 is for SENS Research Foundation to partner with a new generation of visionary philanthropists, build the Rejuvenation Biotechnology industry, and bridge the most challenging gulf between research and treatment by enabling human clinical trials by 2021.
Aubrey de Grey, founder and chief science officer of SENS Research Foundation, said, "Ending aging will require large-scale investment to flow into a globally-recognized industry for rejuvenation biotechnology. Since we began in 2009, SENS Research Foundation has been putting all the pieces in place — core research groups, key players, shared knowledge, underlying tools — for the creation of this industry.
"The key programs funded by Project 21 can create an environment where the first damage repair interventions addressing specific age-related diseases will be brought to human clinical trials within five years."
For more information on the SENS Research Foundation visit www.sens.org.
For information on Project|21 visit www.SENSProject21.org.
Michael Greve Pledges $10 Million to SENS Rejuvenation Research and Development
Michael Greve is an internet entrepeneur turned venture capitalist with a long-standing interest in aging and longevity, and today he has pledged $10 million in support of SENS rejuvenation research: $5 million for the science, and a further $5 million to fund startups for clinical development.
This money will help speed the development of therapies that can repair the forms of cell and tissue damage that cause aging, and thus prevent age-related disease, rejuvenate the old, and significantly extend healthy life spans.
Michael Greve runs the Forever Healthy Foundation and the Kizoo venture fund, and has become ever more involved in the SENS rejuvenation research community over the past few years.
His venture fund has invested in companies Oisin Biotechnology and Ichor Therapeutics, both of which are carrying out the clinical development of biotechnologies relevant to the SENS approach.
I'm very pleased to see that Michael Greve has now joined the ranks of those who have committed a significant amount of funding to SENS research, alongside Aubrey de Grey, Peter Thiel, and Jason Hope.
As more people in the venture community demonstrate their public, material support for this path forward, I think that we're going to see greater interest from that quarter. This is something that the SENS Research Foundation has been building towards since its inception, as it is no accident that the organization is headquartered in the Bay Area. – Reason
Cheap Solar Power
Certainly within 20 years we'll be meeting all our energy requirements through solar and other renewables.
We're awash in energy—10,000 times more than we need, from the sun—and we're going to move to these renewables not just because we're concerned about the impact on the environment but because it will be cheaper and more economic. – Ray Kurzweil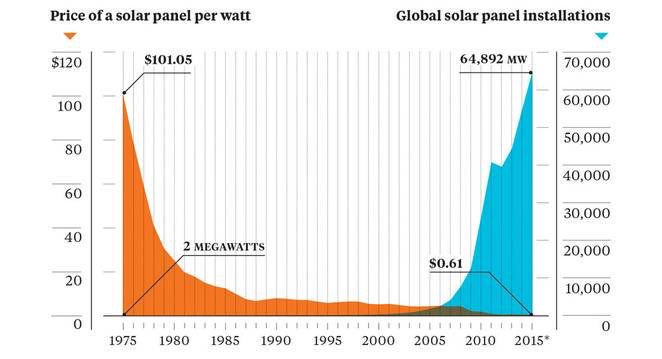 What people often miss when they think about implications of something like this is 2nd and higher order effects.
The implications of price drops of this magnitude are always underestimated. Humans respond as if it's magical afterward. – Tren Griffin
Harvard's David Keith on Solar: "Facts have changed. I was wrong."
The price of solar power is falling faster than many thought possible. Harvard's David Keith says: "I was wrong." It's becoming cheaper than we ever thought.
Over the last few years solar PV has got cheap. Cheap enough to start impacting some commodity energy markets today. Cheap enough that with continued progress, but no breakthroughs, it might alter the global outlook for energy supply within a decade.
I have long been skeptical of solar hype.
In 2008 we did an expert judgment exercise suggesting only even odds of getting to module prices of 0.3 $/W in 2030.
In 2011 we did some analysis showing how the power-law learning curve for modules appeared to be flattening.
That analysis was done at the end of a decade that saw big increases in installed capacity, with little corresponding change in module prices.
I was wrong.
Facts have changed. Just a few years ago the cost for industrial systems was twice what it is today. A host of little innovations have driven costs down.
Module prices are now around 0.5 $/W.
The unsubsidized electricity cost from industrial-scale solar PV in the most favorable locations is now well below 40 $/MWhr and could very easily be below 20 $/MWhr by 2020.
Compared to other new sources of supply, this would be the cheapest electricity on the planet.
One can now build systems in the world's sunny locations and get very cheap power. Let's celebrate the last decade's progress towards cheap solar. – David Keith
Follow me on Twitter @leebanfield1
Bitcoin: 1Jwh6nZiASJf4d3hNytjxqiimWBmEJvJ4S
Bitmessage: BM-2cXjeAykLT7gbjzNHZFnCxdawvyryyb4Nf