BITCOIN
1 Bitcoin = $900
$14.8 billion: New All-Time High Market Cap
Bitcoin surges past previous high of $13.8bill in December 2013. – Lee Banfield
World's Best Performing Currency in 2016
Bitcoin up 106% in 2016 – blocklink.info
After breaking through a previous record high, Bitcoin tends to climb to Multiple-X its previous record high. – Bobby Lee
Large Funds Scrambling for Bitcoin
Last 24hrs couple of $10bln+ AUM Funds calling to buy 30k-50k bitcoins.
We were not selling then / not selling now. – George Kikvadze, Bitfury
€5 Billion Investment Fund Adds Bitcoin to its Portfolio
First German fund manager (Acatis, 5 bn assets under management) adds Bitcoin to his portfolio.
Started to add a € 2.5 mln position to his balanced fund resulting in a Top 10 position.
As vehicle he uses the Bitcoin Tracker ETN
'Blockchain'
Bitcoin is over $900 right now. What's the price of blockchain? I heard that's more important, so I want to buy some. – Ragnar Lifthrasir
Capital Flight a Big Headache for Beijing
Further tightening of controls likely with weakening yuan and expectations of more outflows
Capital flight, fuelled by people and companies seeking to protect the value of their assets, has quickened since last year. In the first 10 months of this year alone, the outflow topped US$530 billion.
The Chinese authorities have clamped down on most methods for moving funds out of the country to stem the yuan outflow.
But Mr Zhou, a director at a multinational consumer goods company in Shanghai, would not be deterred. He told The Straits Times he is considering buying gold or the virtual currency bitcoin, which he can buy in China and sell for foreign currencies overseas.
This could also become more difficult, as recent media reports say there are signs that the authorities are curbing gold imports and could start cracking down on bitcoin- related capital outflows. – Chong Koh Ping
We Are Going to Win
The anti Bitcoiners are out of arguments and can't even pose a question without contradicting their own "logic". – Beautyon
MINING
Latest Bitcoin Network Difficulty Change
Increases 8.16%. Miner confidence very healthy. – Ansel Linder
Hash Rate More Than Triples in 2016
Bitcoin's hash rate has increased from 0.7 Exahash to 2.5 Exhash so far this year. – Lee Banfield
ALTCOINS
Bitcoin Dominance Index
Bitcoin Dominance Index rises to 88%, up from 76% in March – Lee Banfield
Bitcoin is Hard to Reproduce
The way btc managed to bootstrap itself from nothing to something, is almost a miracle, hard to reproduce. – btc_joe
Gold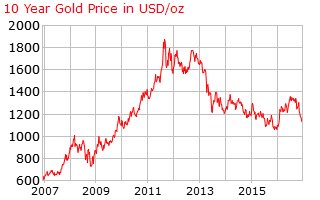 Over the lifetime of Bitcoin, Gold appreciated from $800/oz to just $1100/oz and is heading down. – Oleg Andreev
Many gold bugs *still* shun btc. Gold–>BTC flow hasn't even started yet. – Dan McArdle
A Look Back at December 2013
Today 3yrs ago, the top 10 coins looked like this.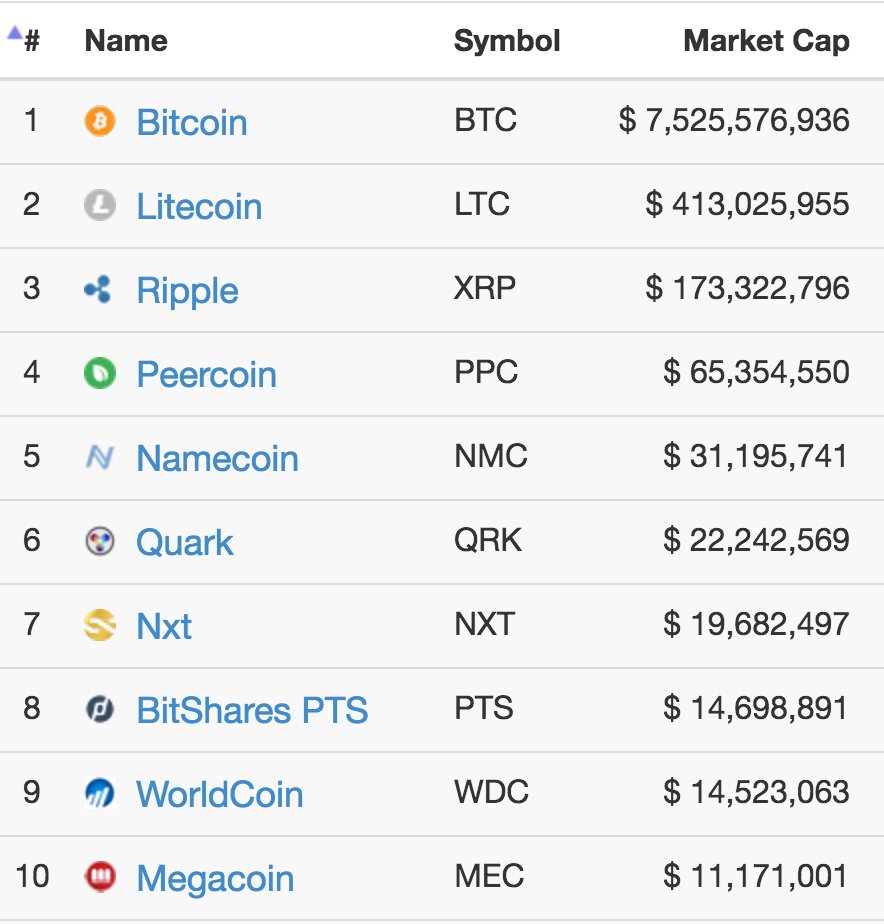 December 2015: Top 10 Coins
Notable newcomers: ETH, DASH.
PPC BTS and Stellar flushing down the loo.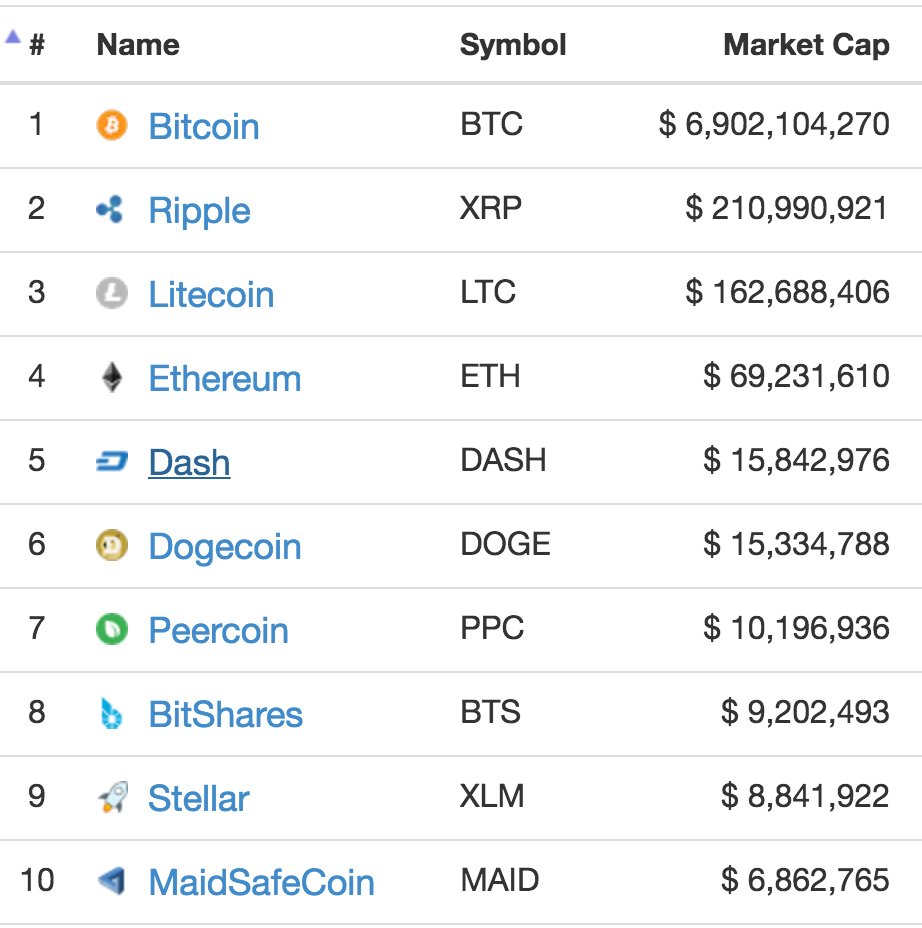 PRIVACY / SECURITY / INTERNET
Akamai State of the Internet Report
Global average connection speed increased 21% increase year over year.
Average internet speed doubled in Vietnam and Indonesia. Good news for digital nomads.
– Akamai
NIST Seeking Ways to Protect Encrypted Data From Quantum Attacks
Entanglement is the core interaction that weaves the universe itself together. If we ever control larger quantum interactions it will be like counting with an abacus vs. intel xeon. – cinnamon_carter
The National Institute of Standards and Technology (NIST) is officially asking the public for help heading off a looming threat to information security: quantum computers, which could potentially break the encryption codes used to protect privacy in digital systems.
"We're looking to replace three NIST cryptographic standards and guidelines that would be the most vulnerable to quantum computers," Moody said, referring to FIPS 186-4, NIST SP 800-56A and NIST SP 800-56B. "They deal with encryption, key establishment and digital signatures, all of which use forms of public key cryptography."
NIST is requesting methods and strategies from the world's cryptographers, with the deadline less than a year away. The evaluation phase will follow, which will take an estimated three to five years. – NIST
MARKETS
Marc Andreessen: If We Were a Hedge Fund We'd Put All Our Money Into Nvidia
Nvidia's dominance of the GPU sector–it has more than a 70% share–and its expansion into new markets have sent its stock soaring. Its shares are up almost 200% in the past 12 months
There are an estimated 3,000 AI startups worldwide, and many of them are building on Nvidia's platform. They're using Nvidia's GPUs to put AI into apps for trading stocks, shopping online and navigating drones.
"We've been investing in a lot of startups applying deep learning to many areas, and every single one effectively comes in building on Nvidia's platform," says Marc Andreessen of venture capital firm Andreessen Horowitz. "It's like when people were all building on Windows in the '90s or all building on the iPhone in the late 2000s.
"For fun," adds Andreessen, "our firm has an internal game of what public companies we'd invest in if we were a hedge fund. We'd put all our money into Nvidia." – Aaron Tilley
COMPANIES / PROJECTS / PRODUCTS
Huge Improvements as Google Translate Converts to AI Based System
The A.I. system made overnight improvements roughly equal to the total gains the old one had accrued over its entire lifetime.
The rollout includes translations between English and Spanish, French, Portuguese, German, Chinese, Japanese, Korean and Turkish. The rest of Translate's hundred-odd languages are to come, with the aim of eight per month.
The Google Translate team had been steadily adding new languages and features to the old system, but gains in quality over the last four years had slowed considerably.
Late one Friday night in early November, Jun Rekimoto, a distinguished professor of human-computer interaction at the University of Tokyo, was online preparing for a lecture when he began to notice some peculiar posts rolling in on social media.
Apparently Google Translate, the company's popular machine-translation service, had suddenly and almost immeasurably improved. Rekimoto visited Translate himself and began to experiment with it. He was astonished. He had to go to sleep, but Translate refused to relax its grip on his imagination.
Rekimoto promoted his discovery to his hundred thousand or so followers on Twitter, and over the next few hours thousands of people broadcast their own experiments with the machine-translation service.
As dawn broke over Tokyo, Google Translate was the No. 1 trend on Japanese Twitter, just above some cult anime series and the long-awaited new single from a girl-idol supergroup. Everybody wondered: How had Google Translate become so uncannily artful?
Google Translate's side-by-side experiment to compare the new system with the old one. 
Schuster wanted to run a for English-French, but Hughes advised him to try something else. "English-French," he said, "is so good that the improvement won't be obvious."
It was a challenge Schuster couldn't resist. The benchmark metric to evaluate machine translation is called a BLEU score, which compares a machine translation with an average of many reliable human translations.
At the time, the best BLEU scores for English-French were in the high 20s. An improvement of one point was considered very good; an improvement of two was considered outstanding.
The neural system, on the English-French language pair, showed an improvement over the old system of seven points. Hughes told Schuster's team they hadn't had even half as strong an improvement in their own system in the last four years.
To be sure this wasn't some fluke in the metric, they also turned to their pool of human contractors to do a side-by-side comparison. The user-perception scores, in which sample sentences were graded from zero to six, showed an average improvement of 0.4 — roughly equivalent to the aggregate gains of the old system over its entire lifetime of development.
In mid-March, Hughes sent his team an email. All projects on the old system were to be suspended immediately.
– Gideon Lewis-Kraus, The Great AI Awakening
Investment Opportunities in Space
Space has been an intractable area for venture investment for decades, but the paradigm shift towards a software-centric and simulation-powered approach to spacecraft development has created new developments in launch, earth observation, telecommunication and tourism.
The Space 2.0 race will be about developing low cost hardware for launch vehicles, small satellites, and permanent settlements on the moon and Mars.
The investment opportunities will be in transport services (off earth and inter-planetary), satellite data and its accompanying analytics, telecommunications, and suborbital and LEO tourism.
The value will mostly be held by companies that control the transport and information layers around space. – Steve Jurvetson
Expectations for the Private Space Sector
There is a startup revolution taking place in the satellite industry. Every month, and sometimes every week, a new company announces plans for a product.
Just 10 years ago, space was the exclusive province of governments and large contractors, explains Sunil Nagaraj.
Due to standardization such as the CubeSat format as well as cost reductions driven by the consumer electronics industry, satellites can now be built and launched for $200,000 to $400,000.
Zooming out, a space startup can now build and launch a constellation of SmallSats for about the same amount of capital that a tech startup can build and launch a mobile app — that's an absolutely amazing fact!
NanoRacks deploying Planet Dove satellites from the ISS
"There is a reason we use the moniker 'NewSpace,'" explains Nagaraj. "It denotes an approach to space that is faster, cheaper, and more risk-tolerant."
We are at the beginning of an exciting new phase of commercial space. The ecosystem is primed and ready for a massive amount of growth in applications for commercial space ranging from remote sensing, microgravity production of materials, communications, and more.
Richard Rocket, co-founder and CEO of NewSpace Global, a research firm covering the burgeoning space industry, expects the momentum to reach a fever pitch in a decade's time.
"When NSG started in 2011 we were tracking around 100 companies — a mix of publicly traded and privately held," he says. "Today we are tracking over 1,000 companies globally. We will get to 10,000 companies in the next 10 years.
Every single company that's in the satellite and launch market — regardless of size, whether or not they are public or privately held, if they are based in Seattle, Denver, or Nigeria, it doesn't make a difference — everything is going to be flipped upside down in the next 10 years."  – Caleb Henry
Qualcomm: VR Headsets will be the Size of Regular Glasses "Very Soon"
Qualcomm senior vice president Raj Talluri made the claim during a keynote at the company's 5G summit.
"If you look at my glasses, they [VR/AR headsets] won't look too different in a few years. They're not there right now, but we can already see that eventually they will be."
According to Talluri, the glasses will revolutionise the way people consume media such as sports.
Qualcomm CTO Matt Grob said that, even with more advanced standalone headsets, VR and AR won't become mass-market products until the launch of 5G.
"5G will let us stream high-quality 360-degree VR from anywhere. When you have the ability to offer a Gbps, low-latency, low-cost connection, you can take advantage of cloud processing. That's what's going to enable companies such as Magic Leap and many others to bring Hollywood-style graphics, in real-time, to large numbers of people," he said. – Alastair Stevenson
THE SINGULARITY
Computer/human interfaces may become so intimate that users may reasonably be considered superhumanly intelligent. – Vernor Vinge, 1993
Integrating Artificial Intelligence 
We can enhance our brains to multiply our intelligence and creativity.
We've been improving our memory capacity and our speed of computation for thousands of years already with the invention of things like writing, writing implements – just language itself which enables more than one person to work on the same problem and to coordinate their understanding of it with each other. That also allows an increase in speed compared with what an unaided human would be able to do.
Currently we use computers and in the future we can use computer implants and so on. In principle it's easy – it doesn't violate any law of physics.  – David Deutsch
With A 'Neural Lace' Brain Implant, We Can Stay As Smart As AI
Can we just inject electronic circuits through a needle into the brain, or other tissue, and then connect it, and then monitor? Yes, we can, and that's where we are today. – Charles Lieber
This summer at Code Conference 2016, Elon Musk stated publicly that given the current rate of A.I. advancement, humans could ultimately expect to be left behind—cognitively, intellectually—"by a lot."
His solution to this unappealing fate is a novel brain-computer interface similar to the implantable "neural lace" described by the Scottish novelist Iain M. Banks in Look to Windward, part of his "Culture series" books. Along with serving as a rite of passage, it upgrades the human brain to be more competitive against A.I.'s with human-level or higher intelligence.
Smarter artificial intelligence is certainly being developed, but how far along are we on producing a neural lace?
At the conference, Musk said he didn't know of any company that was working on one. But last year, a team of researchers led by Charles Lieber, the Mark Hyman Professor of Chemistry at Harvard University, described in Nature Nanotechnology a lace-like electronic mesh that "you could literally inject" into three-dimensional synthetic and biological structures like the brain. That was a major step.
His team's paper, published on August 29th in Nature Methods, expands on that earlier work, to show that mesh-brain implants readily integrate into a mouse brain and enable neuronal recordings for at least eight months. "
In science, I've been disappointed at times, and this is a case where we've been more than pleasantly surprised," Lieber says.
What does this development really mean for those of us who hope to acquire a neural lace? – Kiki Sanford
The Neural Lace Maker
At the outset no one, and a lot of reviewers of that first paper, believed we could even inject electronics through a needle and then not destroy the electronics. A lot of it was actually not related to anything biological. It was really about the materials science, and also showing that you could literally inject this into other kinds of structures.
Also, other implanted electronics in the brain always cause some type of immune response and damage, probably due to the combination of putting something really rigid into this soft tissue: Whenever you move around and your brain moves, it moves different than this thing. It can destroy cells; but also, because it's much bigger, it's apparently easier for the cells or the biological system to recognize it as something foreign and try to attack it.
But our philosophy, it seems, is going to be really rewarding because it solves the immune-response problem, and then allows us now to do measurements and modulate neural circuits.
It's turned out to work much, much better than we originally thought, and some of the reasons are outlined in our original paper a year ago, and then much more so in this paper: That this mesh-like structure, which can be injected because it has size, scale, and mechanical properties very similar to the neural network, or neural tissue, turns out to have no immune response, which is unheard of. – Charles Lieber
Syringe-Injectable Electronics
The first thing we did was to create the first three-dimensional transistor: Three dimensional in a sense that the nanoscale device was completely removed from the substrate, and could then be placed inside of a cell.
The idea was to get things away from the substrate and into three-dimensional free space so that they could be integrated throughout tissue. This showed that we could actually put a fundamental building block of the computer industry inside of, and communicate with, the cell for the first time.
The brain grows literally throughout the neural lace. When it's injected, this two-dimensional mesh ends up being like a cylinder that's still a mesh, and it gets filled with the tissue.
In some process, we don't understand all the details, there's obviously some regrowth, and some remodeling of the tissue refills this space where the needle initially moved all the tissue out of the way. Then you're left with something where it's interpenetrating between this roughly cylindrical structure of the mesh.
You could envision co-injecting this network, the mesh or lace, with stem cells and literally regrowing damaged tissue. Using some stimulation and stuff, you could help to rewire this in the way you want—somewhat science fiction, but also not totally crazy. It's certainly in the realm of what's physically possible.
Our interest is to do things for the benefit of humankind, and maybe I sound like an idealist. I think our goal is to do something, and I think it's possible to, number one, correct deficiencies. And I wouldn't mind adding a terabyte of memory. – Charles Lieber
Neuroprosthetics
In a medical first, brain implant allows paralyzed man to feel again
Brain implants that can command artificial limbs to work represent a revolutionary advance.
By creating a direct line of communication from the brain to the prosthetic device, neurally-controlled chips not only restore functionality, but also recreate the sensory experience of the lost limbs. – The Aspen Institute
Keeping up With AI by Putting a Computer in Your Brain
Kernel is a human intelligence company developing the world's first neuroprosthesis to mimic, repair and improve cognition.
Like many in Silicon Valley, technology entrepreneur Bryan Johnson sees a future in which intelligent machines can do things like drive cars on their own and anticipate our needs before we ask.
What's uncommon is how Johnson wants to respond: find a way to supercharge the human brain so that we can keep up with the machines.
From an unassuming office in Venice Beach, his science-fiction-meets-science start-up, Kernel, is building a tiny chip that can be implanted in the brain to help people suffering from neurological damage caused by strokes, Alzheimer's or concussions.
Top neuroscientists who are building the chip — they call it a neuroprosthetic — hope that in the longer term, it will be able to boost intelligence, memory and other cognitive tasks.
The medical device is years in the making, Johnson acknowledges, but he can afford the time. He sold his payments company, Braintree, to PayPal for $800 million in 2013.
Kernel is cognitive enhancement of the not-gimmicky variety. The concept is based on the work of Theodore Berger, a pioneering biomedical engineer who directs the Center for Neural Engineering at the University of Southern California, and is the start-up's chief science officer.
For over two decades, Berger has been working on building a neuroprosthetic to help people with dementia, strokes, concussions, brain injuries and Alzheimer's disease, which afflicts 1 in 9 adults over 65.
In separate studies funded by the Defense Advanced Research Projects Agency over the last several years, Berger's chips were shown to improve recall functions in both rats and monkeys.
A year ago, Berger felt he had reached a ceiling in his research. He wanted to begin testing his devices with humans and was thinking about commercial opportunities when he got a cold call from Johnson in October 2015. For Johnson, the meeting was a culmination of a longtime obsession with intelligence and the brain.
Ten months later, the team is starting to sketch out prototypes of the device and is conducting tests with epilepsy patients in hospitals. They hope to start a clinical trial, but first they have to figure out how to make the device portable. (Right now, patients who use it are hooked up to a computer.)
Johnson recognizes that the notion of people walking around with chips implanted in their heads to make them smarter seems far-fetched, to put it mildly. He says the goal is to build a product that is widely affordable. – Elizabeth Dwoskin
Ray Kurzweil's Prediction
In the early 2030s, we are going to send nanorobots into the brain (via capillaries) that will provide full immersion virtual reality from within the nervous system and will connect our neocortex to the cloud. Just like how we can wirelessly expand the power of our smartphones 10,000-fold in the cloud today, we'll be able to expand our neocortex in the cloud. – Ray Kurzweil
The brain tech to merge humans and AI is already being developed.
In a recent Abundance 360 webinar, I interviewed Bryan Johnson, the founder of a new company called Kernel which he seeded with $100 million.
To quote Bryan, "It's not about AI vs. humans. Rather, it's about creating HI, or 'Human Intelligence': the merger of humans and AI."
A few weeks ago, I asked Bryan about Ray's prediction about whether we'd be able to begin having our neocortex in the cloud by the 2030s.
His response, "Oh, I think it will happen before that."
Exciting times.
Follow me on Twitter @leebanfield1
Bitcoin: 1Jwh6nZiASJf4d3hNytjxqiimWBmEJvJ4S
Bitmessage: BM-2cXjeAykLT7gbjzNHZFnCxdawvyryyb4Nf