Tuesday 25th November 2014
The Business Plans of the Next 10,000 Startups Are Easy to Forecast: Take X and Add AI
A picture of our AI future is coming into view, and it is not the HAL 9000—a discrete machine animated by a charismatic (yet potentially homicidal) humanlike consciousness—or a Singularitan rapture of superintelligence. The AI on the horizon looks more like Amazon Web Services—cheap, reliable, industrial-grade digital smartness running behind everything, and almost invisible except when it blinks off.
This common utility will serve you as much IQ as you want but no more than you need. Like all utilities, AI will be supremely boring, even as it transforms the Internet, the global economy, and civilization. It will enliven inert objects, much as electricity did more than a century ago. Everything that we formerly electrified we will now cognitize.
This new utilitarian AI will also augment us individually as people (deepening our memory, speeding our recognition) and collectively as a species. There is almost nothing we can think of that cannot be made new, different, or interesting by infusing it with some extra IQ. In fact, the business plans of the next 10,000 startups are easy to forecast: Take X and add AI. This is a big deal, and now it's here. –Kevin Kelly
Wednesday 11th February 2015
Artificial Intelligence
Behind much of the proliferation of AI startups are large companies such as Google, Microsoft Corp., and Amazon, which have quietly built up AI capabilities over the past decade to handle enormous sets of data and make predictions, like which ad someone is more likely to click on. Starting in the mid-2000s, the companies resurrected AI techniques developed in the 1980s, paired them with powerful computers and started making money.
Their efforts have resulted in products like Apple's chirpy assistant Siri and Google's self-driving cars. It has also spurred deal-making, with Facebook acquiring voice-recognition AI startup Wit.ai last month and Google buying DeepMind Technologies Ltd. in January 2014.
For Google, "the biggest thing will be artificial intelligence," Chairman Eric Schmidt said last year in an interview with Bloomberg Television's Emily Chang.
The AI boom has also been stoked by universities, which have noticed the commercial success of AI at places like Google and taken advantage of falling hardware costs to do more research and collaborate with closely held companies.
Last November, the University of California at San Francisco began working with Palo Alto, California-based MetaMind on two projects: one to spot prostate cancer and the other to predict what may happen to a patient after reaching a hospital's intensive care unit so that staff can more quickly tailor their approach to the person – Jack Clark
Wednesday 9th September 2015
Is a Cambrian Explosion Coming for Robotics?
Many of the base hardware technologies on which robots depend—particularly computing, data storage, and communications—have been improving at exponential growth rates. Two newly blossoming technologies—"Cloud Robotics" and "Deep Learning"—could leverage these base technologies in a virtuous cycle of explosive growth.
In Cloud Robotics—a term coined by James Kuffner (2010)—every robot learns from the experiences of all robots, which leads to rapid growth of robot competence, particularly as the number of robots grows.
Deep Learning algorithms are a method for robots to learn and generalize their associations based on very large (and often cloud-based) "training sets" that typically include millions of examples. Interestingly, Li (2014) noted that one of the robotic capabilities recently enabled by these combined technologies is vision—the same capability that may have played a leading role in the Cambrian Explosion.
How soon might a Cambrian Explosion of robotics occur? It is hard to tell.
The very fast improvement of Deep Learning has been surprising, even to experts in the field. The recent availability of large amounts of training data and computing resources on the cloud has made this possible; the algorithms being used have existed for some time and the learning process has actually become simpler as performance has improved.
The timing of tipping points is hard to predict, and exactly when an explosion in robotics capabilities will occur is not clear. Commercial investment in autonomy and robotics—including and especially in autonomous cars—has significantly accelerated, with high-profile firms like Amazon, Apple, Google, and Uber, as well as.
Human beings communicate externally with one another relatively slowly, at rates on the order of 10 bits per second. Robots, and computers in general, can communicate at rates over one gigabit per second—or roughly 100 million times faster. Based on this tremendous difference in external communication speeds, a combination of wireless and Internet communication can be exploited to share what is learned by every robot with all robots.
Human beings take decades to learn enough to add meaningfully to the compendium of common knowledge. However, robots not only stand on the shoulders of each other's learning, but can start adding to the compendium of robot knowledge almost immediately after their creation.
The online repository of visually recorded objects and human activity is a tremendous resource that robots may soon exploit to improve their ability to understand and interact with the world, including interactions with human beings. Social media sites uploaded more than 1 trillion photos in 2013 and 2014 combined, and given the growth rate may upload another trillion in 2015.
The key problems in robot capability yet to be solved are those of generalizable knowledge representation and of cognition based on that representation. How can computer memories represent knowledge to be retrieved by memory-based methods so that similar but not identical situations will call up the appropriate memories and thoughts?
Significant cues are coming from the expanding understanding of the human brain, with the rate of understanding accelerating because of new brain imaging tools. Some machine learning algorithms, like the Deep Learning approached discussed earlier, are being applied in an attempt to discover generalizable representations automatically.
It is not clear how soon this problem will be solved. It may only be a few years until robots take off—or considerably longer. Robots are already making large strides in their abilities, but as the generalizable knowledge representation problem is addressed, the growth of robot capabilities will begin in earnest, and it will likely be explosive. The effects on economic output and human workers are certain to be profound. – Gill A. Pratt
Wednesday 17th February 2016
Viv's Competition: Today's Virtual Personal Assistants
Name: Siri
Company: Apple
Communication: Voice
The original personal assistant, launched on the iPhone in 2011 and incorporated into many Apple products. Siri can answer questions, send messages, place calls, make dinner reservations through OpenTable and more.
Name: Google Now
Company: Google
Communication: Voice and typing
Available through the Google app or Chrome browser, capabilities include answering questions, getting directions and creating reminders. It also proactively delivers information to users that it predicts they might want, such as traffic conditions during commutes.
Name: Cortana
Company: Microsoft
Communication: Voice
Built into Microsoft phones and Windows 10, Cortana will help you find things on your PC, manage your calendar and track packages. It also tells jokes.
Name: Alexa
Company: Amazon
Communication: Voice
Embedded inside Amazon's Echo, the cylindrical speaker device that went on general sale in June 2015 in the US. Call on Alexa to stream music, give cooking assistance and reorder Amazon items.
Name: M
Company: Facebook
Communication: Typing
Released in August 2015 as a pilot and integrated into Facebook Messenger, M supports sophisticated interactions but behind the scenes relies on both artificial intelligence and humans to fulfil requests, though the idea is that eventually it will know enough to operate on its own.
Sunday 13th March 2016
Investing in Robotics and AI Companies
Here are some AI (and robotics) related companies to think about.
I'm not saying you should buy them (now) or sell for that matter, but they are definitely worth considering at the right valuations.
Think about becoming an owner of AI and robotics companies while there is still time. I plan to buy some of the most obvious ones (including Google) in the ongoing market downturn (2016-2017).
Top 5 most obvious AI companies
Alphabet (Google)
Facebook (M, Deep Learning)
IBM (Watson, neuromorphic chips)
Apple (Siri)
MSFT (skype RT lang, emo)
Amazon (customer prediction; link to old article)
Yes, I'm US centric. So sue me 🙂
Other
SAP (BI)
Oracle (BI)
Sony
Samsung
Twitter
Baidu
Alibaba
NEC
Nidec
Nuance (HHMM, speech)
Marketo
Opower
Nippon Ceramic
Pacific Industrial
Private companies (*I think):
*Mobvoi
*Scaled Inference
*Kensho
*Expect Labs
*Vicarious
*Nara Logics
*Context Relevant
*MetaMind
*Rethink Robotics
*Sentient Technologies
*MobileEye
General AI areas to consider when searching for AI companies
Self-driving cars
Language processing
Search agents
Image processing
Robotics
Machine learning
Experts
Oil and mineral exploration
Pharmaceutical research
Materials research
Computer chips (neuromorphic, memristors)
Energy, power utilities
Saturday 18th June 2016
Tech Moguls Declare Era of Artificial Intelligence
Amazon CEO Jeff Bezos predicted a profound impact on society over the next 20 years.
"It's really early but I think we're on the edge of a golden era. It's going to be so exciting to see what happens," he said.
Amazon has been working on artificial intelligence for at least four years and now has 1,000 employees working on Alexa, the company's voice-based smart assistant software system, he said.
Big tech companies including Amazon have an edge at present because they have access to large amounts of data but hundreds of AI startups will hatch in the next few years, he said.
IBM CEO Ginni Rometty said the company has been working on artificial technology, which she calls a cognitive system, since 2005 when it started developing its Watson supercomputer.
"I would say in five years, there's no doubt in my mind that cognitive AI will impact every decision made" from healthcare to education to financial services, Rometty said. – Liana B. Baker
Thursday 18th August 2016
The AI Gold Rush
Companies are lining up to supply shovels to participants in the AI gold rush.
The name that comes up most frequently is NVIDIA (NASDAQ: NVDA), says Chris Dixon of Andreessen Horowitz; every AI startup seems to be using its GPU chips to train neural networks.
GPU capacity can also be rented in the cloud from Amazon (NASDAQ: AMZN) and Microsoft (NASDAQ: MSFT).
IBM (NYSE: IBM) and Google, meanwhile, are devising new chips specifically built to run AI software more quickly and efficiently.
And Google, Microsoft and IBM are making AI services such as speech recognition, sentence parsing and image analysis freely available online, allowing startups to combine such building blocks to form new AI products and services.
More than 300 companies from a range of industries have already built AI-powered apps using IBM's Watson platform, says Guru Banavar of IBM, doing everything from filtering job candidates to picking wines. – The Economist
Friday 30th September 2016
Amazon Alexa
Every once in a while, a product comes along that changes everyone's expectations of what's possible in user interfaces. The Mac. The World Wide Web. The iPhone.
Alexa belongs in that elite group of game changers.
Siri didn't make it over the hump, despite the buzz it created.
Neither did Google Now or Cortana, despite their amazing capabilities and their progress in adoption. (Mary Meeker reports that 20% of Google searches on mobile are now done by voice.)
But Alexa has done so many things right that everyone else has missed that it is, to my mind, the first winning product of the conversational era. Google should be studying Alexa's voice UI and emulating it.
Human-Computer Interaction takes big leaps every once in a while. The next generation of speech interfaces is one of those leaps.
Humans are increasingly going to be interacting with devices that are able to listen to us and talk back (and increasingly, they are going to be able to see us as well, and to personalize their behavior based on who they recognize).
And they are going to get better and better at processing a wide range of ways of expressing intention, rather than limiting us to a single defined action like a touch, click, or swipe.
Alexa gives us a taste of the future, in the way that Google did around the turn of the millennium. We were still early in both the big data era and the cloud era, and Google was seen as an outlier, a company with a specialized product that, while amazing, seemed outside the mainstream of the industry. Within a few years, it WAS the mainstream, having changed the rules of the game forever.
What Alexa has shown us that rather than trying to boil the ocean with AI and conversational interfaces, what we need to do is to apply human design intelligence, break down the conversation into smaller domains where you can deliver satisfying results, and within those domains, spend a lot of time thinking through the "fit and finish" so that interfaces are intuitive, interactions are complete, and that what most people try to do "just works." – Tim O'Reilly
Wednesday 19th October 2016
Google's DeepMind Achieves Speech-Generation Breakthrough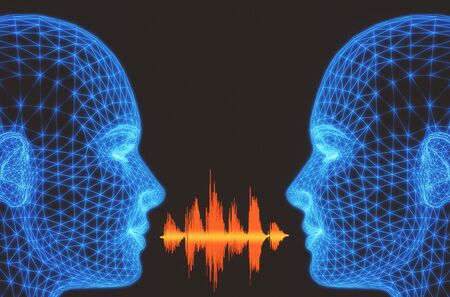 Google's DeepMind unit, which is working to develop super-intelligent computers, has created a system for machine-generated speech that it says outperforms existing technology by 50 percent.
U.K.-based DeepMind, which Google acquired for about 400 million pounds ($533 million) in 2014, developed an artificial intelligence called WaveNet that can mimic human speech by learning how to form the individual sound waves a human voice creates, it said in a blog post Friday.
In blind tests for U.S. English and Mandarin Chinese, human listeners found WaveNet-generated speech sounded more natural than that created with any of Google's existing text-to-speech programs, which are based on different technologies. WaveNet still underperformed recordings of actual human speech.
Tech companies are likely to pay close attention to DeepMind's breakthrough. Speech is becoming an increasingly important way humans interact with everything from mobile phones to cars. Amazon.com Inc., Apple Inc., Microsoft Inc. and Alphabet Inc.'s Google have all invested in personal digital assistants that primarily interact with users through speech.
Mark Bennett, the international director of Google Play, which sells Android apps, told an Android developer conference in London last week that 20 percent of mobile searches using Google are made by voice, not written text.
And while researchers have made great strides in getting computers to understand spoken language, their ability to talk back in ways that seem fully human has lagged. – Jeremy Kahn
Wednesday 30th November 2016
Building an AI Portfolio
The following stocks offer exposure to Artificial Intelligence. – Lee Banfield
——————————-
Stock Price: $776
Market Cap: $531 billion
Healthcare Images – Google Deepmind
Machine Learning – GoogleML
Autonomous Systems – Google Self-driving Car
Hardware – GoogleTPU
Open Source Library – TensorFlow
Stock Price: $162
Market Cap: $154 billion
Enterprise Intelligence – IBM Watson
Healthcare – IBM Watson Health
Stock Price: $752
Market Cap: $355 billion
Personal Assistant – Amazon Alexa
Open Source Library – DSSTNE
Stock Price: $60
Market Cap: $473 billion
Personal Assistant – Cortana
Open Source Libraries – CNTK, AzureML, DMTK
Stock Price: $94
Market Cap: $50 billion
Hardware
Stock Price: $1,250
Market Cap: $176 billion
Personal Assistant – Viv
Stock Price: $68
Market Cap: $100 billion
Hardware
Stock Price: $188
Market Cap: $29 billion
Autonomous Vehicles
Stock Price: $133
Market Cap: $20 billion
Healthcare, Cancer Detection – Grail
Stock Price: $37
Market Cap: $8 billion
Autonomous Vehicles