BITCOIN
1 Bitcoin = $2,548
New All-Time High Set at $3,012
Bitcoin climbed to an all-time high of $3,012 Sunday 11th June, reaching an all-time high marketcap of $49 billion.
1 Year Ago
This time last year bitcoin was $650. – flibbr
Bitcoin Average DAILY Value Change
2010: +0.82%
2011: +0.76%
2012: +0.26%
2013: +1.11%
2014: -0.25%
2015: +0.09%
2016: +0.22%
2017: +0.66%
Wishful thinking: if 7 year trend of +0.42% per day continues then 1 BTC will be valued at over $250,000 in 2020.
Missed the Bitcoin Boat?
Folks who feel they missed the bitcoin boat are going to get a lesson in how small of a number 21,000,000 is relative to global population. – Jameson Lopp
Bitcoin on Wall Street Journal Front Page
Mainstream media starting to cover bitcoin price next to gold & USD. – Joseph Young
Bitcoin Recognized Among Key Financial Indicators in Argentina
Argentina's leading financial newspaper now showing the Bitcoin price on their back cover along key financial indicators. – Wences Casares
MINING
Ethereum Adds to the Demand for GPUs: AMD and Nvidia
AI, autonomous vehicles, VR, AR, & blockchains will continue to challenge capacity. – Cathie Wood
AMD points to a "solid demand" for its new GPU product line from cryptocurrency miners.
AMD's flagship GPU models Radeon RX 580 and RX 570 are sold out at most major retailers including Amazon, Newegg and Best Buy.
Vendors who are selling the GPUs are doing so at inflated price tags. A more exhaustive investigation by Germany's Computer Base blaming cryptocurrency mining for the cause of the AMD GPU shortage can be found here.
A surge in GPU-based mining saw a similar shortage in late 2013 when Bitcoin and Litecoin miners drove demand. – Samburaj Das
Chip Makers
A combined $205 billion worth of chip makers not yet in Bitcoin: Intel, AMD, Samsung, Qualcomm, Broadcom, Micron, Texas Inst, Toshiba……
– Fred E
ALTCOINS
Holy shit it just happened. $100 billion for all cryptocurrencies! Historic! – Ryan X. Charles
$100 billion worth of Swiss bank accounts in individual pockets. Sci-fi just got less sci-fi. – Fred E
A $1 Trillion Crypto Ecosystem
I'm looking for anywhere over $200B by 2021 as a major success.
Over $1T is geopolitical.
Over $21T is new global financial system.
Crypto is Turning into a Big Multi-Asset Network
The entire industry is going through tremendous growth.
Six months ago, "Alt to Alt" was ~3% of ShapeShift's transactions. Today, for the first time ever, it's over 50%.
The implication? That digital tokens are an expanding asset class, and that all of crypto is turning into a big multi-asset network.
INTERNET
Asian Internet Speeds Continue to Surge
Asia-Pacific already boasts some of the fastest internet connectivity in the world and continues to improve as its economies digitize.
Vietnam's average speed of 9.5 Mbps, and Indonesia's 7.2 Mbps rank above the global average speed (7 Mbps) for the first ever.
– Akamai State of the Internet Report, Q1 2017
MARKETS
Venture-Capital Investors Are Pouring Money into Regenerative Medicine
The vast majority of people whether, investment professionals or not, greatly undervalue present efforts aimed at the production of rejuvenation biotechnology. 

The handful of people who do appreciate the possibilities still have a few years to establish positions and invest at a comparatively cheap price before this marketplace becomes a free for all.

– Reason
According to a report from Goldman Sachs, venture capital in companies pursuing regenerative medicine increased from $296 million in 2011 to $807 million in 2016, growing roughly 34% year-over-year.
"We see regenerative medicine as one of the most compelling areas for venture investment," the report said.
These types of treatments — if they work — could revolutionize how we age, helping humans live healthier, longer lives.
Goldman Sachs highlighted a few companies that received large sums in funding in the past few years, like Samumed, a $12 billion private biotech startup that wants to regenerate hair, skin, bones, and joints.
Unity Biotechnology, is working on treatments that act on senescent cells and raised $116 million to pull that off.
The report also highlighted BlueRock Therapeutics, a startup spun off from the pharmaceutical company Bayer that has $225 million in funding to treat diseases with induced pluripotent stem cells to regenerate heart muscle, as well as develop treatments for Parkinson's disease. – Lydia Ramsey
Tech Companies Take Top 5 Places in World's Most Valuable Companies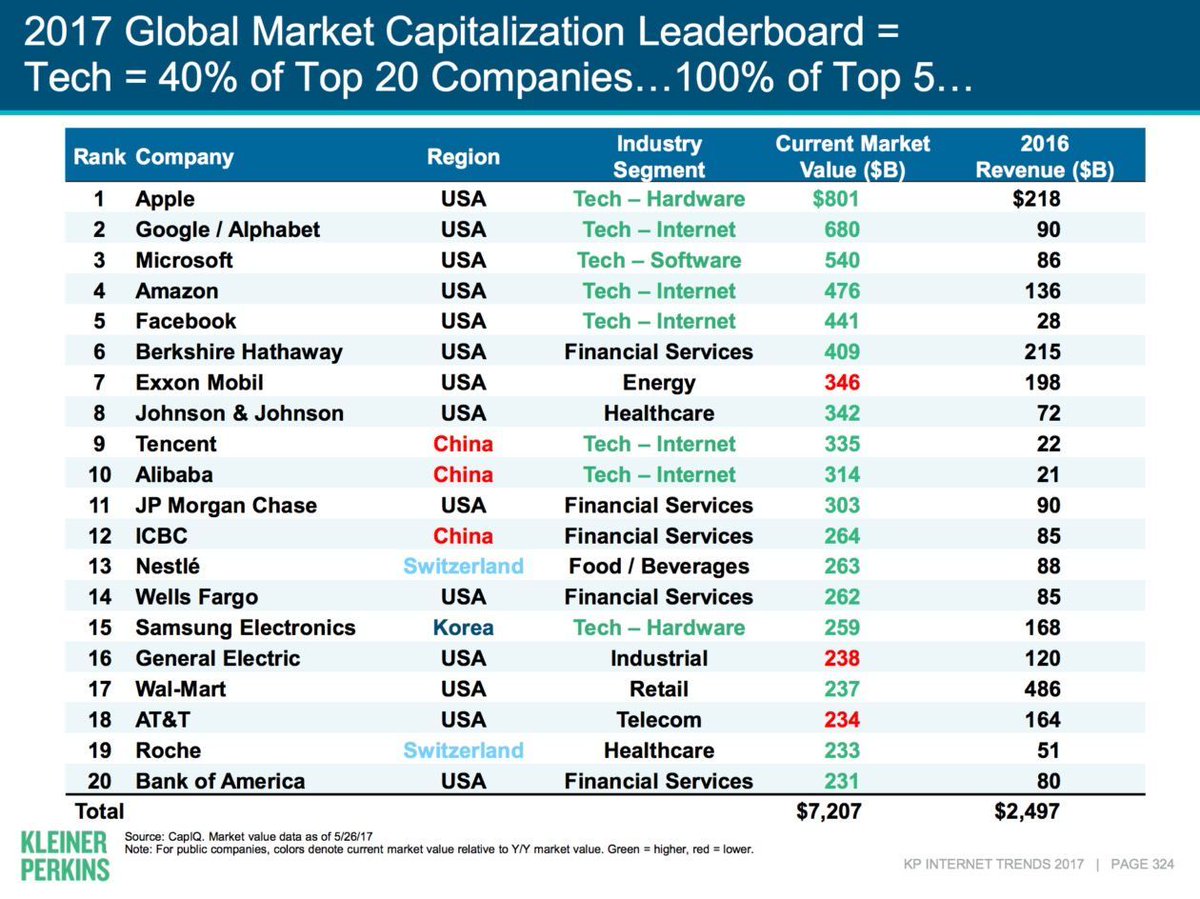 Only one conventional energy company left among the world's 20 most valuable companies. It's been quite a decade. – Gerald Butts
Interesting Secondary Market Valuation Data
Some up, others down: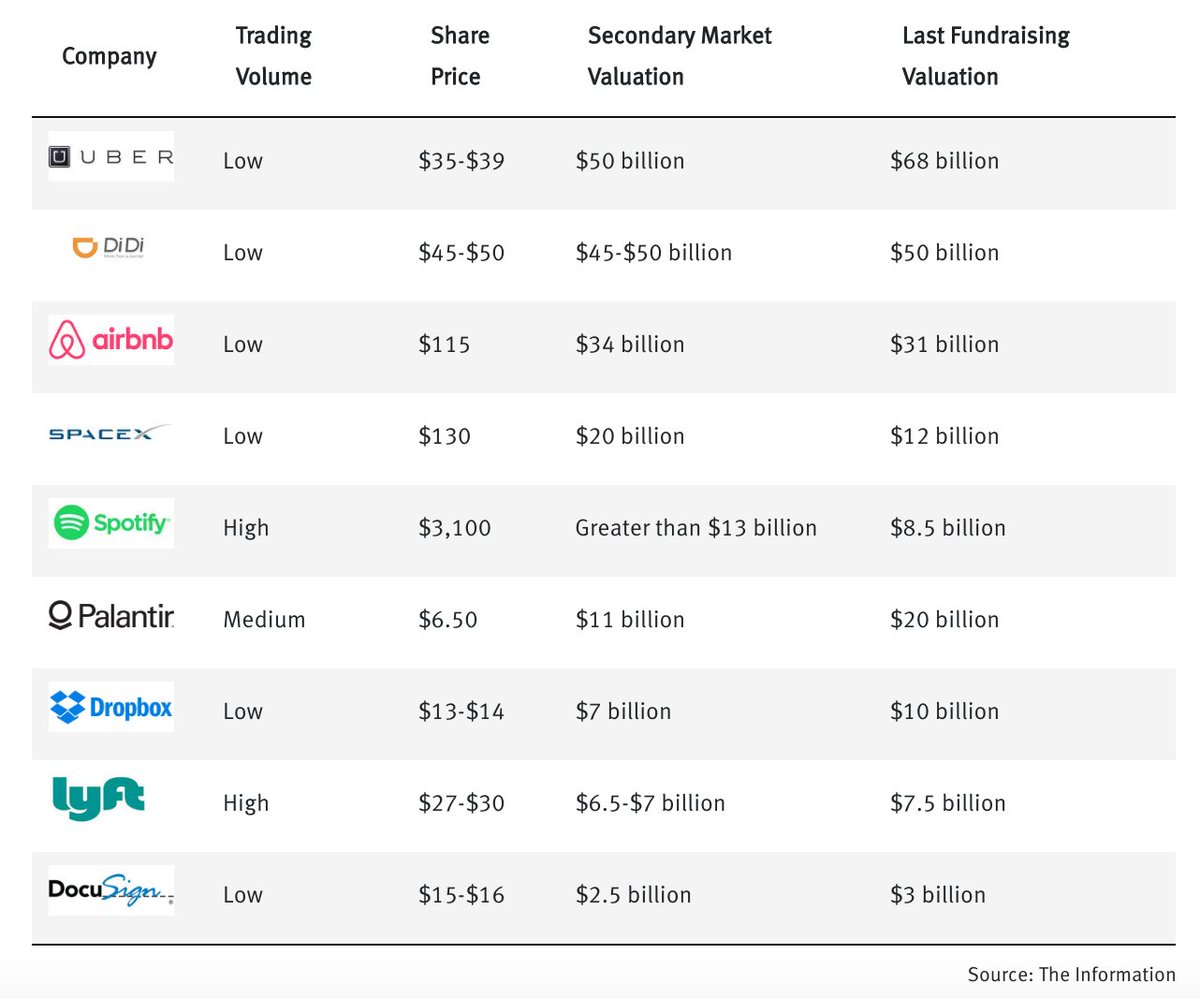 – Semil
COMPANIES / PROJECTS / PRODUCTS
SpaceX
It's starting to feel kinda normal to reuse rockets.
Good. That's how it is for cars & airplanes and how it should be for rockets. – Elon Musk
Excitement Builds for Tesla Model 3 Deliveries. Production Set to Start in July
The Tesla Model 3 starts at $35,000 and is the most sought after electric vehicle ever sold.
Tesla has started producing the battery cell for the upcoming Model 3 at its massive — and still-under-construction — Nevada Gigafactory, an important milestone as the company prepares to launch its electric vehicle made for the masses.
The Model 3 vehicle will be produced at Tesla's factory in Fremont, California, where work began months ago to set up the manufacturing lines. Tesla is supposed to begin production on the Model 3 next month.
Last year, nearly 400,000 people placed $1,000 refundable deposits to reserve a chance to order the new car. Tesla CEO Elon Musk has said the list of potential buyers continues to grow. – Kirsten Korosec
PLACES
Japan
Japanese budget airline Peach plans to set up Bitcoin ATMs at airports.
Perfect for getting rid of Yen at takeoff! – Leo Weese
Shanghai: 24-Hour Unmanned, Solar Powered, Self Driving, Self Replenishing Store Opens
In Shanghai, a prototype of a new 24-hour convenience store has no staff, no registers, and the whole thing is on wheels, designed to eventually drive itself to a warehouse to restock, or to a customer to make a delivery.
The startup behind it believes that it's the model for the grocery store of the future–and because it's both mobile and far cheaper to build and operate than a typical store
"The biggest costs to have a store are the place itself to rent in a central city–it's ultra-expensive–and then staff is really expensive, and we're removing both of these at the same time," says Tomas Mazetti, one of the founders.
Solar panels on top of the store are designed to power the vehicle's electric motor and all of the equipment and lighting inside.
"I want these to be bought by families or groups of people, so that it's not one person that owns every store in the world," says Mazetti.
"Instead of working at a warehouse for Amazon, you can own your own little store." – Adele Peters
THE SINGULARITY
Life Extension: The Next Twenty Years Will Bring Numerous Opportunities to Benefit
Five years from now, it will be possible to fly to an overseas clinic and undergo a treatment that will clear out between a quarter and half of the senescent cells in your body.
That will to some degree damp down fibrosis, restore tissue elasticity, reduce inflammation, reduce calcification of blood vessels, and in addition improve many other measures of health that are impacted by the normal progression of aging.
In short you will walk away a little rejuvenated, literally: one of the root causes of aging will be turned back for some years, perhaps decades, however long it takes for the removed senescent cells to emerge once again.
Given the present cost of senolytic drug candidates, varying from a few dozen to a few thousand dollars per dose depending on whether or not they are at present mass manufactured, I think that the likely initial cost of treatment five years from now will be somewhere in the $5,000 to $25,000 range.
Higher would seem unlikely, given that this is a competitive area of development already, and lower will probably have to wait for bigger players to enter the game in regulated markets. That cost will then fall as availability spreads. – Reason
Senolytics Are Just the Start
Five years to a decade after the first candidate therapy for breaking glucosepane cross-links in humans, that treatment will also be available to anyone with the necessary funds put aside. It will also turn back the clock, removing some portion of one of the root causes of aging.
Tissue elasticity will be restored, hypertension controlled as arteries become more flexible, and scores of other consequences of cross-linking reduced in their impact.
That first therapy could emerge in the laboratories this year or at any time thereafter; a number of groups are working on it.
There are a range of other rejuvenation treatments and compensatory therapies at similar points, on the verge in one way or another. Gene therapies to boost muscle generation, or dramatically reduce blood cholesterol. Approaches to clear harmful amyloids from old tissue.
The next twenty years will bring numerous opportunities to benefit for anyone willing organize their own treatments via medical tourism, and who happens to know enough about the field to pick out the metal from the dross.
The rest of this century will be a grand adventure. The course of a human life is no longer planned and plotted and set in stone as it was for your grandparents. Medical technology, the development of rejuvenation therapies, will break us from tradition and the limits that aging places on the human condition. We'll all be making it up as we go, exploring entirely new territory. – Reason
Follow me on Twitter @leebanfield1
Bitcoin: 1Jwh6nZiASJf4d3hNytjxqiimWBmEJvJ4S
Bitmessage: BM-2cXjeAykLT7gbjzNHZFnCxdawvyryyb4Nf