BITCOIN
1 Bitcoin = $2,490
Historic Moment: Bitcoin Surges Past $2,000 Milestone
New All-Time High Set at $3,012
Bitcoin climbed to an all-time high of $3,012 Sunday 11th June, reaching a record marketcap of $49 billion.
The Reboot of the Global Monetary System Proceeding as Planned
* All great human civilizations are built on honest money & free markets. – Pontus Lindblom
* This is how you bootstrap a free market currency from $0.00 aggregate value to $Trillions. – Mortuus Bestia
* The world is finally waking up to Bitcoin. It's the best performing currency of this century. – Michael Matthews
The Greatest Wealth Transfer in Human History
With the rise of Bitcoin and crypto, I believe we are witnessing the greatest wealth transfer ever seen in human history. – Leon Fu
Bitcoin on Wall Street Journal Front Page
Mainstream media starting to cover bitcoin price next to gold & USD. – Joseph Young
Bitcoin Recognized Among Key Financial Indicators in Argentina
Argentina's leading financial newspaper now showing the Bitcoin price on their back cover along key financial indicators. – Wences Casares
Return on Bitcoin Investments Made On:
1st July 2012: 357x
1st July 2013: 28x
1st July 2014: 4x
1st July 2015: 10x
1st July 2016: 4x
Investing in Bitcoin is Always a Smart Decision.
People often wonder if it is too late to invest in Bitcoin. Every year, the answer is no.
The Bitcoin price has not even begun to peak by any means. – JP Buntinx
Bitcoin Price Doubling Time = 163 days
Start date: 17/07/2010
Sart date price: $0.05
Today's price: $2,490
Doubling time in days: 163
Predicted price Dec 31, 2019: $119,977
– docs.google.com/spreadsheets
The Open Source Movement
Lesson to the "BitCorns" of this world
#1 never ever bet against the open source movement.
#2 if you ever have doubts go back to #1
Bitcoin Average DAILY Value Change
2010: +0.82%
2011: +0.76%
2012: +0.26%
2013: +1.11%
2014: -0.25%
2015: +0.09%
2016: +0.22%
2017: +0.66%
Wishful thinking: if 7 year trend of +0.42% per day continues then 1 BTC will be valued at over $250,000 in 2020.
Impossible for Every Millionaire to Own 1 Bitcoin
There are an estimated 15.7M millionaires just in the US.
Globally, it is simply impossible that every millionaire can own 1 whole bitcoin. – Ben Davenport
---
Folks who feel they missed the bitcoin boat are going to get a lesson in how small of a number 21,000,000 is relative to global population. – Jameson Lopp
---
21,000,000 Bitcoin
7,412,955,000 People
= 0.00283287 Bitcoin per Person
ALTCOINS
Holy shit it just happened. $100 billion for all cryptocurrencies! Historic! – Ryan X. Charles
$100 billion worth of Swiss bank accounts in individual pockets. Sci-fi just got less sci-fi. – Fred E
The New Frontier
Cryptocurrency is the new frontier. Hold a claim in the right location, and you have a chance at building a multi-generational estate. – Tuur Demeester
I predict tokens as an asset class will reach over $300 billion within 4 years. – Erik Voorhees
A $1 Trillion Crypto Ecosystem
I'm looking for anywhere over $200B by 2021 as a major success.
Over $1T is geopolitical.
Over $21T is new global financial system.
Bitcoin Share of Crypto Economy Below 50% for First Time in History
Bitcoin dominance has dropped below 50% of market share for the first time ever, a historic moment in cryptocurrency. – Tommy World Power
Hayek Would Love This: More Cryptocurrencies Than National Currencies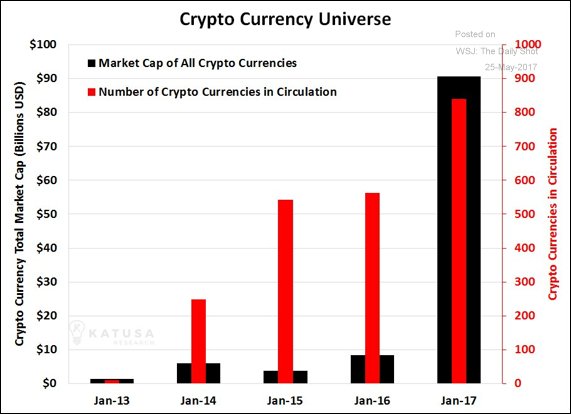 Crypto is Turning into a Big Multi-Asset Network
The entire industry is going through tremendous growth.
Six months ago, "Alt to Alt" was ~3% of ShapeShift's transactions. Today, for the first time ever, it's over 50%.
The implication? That digital tokens are an expanding asset class, and that all of crypto is turning into a big multi-asset network.
There Can Only Be One?
Ryan X. Charles: I've been betting on bitcoin's network effect for six years. Would love to be proved wrong. Can there be many moneys after all?
Dan McArdle: Sure, but their marketcaps will probably follow a supra-linear distro of some sort (due, obviously, to non-linear nature of network effects). Looking at a plot of mcaps when ecosys is >$250B or so will probably let us compute the function that describes Metcalfe's law for money. 🙂
PRIVACY / SECURITY / INTERNET
Global Internet Speeds Up Massively as New Undersea Cables Go Online
Asian Internet Speeds Continue to Surge
Asia-Pacific already boasts some of the fastest internet connectivity in the world and continues to improve as its economies digitize.
* South Korea 28.6 Mbps (World's Fastest)
* Thailand 16 Mbps
* Vietnam 9.5 Mbps
* Indonesia 7.2 Mbps
* Global average speed 7.2 Mbps
– Akamai State of the Internet Report, Q1 2017
Smartphone App Enables People to Depend on Each Other Instead of Police
Cell 411 puts responsibility back into your hands, away from monopolistic organizations.
Cell 411 allows you to create custom cells or groups of your friends, neighbors or family members and alert them whenever you need help; they will receive your exact location with turn-by-turn directions to come and assist you.
Whether you have a flat tire, you find yourself in danger or need medical assistance, you can leverage the power of large groups of trusted people to call for help and receive it.
We even support public groups that allow entire cities, companies or neighborhoods to join and collaborate on solving emergencies in real time.
You have the freedom to ask anyone for help, anywhere you go. With thousands of cells all over the world, communities, families and neighborhood watch groups have been using Cell 411 to keep criminals out, inform each other of emergencies and respond to each other's needs.
Real-Time Response Management
Cell 411 can alert your friends, neighbors, and even emergency service providers when you are in danger, experiencing medical distress, or just need assistance.
Decentralized Organization
Join, organize, and manage Cells of users all on your own, allowing you full control over what services and groups you want to have contact with.
Fully Customized Alerts
You can alert your friends when you need help or receive alerts when they need help, with directions to where you should go. Only people you specifically issue alerts to can see them.
Built By and For Activists
Police brutality, illegal searches and other government abuses can be broadcast out to your local cell with turn-by-turn directions to your location.
MARKETS
It's probably smart to be an owner of Artificial Intelligence.
At this stage, the easiest way to become an owner is to buy shares on the stock market of the companies most prominently involved and likely to succeed.
Nvidia are a very exciting company with massive demand for their products.
The shares are worth picking up because if they do hold on to their position as the best chips to use for AI over the next few years their sales and opportunities to expand into other interesting areas are going to be staggering.
If We Were a Hedge Fund We'd Put All Our Money Into Nvidia

– Marc Andreessen
OTHER INVESTMENT IDEAS THAT MAKE SENSE IN AN AI WORLD
Short WTI Crude Oil (Currently $53 per barrel)
Short the Bloomberg Commodity Index (Currently at 88)
– Exploring Opportunities in Artificial Intelligence – Lee Banfield, February 19th 2017
Tesla Surpasses GM To Become America's Most Valuable Car Company
For the first time in the era of the modern automobile, the most valuable U.S. car maker is not based in Detroit.
Silicon Valley's Tesla Inc (TSLA.O) overtook General Motors (GM.N) to become the U.S. car maker with the largest market capitalization as the century-old automobile industry increases its reliance on software and cutting-edge energy technology.
Its market value of $59.3 billion exceeds GM's $52.7 billion.
Tesla's shares trade at $362, up 70% so far this year, as investors bet that Musk will revolutionize the automobile and energy industries. Its market capitalization remains smaller than Japan's Toyota Motor Corp (7203.T), at $173 billion.
Tesla's rich valuation has made it a target of short sellers, who so far in 2017 have suffered over billions in paper losses as the stock rallied. – Noel Randewich
Venture-Capital Investors Are Pouring Money into Regenerative Medicine
According to a report from Goldman Sachs, venture capital in companies pursuing regenerative medicine increased from $296 million in 2011 to $807 million in 2016, growing roughly 34% year-over-year.
"We see regenerative medicine as one of the most compelling areas for venture investment," the report said.
These types of treatments — if they work — could revolutionize how we age, helping humans live healthier, longer lives.
Goldman Sachs highlighted a few companies that received large sums in funding in the past few years, like Samumed, a $12 billion private biotech startup that wants to regenerate hair, skin, bones, and joints.
Unity Biotechnology, is working on treatments that act on senescent cells and raised $116 million to pull that off.
The report also highlighted BlueRock Therapeutics, a startup spun off from the pharmaceutical company Bayer that has $225 million in funding to treat diseases with induced pluripotent stem cells to regenerate heart muscle, as well as develop treatments for Parkinson's disease. – Lydia Ramsey
Mainstream Interest in Rejuvenation Biotechnology Growing
We believe that over the coming decade the life science sector will be leading one of the most meaningful periods of scientific discovery and advancement.

The biggest successes in the sector will ultimately dwarf the likes of Apple, Exxon and BHP that are the current colossi of the stock market.

– Jim Mellon
Renowned UK investor and entrepreneur Jim Mellon gave a keynote talk at Master Investor Show 2017 focusing on longevity as the next 'money fountain'.
Some names mentioned were Oisin Biotechnologies, SENS, and the Methuselah Foundation.
It is good to hear the voice of an influential group that has performed enough due diligence to appreciate the useful end of the longevity science community, and understand its potential.
Investment in the development of rejuvenation therapies represents an enormous opportunity for profit; these are products for which every adult human being much over the age of 30 is a potential customer at some price point.
That is larger than near every existing industry, either within or outside the field of medicine, even given that customers will only purchase such a therapy once every few years, for clearance of metabolic waste, or even just once, for treatments like the SENS approach of allotopic expression of mitochondrial genes.
The vast majority of people whether, investment professionals or not, greatly undervalue present efforts aimed at the production of rejuvenation biotechnology.
They do not have the interest and insight to distinguish between the nonsense of the "anti-aging" marketplace of past years, marginal calorie restriction mimetic drugs, and approaches that target and repair the causes of aging.
Only the last of those is capable in principle of producing large and reliable gains in human healthy lifespan, turning back the consequences of aging.
The handful of people who do appreciate the possibilities still have a few years to establish positions and invest at a comparatively cheap price before this marketplace becomes a free for all.
It is definitely in our favor for that free for all to happen sooner rather than later, since it will bring a great deal more money to bear on the problem of human aging – a field that is still the poor relation in the medical sciences, looked down upon and given little funding.
I suspect it will require senescent cell clearance to reach clinics and be used in hundreds of humans with reliable and public results for that to happen, however.
– Reason, Investment Strategist Jim Mellon Considers the Near Future of Longevity Science
COMPANIES / PROJECTS / PRODUCTS
SpaceX Makes History with Reused Rocket Launch
Incredibly proud of the SpaceX team for achieving this milestone in space! Next goal is reflight within 24 hours.
The launch was not only a historic first, but the culmination of 15 years of work and $1 billion of investment in rocket reusability in an effort to get rockets, today largely disposable, to work more like planes by flying 10 and eventually 100 times apiece.
"Reusable rockets are real!" tweeted Bobby Braun, a former NASA official who is now dean of the engineering school at the University of Colorado, Boulder. He compared the rocket to the first successful commercial airliner, the Boeing 707, which ushered in the jet age.
"At this point I'm highly confident that it's possible to achieve at least 100-fold reduction in the cost of space access," Musk said after the demonstration.
Reusability has been at the center of SpaceX's work ever since Musk set out to reduce the cost of space travel. "Rapid and complete reusability of rockets is really the key to opening up space and becoming a space-faring civilization."
And he means rapid: SpaceX's new goal is to begin reusing rockets within 24 hours of landing, with just an inspection and a re-fuel. – Tim Fernholz
More Reflights This Year, Aspirations of Zero Hardware Changes and 24hr Reflight.
Several reflights scheduled. Might fly as many as 6 reflights this year. Maybe 12 reflights next year.
Design intent is that rocket can be reflown with ZERO hybrid changes 10 times. Then with moderate refurb, 100 times.
We can make it 1,000, but there's no point in that. ITS will be 1,000 reflights.
Mars Looms in the Background of SpaceX Breakthrough
Tentative schedule, if everything goes perfectly to plan:
October 2020: Send a Dragon spacecraft (the Falcon 9's SUV-size spacecraft) to Mars with cargo
December 2022: Send multiple Dragons with more cargo
January 2025: Maiden Interplanetary Transport System voyage to Mars. Carrying only cargo.
February 2027: First people-carrying ITS voyage to Mars.
Although the world's first reflight for a flight-proven rocket is now behind it, SpaceX's work is far from over.
"The goal of SpaceX is to provide transportation to allow people to move to other planets," said company president Gwynne Shotwell before the attempt. "We're not one-way-trip to Mars people. We want people to be able to come back."
"From that perspective," she said, "you need to have a reusable system," similar to modern-day commercial aircraft.
Employees at SpaceX headquarters in Hawthorne, California are reminded of Mars daily, with wall-sized photos reminding them of the company's mission: Get there.
Kate Tice, a certification engineer at SpaceX, explained during the webcast that reusability is fundamental to establishing not just outposts, but "sustaining cities on other planets" like Mars.
Reusing a rocket is just the first step towards that goal — but it's a big one. "This will be written up," said Shotwell. "This is a historic event." – Neel V. Patel
YouTube Auto-Generates Subtitles for 1 Billion+ Videos at Near Human Error Rate
AI brings 50% gain in accuracy
Key to the success of this endeavor was improving our speech recognition, machine learning algorithms, and expanding our training data.
All together, those technological efforts have resulted in a 50 percent leap in accuracy for automatic captions in English, which is getting us closer and closer to human transcription error rates. – Youtube
Self-Driving Cars Roadmap
October 2015: 96% Autonomous 

LA to New York Trip Achieved 
A Tesla Model S crossed the country in record time for an electric vehicle—and drove itself nearly the entire way (from the Portofino Hotel in Redondo Beach California to East 31st Street in Manhattan).
Autopilot mode was engaged 96 percent of the time, used at speeds around 90 mph. – Wired, October 2015
November/December 2017: 100% Autonomous LA to New York Trip
Elon Musk: I think we're still on track for being able to go cross-country from LA to New York by the end of the year, fully autonomous.
Chris Anderson: OK, so by the end of the year, you're saying, someone's going to sit in a Tesla without touching the steering wheel, tap in "New York," off it goes.
Elon Musk: Yeah.
Chris Anderson: Won't ever have to touch the wheel — by the end of 2017.
Elon Musk: Yeah. Essentially, November or December of this year, we should be able to go all the way from a parking lot in California to a parking lot in New York, no controls touched at any point during the entire journey.
The thing that will be interesting is that I'm actually fairly confident it will be able to do that routeeven if you change the route dynamically. So, it's fairly easy — If you say I'm going to be really good at one specific route, that's one thing, but it should be able to go, certainly once you enter a highway, to go anywhere on the highway system in a given country.
So it's not limited to LA to New York. We could change it and make it Seattle-Florida, that day, in real time. So you were going from LA to New York. Now go from LA to Toronto.
100% Autonomy in All Tesla Cars (2019)
Chris Anderson: So leaving aside regulation for a second, in terms of the technology alone, the time when someone will be able to buy one of your cars and literally just take the hands off the wheel and go to sleep and wake up and find that they've arrived, how far away is that, to do that safely?
Elon Musk: I think that's about two years.
Tesla's Uber-like Self-Driving Network (2020s)
Chris Anderson: Once you get literally safe hands-off driving, the power to disrupt the whole industry seems massive, because at that point you've spoken of people being able to buy a car, drops you off at work, and then you let it go and provide a sort of Uber-like service to other people, earn you money,maybe even cover the cost of your lease of that car, so you can kind of get a car for free. Is that really likely?
Elon Musk: Yeah. Absolutely this is what will happen. So there will be a shared autonomy fleet where you buy your car and you can choose to use that car exclusively, you could choose to have it be used only by friends and family, only by other drivers who are rated five star, you can choose to share it sometimes but not other times.
That's 100 percent what will occur. It's just a question of when.
– Ted.com
Transportation 2020 – 2030
Naval Ravikant: Shared, self driving electric cars have 10x utilization and fraction maintenance of individually owned cars & drive latter off the streets.
Robby Greer: If transportation costs nearly $0, it will be consumed orders of magnitude more than driving for leisure/identity
————————
You will also be able to add your car to the Tesla shared fleet just by tapping a button on the Tesla phone app and have it generate income for you while you're at work or on vacation, significantly offsetting and at times potentially exceeding the monthly loan or lease cost.
This dramatically lowers the true cost of ownership to the point where almost anyone could own a Tesla.
Since most cars are only in use by their owner for 5% to 10% of the day, the fundamental economic utility of a true self-driving car is likely to be several times that of a car which is not.
In cities where demand exceeds the supply of customer-owned cars, Tesla will operate its own fleet, ensuring you can always hail a ride from us no matter where you are.
It would be something that would be a significant offset on the cost of ownership for a car, and a revenue generator for Tesla as well.
Obviously, the majority of the economics would go to the owner of the car. Sometimes this has been characterized as Tesla versus Uber or Lyft or something like that. It's not Tesla versus Uber, it's the people versus Uber. – Elon Musk
We are on the cusp of one of the fastest, deepest, most consequential disruptions of transportation in history.
By 2030, within 10 years of regulatory approval of autonomous vehicles (AVs), 95% of U.S. passenger miles traveled will be served by on-demand autonomous electric vehicles.
The disruption will have enormous implications across the transportation and oil industries, decimating entire portions of their value chains, causing oil demand and prices to plummet, and creating trillions of dollars in new business opportunities, consumer surplus and GDP growth.
The disruption will be driven by economics. The average American family will save more than $5,600 per year in transportation costs, equivalent to a wage raise of 10%. This will keep an additional $1 trillion per year in Americans' pockets by 2030.
A virtuous cycle of decreasing costs and increasing quality of service and convenience, will in turn drive further adoption along an exponential S-curve. – RethinkX Report, Rethinking Transportation 2020-2030
PLACES
The Philippines
Coins.ph became the Number 1 finance app (Android and iOS) in the Philippines this weekend!
All the other top spots belong to large banks, Telecom-subsidized payment apps, or large public companies (PayPal). #momentum – goltra
THE SINGULARITY
"In any field, find the strangest thing and then explore it"
Google To Prove It Has A Quantum Computer In A Few Months
The search giant plans to reach a milestone in computing history before the year is out.
Soon we will perform computations which current computers cannot replicate. We are particularly interested in applying quantum computing to artificial intelligence and machine learning.

A small quantum computer could perform more computations simultaneously than could be performed by the entire visible universe if it was all made into classical computers. In fact when I say "more" that's an understatement. It's exponentially more.
Google's quantum chip ready for testing
John Martinis has given himself just a few months to reach a milestone in the history of computing.
By the end of this year, Martinis says, his team will build a device that achieves "quantum supremacy," meaning it can perform a particular calculation that's beyond the reach of any conventional computer.
Proof will come from a kind of drag race between Google's chip and one of the world's largest supercomputers.
"We think we're ready to do this experiment. It's something we can do now," says Martinis.
49 qubits needed for quantum supremacy
Researchers have so far demonstrated quantum computing with only small groups of qubits. Google has released results from a chip that has nine qubits arranged in a line, but Martinis says he'll need a grid of 49 qubits for his quantum supremacy experiment.
Google's latest chip has only six qubits, but they are arranged in a two-by-three configuration that Martinis says shows the company's technology still works when qubits are nestled side by side, as they will be in larger devices.
"Now we're ready to kind of move fast." Designs for devices with 30 to 50 qubits are already in progress, he says.
Martinis says that the experiment could become a benchmark for anyone claiming to have a working quantum computer.
He also says the target has helped managers at Google, and the company's cofounder Sergey Brin, appreciate that the technology is becoming real.
"They all get it and are very excited about it," says Martinis.- Tom Simonite
Optimism Surrounds Google's Quest to Achieve Quantum Supremacy
Google plans to build a 49-qubit device: basically, a 7×7 square array of superconducting qubits with controllable nearest-neighbor couplings.
To a layperson, 49 qubits might sound unimpressive compared to D-Wave's 2000 qubits— but the point is that these qubits will hopefully maintain coherence times thousands of times longer than the D-Wave qubits, and will also support arbitrary quantum computations (rather than only annealing).
Obviously I don't know whether Google will succeed in its announced plan, but if it does, I'm very optimistic about a convincing quantum supremacy demonstration being possible with this sort of device.
What justifies my optimism?
If you simply put a random quantum circuit on 49 qubits, of a large enough depth, then the best classical algorithm anyone knows to sample the output distribution of that circuit will need at least about 249 or 563 trillion arithmetic operations, and a similar amount of memory.
So you could get all three of the following things, in a single experiment:
(1) An observed "quantum speedup," in raw wall-clock time, by a factor of billions.
(2) A theoretical argument that, if you generalized to n qubits, the quantum complexity would scale like poly(n) while the classical complexity would scale like exp(n).
(3) A causal connection between (1) and (2).
And getting all three of those things in one experiment is basically what I mean by "achieving quantum supremacy."
I think such an achievement will be a sufficiently historic milestone for our field, and for science more broadly.
The Quantum Theory of Computation
Going from a PC to a quantum computer is much more radical than going from an abacus to a PC.
Quantum computation is a distinctively new way of harnessing nature. It will be the first technology that allows useful tasks to be performed in collaboration between parallel universes.
"I occasionally go down and look at the experiments being done in the basement of Clarendon Lab, and it's incredible." remarked David Deutsch, of the University of Oxford.
"Last year I saw their ion-trap experiment, where they were experimenting on a single calcium atom," he says. "The idea of not just accessing but manipulating it, in incredibly subtle ways, is something I totally assumed would never happen. Now they do it routinely."
Such trapped ions are candidates for the innards of eventual powerful quantum computers. These will be the crowning glory of the quantum theory of computation, a field founded on a 1985 paper by Dr Deutsch.
He thinks the widely predicted "quantum supremacy" that eventually puts a quantum computation incontrovertibly ahead of a classical one will be momentous for scientists and laymen alike.
To describe such a device properly is to account not only for the states of each of its constituent bits but also for all the couplings between them, for each is entangled with every other.
A good-sized one would maintain and manipulate a number of these states that is greater than the number of atoms in the known universe. For that reason, Dr Deutsch has long maintained that a quantum computer would serve as proof positive of universes beyond the known: the "many-worlds interpretation".
This controversial hypothesis suggests that every time an event can have multiple quantum outcomes, all of them occur, each "made real" in its own, separate world. – The Economist
Life Extension: Predicting the Order of Arrival of the First Rejuvenation Therapies
The first rejuvenation therapies to work well enough to merit the name will be based on the SENS vision: that aging is at root caused by a few classes of accumulated cell and tissue damage, and biotechnologies that either repair that damage or render it irrelevant will as a result produce rejuvenation.
Until very recently, no medical technology could achieve this goal, and few research groups were even aiming for that outcome.
We are in the midst of a grand transition, however, in which the research and development community is finally turning its attention to the causes of aging, understanding that this is the only way to effectively treat and cure age-related disease.
The therapies of the future will be very different from the therapies of the past. The full rejuvenation toolkit of the next few decades will consist of a range of different treatments, each targeting a different type of molecular damage in cells and tissues.
Below is the likely order of arrival of some of these therapies, based on what is presently going on in research, funding, and for-profit development.
This is an update to a similar post written four years ago, now become somewhat dated given recent advances in the field. Circumstances change, and considerable progress has been made in some lines of research and development.
———————————————–
1/9) Clearance of Senescent Cells
The most likely therapy to arrive first.
2/9) Immune System Destruction and Restoration
There are a number of approaches very close to practical realization
3/9) Clearance of the First Few Types of Amyloid
These types of rejuvenation therapy already exist in the sense of prototypes and trial treatments. Likely to soon be available via medical tourism.
4/9) Clearance of Glucosepane Cross-Links
Four years ago, the situation for glucosepane clearance looked pretty bleak. Now the road is open to anyone who wants to try their hand at drug discovery. That is now underway in the Spiegel Lab, among others, and I'd hope to see the first potential drug candidates emerge at some point in the next couple of years.
5/9) Thymic Rejuvenation to Increase the Supply of Immune Cells
This is one of a number of regenerative approaches that is on the verge, just waiting for someone to start a company or join the final two dots together and get moving.
6/9) Mitochondrial Repair
Halfway there is probably a target reached by 2020 or so at the present pace.
7/9) A Robust Cure for Cancer
We've all been educated to think of cancer as the greatest challenge for medical science, the problem to be solved last of all.
Nonetheless, a more rapid arrival of a generally applicable cure for cancer looks to be the likely course of events, as the basis for a treatment that can in principle put a halt to all cancer at all stages of development is currently in the earliest stages of development.
8/9) Reversing Stem Cell Aging
This seems at the present time like a long-term prospect, despite the high levels of funding for this line of medical research and development.
9/9) Clearance of Other Amyloids, Aggregates, and Sundry Lysosomal Garbage
There is a huge amount of work to accomplish because there are many targets to address, and with few exceptions, such as amyloid-β, it is unclear which of the targets are the most important.
They will all have to be addressed, in some order, but there are only so many researchers and only so much funding.
– Reason, Predicting the Order of Arrival of the First Rejuvenation Therapies
Life Extension: Removing Senescent Cells Beneficial in Yet Another Experiment
Groundbreaking publication in the scientific journal "Cell" shows how a modified FOXO4 peptide has reversed many aspects of aging in old mice.
The result is important, and the "DRI" technology used to do it is potentially even more important because it is so broadly applicable.

We've known for a while that the elimination of senescent cells is a major plank of rejuvenation, and this is a further confirmation, with the advantage that it is underpinned by good scientific understanding of the mechanism.
A drug that can reverse aspects of aging has been successfully trialled in animals, say scientists. They have rejuvenated old mice to restore their stamina, coat of fur and even some organ function.
The team at Erasmus University Medical Center, in the Netherlands, are planning human trials for what they hope is a treatment for old age.
The approach works by flushing out retired or "senescent" cells in the body that have stopped dividing. They accumulate naturally with age and have a role in wound healing and stopping tumours.
But while they appear to just sit there, senescent cells release chemicals that cause inflammation and have been implicated in ageing.
The group of scientists created a drug that selectively killed senescent cells by disrupting the chemical balance within them. The findings, published in the journal Cell, showed liver function was easily restored and the animals doubled the distance they would run in a wheel.
Dr de Keizer said: "We weren't planning to look at their hair, but it was too obvious to miss." – James Gallagher
Senescent Cell Clearance Set to Enter Human Clinical Trials with Unity Biotechnology
The most promising near-term prospects for a leap in human life expectancy come from drugs that eliminate senescent cells.
Researchers in a new study have used local clearance of senescent cells to reduce the development of post-traumatic osteoarthritis and encourage tissue regeneration.
The research team validated these results in transgenic, non-transgenic and aged mice. They saw similar positive results in all three meaning that there is a very high chance this will directly translate to humans.
The delivery of a senolytic agent (a compound that can induce apoptosis in senescent cells) caused the problem cells to be destroyed. The researchers used a compound called UBX0101, a senolytic drug created by Unity Biotechnology.
This research supports the use of senescent cells as a therapeutic target for treating degenerative joint disease. This is yet another example of the validity of clearing senescent cells to treat age-related diseases.
In the last year or so the interest in senescent cell clearing senolytic therapies has exploded, and will almost certainly make this the first of the true rejuvenation therapies in the SENS repair approach to aging.
We have now reached the tipping point where the theories proposed long ago by Aubrey de Grey are now producing tangible results that are impossible to refute. Indeed senescent cell clearance is set to enter human clinical trials this year with Unity Biotechnology.
The tide has truly turned and whilst there is much work to be done at last the results are starting to arrive as is the validation that we can do something about the aging processes for healthier, independent and disease free lives. – Steve Hill
Life Extension: The Next 20 Years Will Bring Numerous Opportunities to Benefit
Five years from now, it will be possible to fly to an overseas clinic and undergo a treatment that will clear out between a quarter and half of the senescent cells in your body.
That will to some degree damp down fibrosis, restore tissue elasticity, reduce inflammation, reduce calcification of blood vessels, and in addition improve many other measures of health that are impacted by the normal progression of aging.
In short you will walk away a little rejuvenated, literally: one of the root causes of aging will be turned back for some years, perhaps decades, however long it takes for the removed senescent cells to emerge once again.
Given the present cost of senolytic drug candidates, varying from a few dozen to a few thousand dollars per dose depending on whether or not they are at present mass manufactured, I think that the likely initial cost of treatment five years from now will be somewhere in the $5,000 to $25,000 range.
Higher would seem unlikely, given that this is a competitive area of development already, and lower will probably have to wait for bigger players to enter the game in regulated markets. That cost will then fall as availability spreads. – Reason
Senolytics Are Just the Start
Five years to a decade after the first candidate therapy for breaking glucosepane cross-links in humans, that treatment will also be available to anyone with the necessary funds put aside. It will also turn back the clock, removing some portion of one of the root causes of aging.
Tissue elasticity will be restored, hypertension controlled as arteries become more flexible, and scores of other consequences of cross-linking reduced in their impact.
That first therapy could emerge in the laboratories this year or at any time thereafter; a number of groups are working on it.
There are a range of other rejuvenation treatments and compensatory therapies at similar points, on the verge in one way or another. Gene therapies to boost muscle generation, or dramatically reduce blood cholesterol. Approaches to clear harmful amyloids from old tissue.
The next twenty years will bring numerous opportunities to benefit for anyone willing organize their own treatments via medical tourism, and who happens to know enough about the field to pick out the metal from the dross.
The rest of this century will be a grand adventure. The course of a human life is no longer planned and plotted and set in stone as it was for your grandparents. Medical technology, the development of rejuvenation therapies, will break us from tradition and the limits that aging places on the human condition. We'll all be making it up as we go, exploring entirely new territory. – Reason
Follow me on Twitter @leebanfield1
Bitcoin: 1Jwh6nZiASJf4d3hNytjxqiimWBmEJvJ4S
Bitmessage: BM-2cXjeAykLT7gbjzNHZFnCxdawvyryyb4Nf