BITCOIN
1 Bitcoin = $2,740
The Next Major Enlightenment
Bitcoin is the trigger for the next major enlightenment. It forces normal people to think in ways they never had to before. – Neil Woodfine
Bitcoin Price in a Decade
"Bitcoin to $50K in the Next Decade: Investor Ronnie Moas"
Way conservative.
If pressed, I'll call $5 million (in 2017 USD) in 2027. – Gabriel D Vine
MINING
Miners Across the World Scramble for GPUs in Search for Quick Profits
I think rather than buying GPUs for mining, I'll probably make more investing the same amount in AMD stock and waiting for Q3 earnings…
The mining market has gone so crazy that AMD GPUs are sold out almost all of the time and it's even started spilling into Nvidia. People are even successfully selling 2nd hand GPUs on ebay for above retail price….
Ethereum Miners Adding Nvidia GPUs
An old Wall Street friend sent me this report: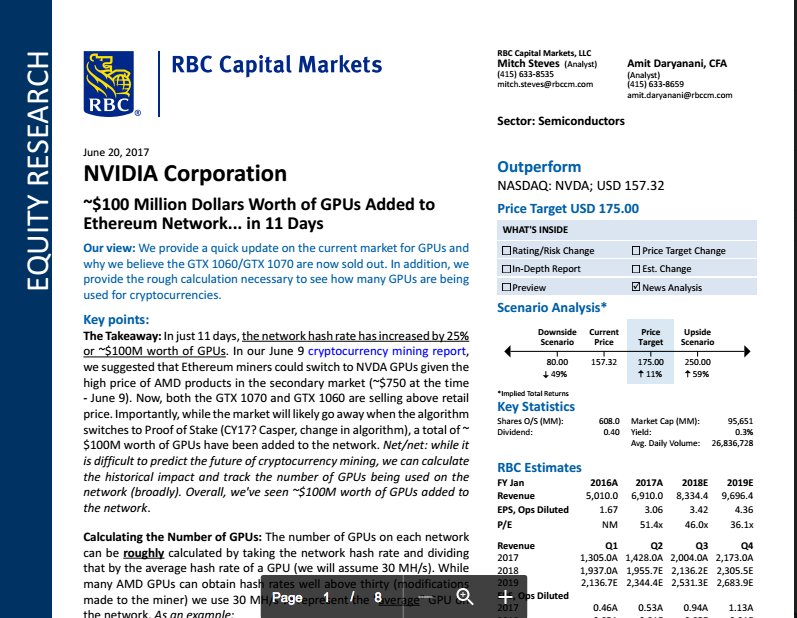 ALTCOINS
Bitcoin Dominance Index Back Above 50%
Bitcoin dominance index back above 50% for the first time since May.
Crypto ecosystem $87bn, Bitcoin $46bn, Ethereum $18bn. – Tuur Demeester
Billionaire Investor Thinks Cryptocurrencies Could Reach $5 Trillion by 2022
Michael Novogratz, a $3.2 bln investor and former manager of the multi-billion dollar investment firm Fortress, predicts that the cryptocurrency market can reach $5 trillion by 2022.
Novogratz speaks positively about Bitcoin and Ethereum. 10 percent of his net worth is invested in a diverse portfolio of cryptocurrencies including Bitcoin, Ethereum and Litecoin.
"The Nasdaq got to $5.4 trillion in 1999, why couldn't it be as big? There's so much human capital and real money being poured into the space and we're at the takeoff point," said Novogratz.
Ari Paul, portfolio manager for the University of Chicago's $7.5 bln endowment, supposes that only major currencies such as Bitcoin, Ethereum, Litecoin and Ethereum Classic are likely to survive while others will apparently decline in value.
"Most cryptos, like most companies, will eventually be worth zero. This is the nature of competition," he said. – Tatsiana Yablonskaya
PRIVACY / SECURITY / INTERNET
5G: Japan Hoping to be Ahead of Pack by 2020
Japanese telecommunications carriers and other corporations are racing to commercialize fifth-generation mobile technology ahead of the 2020 Tokyo Olympics.
5G will be the basic infrastructure during the so-called Fourth Industrial Revolution, which will be defined by artificial intelligence, the internet of things and other connected technologies.
The envisioned 5G network would feature data-transmission speeds of up to 20 gigabits per second — more than 100 times faster than current 4G networks.
The network's latency would be negligible, at less than 1 millisecond.
Satellite-Based Entanglement Distribution Over 1,200 Kilometers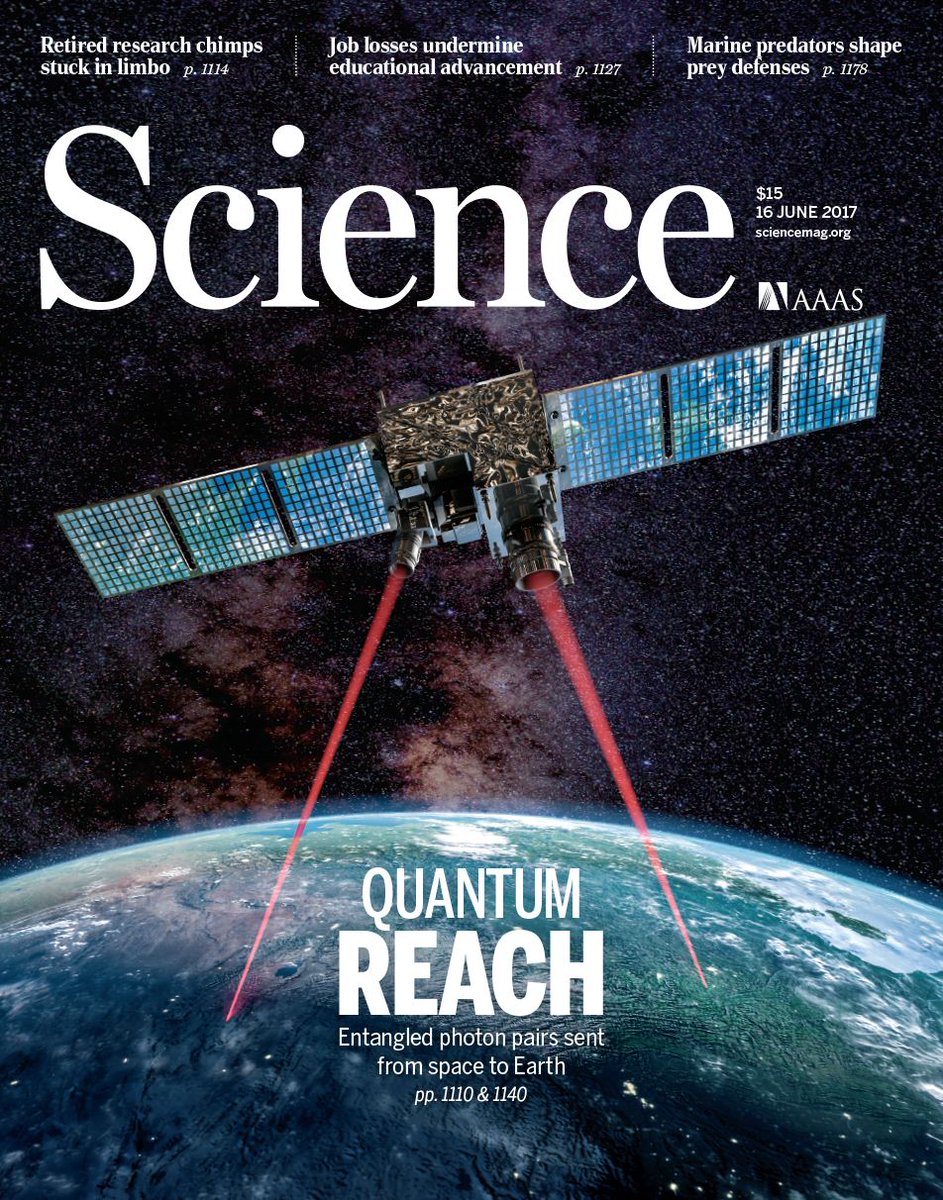 Rendering of the quantum satellite Micius distributing two entangled photons to two locations separated by ~1200 kilometers on Earth. 
Spooky action achieved at record distance
Just months into its mission, the world's first quantum-communications satellite has achieved one of its most ambitious goals.
The feat is the first result reported from China's Quantum Experiments at Space Scale (QUESS) mission, also known as Micius. Launched last August, the craft is designed to demonstrate principles underlying quantum communication.
A successful quantum communication network will rely on the ability to distribute entangled photons over large distances between receiver stations. This approach is much more efficient than direct transmission through optical fibers, thus opening up a new avenue for global-scale quantum networks.
Quantum communication is secure because any interference is detectable. Two parties can exchange secret messages by sharing an encryption key encoded in the properties of entangled particles; any eavesdropper would affect the entanglement and so be detected.
The Micius team has already done experiments exploring whether it is possible to create such encryption keys using entangled photons, and even 'teleport' information securely between Earth and space, says Pan Jian-Wei, a physicist at the University of Science and Technology of China in Hefei and the main architect of the probe.
The team is likely to launch more quantum-enabled satellites to start building a network. – Science Magazine
Global Reaction to Quantum Satellite Milestone
"This proves that one can perform quantum communications at continental distances," says Frédéric Grosshans, a quantum-communications physicist at the University of Paris South in Orsay. Entangled particles are the "workhorse" of quantum communications, he adds.
"I am really impressed by the result of the Chinese group," says Wolfgang Tittel, a physicist at the University of Calgary in Canada. "To me, it was not clear after the satellite launch if they would succeed," he says, or whether they would use it to learn for the next improved mission.
Thomas Jennewein, who is at the University of Waterloo in Canada and part of the Canadian mission, says that his group and others around the world are now racing to catch up with the Chinese effort. "They are now clearly the world leader in quantum satellites," he says. – Davide Castelvecchi
MARKETS
Crypto Tokens
I believe in smart contracts and token launches, it's just that I think we're still in the pets.com stage. – Tuur Demeester
Asian Startup Investment Overtakes US for the First Time
Asian startups received $19.3 billion in investments in the April-June period, overtaking American ventures for the first time as rising stars like Chinese ride app provider Didi Chuxing guzzled up capital.
Investment in Japanese and other Asian ventures jumped 120% on the year. The global tally rose 31%.
Didi topped the list for the most money raised in a single round of funding last quarter, at $5.5 billion.
Many of the investors were in the region as well. Some $5 billion, or 90%, of Didi's round and the entire investment in One97 came from Japan's SoftBank Group. China's Tencent Holdings was the main investor in Indonesian ride app provider Go-Jek, and compatriot Alibaba Group Holding in food delivery app provider Ele.me. – Joshua Ogawa
Oil Headlines
2007: Peak oil, going to $200
2017: Volvo is going to produce all electric or hybrid cars by 2019 – Oil going to $30
COMPANIES / PROJECTS / PRODUCTS
Tesla Delivers First Model 3 Electric Cars in Historic Moment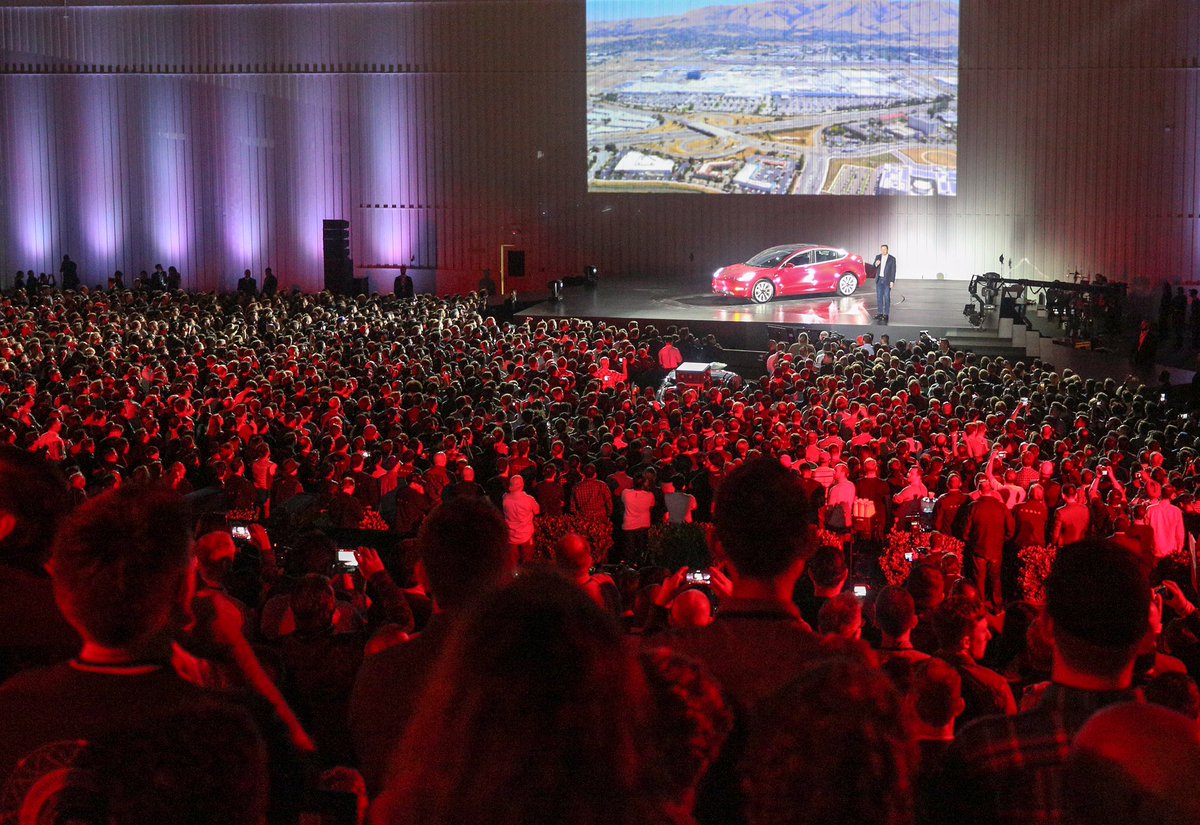 Production grows exponentially, so Aug should be 100 cars and Sept above 1500. Looks like we can reach 20,000 Model 3 cars per month in Dec. – Elon Musk
Tesla handed over the keys to the first 30 Model 3 owners at the automaker's manufacturing plant in Fremont, California Friday night.
The jubilant event marked the culmination of a long journey to deliver an affordable electric car. With its first three vehicles — the Roadster, Model S and Model X — Tesla made electric cars cool. But with prices approaching and exceeding $100,000, few could afford them.
Now with the Model 3, which starts at $35,000, Tesla is releasing a vehicle that could truly move the needle on electric car adoption. The sedan is a critical step in CEO Elon Musk's vision of accelerating the world's transition to sustainable energy.
"This is a great day for Tesla," Musk told reporters Friday. "It was never our goal just to make expensive cars. We wanted to make cars everyone could buy."
Tesla says the Model 3 ships with the hardware necessary for full self-driving capability. As its self-driving software improves, the company will issue updates. Eventually, Tesla expects the car will drive itself.
Tesla's popularity with consumers has forced the rest of the auto industry to promise their own electric vehicles.
The Model 3 may take its place alongside Henry Ford's Model T and Steve Jobs's iPhone as transcendent pieces of technology that ushered in new eras. Or it could be surpassed, and remembered instead as the catalyst for a new market that competitors ultimately won. – Matt McFarland
SpaceX Schedules Falcon Heavy's Maiden Launch for November
The rocket's side boosters will return to land at Cape Canaveral. Center lands on droneship.
When Falcon Heavy lifts off in November, it will be the most powerful operational rocket in the world by a factor of two. It was designed from the outset to carry humans into space and restores the possibility of flying missions with crew to the Moon or Mars.
Below is a comparison chart of the world's heavy lift vehicles, based on historical launch data.
Falcon Heavy can lift the equivalent of a fully loaded 737 jetliner–complete with passengers, luggage and fuel–to orbit. It can lift more than twice the payload of the next closest operational vehicle, the Delta IV Heavy, at one-third the cost.

The Next Great Expansion of the Space Market
Smaller satellites allow less money to be spent on them, which allows more risk to be taken so the entrepreneurs can do more bold things for less money. This also invites more investment money.
We're no longer solely relying on the government to fund what we're doing, we can go out and raise small amounts of capital and send stuff to space. That's a beautiful thing and it allows the democratization of space that really hasn't existed. – Jim Cantrell, CEO Vector Space Systems
The Tiny Satellites Ushering in the New Space Revolution
In February Silicon Valley based startup Planet launched the largest number of satellites in human history.
An Indian rocket was used to launch the payload of 104 satellites, dwarfing the previous world record of 37 set by Russia in 2014. The largest of them weighed 1,500 pounds and was designed to map India's infrastructure and monitor urban and rural development. Nestled alongside were around a dozen smaller satellites from universities, startups, and research groups.
What made the launch a record were the 88 shoebox-size "Dove" satellites built by Planet Labs Inc., a startup in San Francisco.
Images beamed back have been used far and wide: Hedge funds scour Walmart parking lots to measure traffic flows during back-to-school seasons. Farmers assess crop health and estimate optimal harvest times. Activists track Amazonian deforestation and Syrian refugee camps. Spies monitor military buildups and trafficking operations. With all 149 satellites in place, Planet can photograph every inch of Earth's surface every day—something even the U.S. government can't do.
This satellite constellation is one of many signs that the relationship between humans and space is changing in ways unseen since Russia and the U.S. began sending rockets into orbit six decades ago. Thanks to modern software, artificial intelligence, advances in electronics and materials, and a generation of aggressive, unconventional entrepreneurs, we are awash in space startups.
These companies envision an era in which rockets take off daily, filling the skies with satellites that sense Earth's every action—in effect building a computational shell around our planet. The people constructing this bustling new economic highway promise it will improve life down below, but the future they describe is packed with wonder and controversy in equal measure—and although few have noticed, it's coming to pass right now.
Once the images reach Earth, Planet's software compiles them, cleans them up, and deletes photos marred by clouds and shadows. Planet has created a Google-style search engine for Earth, capable of looking down on humans and spitting back answers about their day-to-day activities within minutes.
Customers log on to an application and browse the pictures as they please. Planet's largest clients include the Mexican government, the German space agency, and the agricultural companies Monsanto, Wilbur-Ellis, and Bayer Crop Science.
They pay millions or even tens of millions of dollars per year for access to the most recent, highest-quality images. Nonprofits, students, and news organizations receive the same access for free, while the public at large can see older, lower-quality pictures gratis.
"Businesses, governments, scientists, and society as a whole have never had this pulse of the planet before," Chief Strategy Officer Robbie Schingler says. "The world is changing as rivers shift, agricultural productivity shifts, and towns and forests shift. This data is going to be activated for all these users and open up a novel vantage point that actually gets used in our daily decision-making."
Oribital Insight
Orbital Insight takes images from Planet, DigitalGlobe, and public repositories and combines them into a unified database.
Its algorithms then begin searching for objects such as cars, buildings, trees, oil tanks, solar panels, rail cars, ships, and airplanes. The algorithms improve as they go, such that in a matter of days they can identify objects all over the world, even as the terrain and surrounding infrastructure change.
CEO James Crawford can call up an image of a port in Shanghai that's been broken down like a puzzle, with cylindrical oil storage tanks color-coded green, ships in red, and buildings in blue. Hit a button, and the software shows that eight new buildings have gone up in a few months. Hit another button, and the software will calculate how much oil is in a given tank.
"There are floating lids that sit on top of the tanks," Crawford says. "If the lid is all the way up, there's no shadow, and we know it's full." If there's a shadow, Orbital Insight measures its angle and the dimensions of the tank to calculate the volume of liquid inside.
What Crawford's company is after, he says, is "observational truth." Orbital Insight takes analyst and government reports on, say, how much oil is said to be in China and compares its calculations with those of experts, who it turns out are often wrong.
For example, the rough industry consensus last year was that China had approximately 400 million barrels of oil in reserve. But Orbital's own figure was 550 million. It found there were 2,100 oil tanks capable of holding 1.1 billion barrels of oil, and they were half full on average.
SpaceKnow Inc.
Another startup, SpaceKnow Inc., delivers similarly detailed information via a web service that's dead simple to use.
The company estimates the gross domestic product of countries in Africa by counting the number of lights on at night, monitors the movement of every boat in the ocean, and tracks the amount of coal coming out of mines.
"You would need 1,000 human analysts to do any of these things," Machalek says. "But the machine—the algorithm—never gets tired."
Capella Space Inc.
Capella Space Inc. in Palo Alto is developing satellites that rely on synthetic aperture radar, or SAR, which can peer through clouds, produce images at night, and take intricate measurements such as soil moisture levels.
Like Planet, it's been building satellites that are smaller and cheaper than the norm; it plans to send 36 into orbit starting this year. (Planet is also working on SAR satellites in a secret lab.)
SpacePharma
SpacePharma, an Israeli company, has built a functioning scientific laboratory that can fit inside a CubeSat.
Past research has shown that the lack of gravity in space causes genes to express themselves more strongly than on Earth, and molecules to behave differently as well.
There are already examples of plants, medicines, and chemicals being cultivated in space, and the hope is that such research will lead to breakthroughs that can be applied on Earth.
OneWeb
Perhaps the most ambitious of the new companies is OneWeb in Florida, which wants to surround the planet with hundreds, possibly thousands, of small, low-orbit communications satellites.
These will form a network accessible to the 3 billion people on Earth who lack high-speed internet service because of geographic and economic constraints.
OneWeb plans to begin launching batches of satellites in 2018 on rockets from Virgin Orbit and others.
Venture Capital Investments in Space Startups
There will be new missions that were inconceivable before, and five years from now we will be seeing some amazing things.

– Robbie Schingler, Planet Lab's Chief Strategy Officer
In 2015 venture capital companies pumped $1.8 billion into space startups, almost doubling the combined amount of money invested in the 15 years before.
For New Space's true believers, the competition will be part of one glorious show: the ultimate expression of humankind's manifest destiny. "You'll have the space economy integrating with the terrestrial economy like it never did before," says Steve Jurvetson, a venture capitalist invested in Planet Labs.
"That will cause a bloom of activity, which will make the path to Mars and colonizing other worlds that much more believable and affordable. When that happens, which is, like, within our lifetime, it'll be one of the watershed moments of humanity. I mean, this is up there like the discovery of fire or evolution's greatest hits. It's the point when we become a multiplanetary species."
– Ashlee Vance, The Tiny Satellites Ushering in the New Space Revolution
LEARNING / KNOWLEDGE
SciHub Now Contains 69% of all Published Articles, Can Fulfill 99% of Article Requests
Neuroskeptic: It's easier to use Sci-Hub to access papers than it is to use publisher websites. Even if you have inst. access! Just type title, get PDF.
JJ [citizen five]: 100%. Even for free papers, scihub is easier. Hard to overstate how valuable scihub has been to me, which is reflected by my donation BTC.
PLACES
Singapore: 300 Drones Fly Over Marina Bay as Part of Drone Light Show
Largest unmanned drone show in Southeast Asia to date.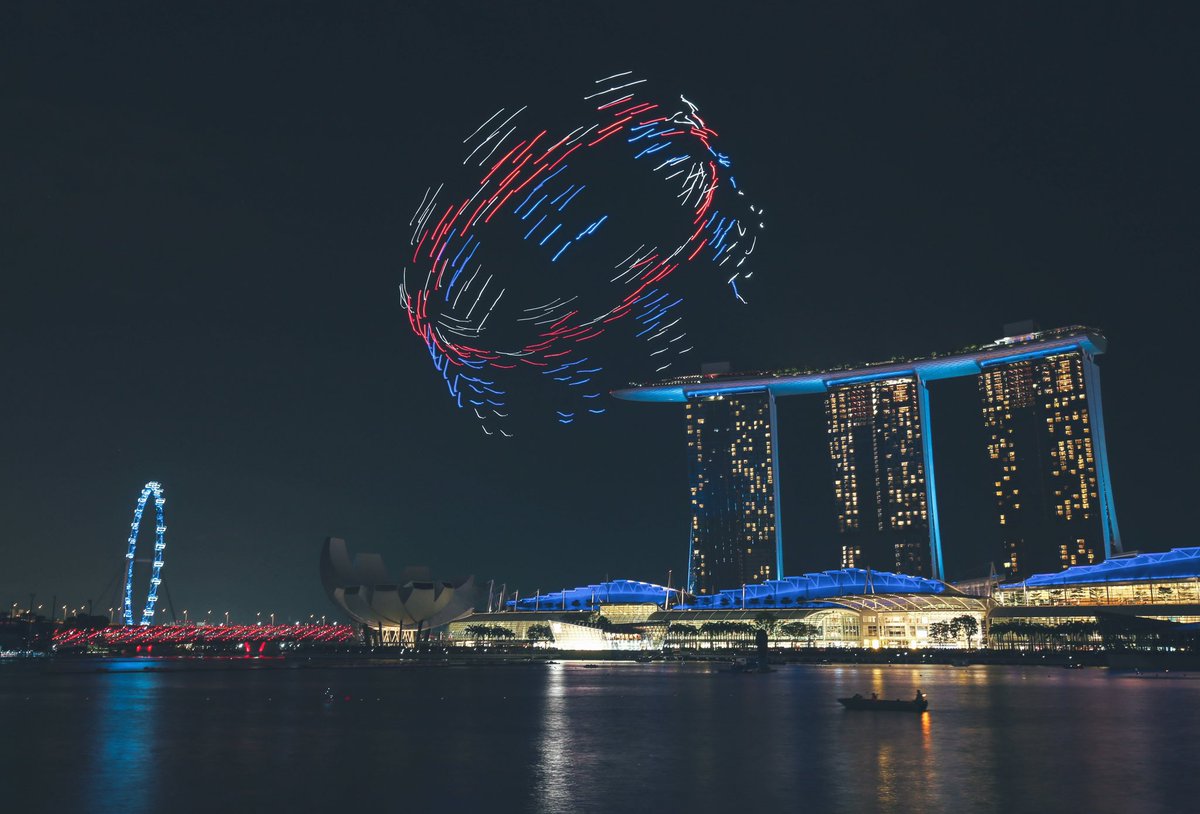 THE SINGULARITY
Artificial Intelligence: A Double Exponential Rate of Improvement
It's difficult to appreciate just how far AI has advanced, and is advancing, because we have a double exponential at work.
We have an exponential increase in hardware capability and we have an exponential increase in software talent that's going into AI. Whenever you have a double exponential it's very difficult to predict, and people's predictions are almost always going to be too conservative in terms of thinking it will be further out than it is.
There have been some very public things, like the defeat of the world's best Go player by AlphaGo. People thought defeating Go was either never or 20 years away.
Now that same AlphaGo system can defeat the top 50 players simultaneously with 0% chance of them winning. And that's 1 year later.
The degrees of freedom to which artificial intelligence is able to apply itself are increasing by 10 orders of magnitude a year. That's really crazy.
And this is on hardware that is really not well suited for neural nets. A GPU is maybe an order of magnitude better than a CPU, but a chip that is designed optimally for neural nets is an order of magnitude better than a GPU. There are a whole bunch of neural net optimized chips coming out either late this year or next year. – Elon Musk
Jeff Bezos' Vision: 'A Trillion Humans in the Solar System'
Jeff Bezos, who owns his own private space company, Blue Origin, outlined his plans for human domination of the Moon and, eventually, the entire solar system.
I want my grandchildren's grandchildren to be in a world of pioneering, exploration and expansion throughout the solar system."
"We can harvest resources from asteroids, from Near-Earth Objects, and harvest solar energy from a much broader surface area – and continue to do amazing things," he said.
Back to the moon, this time to stay
"We should build a permanent settlement on one of the poles of the moon," he said. In that lunar locale, water in permanently shadowed regions, such as the bottoms of craters, can be accessed. And "peaks of eternal light" in polar regions — mountaintops or crater rims that are always bathed in sunlight — can provide solar power.
"We didn't know back in the '60s and '70s, but we know now, that the poles of the moon are extremely interesting places, and we should go back, and we should stay," Bezos said. "If we have reusable rockets, we can do it so much more affordably than we have ever done it before. We have the tools. We have the young people with a passion to do it. We can get that done today." – Jamie Carter
Follow me on Twitter @leebanfield1
Bitcoin: 1Jwh6nZiASJf4d3hNytjxqiimWBmEJvJ4S
Bitmessage: BM-2cXjeAykLT7gbjzNHZFnCxdawvyryyb4Nf