BITCOIN
1 Bitcoin = $7,884
Market Cap = $135 billion
This is Framed as a Problem But Actually is an Amazing Thing
Nathaniel Popper: DCLeaks was paid for with Bitcoin. The 11 Russian intelligence agents indicted today bought Bitcoin — and mined it themselves — to pay for the infrastructure they needed to hack into the DNC and release the documents. "The use of bitcoin allowed the Conspirators to avoid direct relationships with traditional financial institutions, allowing them to evade greater scrutiny of their identities and sources of funds."
Sam Patterson: Bitcoin was explicitly created in order to "avoid direct relationships with traditional financial institutions." If it's actually accomplishing that goal, then it's working as intended.
Brazilian Bitcoiner Sees Passport Suspended after Slamming Tax Service
A popular Brazilian YouTuber has been prohibited from leaving the country after he slammed the country's federal revenue service in one of his videos.
The YouTuber, Daniel Alves Fraga, is a well-known libertarian who first got into bitcoin in 2012.
The video reportedly had over 14,000 views on YouTube before the country's government decided to step in and pursue legal action against Fraga who, since the lawsuit was filed, hasn't been found.
In an attempt to stop Fraga from getting away without facing any consequences, his passport was suspended so he won't leave Brazil. Per Portal do Bitcoin, it doesn't end there. Citing a court order, the news outlet wrote (translated):
"It was further determined, by court order, that his voter's title, any Internet service contracted by him or in which he was in any a beneficiary, should be suspended, in addition to suspending and preventing the renewal of his driver's license."
CRYPTO ASSETS

Market Cap = $288 billion
Minimum Viable Decentralization
Building decentralized products that people actually use: https://medium.com/@jbackus/minimum-viable-decentralization-d813dcf653fc
Monetary Exclusion
My friend is booking hotels in Iran that require a deposit. The note in the email reads: "Payments in cryptocurrency might sound a bit strange, but the severe American sanctions on Iran's banking system have left us with not many choices." – Leo Weese
'This Is Not a Passing Fad': CFA Institute to Include Crypto and Blockchain in Exams
The CFA program [Chartered Financial Analyst] is an extremely well respected global organization that 'charters' financial professionals via an arduous 3-year exam process and ongoing education. They're adding crypto to the curriculum. – Ari Paul
"We saw the field advancing more quickly than other fields and we also saw it as more durable," said Stephen Horan, managing director for general education and curriculum at CFA Institute in Charlottesville, Virginia. "This is not a passing fad."
A record 227,031 people in 91 countries and territories registered to take CFA exams in June, seeking a better understanding of finance, improved job prospects or some combination of the two. A majority of the candidates came from Asia, which also happens to be where much of the world's virtual currency trading takes place.
– Michael Patterson and Andrea Tan
Crypto Mentions in Earning Calls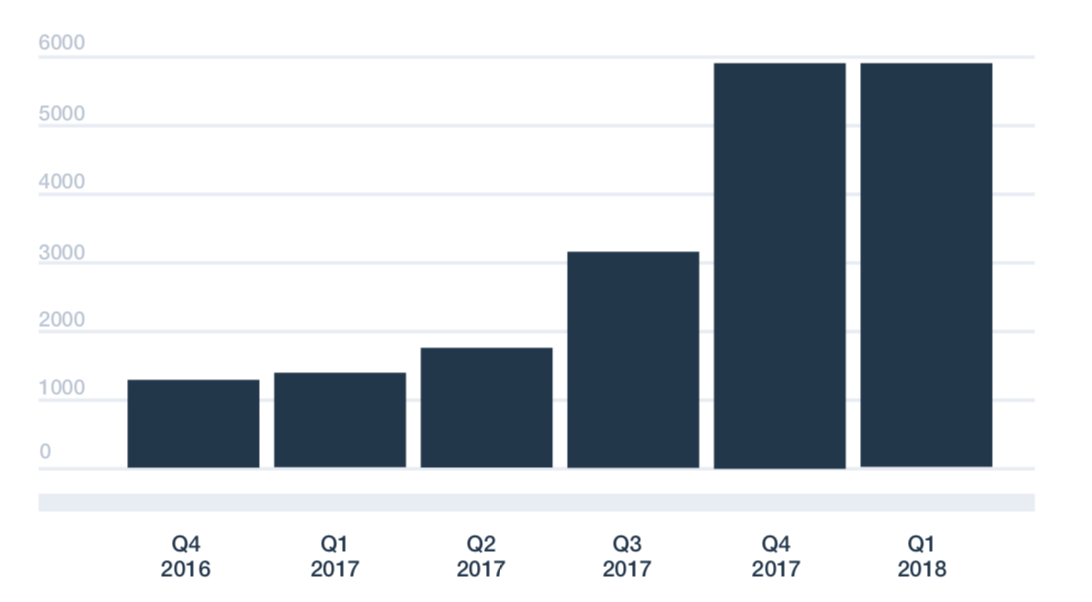 Cryptocurrencies are seemingly talk of town in business halls across America and much of the western world according to sentiment data.
For the first quarter of 2018, cryptocurrencies, which includes bitcoin, ICOs, ethereum, and so on, were mention in 6,000 earning calls documents. In contrast, Trump was mentioned in only 200. Interest in tariffs has increased, but still it is mentioned in only 600 documents.
Even interest rates, which are very crucial to most businesses, were mention in "only" 7,000 documents, just 1,000 more than for cryptos.
Nvidia is apparently the one to talk most about cryptos. Visa and MasterCard are up there too, as is IBM, Broadridge and Ameritrade.
Chinese Police Shut Down Betting Operation on the Dark Web 
Chinese authorities have arrested six suspects behind a World Cup gambling ring that was hosting more than 10 billion yuan — or $1.5 billion USD — worth of cryptocurrency bets, according to a statement released yesterday by the police department in Guangdong province.
The gambling syndicate ran on the dark web, accepting bets in the form of bitcoin, ethereum, and litecoin for an eight-month stretch before being apprehended. It attracted more than 300,000 players from different countries, and 8,000 "agents" who earned commissions for recruiting new members.
World Cup gambling is big worldwide — but China's been cracking down on it. Most forms of gambling are illegal across almost the entire country, outside of two officially sanctioned lotteries.
The bust that took down the dark web syndicate was a part of China's larger plans to stem the criminal activity — though this was the first to involve cryptocurrency, according to Guangdong law enforcement. Thus far, they've arrested 540 suspects and frozen more than 260 million yuan as a part of their efforts. – Shoshana Wodinsky
PLACES
USA
The IRS is now revoking passports of taxpayers it suspects owe back taxes, officially turning the United States into a giant debtor's prison. – Peter Schiff
The First Amendment
Two months ago, the Department of Justice quietly offered Wilson a settlement to end a lawsuit he and a group of co-plaintiffs have pursued since 2015 against the United States government.
Wilson and his team of lawyers focused their legal argument on a free speech claim: They pointed out that by forbidding Wilson from posting his 3-D-printable data, the State Department was not only violating his right to bear arms but his right to freely share information.
By blurring the line between a gun and a digital file, Wilson had also successfully blurred the lines between the Second Amendment and the First.
"If code is speech, the constitutional contradictions are evident," Wilson explained to WIRED when he first launched the lawsuit in 2015. "So what if this code is a gun?"
The Department of Justice's surprising settlement, confirmed in court documents earlier this month, essentially surrenders to that argument.
KNOWLEDGE
Compulsory, Coercive Schooling
Great term from John Taylor Gatto: the "hidden curriculum" of schools. Suppose each of these was inverted.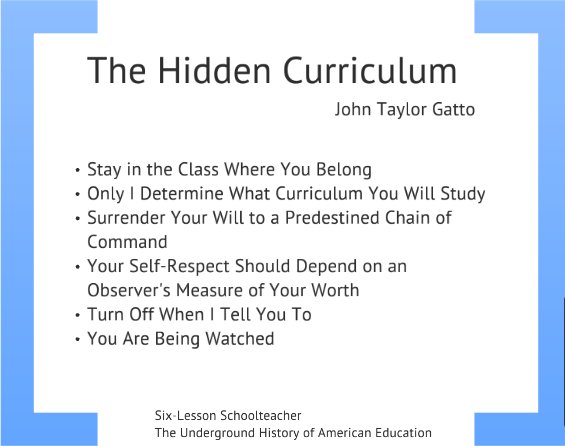 UNBOUNDED PROGRESS
The Opposite of the Miracle of Compound Interest
Isaac M. Morehouse: Sometimes I try to think through the vast amount of wealth destroyed by subsidies, tariffs, taxes, and regulations. It's mind boggling and painful. How many resources directed to lower valued use so a politician can get votes from farmers? (Etc etc)
Sam Patterson: It's truly mind-boggling when you factor in the compounding effect over time. It may only be inhibiting a few percentage points of growth each year, but after a few decades the end result of missing the compounding benefits is truly staggering. It's the opposite of the miracle of compound interest. The squander of politically allocated capital.
Aaron Hoffman: Someone should total up all transfer payments since 1900 and compare that to the potential growth had it been left in private hands. Measure how behind we are.
Follow me on Twitter @leebanfield1
Bitcoin: 39WAJsnh8gSTUh2J5Bhx2dLQjRwn52FaMJ