BITCOIN
1 Bitcoin = $6,304
Market Cap = $109 billion
goTenna & Samourai Wallet's Mobile App Works Without Internet Access
Powered by goTenna Mesh, TxTenna is an Android app that enables off-grid broadcasts of signed Bitcoin transactions from Samourai Wallet.
Without relying on cell service or an internet connection, goTenna Mesh generates a signal that connects with other units within range, effectively creating a people-powered, decentralized mesh network.
——————————————————
The reality is that local carriers or ISPs can associate subscribers with their transactions or censor Bitcoin transactions altogether.
TxTenna provides an answer to these problems by decentralizing the critical transport layer to enable truly decentralized bitcoin transactions," – goTenna CEO Daniela Perdomo
——————————————————
goTenna is a startup that designs and develops technologies for off-grid and decentralized communications.
goTenna devices pair with smartphones and, through intelligent mobile ad hoc networking protocols, enable users to send texts and share locations on a peer-to-peer basis, foregoing the need for centralized communications infrastructure of any kind.
In April 2017, goTenna closed a Series B financing led by Union Square Ventures. – Wikipedia
————————————-
goTenna has a million units scattered around the world. Ppl are using it. It's a mesh network which is peer to peer and decentralized. The product works.
The users of the project have an incentive to use the devices. And now they have a network effect they are integrating bitcoin. Why are they doing that? To get Bitcoiners to buy a gotenna unit. – hanakookie
You can order your goTenna here goTenna.com/discount/SAMOURAI
Our goal is to eventually have our consumer tech (goTenna Mesh) integrated directly into mass consumer devices. – Daniela Perdomo
Three Years in the Making, Bitcoin Sidechain "Liquid" is Now Live
Initial users included 23 bitcoin companies, including exchanges, brokers and other institutions, who will help to manage the sidechain, as well as use Liquid to send transactions.
In addition to moving money faster, partners will also be able to launch tokens on the platform, representing financial instruments, fiat currencies or crypto assets.
Liquid is not exactly a "real" sidechain, or at least not the type Blockstream was founded to research and build. Instead of building a sidechain that allows users to swap bitcoins for sidechain coins without a trusted third party, Blockstream built what's called a "federated sidechain."
Federated sidechains rely on a group of companies – in this case, Blockstream's launch partners – to collectively manage the sidechain. (A white paper released last year explains in more detail the technicals of the specific type of federated sidechain Liquid uses.)
For this reason, critics like pseudonymous bitcoin subreddit moderator ThePiachu have called the tech "not innovative" – even as far back as three years ago. "Liquid looks like a very interesting project, but it's not the sidechains we are looking for," the moderator wrote. – Alyssa Hertig
A List of What's Getting Built on Bitcoin
LN
Drivechains
Gotenna integration
Satellite integration
Radio integration
Bakkt
Cashapp
All things building into LN
All things being built into RSK
Maybe Fidelity to compete with Bakkt
New mining manufacturers for more efficient miners
New bitcoin only wallets
BTCpay
CME and CBOE
BashCo: That's not even counting goodies coming to protocol itself, like Schnorr, MAST and privacy improvements.
CRYPTO ASSETS

Market Cap = $203 billion
Bisq Decentralized Exchange
Interesting! It seems like China has discovered Bisq. CNY/BTC seeing some activity…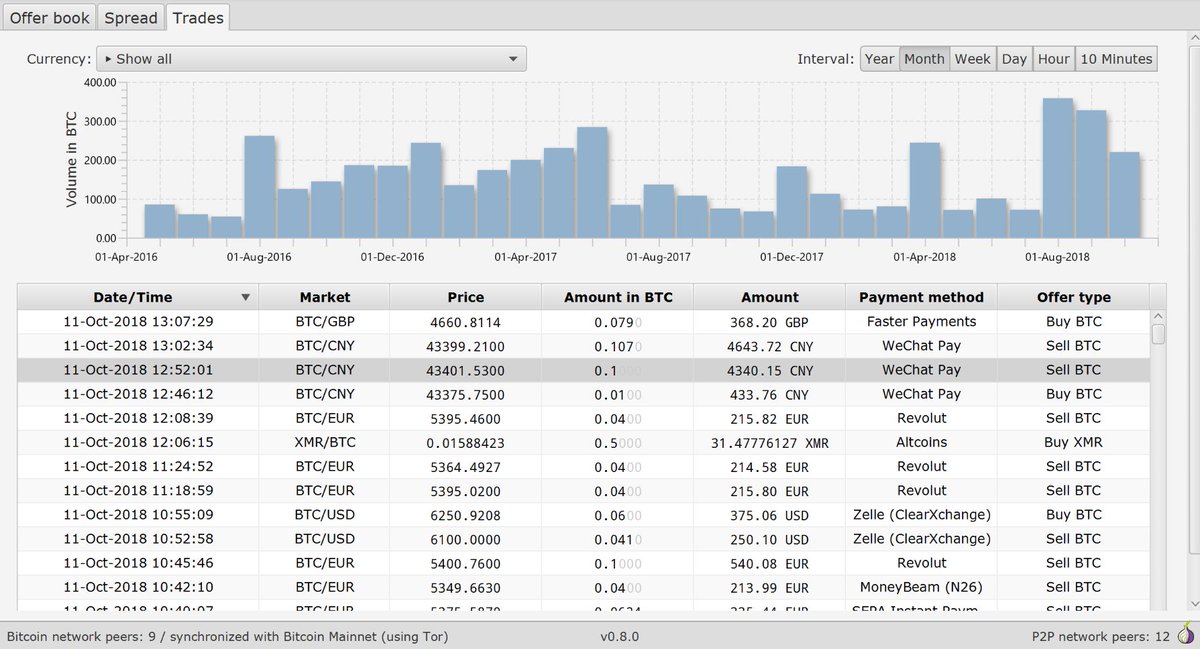 – flix1
Decentralized Exchange Protocol 0x Added to Coinbase, Surges 17%
The 0x listing marks the first ERC20 token to be traded on Coinbase.
Binance Invests in Bringing Retail Point-of-Sale (POS) Terminals to Airports
Binance Coin, will also be supported by retail merchants using TravelbyBit's machines.
Binance is investing USD$2.5 million in startup TravelbyBit to further expand the latter's network of cryptocurrency payment terminals following a successful implementation in Brisbane earlier this year.
The two companies will jointly collaborate in introducing a point-of-sale (POS) system – already developed by TravelbyBit – into "major airports around the world,".
The objective is to propel cryptocurrency adoption among travelers who commonly see friction in currency conversion and other markup fees.
Binance chief executive Changpeng Zhao said:
"Let's start with airports and go from there…Real, on-the-ground, just-when-you-need-it use case is the key to further crypto adoption. In this light, there is no better fit than being able to use your crypto when travelling, just after you land in a foreign country, where you may not have the local currency."
Earlier this year, Brisbane international airport, Australia's third-busiest airport, became one of the first major airline hubs in the world to accept cryptocurrencies at retail stores in both its terminals.
COMPANIES / PROJECTS / PRODUCTS
Corporate Entities

In the 1600's, the Dutch East India Co. was the first company to publicly issue bonds + stock. This created markets we never knew existed.
The same will be true for a Security Token representing a cash-flow secured by a blockchain-like protocol. Entities will never be the same. – Lawson Baker
Decentralized Autonomous Organizations
The Decentralized Autonomous Organization (DAO) is a new organizational form potentially as important as the creation of the corporate form in the 1600s.
THE ASCENT OF MAN
Boston Dynamic's Atlas Robot Does Parkour
The control software uses the whole body including legs, arms and torso, to marshal the energy and strength for jumping over the log and leaping up the steps without breaking its pace.
Atlas uses computer vision to locate itself with respect to visible markers on the approach to hit the terrain accurately.
Fisetin Shown to be a Surprisingly Effective Senolytic
Administration of fisetin to wild-type mice late in life restored tissue homeostasis, reduced age-related pathology, and extended median and maximum lifespan.
It is exciting to see animal data arrive for some of the potentially senolytic compounds that may turn out to destroy enough senescent cells in mammals to be worth using as first generation rejuvenation therapies.
As a reminder, the accumulation of senescent cells is one of the causes of aging. If these errant cells can be removed, then inflammatory diseases and numerous aspects of aging can be turned back to some degree. The results in mice stand head and shoulders above all of the other approaches to aging in terms of reliability and breadth of benefits.
Results from the recent animal study of fisetin noted here greatly exceed expectations, surprisingly so. Fisetin appears about as effective in mice as any of the current top senolytics, such as the chemotherapeutics dasatinib and navitoclax. Per the data in the open access paper below, dosing with fisetin destroys 25-50% of senescent cells depending on organ and method of measurement.
Given the wealth of new results emerging these days, it seems to me that people focused on self-experimentation, open human trials, and investigative mouse studies in this field should be moving to focus on combination therapies.
Consider a combination of fisetin, dasatinib, quercetin, piperlongumine, and FOXO4-DRI – multiple different mechanisms to provoke apoptosis that are all hitting senescent cells at the same time. The goal would be to see if it is possible to engineer a significantly higher level of clearance of senescent cells than any of these senolytics can achieve on their own.
This seems like a plausible goal, and may turn out to present meaningful competition to efforts such as those of Oisin Biotechnologies and other groups developing more sophisticated senolytic therapies that should have high rates of clearance.
– Reason
Follow me on Twitter @leebanfield1
Bitcoin: 3Mxdu5i693UiS5HaEJzi1t1j7aCGNHSdY1