BITCOIN
1 Bitcoin = $3,659
Market Cap = $64 billion
Number of Daily Bitcoin Transactions Reaches 1-year High
The seven-day average for the number of daily bitcoin transactions has reached a one-year high, recently surpassing 280,000 for the first time since January 2018.
Ever since hitting a two-year low in April 2018, the number of transactions has been trending upwards.
The all-time high has been recorded on top of the speculative mania in late December 2017 when confirmed transactions briefly surpassed 400,000.
Minisketch: Reducing Bitcoin Node Bandwidth Requirements
All distributed systems have traditionally had difficulty syncing data between nodes – it's a lot easier in a centralized system to tell nodes what data they should and shouldn't have.
Recently Pieter Wuille, Gleb Naumenko & Greg Maxwell revealed the Minisketch library for reducing bandwidth requirements when syncing data between Bitcoin nodes.
Minisketch was originally developed as a component of a project researching the use of set reconciliation for the sharing of transaction data between nodes on Bitcoin, "Set Reconciliation Relay" or SRR. The goal of SRR is to significantly reduce the bandwidth associated with running a Bitcoin full node.
Compared to other bandwidth-efficient set reconciliation algorithms such as CPISync and Pinsketch's original implementation, Minisketch uses much less computational power. It is 20 to 100 times faster than PinSketch, and sometimes over 1,000 times faster than CPISync.
The SRR protocol is still in the early stages of research and it may be a long time before it sees adoption in the Bitcoin network, but advances like Minisketch represent a very important development in improving Bitcoin full node adoption and accessibility.
MINING
Bitmain Going Through Tough Times
Bitmain, which accounts for 75% of the world's production of ASICs, is poised to name a new CEO to replace company co-founders Wu Jihan and Zhan Ketuan.
Wu and Zhan will move away from the company's day-to-day business activities but will still make final calls on big decisions. It has been reported that the pair disagreed on certain issues as co-CEOs.
Last month Bitmain said it was planning lay-offs amid the industry crunch, though it did not specify the extent of the job cuts.
Bitmain IPO
In September Bitmain filed an application to publicly list in Hong Kong, following a similar move by smaller Chinese rivals Canaan Creative and Ebang International.
However, the city's market regulator and stock exchange operator are unlikely to approve initial public offerings for any cryptocurrency-related business, citing the lack of regulation in the industry.
Major Mining Pools Have a 'High Die-Off Rate' Study Reveals
Coinmetrics.io published a study looking at hashrate history of the most competitive BTC mining pools.
Several influential pools which once controlled significant fractions of Bitcoin's hashrate – BTC Guild, Ghash, BTCC – are now totally defunct," the report emphasizes.
Coinmetrics continues by stating: "Indeed, few pools seem to be truly persistent, F2pool and Slushpool being notable exceptions".
Operations like F2pool have seen a significant drop in hashrate and Antpool's slice of the pie has "moderately declined."
BTCC and BW.com have closed operations and Bitfury's hashrate has dropped as well. Both F2pool and Antpool have dominated with roughly 83,000 blocks combined, but to this day BTC Guild still holds the most captured BTC by pool.
CRYPTO ASSETS

Market Cap = $122 billion
VideoLAN Accepts Monero Donations
VideoLAN is one of the most widely used pieces of software! – fluffypony
Wife of One of Norway's Richest Men Kidnapped, Monero Ransom Demanded
Kidnapper demanding 9M euro ($10.3M) ransom to be paid in Monero.
Anne-Elisabeth Falkevik Hagen went missing on Oct. 31 from her home near Oslo. It has riveted the country and dominated headlines.
The police conceded that they did not know who the captors were, or even whether Ms. Hagen, 68, was still alive. "There are no known signs of life," Tommy Broske, head of the police unit investigating the disappearance, said on Thursday.
Ostentatious shows of wealth are rare in Norway, and people there are generally proud of the country's egalitarian spirit. But the abduction of Ms. Hagen has prompted a debate over an element of that culture: the legal requirement that every person's tax return be made public, which some people fear could turn the rich into targets.
The case has also highlighted the use of cryptocurrencies in illegal activities, leading to calls to regulate or even ban them, and for more law enforcement resources to investigate their use.
Governments are "lagging behind" in coming to terms with cryptocurrency, said Carsten Schurmann, an associate professor at the IT University of Copenhagen.
The Hagens have a modest home in Lorenskog, a quiet, middle-class town near Oslo — the same house where they lived before Mr. Hagen made his fortune.
The ransom would represent 1 percent of all existing Monero," Mr. Jenssen said.
The first widely reported kidnapping for cryptocurrency occurred in January 2015, when Ryan Piercy, a Canadian living in Costa Rica, was abducted and his captors demanded $500,000 worth of Bitcoin. He was released a month later.
– Henrik Pryser Libell and Richard Martyn-Hemphill
Monero Removed From Fortnite Mechandise Store
Epic Games founder: Fortnite's move to accept monero was "accidental"
I honestly wouldn't be surprised if the tipping point was that multiple people threatened Epic with filing a Suspicious Activity Report for money laundering because they accepted Monero on a t-shirt store. – fluffypony
We worked with a partner to open a merchandise store, and somewhere along the way Monero payment was enabled.
Many of us at Epic are big fans of the decentralized computing tech underlying cryptocurrency, however a lot more work is needed on volatility and fraud-proofing before bringing it to such a broad audience that includes younger gamers.
Googling this, there's quite a rumor mill out there. No, Epic doesn't have any cryptocurrency partners and aren't in any crypto partnership discussions with anyone. We do read lots of papers and talk to smart people to learn more in anticipation of an eventual intercept.
– Tim Sweeney, Epic Games Founder
We dealt with the merchant that runs the store, they dealt with Epic.
Epic don't want the merchant to re-enable crypto payments for now. The big problem is people made a VERY big deal about this; journalists claimed a partnership, people threatened to file Suspicious Activity Reports, & altcoins complained about not being accepted.
The environment is – frankly – quite hostile for any large merchant. If they accept altcoins they get blasted by Bitcoiners threatening to withhold their business, if they accept Bitcoin they get the Ripple army calling the CEO. They can't win.
—————————————————-
Epic guys were going through a big list of international payment methods without full context and didn't realize the significance of that particular one. – Tim Sweeney, Epic Games Founder
ETC Double Spent in a 51% Attack
Coinbase confirms that it had detected reorg attacks on the Ethereum Classic network that included 88,500 ETC (~$460,000) in double spends. – The Block
Ethereum Classic (ETC) has seen 12 chain re-writings within the past 2-3 days, 8 of them going as far back as 75 blocks.
ETC's price has hardly been affected by the 51% attack at the time of writing. It did drop circa 10%, but it looks like it has recovered a bit for now.
9/11 Papers Hacker Banned from Steemit
Steemit.com, the most prominent Steem interface, has banned a hacking group for violating the site's Terms of Service after it threatened a stolen documents dump.
Steem is primarily a blogging platform that uses Steem blockchain to host posts and comments. In order to display the information stored on the blockchain, a user interface is needed.
The hacking group's account has been removed from Steemit.com, an interface operated by the same company that leads development of Steem, but other Steem interfaces, such as Busy.org have not banned the user nor deleted the post.
PRIVACY / SECURITY / INTERNET
Google Forces Samourai Wallet to Remove Privacy Features
Sad but true, Google Play is forcing us to remove Stealth Mode, SMS Commands, and SIM Switch Defense features as they transition to becoming more of a "Walled Garden" – despite the fact these features have proven record of helping users transact safely.
We've made version 0.99.03 with full Stealth Mode, SIM Switch defense, and SMS remote commands available via direct download APK on GitHub – please install only from this source and double check the SHA-256 hash.
COMPANIES / PROJECTS / PRODUCTS
Tesla Sold Nearly as Many Vehicles in 2018 Than Every Previous Year Combined
After struggling to make the Model 3 for 18 months, everything changed in Q3.
In the second half of 2018, the Model 3 was the fifth best-selling sedan in the U.S.—outsold only by Toyotas and Hondas. No other car brought in more revenue in the U.S.
In the final weeks of 2018, Tesla sold its 500,000th car. That milestone took 10 years to achieve.
The next half-million car deliveries will take about 15 months, if the company maintains its current pace, which would make Tesla both the first automaker in the world to sell 1 million electric vehicles and the first major American carmaker to emerge in nearly a century.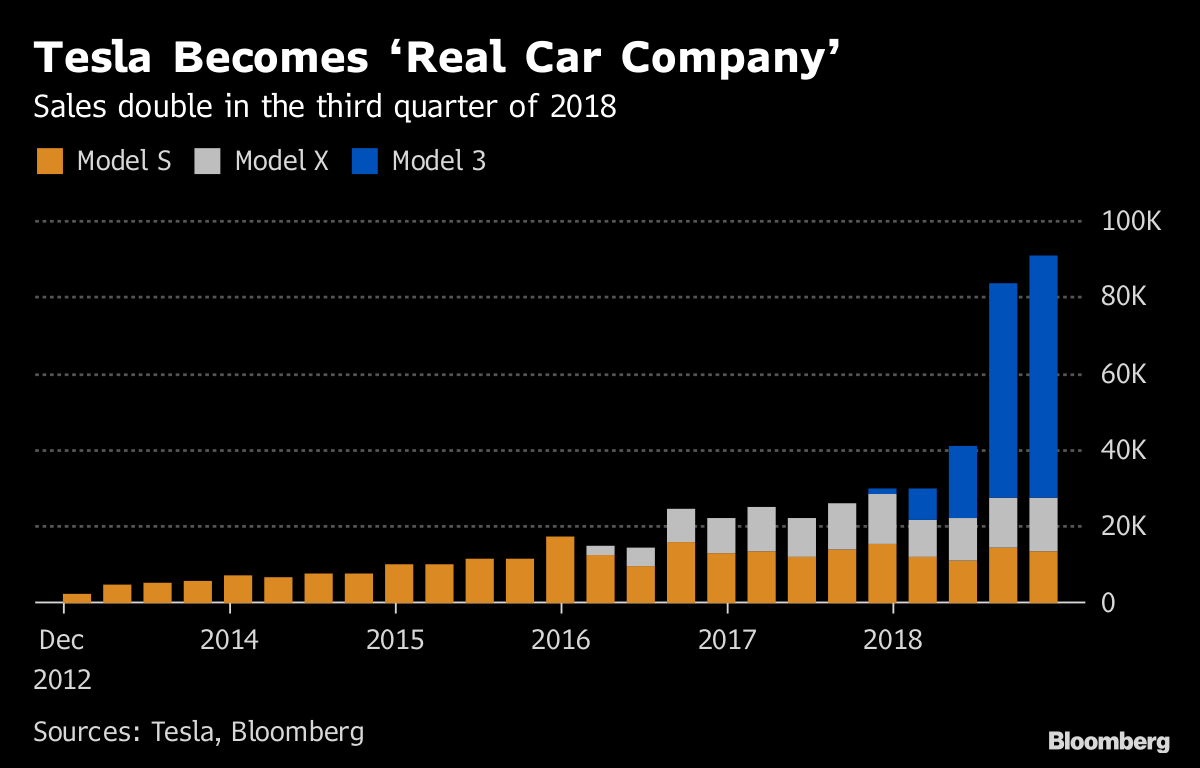 Tesla's little-noticed edge: battery cost. Pack prices are roughly 3 years ahead of the industry's cost curve, according to data compiled by BNEF. Every time global production doubles, prices fall another 18%.
Finally, Tesla's product roadmap is probably the best in the biz—if they can stick to it. Our analysis last year showed that Musk typically blows his own deadlines by about 50% of the original projection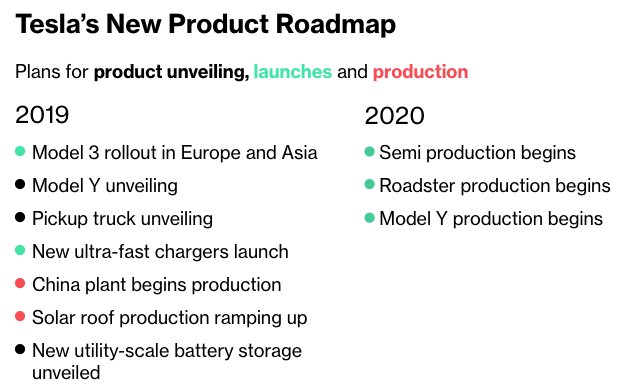 KNOWLEDGE
Planning in Advance vs. Embarking on Open-Ended Trains of Thought
In my experience, scientific progress is never methodical. The answer to the question never comes from the route that one first thinks of. It never comes from even the hundredth route that one would have planned in advance.
The conversation one has in the tea room is more important than the seminar that one is ostensibly attending. The paper that one comes across accidentally in the library is more important than the one that one went there to fetch.
Follow me on Twitter @leebanfield1
Bitcoin: 1HodZhdL3BWZwB7XxHf4GxM1pBoe62Fzw2