BITCOIN
1 Bitcoin = $3,633
Market Cap = $64 billion
Number of Bitcoin Transactions and Outputs Reaches Yearly Highs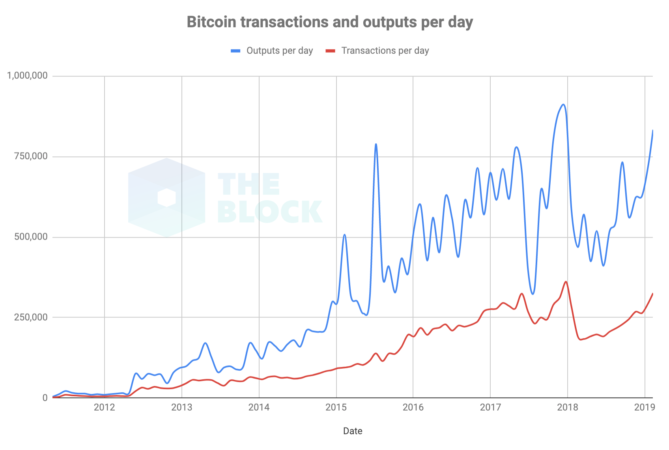 The number of Bitcoin transactions per day averaged on the monthly basis has reached a one-year high of 326,000.
Last time when the number of transactions was this high was in December 2017 at the height of the speculative mania.
The majority of large exchanges and wallet providers have implemented batching since it's one of the most efficient methods to reduce transaction fees. Therefore, the number of outputs per day was also examined. Similarly, the number of outputs per day averaged on the monthly basis has reached a one-year high of 833,000.
Most of The Rise in Bitcoin Activity is Because of VeriBlock
25% of the txs are done by Veriblock. – WhalePanda
Why have OP Return outputs in BTC exploded (going from 6.5m in Sep. 2018 to 14m outputs today)?
Because of a service called Veriblock that began in fall 2018.

Veriblock transactions represent about 25% of BTC transactions today.
This also might explain why transaction count is at a yearly ATH while active addresses are flat
More context on Veriblock and the purpose of OP_RETURN from The Block: A look at OP_RETURN and whether embedding arbitrary data into Bitcoin's blockchain is spam
Stats on the Liquid Network Available at liquid.horse
Currently the only way to interact with liquid is through liquid-cli, so there is no GUI available yet. – sgeisler
CRYPTO ASSETS

Market Cap = $121 billion
Shapeshift
After adding KYC, Shapeshift's volume has dropped to between 20-50 btc per day.
People have left the platform.
Decred
Ticket prices continue spike, illustrating sustained stakeholder demand to participate in PoS.
Similarly, the network utilization rate continues to be one of the highest, with over 48% of all DCR locked up in PoS tickets.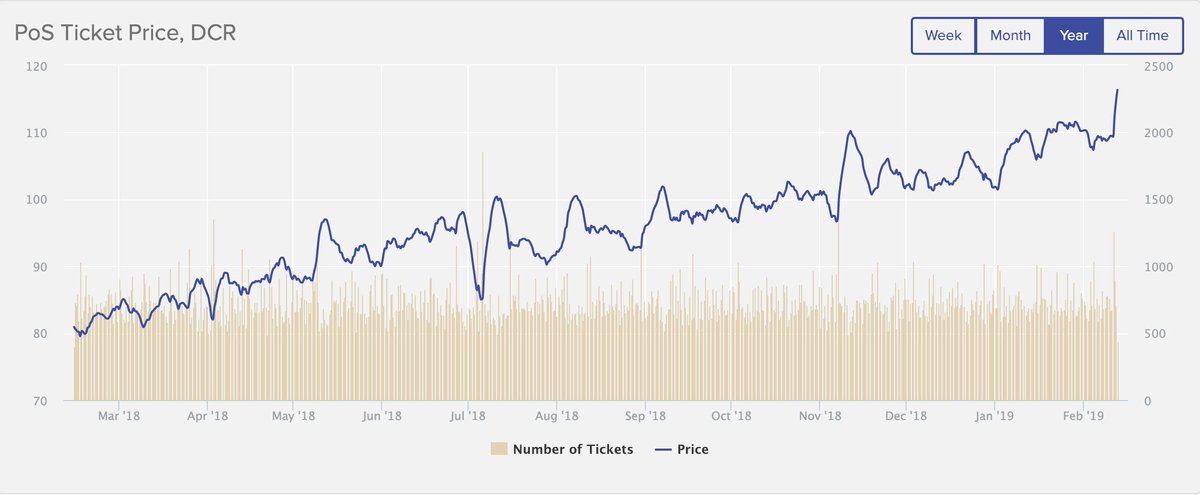 Lastly, hashrate continues to skyrocket as new ASICs come online, showing that miners are willing to sink costs into securing the network.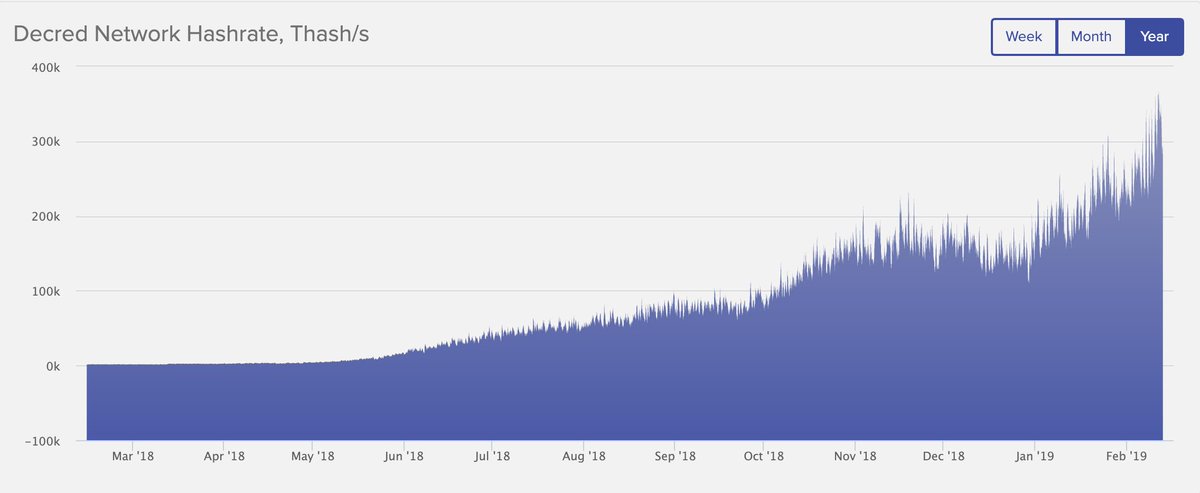 It's never clear that this commitment will be long term, but the fact that miners are investing in R&D for the Decred Network is promising
Golem
Two ICOs alone have more Eth right now than the entire Ethereum Foundation
— Golem & Digix = 764k
Eth EF Foundation = 650k Eth
Those were just pretty early ICOs. Raised < $10m at the time.
Many ICOs raised more ETH < 2017
For ex., Augur raised > 1.1m ETH (+ BTC)
The DAO raised > 11m ETH
What's crazy about Golem & Digix is they held all that ETH for 2+ years through over +100x & -90%.
Surge in ETH Locked in Decentralized Finance Protocols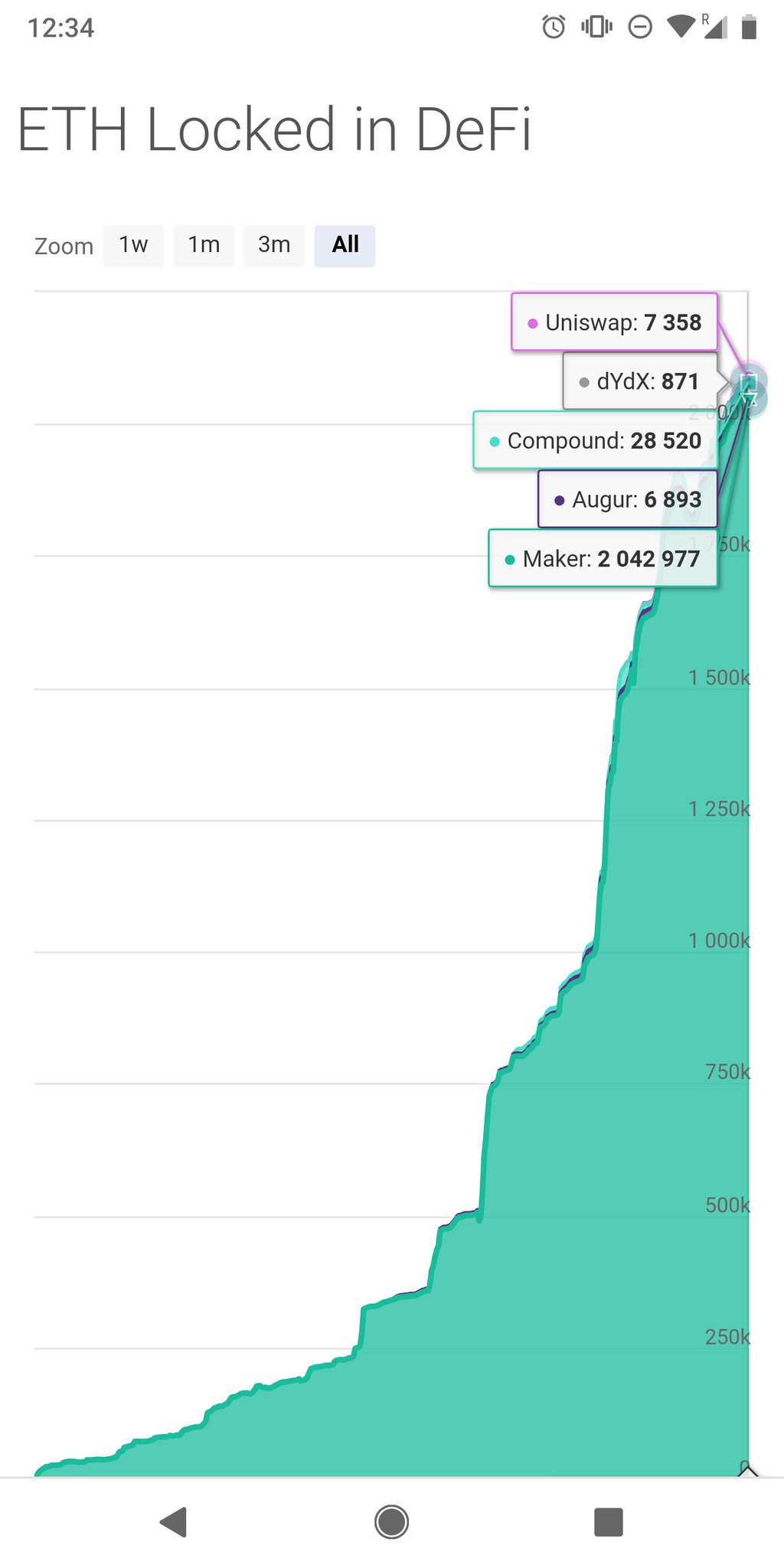 – Greg
PRIVACY / SECURITY / INTERNET
Chainalysis Raises $30 million in Series B Funding
The firm will use some of the funding to open a new office in London and a research-and-development lab in a bid to expand its presence in the U.K., where it has worked closely with the likes of Barclays.
The round was led by seasoned VC firm Accel and included additional investments from Benchmark, which led Chainalysis' $16m Series A last April.
Chainalysis currently employs over 100 people and has offices in New York, Washington and Copenhagen.
Chainalysis will also explore research partnerships and collaborations with universities in London, which the CEO and co-founder of Chainalysis said are leading the way in some areas of cryptocurrency research.
Having launched real-time AML software Chainalysis KYT ("Know Your Transaction") last year, the Chainalysis team has now expanded this beyond bitcoin, ether and litecoin to encompass the growing trend for stablecoins, or tokens that are linked in some fashion to fiat currencies like the U.S. dollar.
COMPANIES / PROJECTS / PRODUCTS
Augmented/Virtual Reality Worlds
Philip Rosedale: Second Life creators and entrepreneurs make $65M a year from their work, and have been doing it for more than 10 years.
Infiniverse: It's going to be even bigger in VR (High Fidelity) and AR (Infiniverse)
PLACES
Indonesia Officially Recognizes Bitcoin as a Commodity, Cryptocurrency Payments Still Prohibited
Based on the new ruling, virtual currency trading is now legalized in the country.
While these new laws provide legal certainty for cryptocurrency exchanges, such services have been operational in the country since as early as 2014.
Despite the formal recognition given to virtual currencies as commodities, the ban on cryptocurrency payment is still in effect.
Onny Widjanarko, a top executive of Indonesia's apex bank (BI) said that the bank was part of the deliberations that led to the recognition of cryptos as commodities.
For Widjanarko, the decision by Bappebti does not negate its ruling against cryptocurrencies as its mandate is the protection of rupiah sovereignty and monopoly within the country.
THE ASCENT OF MAN
Opportunity Rover, Active on Mars from 2004 to 2018, Declared Lost
After 15 incredible years of exploring the surface of the Red Planet, NASA has finally pulled the plug on the mission.
The car-sized Mars rover ceased all communications with Earth in June 2018, when a planet-wide storm engulfed Mars.
As the Martian storm descended on the rover and the skies were choked of all sunlight, the solar-powered Opportunity messaged NASA saying: "My battery is low and it's getting dark."
NASA Administrator Jim Bridenstine said: "It is because of trailblazing missions such as Opportunity that there will come a day when our brave astronauts walk on the surface of Mars.
"And when that day arrives, some portion of that first footprint will be owned by the men and women of Opportunity, and a little rover that defied the odds and did so much in the name of exploration."
2 Astronauts Find Opportunity
– Artist, Rostislav Shekhovtsov
Follow me on Twitter @leebanfield1
Bitcoin: 3MfFU3jceCvidzjrHMGNAaERzoRyYRkZXZ